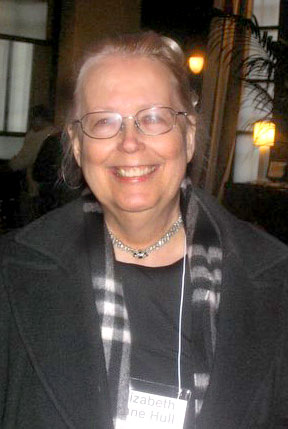 Academic, activist and author Elizabeth Anne Hull died August 3 from complications a few months after falling and fracturing her hip. She was 84.
Hull served as President of the Science Fiction Research Association from 1989-90, after editing the SFRA Newsletter from 1981-1984. She was recognized for service to SF research with the organization's Thomas Clareson Award.
She was a member of the panel for the John W. Campbell Memorial Award for best SF novel intermittently from 1986 until her death. For over ten years, she served as North American secretary for the World SF International Organization for Professionals.
A frequent contributor to Worldcon programs, she co-organized the academic track at Chicon 7 in 2012.
Hull was Professor Emerita of William Rainey Harper College in Palatine, Illinois, where she taught English and science fiction for over 30 years, earning the school's Distinguished Faculty Award in 1997. The Alumni Association of Northwestern University honored her contributions to her profession with its Award of Merit in 1995.
Active in Illinois politics, she was a former president of the Palatine Area League of Women Voters. In 1996, the National Democratic Party selected Hull as its congressional nominee against the longtime Republican incumbent in the 8th District, however, she was defeated.
She married Frederik Pohl in 1984, her second marriage, his fifth. They first met at the 1976 Worldcon. In 2016, three years after Fred had died, she shared this insight about marriage at The Way the Future Blogs based on a conversation she had with Fred's third wife:
Long before Fred and I were married, Judy Merril once told me, "Everbody's crazy in one way or another. We can't see our own craziness, but we need to look closely at our love object. The most important thing to find out is, in what way is this person crazy? And then to decide whether or not we can, or want to, live with that craziness."
Together Hull and Pohl edited the international anthology Tales from the Planet Earth (1986). She edited the 2010 anthology, Gateways: Original New Stories Inspired by Frederik Pohl
She is survived by two children from her previous marriage, and two grandchildren.
[Thanks to Cat Eldridge for the story.]