(1) HUGO NOMINATING PROGRESS REPORT. DisCon III told Facebook followers today:
285 people have submitted The Hugo Awards nominations. Are you one of them? You do not have to submit your nominations in one go, start submitting now and come back later to add more up until the deadline of March 19, 11:59pm Pacific Time.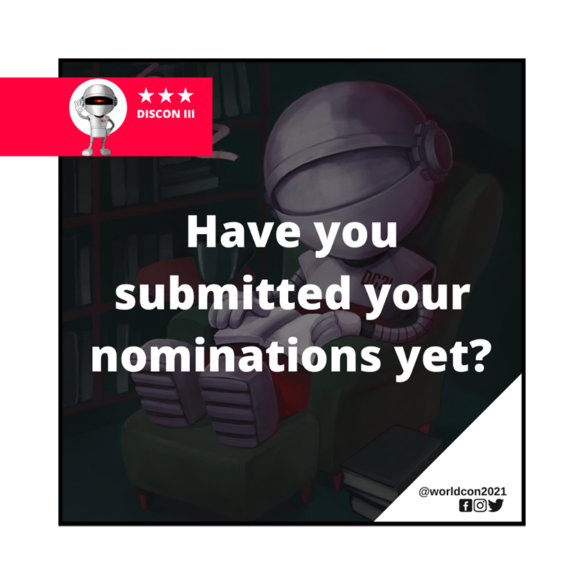 (2) TAKE THE PLEDGE. Henry Lien invites Facebook readers to become the angel-geezers of their better nature:
MY SENIOR CITIZEN PLEDGE

I hereby pledge that when I am a senior citizen, I will not be afraid of, resist, or complain about technology or cling to old-timey ways. I will learn how to use quantum conferencing suppositories and listen to electro-shamisen sea chanteys or whatever young people are doing. I will be part of Today tomorrow. Will join me in this pledge, pre-seniors?
(3) BRADBURY'S MARS. The Ray Bradbury Experience Museum will host a watch party for the "Landing of NASA Perseverance Rover on the Red Planet" on February 18 from 12 PM PST – 1:45 PM PST.
"Percy," the life-hunting Mars Perseverance rover, is scheduled to set down inside the 28-mile-wide (45 kilometers) Jezero Crater. The rover launched on June 30, 2020.
What does it feel like to be a scientist embedded in the engineering team of a spacecraft? And to have Ray Bradbury speak at your commencement? Listen as NASA's Dr.Sarah Milkovich, Ph.D. planetary geology, tells RBEM's Dom Loise.
(4) JOURNEY PLANET. In the 57th issue of Journey Planet, James Bacon, Chris Garcia, and Chuck Serface handle the editing duties and the theme is King Arthur, a topic Chris has wanted to tackle since they started the zine back in 2008! Download here: Journey Planet 57: Arthur, King of the Britons.
Spanning multiple arenas of the Arthurian legend, there's a massive 92 pages of material including looks at literature, theatre, comics, film, and even Vegas, baby!!! Bob Hole, Julian West, Steven H Silver, and the good Cardinal Cox handle the history, and Chris interviews Arthurian scholar and editor of Arthuriana Dorsey Armstrong. Laura Frankos gives us a marvelous view of the 'legendary' musical Camelot, while Neil Rest, Tony Keen, and Chris handle the world of film. There's great comics coverage from Derek McCaw, Helena Nash, and Chuck, and a great fiction reprint from the exceptional Ken Scholes. All this wrapped in a cover by Vanessa Applegate, with art by Chris, Fionnula Murphy, Derek Carter, Bob Hole, the DeepDreamGenerator, and Matthew Appleton! We even have letters of comment!!!

This supersized beast also marks the first time Chris ever did layout on his phone!
(5) AFROFUTURISM. "Beyond 'Black Panther': Afrofuturism Is Booming in Comics" – the New York Times tells where to find it.
When Barack Obama was elected president in 2008, it struck the author and illustrator John Jennings as so unprecedented, such a break from American history, that it was like an event from some far-flung future.

"Before then, the only time you would see a president who was Black was in a science-fiction movie," he said in a phone interview last month. Jennings compared it to the sorts of imaginative leaps one finds in the most forward-thinking works categorized as "Afrofuturist."

This year, fans of Afrofuturism will see a bumper crop of comics and graphic novels, including the first offerings of a new line devoted to Black speculative fiction and reissues of Afrofuturist titles from comic-book houses like DC and Dark Horse.

Afrofuturism, whether in novels, films or music, imagines worlds and futures where the African diaspora and sci-fi intersect. The term was coined by the writer Mark Dery in 1993 and has since been applied to the novels of Octavia Butler ("Kindred"), the musical stylings of the jazz composer Sun Ra and more recently films such as "Get Out" and "Black Panther," which presented a gorgeously rendered vision of the technologically advanced, vibranium-powered nation of Wakanda.

"Afrofuturism isn't new," said Ytasha L. Womack, a cultural critic and the author of "Afrofuturism: The World of Black Sci-Fi and Fantasy Culture," a primer and history of the movement and aesthetic. "But the plethora of comics and graphic novels that are available is certainly a new experience."

Graphic novels published in January included "After the Rain," an adaptation of a short story by the Nigerian-American author Nnedi Okorafor, and "Infinitum," a tale of African kings and space battles by the New York-based artist Tim Fielder….
(6) BLACK PANTHER. While others are taking readers beyond, Ta-Nehisi Coates is still finishing his redefining work on the comic which ends with Black Panther #25 in April. The issue will bring fans the triumphant end to the "Intergalactic Empire of Wakanda" storyline.
Since taking over the title in 2016, the National Book Award winner and New York Times Best-Selling author has transformed the Black Panther mythos. Now five years later, he departs, leaving the world of Wakanda forever changed and laying the groundwork for the next bold era of this iconic Marvel hero.

"Ta-Nehisi has come up with a truly special finale here, one that not only wraps up the current story of T'Challa's attempt to stop Emperor N'Jadaka's conquest of Wakanda, but also deals with elements that reach all the way back to the beginning of Ta-Nehisi's run…." said editor Wil Moss.

Throughout his run, Coates has taken the Black Panther to hell and back and expanded Wakanda into the distant stars. In his final issue, he'll bring T'Challa full circle, back to the home he left behind…and the crown he has never fully accepted. The journey will conclude, but the legend remains.
Click for larger images.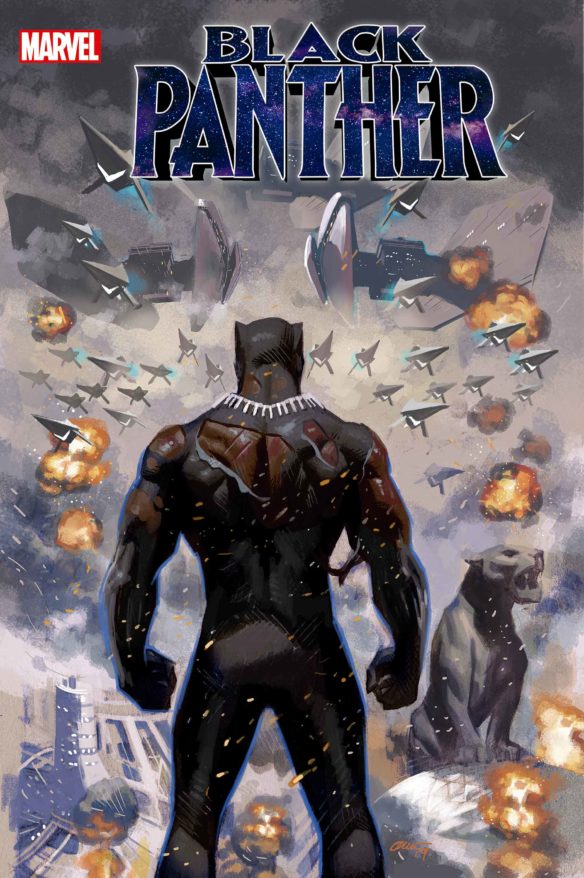 (7) KIWI REFERENCES. "The New Zealand Author Behind the First Great Fantasy Epic of the Year: A conversation with Elizabeth Knox, author of The Absolute Book" – a Slate interview.
…I really love a somewhat minor subplot in the book—Taryn's father, the movie actor who has had roles in what are clearly the Lord of the Rings movies, going back to Wellington for what he thinks is a screen test for a new Peter Jackson project. Weta, Peter Jackson's studio, plays a sometimes oversize role in the culture of your city. Has your writing life ever intersected with their work?

Oh, I can tell my Peter Jackson story. I saw his first movie, Bad Taste, in the film festival, and I really loved it. I mean, it's fun, but it's also the work of a very, very good director. And then he came into the bookshop and the museum where I was working, and my boss had been one of his helpers on the movie. He introduced me and said, "Elizabeth's a writer." And at that point I had just published my first novel. Peter Jackson gave me his WingNut Films card and said, "Do you want to write a screenplay for me?" And I said, "Oh, no, I don't think I could do that."

What a missed opportunity!

Well, it was very early on in both our careers.
(8) RAISING TWINS. "Superman & Lois" – "Their family is anything but ordinary." Premieres Tuesday, February 23.
(9) THROWBACK. Here's some artwork of Doctor Who's seventh Doctor in the "rubber hose" cartoon style:
(10) MEDIA BIRTHDAY.
February 9, 1966 — Lost In Space's "War Of The Robots" first aired as the twentieth episode of the first season. It is worth noting because the second robot in this episode is Robby the Robot from Forbidden Planet. Robby the Robot would make a number of appearances in series such as The Man from U.N.C.L.E. and The Addams Family. Robby the Robot was inducted into the Robot Hall of Fame in 2004.
(11) TODAY'S DAY.
February 9 — Extraterrestrial Culture Day
An officially acknowledged day in New Mexico (Roswell), Extraterrestrial Culture Day celebrates extraterrestrial cultures, and our past, present and future relationships with extraterrestrial visitors.
(12) TODAY'S BIRTHDAYS.
[Compiled by Cat Eldridge and John Hertz.]
Born February 9, 1867 – Natsume Sôseki.  (Personal name last, Japanese style; Sôseki is a pen name, Japanese pronunciation of a Chinese idiom meaning "stubborn".)  I Am a Cat is ours, indeed narrated by a cat. You can read a little about it here.  A collection "Ten Nights' Dreaming" and "The Cat's Grave" is in English.  He was a novelist, a poet – most of his work outside our field – and among much else a student of English literature.  See this comparison with Shakespeare.  (Died 1916) [JH]
Born February 9, 1928 – Frank Frazetta.  A Hugo, three Chesleys (two for artistic achievement); Spectrum Grand Master, Writers & Illustrators of the Future and World Fantasy Awards for lifetime achievement; SF Hall of Fame, Eisner Hall of Fame, Kirby Hall of Fame, Society of Illustrators Hall of Fame.   In comics, Westerns, fantasy, mystery, war, historical drama, funny animals; Buck Rogers; Flash Gordon; Li'l Abner with Al Capp.  In our field perhaps most famous for Tarzan, Carson, Conan.  Two hundred covers, sixteen hundred interiors; portfolios, sketchbooks, posterbooks; see e.g. Testament with Cathy & Arnie Fenner.  (Died 2010) [JH]
Born February 9, 1935 — R. L. Fanthorpe, 76. I'm including him as he was a pulp writer for UK publisher Badger Books during the 1950s and 1960s during which he wrote under some sixty pen names. I think he wrote several hundred genre novels during that time but no two sources agree on just how many he wrote. Interestingly nothing is available by him digitally currently though his hard copy offerings would fill a wing of small rural library. He'd be perfect for Kindle Unlimited I'd say. (CE)
Born February 9, 1936 — Clive Walter Swift. His first genre appearance was as Snug in that version of A Midsummer Night's Dream. Several years thereafter he was Dr. Black in A Warning to the Curious" (based on a ghost story by British writer M. R. James).Then he's Ecto, whoever that character is, in Excalibur. He shows up next in the Sixth Doctor story, "The Revelation of a The Daleks" as Professor Jobel. (Died 2019.) (CE)
Born February 9, 1942 — Marianna Hill, 79. Doctor Helen Noel in the excellent "Dagger of The Mind" episode of the original Trek. (The episode introduces the Vulcan mind meld.) She also had roles on Outer Limits (in the Eando Binder's "I Robot" story which predates Asimov's story of that name), Batman (twice as Cleo Patrick), I-Spy, The Wild Wild West, Mission: Impossible and Kung Fu (ok the last one has to be least genre adjacent).  (CE)
Born February 9, 1951 — Justin Gustainis, 70. Author of two series so far, one being the Occult Crimes Unit Investigations series which he's written three superb novels in so far, and the other being the Quincey Morris Supernatural Investigations series which has seven novels and which I've not read yet. Who's read the latter series? (CE)
Born February 9, 1952 – Ben Yalow, F.N., age 69.  Having attended eight hundred SF conventions, working on a third of them, his trademark Black Watch bowtie has become a symbol of SMOFfery.  "SMOF" is "Secret Master Of Fandom", as Bruce Pelz said a joke-nonjoke-joke, besides the Marty Balin comment; it's come to mean the folks who put on SF cons, particularly those who study, argue about, and try to act on doing them better.  Co-founder of SMOFcon.  Edited four books for NESFA (New England SF Ass'n) Press; Fellow of NESFA (service); Fan Guest of Honor at Windycon X, OryCon '87, ConDiego the 5th NASFiC (North America SF Con, since 1975 held when the Worldcon is overseas), Loscon 17, FenCon XIV; scheduled for Discon III the 79th Worldcon.  His dry but not unsympathetic sense of humor is shown by his receiving the Rubble Award, and by remarks like "Running a Worldcon is impossible.  Running a NASFiC is harder."  Big Heart (our highest service award).  [JH]
Born February 9, 1954 – Maya Kaathryn Bohnhoff, age 67.  A dozen novels, twoscore shorter stories.  Her Star Wars novel (with Michael Reaves) Shadow Games was a NY Times Best-Seller.  Besides prose writing, she's a filker; she and husband Jeff Bohnhoff have won two Pegasus Awards as Best Performers, one for Best Parody; Guests of Honor at LepreCon 24, TusCon 30, Archon 30, Balticon 41, DucKon 17, 2t0nic the 20th British Filk Convention, FenCon VII, LepreCon 38, Windycon 42, Boskone 52; they are in the Filk Hall of Fame.  [JH]
Born February 9, 1956 — Timothy Truman, 65. Writer and artist best known in my opinion for his work on Grimjack (with John Ostrander), Scout, and the reinvention of Jonah Hex with Joe R. Lansdale. His work with Ostrander is simply stellar and is collected in Grimjack Omnibus, Volume 1 and 2.  For the Hex work, I'd say Jonah Hex: Shadows West which collects their work together. He did do a lot of other work and I'm sure you'll point out what I've overlooked… (CE)
Born February 9, 1960 — Laura Frankos, 61. She's written a bakers dozen of genre short stories. She's more known for her Broadway history column "The Great White Wayback Machine" and has also published one mystery novel, Saint Oswald's Niche. Wife of Harry Turtledove. Her Broadway Quiz Book is available on all digital platforms. (CE)
Born February 9, 1977 – Rhiannon Lassiter, age 44.  Started writing young, sent a few chapters to her mother (Mary Hoffman)'s agent and to family friend Douglas Hill: result, two novels accepted by Macmillan when she was nineteen.  A dozen novels, four shorter stories; book reviews in Armadillo and Strange Horizons.  [JH]
Born February 9, 1981 – Amber Argyle, age 40.  Sixteen novels, two shorter stories.  She "grew up on a cattle ranch, and spent her formative years in the rodeo circuit and on the basketball court."  She and her husband are "actively trying to transform [three children] from crazy small people into less-crazy larger people"; a note elsewhere, however, says she is "fluent in all forms of sarcasm".  Has read Heart of Darkness, The Secret Garden, All Quiet on the Western Front, six Shakespeare plays.  [JH]
(13) BOOKSTORE IS OVERNIGHT SUCCESS. Yesterday's Scroll ran the Super Bowl-style commercial The Late Show with Steven Colbert did for a small business — Foggy Pine Books in Boone, North Carolina. The follow-up Colbert did last night starts at 1:32.
Foggy Pine Books owner Mary Ruthless said, "Three weeks ago, we were like… wondering how we were going to make it through winter. And now I'm having to hire, you know, a couple of extra people to help process all of the orders."
(14) FIREFLY NEWS. "Firefly Goes to the Moon: NASA Sends Firefly Aerospace Lander to the Moon in 2023" – SCIFI Radio tells what it means.
…A Firefly Aerospace lander will launch to the moon in 2023 as part of NASA's Artemis program. Now, I know what you're thinking. "Firefly?"

…A janitor's cart is far less interesting than the truth – that this is an artist's rendering of the Blue Ghost, a robotic lander being built by Texas-based Firefly Aerospace to deliver 10 scientific experiments and technology demonstrations to the lunar surface in 2023. It will touch down in a lunar mare called Mare Crisium, a low-lying basin on the near side of the moon that measures more than 300 miles (480 kilometers) wide. The lander will carry instruments to study several aspects of the lunar surface in preparation for future human missions to the moon.
(15) GET OUT BEFORE THE SUN COMES UP. James McMahon, in "They came at night: how a Spanish-speaking cast shot an alternative Dracula after Bela Lugosi had gone to bed" in The Guardian, discusses the 90th anniversary of the Spanish-language version of Dracula, which is 29 minutes longer than the English-language version, features a quite different take on Dracula by Carlos Villar, and was long thought lost until a copy was found in the Cuban film archive.
They came under the shadow of darkness – quite literally. Just as Dracula star Bela Lugosi was no doubt being tucked up for the night, director George Melford, cast and crew made their way on to the Universal studio lot in 1931 to shoot a Spanish-language version of the Bram Stoker 1897 horror novel, filmed using the same sets and costumes as the much more familiar Tod Browning masterwork….

Shot in half the time the Lugosi vehicle was allotted, and on a much smaller budget, Drácula contains revealing differences. It's 29 minutes longer the Browning's film, with more dialogue – we see more of Dracula's castle; and the framing of shots are argubly superior – thanks to Melford's crew having access to Dracula's dailies when they arrived at night, thereby being able to make revisions to lighting and camera angles….
(16) AN ORIGINAL WOZNIAK. Hypebeast sighted a real original on the auction block: "Rare Apple-1 Computer $1.5 Million USD eBay Auction". I like how eBay invites me to just "add it to cart", too, like my credit's good!
A working Apple-1, one of the tech giant's first line of computers introduced back in 1976, is now up for auction on eBay for $1.5 million USD.

If you're familiar with the history of Apple, then you'll know that the Apple-1 is now rare memorabilia. Designed and hand-built by Steve Wozniak, then sold wholesale by Steve Jobs, the two sold off some of their belongings to raise enough money to cover manufacturing costs — Jobs sold his Volkswagen van and Wozniak sold his HP-65 calculator.
(17) YOUTH WANTS TO KNOW. Leo has been patient til now: "8-Year-Old Calls Out NPR For Lack Of Dinosaur Stories" at NPR.
… Leo has a point. All Things Considered is about to turn 50 years old. NPR's archivists found the word "dinosaur" appearing in stories 294 times in the show's history. By comparison, "senator" has appeared 20,447 times.

To remedy the situation, All Things Considered invited Leo to ask some questions about dinosaurs to Ashley Poust, a research associate at the San Diego Natural History Museum. Leo wants to be a paleontologist when he grows up….
(18) THAT'S SO LAST YEAR. The New York Times says "Monoliths Are Still Happening".
Much like the coronavirus, monoliths refuse to be left behind in 2020.

The discovery of a new mysterious metal slab in Turkey on Friday was a throwback to a momentary craze from the olden days of November and December. Back then, a shiny, metal monolith appeared in the Utah desert without explanation, followed by copycats from California to Romania.

Perhaps art projects or perhaps the manifestation of pandemic-induced boredom, the monoliths captured the world's attention for a fleeting moment. It remains unknown who created many of them, or why they were created, but they largely faded from cultural relevance as the world focused on other things, like the presidential transition, a coup in Myanmar or the Netflix show "Bridgerton."

But the new monolith was gone after just four days. It vanished without explanation on Tuesday, according to local reports.

This despite the presence of something its predecessors didn't have: armed guards.

The military police started an investigation to identify the people who planted the monolith in a rural area of Sanliurfa, a province in southeastern Turkey, according to DHA, a local news agency. The military police and village guards — government-paid civilians who work with the military police — stood watch as the investigation unfolded, protecting the monolith from any threats, DHA reported.

Also unlike previous monoliths, this one has an inscription. In the Gokturk alphabet, an ancient Turkic language, it reads: "Look at the sky, see the moon."…
(19) NOW ARRIVING. The AP provides more details about the trio of Mars exploratory craft that will reach the Red Planet this month: "Next stop Mars: 3 spacecraft arriving in quick succession".
The United Arab Emirates' orbiter reaches Mars on Tuesday, followed less than 24 hours later by China's orbiter-rover combo. NASA's rover, the cosmic caboose, will arrive on the scene a week later, on Feb. 18, to collect rocks for return to Earth — a key step in determining whether life ever existed at Mars.

Both the UAE and China are newcomers at Mars, where more than half of Earth's emissaries have failed. China's first Mars mission, a joint effort with Russia in 2011, never made it past Earth's orbit. "We are quite excited as engineers and scientists, at the same time quite stressed and happy, worried, scared," said Omran Sharaf, project manager for the UAE.

All three spacecraft rocketed away within days of one another last July, during an Earth-to-Mars launch window that occurs only every two years. That's why their arrivals are also close together. Called Amal, or Hope in Arabic, the Gulf nation's spacecraft is seeking an especially high orbit — 13,500 by 27,000 miles high (22,000 kilometers by 44,000 kilometers) — all the better to monitor the Martian weather.

China's duo — called Tianwen-1, or "Quest for Heavenly Truth" — will remain paired in orbit until May, when the rover separates to descend to the dusty, ruddy surface. If all goes well, it will be only the second country to land successfully on the red planet.

The U.S. rover Perseverance, by contrast, will dive in straight away for a harrowing sky-crane touchdown similar to the Curiosity rover's grand Martian entrance in 2012. The odds are in NASA's favor: It's nailed eight of its nine attempted Mars landings.
(20) JUDGE FOR YOURSELF. Could this be the first SJW credential lawyer? Daily Beast explains how a "Texas Lawyer Accidentally Appears in Zoom Court as a Kitten". On the recording the lawyer insists he's not a cat. But are you going to believe something a lawyer says or your own eyes?
(21) VIDEO OF THE DAY. In a new "Pirates of the Caribbean Pitch Meeting" on ScreenRant, Ryan George says Pirates Of The Caribbean is "a wacky adventure where you disregard physics and probability and all that bring stuff. But it's more fun that way!"
[Thanks to John King Tarpinian, Cat Eldridge, Michael Toman, John Hertz, JJ, Andrew Porter, Mike Kennedy, Alan Baumler, Daniel Dern, Ben Bird Person, and Martin Morse Wooster for some of these stories. Title credit goes to File 770 contributing editor of the day Soon Lee.]