(1) STATHOPOULOS ON TV. The Age's reviewer Debi Enker manages to put Nick Stathopoulos' TV appearance in a good light in an otherwise snarky piece: "Three-part documentary Finding the Archibald and weekly magazine show Art Works can't fix ABC TV's coverage of the arts". Nick is a past Hugo, BSFA Award, and Chesley nominee who's won Australia's Ditmar Award 10 times. He also designed the Aussiecon 4 (2010) Hugo base.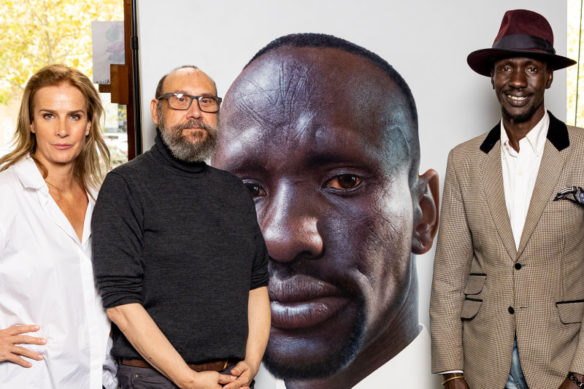 … The series about "the Archie" arrives in the popular prize's centenary year. Producer, writer and director Griffiths endeavours to establish her cred as host by telling us that she is the daughter of an art teacher and the wife of a painter, as well as "an actor who's spent her whole life trying to understand the human condition".

Apparently, a survey of the Archibald's history and consideration of what it might reflect about our country isn't sufficient: the production requires some tricking up. So Griffiths embarks on a mission to select a single portrait that she believes "captures the changing face of Australia and will stand the test of time".

She interviews a range of artists who have submitted portraits to the prize, as well as people who have posed for them, and ponders the question of what makes a great portrait. She also poses for one herself.

Meanwhile, the series also follows Natalie Wilson as she curates an exhibition of 100 portraits to accompany the NSW Art Gallery's display of this year's entrants. Her search involves thousands of emails sent in an effort to locate past Archibald entries. Fortunately, Sherlock Griffiths is on hand to help her find the one of Molly Meldrum, which is hanging in the first place that anyone might look for it: his house….
(2) EARNING PENNIES FROM A DEAD MAN'S EYES. The Rite Gud podcast wonders aloud: "H.P. Lovecraft: Why We Can Stop Flogging His Dead Bloated Corpse".
In today's sci-fi/ fantasy community, it's fashionable to dig up H.P. Lovecraft and put him on trial as the avatar of everything wrong with speculative fiction. While we won't defend Lovecraft's abhorrent social values, we have to ask: what is the point of this? What do we gain by canceling a man who is now a dusty skeleton mouldering in the dirt? Are we really reckoning with genre fiction's bigoted past, or are we just looking for a way to distract from our contemporary problems?

In this episode, Karlo Yeager Rodríguez joins us to talk about horror, colonialism, and Captain Picard's dangerous space dumps.
(3) BLUE PLATE SPECIALS REMAIN ON MENU. "English Heritage recognises Blyton and Kipling's racism – but blue plaques to stay" reports The Guardian.
English Heritage has acknowledged the "racism, xenophobia and lack of literary merit" in Enid Blyton's writing, and the "racist and imperialist sentiments" of Rudyard Kipling, as part of its ongoing efforts to better reflect today's values in its blue plaques.

While English Heritage's blue plaques commemorating both authors remain unchanged, the charity's online information about both now goes into detail about the problematic aspects of their writing and views.

English Heritage notes online how in 1960, Macmillan refused to publish Blyton's children's novel The Mystery That Never Was, noting her "faint but unattractive touch of old-fashioned xenophobia". It would go on to be published by William Collins….

English Heritage has also noted the views of Kipling, who is still commemorated with a blue plaque at 43 Villiers St in London where he lived between 1889 and 1891.

English Heritage's online information for Kipling now highlights how his political views "have been widely criticised for their racist and imperialist sentiments". It points in particular to works such as The White Man's Burden "with its offensive description of 'new-caught, sullen peoples, half devil and half child'" which "sought to portray imperialism as a mission of civilisation".

It also highlights that "George Orwell found Kipling's attitude to instances of colonial brutality 'morally insensitive and aesthetically disgusting', but admitted the importance of his work to him in his younger life."
(4) STATION-TO-STATION. Abigail Nussbaum is a big fan of this, as shown by her "Five Comments on The Underground Railroad" at Asking the Wrong Questions.
The Underground Railroad is a stone cold masterpiece, one that not only shoulders the challenging task of adapting the novel it was based on with seeming ease, but that breaks new ground in terms of what television can be and how it can achieve its effect. It deserves sustained, continued discussion and exploration. So this post isn't a review—I'm not sure I feel equal to that—so much as a series of observations, ones that will hopefully get more people to watch the show, and talk about it….
(5) BROMANCE, ROMANCE, NUANCE. In "Anthony Mackie on Sam & Bucky's 'Bromance' on Falcon & Winter Soldier" in Variety, the new Captain America tells things from his perspective.
…So getting to wear the costume, hold the shield, and call himself Captain America — as Wilson does in the Marvel comics — was somewhat overwhelming for Mackie.

"Having if not one of my bucket lists, the bucket list moment happen, is not so much about becoming Captain America — it's about having my dreams realized," he says. "It's very humbling when, you know, you get the opportunity that you've always dreamed of."

The other half of Sam's journey on the show is the transformation of his relationship with Bucky Barnes (Sebastian Stan) from simmering resentment to a lasting and profound friendship. That translated into several scenes of emotional and physical familiarity between Sam and Bucky that some fans interpreted as a budding romance — similar to how some Marvel fans desired Bucky and the first Captain America, Chris Evans' Steve Rogers, to be a couple.

Mackie points out that he's played in these kinds of waters before, in an episode of "Black Mirror" in which he and Yahya Abdul-Mateen II star as best friends who play an immersive, virtual reality video game that allows them to simulate being a man and woman in a sexual relationship. But he resists an interpretation that Sam and Bucky are sexually or romantically attracted to each other.

"So many things are twisted and convoluted. There's so many things that people latch on to with their own devices to make themselves relevant and rational," he says. "The idea of two guys being friends and loving each other in 2021 is a problem because of the exploitation of homosexuality. It used to be guys can be friends, we can hang out, and it was cool. You would always meet your friends at the bar, you know. You can't do that anymore, because something as pure and beautiful as homosexuality has been exploited by people who are trying to rationalize themselves. So something that's always been very important to me is showing a sensitive masculine figure. There's nothing more masculine than being a superhero and flying around and beating people up. But there's nothing more sensitive than having emotional conversations and a kindred spirit friendship with someone that you care about and love."

"Sam and Steve had a relationship where they admired, appreciated and loved each other," Mackie continues. "Bucky and Sam have a relationship where they learn how to accept, appreciate and love each other. You'd call it a bromance, but it's literally just two guys who have each other's backs."…
(6) MEDIA BIRTHDAY.
June 17, 1960 – The Twilight Zone's "The Mighty Casey."
What you're looking at is a ghost, once alive but now deceased. Once upon a time, it was a baseball stadium that housed a major league ball club known as the Hoboken Zephyrs. Now it houses nothing but memories and a wind that stirs in the high grass of what was once an outfield, a wind that sometimes bears a faint, ghostly resemblance to the roar of a crowd that once sat here. We're back in time now, when the Hoboken Zephyrs were still a part of the National League, and this mausoleum of memories was an honest-to-Pete stadium. But since this is strictly a story of make believe, it has to start this way: once upon a time, in Hoboken, New Jersey, it was tryout day. And though he's not yet on the field, you're about to meet a most unusual fella, a left-handed pitcher named Casey. — Opening narration
It's almost summer, so let's have a baseball story. On this day in 1960, The Twilight Zone first aired "The Mighty Casey" in which a down-and-out baseball team's fortunes are lifted by a mysterious but seemingly unbeatable young player. It was directed by Robert Parrish and Alvin Ganzer, and of course written by Rod Serling. Cast was Jack Warden as McGarry, Robert Sorrells as Casey and Abraham Sofaer as Dr. Stillman.
(7) TODAY'S BIRTHDAYS.
[Compiled by Cat Eldridge.]
Born June 17, 1898 — M. C. Escher. Dutch artist whose work was widely used to illustrate genre works such as the 1967 Harper & Row hardcover of Kate Wilhelm's Where Late the Sweet Birds Sang, or Berkley Books 1996 cover of Clive Barker's Athens Damnation Game. (Died 1972.)
Born June 17, 1903 — William Bogart. Pulp fiction writer. He is best remembered for writing several Doc Savage novels using the pseudonym Kenneth Robeson. Actually he's responsible for thirteen of the novels, a goodly share of the number done. It's suggested that most of his short stories were Doc Savage pastiches. (Died 1977.)
Born June 17, 1927 — Wally Wood. Comic book writer, artist and independent publisher, best known for his work on EC Comics' Mad magazine, Marvel's Daredevil, and Topps's landmark Mars Attacks set. He was the inaugural inductee into the comic book industry's Jack Kirby Hall of Fame, and was later inducted into the Will Eisner Comic Book Hall of Fame. (Died 1981.)
Born June 17, 1931 — Dean Ing. I reasonably sure the first thing I read by him was Soft Targets and I know I read all of his Man-Kzin Wars stories as I went through a phase of reading all that popcorn literature set in Niven's universe. His "Devil You Don't Know" novelette was nominated at Seacon '79. I also liked  his L-5 Community series. (Died 2020.)
Born June 17, 1941 — William Lucking, 80. Here because he played Renny in Doc Savage: Man of Bronze. (I know I've seen it, but I'll be damn if I remember much about it.)  He's also had one-offs in Mission: Impossible, The Incredible Hulk, The American Hero, The Quest, Voyagers, X-Files, The Lazarus Man, Millenium, Deep Space Nine and Night Stalker. 
Born June 17, 1953 — Phyllis Weinberg, 68. She's a fan who was married to fellow fan Robert E. Weinberg. She co-edited the first issue of The Weird Tales Collector. She co-chaired World Fantasy Convention 1996. 
Born June 17, 1982 — Arthur Darvill, 39. Actor who has had two great roles. The first was playing Rory Williams, one of the Eleventh Doctor's companions. The second, and to my mind the more interesting of the two, was playing the time-traveler Rip Hunter in the Legends of Tomorrow. He also played Seymour Krelborn in The Little Shop of Horrors at the Midlands Arts Centre, and Mephistopheles in Doctor Faustus at Shakespeare's Globe.  
Born June 17, 1982 — Jodie Whittaker, 39. The Thirteenth Doctor now in her third series and hopefully not final one. She played Ffion Foxwell in the Black Mirror's "The Entire History of You", and was Samantha Adams in Attack the Block, a horror SF film. 
(7A) NUTS. [Item by Martin Morse Wooster.] This is from a review by Robert Armstrong of Charlie Brown's America: The Popular Politics of Peanuts by Blake Scott Ball in the June 12 Financial Times.  Armstrong notes that Charles Schultz was a World War II veteran.
Snoopy's alternative identity as a first world war flying ace–with his dog-house propeller plane–was a childhood favourite. It never occurred to me to read the strips as commentaries on the Vietnam War. Yet they were. It is telling that Snoopy never defeated the Red Baron, and equally notable that the strips became more bleak as the war went on.'I'm exhausted,' Snoopy complains in 1971. 'this stupid war is too much.' Readers got the message: Schultz supported the fighting man, but not the war. The soldiers in Asia got it too.
(8) STRACZYNSKI BOOK LAUNCH. J. Michael Straczynski will do a Zoom book launch for his new non-sf novel Together We Will Go on Tuesday, July 6 at 5:30 p.m. Central. Free to attend, registration required. Register here.
Known for his groundbreaking work across television, comics, films, and more, award-winning and bestselling author J. Michael Straczynski joins us to celebrate the publication day of Together We Will Go (Gallery/Scout Press), his stirring first foray into literary fiction. A powerful tale of a struggling young writer who assembles a busload of fellow disheartened people on a journey toward death, Together We Will Go grapples with the biggest questions of existence while finding small moments of the beauty in this world that often goes unnoticed. As Straczynski's travelers cross state lines and complications to the initial plan arise, it becomes clear that this novel is as much about the will to live as the choice to end it—and that it's a book readers will remember for a lifetime.
(9) THREE TAIKONAUTS REACH CHINA'S SPACE STATION. AP News covers the moment as "Chinese crew enters new space station on 3-month mission".
Three Chinese astronauts arrived Thursday at China's new space station at the start of a three-month mission, marking another milestone in the country's ambitious space program.

Their Shenzhou-12 craft connected with the space station module about six hours after taking off from the Jiuquan launch center on the edge of the Gobi Desert.

About three hours later, commander Nie Haisheng, 56, followed by Liu Boming, 54, and space rookie Tang Hongbo, 45, opened the hatches and floated into the Tianhe-1 core living module. Pictures showed them busy at work unpacking equipment.

"This represents the first time Chinese have entered their own space station," state broadcaster CCTV said on its nightly news broadcast.

The crew will carry out experiments, test equipment, conduct maintenance and prepare the station for receiving two laboratory modules next year. The mission brings to 14 the number of astronauts China has launched into space since 2003, becoming only the third country after the former Soviet Union and the United States to do so on its own.
(10) MORE POWER. Netflix dropped a trailer for How I Became a Superhero. Airs July 9.
Who are the real superheroes? In a world where humans and superheroes coexist, a lone wolf cop teams up with a brilliant detective to dismantle a dark organization trafficking superpowers.
(11) REH IN THE COMICS. The Cromcast: A Weird Fiction Podcast lets you listen in to a panel from the recent get-together in Cross Plains: "Howard Days 2021 – REH in the Comics!"
This conversation from Friday, June 11th, at the First United Methodist Church in Cross Plains, Texas. The panel focuses on the history of Robert E. Howard's characters and stories presented in a comic book format. Mark Finn moderates Roy Thomas, Fred Blosser, Patrice Louinet, and Jay Zetterberg.
(12) REBORN SERIES CONTINUES. Jenna Greene is a teacher and author whose novel, Reborn, won the 2019 Moonbeam Children's Book award. She is the co-host of Quill & Ink: A Podcast for Book Lovers.
In Reborn, a character tries to escape her fate:
The marks on Lexil's skin state she is a Reborn – someone who has lived before. As such, she must toil in service to those who have only one chance at life. Sold at auction, she is fearful but accepting of her new life. Everything changes when she must save a young child from a fate worse than death.

With the help of a new ally named Finn, she flees to the Wastelands. There she struggles to survive, while discovering more about herself, the world, and what it truly means to be Reborn.
Now, in the series' second book, Renew, Lexil and Finn are forced to venture back into the Wastelands:
The Unclaimed Cities are not the idyllic setting Lexil, Finn, and Ceera thought it would be. This new land has challenges of its own – which they soon discover.

When Lexil and Finn return to the Wastelands, they are accompanied by Kaylen, someone they can't decide is a friend or foe.
(13) MEMORY JOGGER. B-Side Books from Columbia University Press has some writers you've heard of advocating for books they hope you'll love, too. Got to love this cover, anyway!
…What do you do when a book that you love has been neglected or dismissed by everyone else? In B-Side Books, leading writers, critics, and scholars show why their favorite forgotten books deserve a new audience. From dusty westerns and far-out science fiction to obscure Czech novelists and romance-novel precursors, the contributors advocate for the unsung virtues of overlooked books. They write about unheralded novels, poetry collections, memoirs, and more with understanding, respect, passion, and love.

In these thoughtful, often personal essays, contributors—including Stephanie Burt, Caleb Crain, Merve Emre, Ursula K. Le Guin, Carlo Rotella, and Namwali Serpell—read books by writers such as Helen DeWitt, Shirley Jackson, Stanislaw Lem, Dambudzo Marechera, Paule Marshall, and Charles Portis.
(14) BIG FANS OF BUGS. "Entomologists discover dozens of new beetle species—and name some after iconic sci-fi heroines" – Phys.org has the story.
… Fast forward to now and there are thousands of ambrosia beetle species, including more than 70 of the Coptoborus genus—and counting. In christening the new beetles, Smith and Cognato got some inspiration by finding similarities between the beetle and its namesake.

For instance, the C. uhura was given its name because its reddish color, reminiscent of the uniform worn by Nichelle Nichols's Uhura character in the original "Star Trek" TV series.

And Sigourney Weaver's Ellen Ripley character in the "Alien" film franchise had a shaved head in the movie "Alien 3." One of the beetles, now named C. ripley, was also glabrous, or without hair.

Other names were selected because the duo just liked the characters and found them inspiring. For example, the C. scully beetle was named after Dana Scully, Gillian Anderson's character on "The X-Files."

The character is also behind what's known as the "Scully Effect." By showing a successful female scientist on TV, the show helped raise awareness of science, technology, engineering and mathematics—or STEM—professions among young women.

In their paper, Smith and Cognato wrote, "We believe in the 'Scully Effect' and hope future female scientists, real and fictional, continue to inspire children and young adults to pursue STEM careers."…
(15) VIDEO OF THE DAY. And here's "How The Falcon And The Winter Soldier Should Have Ended".
[Thanks to Mike Kennedy, Andrew Porter, Martin Morse Wooster, Cora Buhlert, Moshe Feder, JJ, Michael Toman, John King Tarpinian, and Cat Eldridge for some of these stories. Title credit belongs to contributing editor of the day Jim Janney.]