(1) FINAL GIRLS CONSIDERED. Stephen Graham Jones cheers on the "final girls" of slasher movies at CrimeReads: "Let's All Be Final Girls".
…Part of the final girl's DNA, after all, is the scream queen, typified in Fay Wray's performance in King Kong. She wasn't necessarily the first of her kind, but talkies were relatively new in 1933, so her scream was especially loud—loud enough to carry across the whole century.

However, final girls may come from the tradition of scream queens, but that doesn't mean scream queens are final girls themselves. Yes, scream queens are menaced by horror, and yes, they survive their ordeals, but what their screams tend to do, actually, is bring the men in to deal with this bully. These scream queens are, after all, "white women in peril," usually from some "dark" monstrosity—a giant gorilla, say. Their main function in the story is to cringe and run, and be abducted. Scream queens are damsels, perpetually in distress.

The final girl is no damsel. She doesn't scream to call a man in to help her. No, she takes this lumbering beast down herself….
(2) PAGES MISSING. Dean Wesley Smith's and Kristine Kathryn Rusch's WMG Publishing told Facebook readers their website is currently having major problems. Their ISP, Bluehost, is to blame – a company that no longer hosts File 770 I'm relieved to say.
If you've tried going to the WMG website the past week or so, you'll discover that it seems to no longer have any content. This is a result of an issue with our website hosting platform, Bluehost, that we are still trying to get them to resolve. They accidentally deleted it…all 1,500 or so pages of it (we have backups, of course, but they can't seem to restore the site even using those…it's a long, frustrating story). At this point, we have no idea how long our website will be down, so in this newsletter, all of the links we direct you to are external. Please send some positive tech vibes our way that Bluehost resolves this issue soon.
(3) HEARING FROM FRIENDS. Cora Buhlert's Fancast Spotlight introduces listeners to the "Unknown Worlds of the Merril Collection" podcast hosted by Oliver Brackenbury.
Who are the people behind your podcast or channel?

I host, screenwriter Chris Dickie is the producer, and ultimately the Friends of Merril volunteer group are behind the show. The Friends of Merril are dedicated to spreading awareness of, and otherwise supporting, the Merril Collection of Science Fiction, Speculation & Fantasy – located on the 3rd floor of the Lillian H. Smith branch of the Toronto Public Library system. With over 80,000 spec fic texts going back over two hundred years, it's a tremendous asset for writers, scholars, and readers, one I've benefited from greatly.

Why did you decide to start your podcast or channel?

Well, Chris had just joined the Friends and when I asked him if he had anything specific he'd like to try in promoting the Merril, he said he'd been wanting to try podcasting. I'd been wanting to create some kind of shareable promotional content for the Merril, and had plenty of experience with hosting from my old Youtuber days. So, we figured we'd give it a whirl and see if it helped spread awareness of the Merril!
As far as I can tell, it's certainly helped spread the good word. But we can always do more!
(4) STRONG MUSEUM'S ERIC CARLE EXHIBIT. Eric Carle: A Very Hungry, Quiet, Lonely, Clumsy, Busy Exhibit opens at The Strong Museum in Rochester, NY on Saturday, September 18 and will be on display through January 2.
Step into the pages of beloved author and illustrator Eric Carle's Very series of picture books—including the iconic Very Hungry Caterpillar… Co-organized by Children's Museum of Pittsburgh and The Eric Carle Museum of Picture Book Art in Amherst, MA, Very Eric Carle is the first North American traveling exhibit for children inspired by the work of Eric Carle.

At this play-and-learn exhibit, visitors step into the pages of Eric Carle's colorful picture books. His classic "Very" series, all illustrated in his hand-painted tissue paper collage technique, introduces five special insects who take journeys of discovery. Each story is a testament to Eric Carle's love of nature, his respect for the emotional lives of children, and his recurring themes of friendship, creativity, and the power of imagination….
(5) RAY'S HOMETOWN GETS A CONVENTION. Wauke-Con, Waukegan's First Comic Book Convention, will be held October 16-17 at the Ray Bradbury Experience Museum, located at lucky 13 N. Genesee, from 12-6 p.m. both days.
(6) STAR SCRIPTURE. "Star Trek Series Bibles Released Through Official Website" reports Gizmodo. Links to the Bibles themselves are here.
Series bibles are a staple of television production. Part early pitch, part worldbuilding exercise, they form the fundamental basis for the earliest concrete visions for a TV show on the road to production. And now you can get a glimpse at the documents behind decades of Star Trek TV, giving access to some truly fascinating behind-the-scenes materials.

The series bibles for TNG, DS9, Voyager, and Enterprise have been floating around the internet in various iterations for a while, but in a new piece by Rob Wieland today, the official Star Trek website provided a fresh look at the foundations of the first four major Star Trek TV continuations. Thanks to these documents, fans can see how these iconic shows were first imagined, what changed on the road to the small screen, and what ideas were the ones writers decided were the most-thought provoking and exciting to sell these shows on to networks….
(7) PUPPIES: THE NEXT GENERATION. With Debarkle Chapter 60, Camestros Felapton some significant late arrivals to sf's culture wars, Nick Cole and Jon Del Arroz: "Dramatis Personae — The Next Generation".
…In February of 2016 former soldier, actor and writer Nick Cole[5] announced that he had been "banned by the publisher". Cole had already published a few books with Harper Collins including a trilogy of post-apocalyptic books and a novel Soda Pop Soldier in which gamers fight a virtual reality war for corporations. It was the sequel (or rather prequel) to Soda Pop Soldier that led to the dispute. Cole had planned for the story to feature a Terminator-style AI rebellion and for motivation, he had decided that the AI at the source of the rebellion would deduce that humanity would kill it after watching a reality TV show in which a character has an abortion….
(8) FILE 007. The next James Bond movie, No Time To Die, comes to U.S. theaters on October 8.
(9) MEDIA BIRTHDAY.
1979 – Forty-two years ago on this date, Time After Time premiered. (It would lose out to Alien for Best Dramatic Presentation at Noreascon Two.)  It was directed by Nicholas Meyer who wrote the screenplay from a story by Karl Alexander and Steve Hayes, and produced by Herb Jaffe. The primary cast was Malcolm McDowell, David Warner and Mary Steenburgen. Reception by critics was unambiguously positive, the box office was good and the audience reviewers at Rotten Tomatoes currently give it an excellent sixty-eight percent rating. 

(10) TODAY'S BIRTHDAYS.
[Compiled by Cat Eldridge.]
Born August 31, 1914 — Richard Basehart. He's best remembered as Admiral Harriman Nelson in Voyage to the Bottom of the Sea. He also portrayed Wilton Knight in the later Knight Rider series. And he appeared in "Probe 7, Over and Out", an episode of The Twilight Zone. He showed up on The Island of Dr. Moreau as Sayer of the Law. (Died 1984.)
Born August 31, 1933 — Robert Adams. He's remembered for the Horseclans series, his overall best-known works though he wrote other works. While he never completed the series, he wrote 18 novels in the Horseclans series before his death. (Died 1990.)
Born August 31, 1949 — Richard Gere, 72. He was Lancelot in First Knight, which starred Sean Connery as King Arthur, and he was Joe Klein in The Mothman Prophecies. That's it for genre film work. First Knight for me is more than enough to get Birthday Honors, but he also was in live performances of Rosencrantz and Guildenstern Are Dead in the Sixties. Though definitely not genre, one of my roles by him was as defense attorney Billy Flynn in Chicago. 
Born August 31, 1958 — Julie Brown, 63. Starred with Geena Davis in the cult SF comedy, Earth Girls Are Easy. She's been in genre films such as The Incredible Shrinking Woman, Bloody Birthday (a slasher film), Timebomb and Wakko's Wish. She's had one-offs in Quantum Leap and The Addams Family. She's voiced a lot of animated characters included a memorable run doing the ever so sexy Minerva Mink on The Animaniacs. She reprised that role on Pinky and The Brain under the odd character name of Danette Spoonabello Minerva Mink. 
Born August 31, 1969 — Jonathan LaPaglia, 52. The lead in Seven Days which I've noted before is one of my favorite SF series. Other than playing Prince Seth of Delphi in Gryphon which aired on the Sci-fi channel, that's his entire genre history as far as I can tell unless you count the Bones series as SF in which he's in "The Skull in the Sculpture" episode as Anton Deluca.
Born August 31, 1971 — Chris Tucker, 50. The way over the top Ruby Rhod in Luc Besson's The Fifth Element, a film I really, really like. His only other genre credit is as a MC in the Hall in The Meteor Man. 
Born August 31, 1982 — G. Willow Wilson, 39. A true genius. There's her amazing work on the Sasquan Hugo Award-winning Ms. Marvel series starring Kamala Khan which I recommend strongly, and that's not to say that her superb Air series shouldn't be on your reading list as well. Oh, and the Cairo graphic novel with its duplicitous djinn is quite the read. The only thing I've by her that I've not quite liked is her World Fantasy Award winning Alif the Unseen novel.  I've not yet read her Wonder Women story but should soon. Her Invisible Kingdom, vol 2: Edge of Everything is nominated at DisCon III for a Best Graphic Story Hugo.
Born August 31, 1992 — Holly Early, 29. She was Lily Arwell in the Eleventh Doctor story, "The Doctor, the Widow and the Wardrobe." She was also Kela in Beowulf: Return to the Shieldlands, Agnes in Humans, and Hermia in A Midsummer Night's Dream.
(11) HE LOST ON JEOPARDY! "Mike Richards is out as producer of 'Jeopardy!' and 'Wheel'" – AP News has the story.
Mike Richards is out as executive producer of "Jeopardy!", days after he exited as the quiz show's newly appointed host because of past misogynistic and disparaging comments.

Richards is also no longer executive producer of "Wheel of Fortune," according to a memo to staff that was confirmed by Sony Pictures Television, which produces both of the shows.

"We had hoped that when Mike stepped down from the host position at Jeopardy! it would have minimized the disruption and internal difficulties we have all experienced these last few weeks. That clearly has not happened," Suzanne Prete, an executive with the game shows, said in the memo.

…In her memo, Prete said she will work with Richards' interim replacement, Michael Davies, until further notice. Davies produces ABC's "Who Wants to Be A Millionaire."
(12) STAY FROSTY. James Davis Nicoll helps Tor.com readers find "Five Chilly SF Stories to Help Beat the Summer Heat", including —
Icerigger by Alan Dean Foster (1974)

Interstellar salesman Ethan Frome Fortune made one small mistake when he traveled to the desolate ice-world of Tran-ky-ky. He boarded the same starship as the fantastically wealthy and eminently kidnappable Hellespont du Kane, and du Kane's daughter Colette. An attempted kidnapping ensues.

The kidnapping fails. A single kidnapper survives. He and his prospective kidnappee and several innocent bystanders (including Fortune) end up marooned on Tran-ky-ky.

The castaways are a diverse lot; at least one of them, adventurer Skua September, is suited to survival on a backward, frozen world. Other off-worlders could save them…if the stolen shuttle had not crashed on the other side of the world from the trading post.

Providentially, a nearby community of indigenes are willing to assist the odd-looking off-worlders. There is just one minor complication. Even now, a nomad horde is bearing down upon the town. Perhaps the off-worlders can help the desperate townsfolk repel the attack. If not, the humans will die alongside the townsfolk.
(13) PORTAL CREATOR. At The Walrus, Jason Guriel makes the case for "Why William Gibson Is a Literary Genius".
…It's been four decades since William Gibson's short story "Johnny Mnemonic" appeared in the May 1981 issue of Omni magazine. He'd already published a couple of pieces, but "Johnny" was a landmark feat of fiction: in a matter of eight magazine pages, Gibson roughed out the contours of an entire world.

The world Gibson was building was a wormhole away from most science fiction—from space-opera optimism and the sort of intergalactic intrigue that's settled by laser sword. Gibson's heroes were hustlers, their turf the congested city. They used substances, skirted the law, and self-edited via surgery (see Molly's nails). He provided more detail, the following year, in the story "Burning Chrome," which coined the term cyberspace: a boundless 3-D grid, "an abstract representation of the relationships between data systems"—a kind of web. And then, in 1984, he went even deeper with Neuromancer. His zeitgeist-rattling debut novel was about a hacker for hire who navigated cyberspace using a modem and an Ono-Sendai Cyberspace 7 deck, a Gibson confection that rests on his hacker's lap (and sounds a lot like a modern-day laptop)….
(14) DOUBLING DOWN. In "Tales Twice Told", episode 60 of the Two Chairs Talking podcast, Perry Middlemiss and David Grigg discuss recent award winners, the nominees for the Short Story category of this year's Hugos, and the books they've been reading. 
David was particularly impressed by "The End of the World is Bigger Than Love" by Davina Bell, winner of this year's Children's Book Council of Australia Book of the Year for Older Readers: "Probably the best piece of SF I've read all year".
(15) OLDER THAN YOU THINK. Smithsonian Magazine says archeologists have established "King Arthur's Stone Is Older Than Stonehenge".
Arthur's Stone, an enigmatic rock burial in Herefordshire, England, is one of the United Kingdom's most famous Stone Age monuments. Now, reports Carly Cassella for Science Alert, excavations carried out near the tomb—named for its supposed ties to King Arthur—have shed light on its beginnings, revealing that Neolithic people built it as part of an intricate ceremonial landscape.

"Although Arthur's Stone is an iconic … monument of international importance, its origins had been unclear until now," says dig leader Julian Thomas, an archaeologist at the University of Manchester, in a statement. "Being able to shine a light on this astonishing 5,700-year-old tomb is exciting and helps to tell the story of our origins."
(16) METAVERSE. [Item by Martin Morse Wooster.] In the Washington Post, Dalvin Brown says for a Ready Player One-style metaverse to happen, tech companies not known for cooperation will have to work together and virtual reality headsets will have to be much more popular than they are now (the Entertainment Software Association says only 29 percent of America's 169 million gamers have a virtual reality system). "What is the metaverse? Microsoft, Facebook want to build next version of the Internet".
What is the metaverse?

The term was coined by writer Neal Stephenson in the 1992 dystopian novel "Snow Crash." In it, the metaverse refers to an immersive digital environment where people interact as avatars. The prefix "meta" means beyond and "verse" refers to the universe. Tech companies use the word to describe what comes after the Internet, which may or may not be reliant on VR glasses.

Think of it as an embodied Internet that you're inside of rather than looking at. This digital realm wouldn't be limited to devices: Avatars could walk around in cyberspace similar to how people maneuver the physical world, allowing users to interact with people on the other side of the planet as if they're in the same room.… But for a robust virtual universe, everyone needs to want and afford VR headsets. The technology would need to be stylish and minimal enough to interest more people and sophisticated enough to work seamlessly. That hasn't happened yet.

Nimble wireless headsets, like Facebook's Oculus Quest 2, take a hit on image quality, while bulky VR goggles, like the HTC Vive Pro 2, enable more computing power with their wires. Facebook's Oculus Quest 2 is among the most affordable at $299, while the HTC Vive Pro 2 headset starts at $799 plus the cost of controllers.
(17) ANOTHER VERSE. When you're a fan, it's important to be able to tell your multiverse from your metaverse. "Marvel Comics Reveals 8 New Tentpole Titles".
In celebration of Marvel's Birthday today, Marvel Comics revealed its first look at eight new tentpole titles that will shape the future of the Marvel Universe in the months to come.
Here's one of them —
Marvel Comics' Avengers Forever pulls together archaeologist Tony Stark aka the Invincible Ant-Man and Avengers from across the multiverse to bring order to timelines where 'hope' is a four letter word. Jason Aaron and Aaron Kuder present an all-new series that will redefine the Avengers as…the Multiverse's Mightiest Heroes.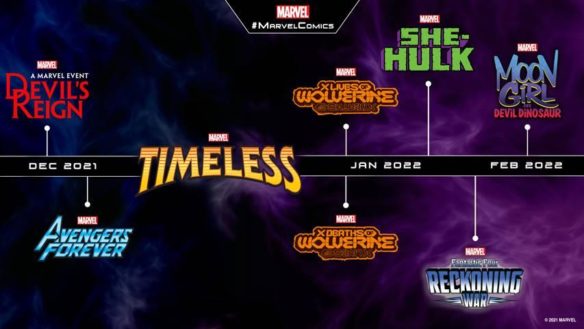 (18) VIDEO OF THE DAY. Brian And Charles is a short film about a lonely farmer who decides to build a robot to be his friend and what happens when the robot starts having issues.
[Thanks to Michael Toman, John King Tarpinian, Cat Eldridge, Cora Buhlert, Mike Kennedy, Andrew Porter, Martin Morse Wooster, and JJ for some of these stories. Title credit belongs to contributing editor of the day Jack Lint.]