(1) BEFORE THEY WERE BORN. In the latest Young People Read Old SFF, James Davis Nicoll finds out what the panelists feel about an original Hugo winner, Eric Frank Russell's "Allamagoosa".
Although British, Eric Frank Russell (January 6, 1905 – February 28, 1978) wrote primarily for the US market. He dabbled in a number of modes, including Fortean tales of the weird, low key anarchist adventures and satire. It's the last mode that's relevant to this story.

Eric Frank Russell's 1955 "Allamagoosa" is significant for a number of reasons. It won the inaugural Hugo for Best Short Story1. It slots into an under-populated niche (comedic SF) and is notable, within that niche, for being genuinely funny. It belongs to a now largely extinct genre, military comedy, whose drama derives not from people shooting each other, but from the eternal struggle between individual and bureaucracy. Military takes on that struggle may be out of fashion, but civilian comedies on the same theme are too common to list. The context may be unfamiliar to my readers, but the struggle will be familiar.
(2) THE ORVILLE. Samuel R. Delany had a few things to say about The Orville, none of them good.
…Every situation and every image is a cliche. Nothing in the show aspires to be either original or to represent the best of the modern SF genre–or even the modern world.

You will never go broke underestimating the American public, is what this this makes me think of; but I wonder if someone has decided to extend it to gamble on the whole world as an extension of the this cynical view of the audience. It's about on the level of the old Adam West and Burt Ward Batman and Robin show from the middle sixties. But is neither as original, entertaining, or thoughtful. If this show goes on to start getting great has-been actors to play cameo parts of the various villains, I won't be surprised….
(3) CATCHING UP. Tor.com ran this Le Guin excerpt at the end of August: "'Introduction' from Ursula K. Le Guin: The Hainish Novels & Stories, Volume Two"
The novels and stories of the Hainish Descent were written in two periods separated by at least a decade. Everything in the first volume of this collected edition dates from the 1960s and '70s, except one story from 1995; in the second volume, after one short novel from 1976, everything is from the 1990s. During the eighties I didn't revisit the Hainish Universe at all (nor, until 1989, did I go back to Earthsea). When I became aware of this discontinuity, I wondered what kept me away from these literary realms I had invented, explored, established, and what brought me back to them.

That's the sort of question interviewers and critics often ask and I usually dodge, uncomfortable with their assumption of rational choice guided by conscious decision. I may have intentions, as a writer, but they're seldom that clear. Sometimes I find there is a certain tendency to my readings and thoughts, a general direction in which I am drawn—evidenced in a wish to learn more about certain subjects or fields (sleep and dream studies, satyagraha, medieval mining, DNA research, slavery, gender frequency, the Aeneid, the Inca). If this impulsion continues and gains energy, the subject matter of a story or novel may emerge from it. But it is an impulsion, not a decision. The decisions will be called for when the planning and writing begin.
(4) USING THE OLD BEAN. Daniel Dern suspects, "Yeah, this will only make sense to a limited audience, probably few under AARP age…" From a comment on io9's "Game of Thrones' Latest Attempt to Avoid Spoilers May Include Filming Multiple Endings" comes this photo of one of the leaked scenes….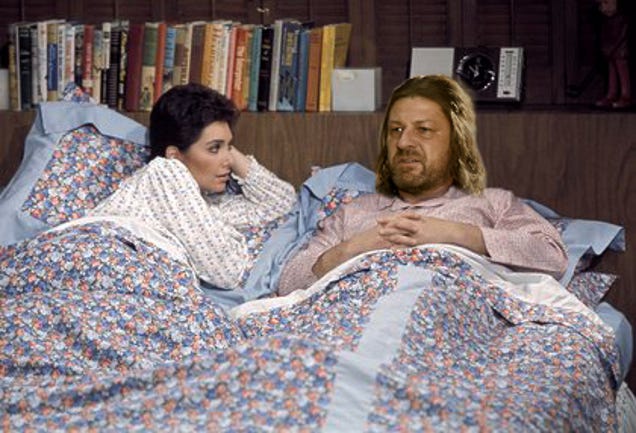 (5) TURN UP THE VOLUMES. Nerds of a Feather brings us "6 Books with Jonathan Strahan".
What book are you currently reading? 

I'm currently reading the latest Tom Holt novel, The Management Style of the Supreme Beings, which is a lot of fun. It's a satire on religion, and reminds me a lot of Jeremy Leven's Satan, His Psychotherapy and Cure by the Unfortunate Dr. Kassler, J.S.P.S., which is a weird book I read years ago, and a bit of James Morrow's Only Begotten Daughter, which I adore.
(6) EDUCATED GUESS. The Hugo Award Book Club, in "The runners-up for the 1953 Hugo Award", ventures its opinion about what the shortlist might have looked like in the award's first year, before there were rules instituting the now-familiar final ballot.
If there had been a nominating process, there's no way to know for sure what might have been on it, but it's possible to make a few informed guesses. At the time of the fourth convention progress report, Wilson "Bob" Tucker's Long Loud Silence was second in the vote count. The story — a character-driven conflict in a post-apocalyptic U.S. — is notable for its bleakness. It's hard to root for a protagonist whose goal of getting out of the ruined Eastern U.S. would mean spreading a plague. It is an excellent novel by one of the central figures of early fandom. For today's SF fan, it's surprising to think that both Long Loud Silence and The Demolished Man were ahead of the second volume of Asimov's original Foundation Trilogy, Foundation and Empire. This is the high point in a series of novels that was named "Best All-Time Series" at the 1966 Hugos, and whose inferior sequel won the 1983 Hugo Award.
(7) TODAY IN HISTORY
September 14, 1986 — The Adventures of the Galaxy Rangers animated series premiered on television.
(8) TODAY'S BIRTHDAY BOY
Born September 14, 1936 – Walter Koenig
(9) COMICS SECTION. John King Tarpinian finds not-terribly-hidden layers of comedic meaning in today's Off the Mark.
(10) BUT DID YOU MISS IT? In The Atlantic, reviewer Lenika Cruz takes note of what these comics don't have, as well as what they do have: "Marjorie Liu on the Road to Making Monstress".
When the comic-book series Monstress introduces its haunted heroine, she has the look of someone just barely surviving. Maika Halfwolf is naked, missing part of an arm, wearing a metal collar, and being sold at a slave auction—a casualty in a bloody conflict between humans and Arcanics, a race of magical creatures. Of course, Maika is more than she seems. An Arcanic who looks human, she's enraged by her mother's death, her missing memories, and the atrocities she's suffered. There's also a strange, deadly power taking root in her body and mind—one she can neither understand nor control.

Written by Marjorie Liu and illustrated by Sana Takeda for Image Comics, Monstress is a sprawling epic fantasy that drops readers into the middle of a magic-filled alternate history. Described as a kind of "matriarchal Asia," Maika's universe is wracked by a race war and inhabited by violent witch-nuns, vicious deities, and innocent civilians—all of which is brought to life by Takeda's exquisite manga-style, Art Deco–inspired art. Liu doesn't ease her audience's arrival into this intricately designed world by defining new terms or supplying a linear history of Maika's life (the scale and complexity of the worldbuilding has earned Monstress comparisons to George R. R. Martin's A Song of Ice and Fire books). Still, Liu and Takeda's series differs from most genre fare, comics or otherwise, in at least one key way: There are almost no men or white characters.
(11) CAREER ARC. Bit parts and bad films: "Has Hollywood let Idris Elba down?" A Toronto International Film Festival video interview. Best quote: Dark Tower was "edited in a wood chipper."
(12) HELLBOY CASTING. "Daniel Dae Kim thanks Ed Skrein after taking over Hellboy role" – the BBC has the story.
Daniel Dae Kim, who is known for shows like Hawaii Five-0 and Lost, will play Major Ben Daimio in the new film.

The character was Japanese-American in the original Hellboy comics.

Kim said he applauded his fellow actor Skrein "for championing the notion that Asian characters should be played by Asian or Asian American actors".
(13) GEEKING OUT. SyFy continues celebrating its quarter-centennial by quizzing a celeb in "Geeky Q&A: Felicia Day".
As part of SYFY 25 – where we're looking back at everything amazing that's happened in the world of sci-fi, fantasy, and horror over the last 25 years – we asked a bunch of famous people what sort of geeky stuff they like.

Here's what the incredible Felicia Day had to tell us.

The one thing I geek out over the most is:

A new world I can escape into, whether video game, movie, TV show or book.

The first thing I remember geeking out over is:

Anne McCaffrey's Dragonriders of Pern series.
(14) BODEGA BACKPEDALING. Bodega.com's Paul McDonald tries to recover from internet outrage over yesterday's business announcement in "So, about our name…"
What's with our name?

In Spanish, "bodega" can mean grocery store, wine cellar, or pantry. In many major cities, it's come to mean the mostly independently-run corner stores that populate the city and serve the community. Like NYC's bodegas, we want to build a shopping experience that stands for convenience and ubiquity for people who don't have easy access to a corner store.

Is it possible we didn't fully understand what the reaction to the name would be?

Yes, clearly. The name Bodega sparked a wave of criticism on social media far beyond what we ever imagined. When we first came up with the idea to call the company Bodega we recognized that there was a risk of it being interpreted as misappropriation. We did some homework?—?speaking to New Yorkers, branding people, and even running some survey work asking about the name and any potential offense it might cause. But it's clear that we may not have been asking the right questions of the right people.

Despite our best intentions and our admiration for traditional bodegas, we clearly hit a nerve this morning, we apologize.
(15) FELL OR JUMPED? But did Bodega.com make a mistake, or take a calculated misstep of the kind that's typical of Jon Del Arroz' playbook? The LA Times found backers of both analyses.
Short of promising a name change, McDonald wrote that the company will "commit to reviewing the feedback and understanding the reactions from today."

McDonald and co-founder Ashwath Rajan received angel investments from executives at Facebook, Twitter, Dropbox and Google, and secured funding from a number of notable venture capital firms.

But on Twitter, at least one prominent tech investor criticized Bodega for its botched rollout. Spark Capital partner Nabeel Hyatt summed up Bodega's issue as one of branding, saying it's the "best example yet that framing your start-up properly matters."

Andrea Belz, vice dean of technology innovation and entrepreneurship at the USC Viterbi School of Engineering, said it seemed like a case of a company going to market without fully understanding that market.

"I'm fairly certain that when you want to modernize an industry, you don't want to start by offending people," she said. In this case, launching their product with the implication that they're going to replace the local corner store doesn't particularly ingratiate them to their potential customers.

When a start-up is looking to solve a problem for which people already have a solution — in this case, nearby places to buy things — positioning is particularly important. Belz pointed to the Bodega co-founders' former employer, Google, as an example of a company that displaced earlier search engines by positioning itself as sleeker and easier to use.

She said Bodega's much-criticized rollout could dissuade people from trying out the product once it reaches their area.

But Jeff Scheinrock, who teaches entrepreneurship as faculty director of the Applied Management Research Program at the UCLA Anderson School of Management, said founders and investors must have known the name would get people talking.

"The name is controversial, and I think they got what they wanted out of that," he said, pointing to the news coverage, including this report.
(16) GOT TO BE KIDDING. Grady Hendrix, who is promoting his new non-fiction book Paperbacks from Hell at the Film Noir Cinema on September 19, as part of the Miskatonic Institute of Horror Studies monthly lecture series, shares some provocative opinions with the Brooklyn Paper in "Horror stories: Author celebrates creepy covers and terrifying tales".
"Horror didn't exist in fiction until 'Rosemary Baby.' When that book came out it was quite honestly the first horror novel bestseller since the '40s, and then the movie of course was also a big hit," he said. "Then came 'The Exorcist' and that was a hit movie and both of those books were bestsellers for a long time."
(17) CHEAP SHOT. The sommelier at Refinery 29 has a recommendation: "These Halloween Wines Are Only $10 So You Can Spend All Your Money On The Good Candy".
Fortunately, you don't have to skip out on being festive in order to avoid spending six hours waiting for JELL-O shots to chill, or splurge on super fancy bottles, either. That's because Door Peninsula Winery is now offering a crazy budget-friendly alternative that simply screams Halloween. Enter: "Hallowine."
(18) DRAFTING A CANDIDATE. Who needs to be governor when you're already King? All the same, "Former Maine Gov. John Baldacci wants Stephen King to run for office: 'You've got a winner there'". The Washington Examiner has the story.
Stephen King fans are hoping they can get the author of the clown horror story It and 53 other novels to consider running for political office.

Among them are the state's most recent former governor, two-term Democrat John Baldacci, who told the Washington Examiner, "Stephen would win any office he decided to run for in Maine."

"I would be out there handing out fliers and putting on bumper stickers for him," said Baldacci, who left office after eight years in 2011. "He's been a big asset for the state of Maine and for a lot of people who look for common sense in the wilderness."

There are clear opportunities in Democratic-leaning Maine. The pugnacious Republican Gov. Paul LePage, an ardent Trump supporter, is term-limited and will be replaced in an election next year while centrist GOP Sen. Susan Collins is up for re-election in 2020
(19) FAREWELL CASSINI. Movie of 13 years of Saturn pictures: "Saturn's Strangest Sights, As Captured By A Doomed Spacecraft".
(20) TRIP AROUND THE SUN. An extensive history of the Cassini mission told by the people who helped make it happen: "Our Saturn years".
"I look back and think: 'Gosh, I've worked on Cassini for almost an entire Saturn year.'"
(21) LIFE CATCHES UP WITH SF. Who said science fiction never predicts anything? (Nobody, actually, but it's such a good hook….) — "At Bug-Eating Festival, Kids Crunch Down On The Food Of The Future".
Chip Hitchcock sent the link with a footnote, "Filers may remember 'chirpy chili' in Pohl's 'Second-Hand Sky', part of the fix-up Lives of the City."
(22) VIDEO OF THE DAY. "The Secret Meaning of Stephen King's IT" is a video by ScreenCrush that looks at the 2017 IT, the 1990s mini-series of IT, and lots of other horror movies to show their use of water and how water can be scary.
[Thanks to JJ, Cat Eldridge, Chip Hitchcock, John King Tarpinian, Martin Morse Wooster, Andrew Porter and Daniel Dern for some of these stories. Title credit goes to File 770 contributing editor of the day John A Arkansawyer.]