(1) A BIT OF HISTORY. The Finnish Postal Museum is looking for letters from Tove Jansson. "Have you received or are you in possession of a letter written by Tove Jansson?"
Tove Jansson (1914–2001) was a prolific letter writer all her life. She also wrote short stories and other texts throughout her life and became known for her books about the Moomins. She devoted the last decades of her life almost entirely to literature aimed at adults.

During Tove Jansson´s lifetime letters were a natural way for people to keep in touch as electronic media either did not exist or was expensive to use. When translations of the Moomin books were published in different parts of the world in the 1950s and 1960s, Tove Jansson's number of contacts increased and her correspondence became international.

… In the first phase of this project, we will explore the kinds of letters in existence. We will then decide on the basis of the material whether it would be possible to produce an exhibition or publication of Tove's letters….
(2) POD PERSON CAMESTROS. He speaks! Camestros Felapton was interviewed by Eric Hildeman of the Milwaukee Science Fiction League on their podcast Starship Fonzie, as he explains in "My Podcast Debut". Camestros shyly says:
I haven't listened to it yet because I then had a long day at work and also I find my own voice too weird. But if you want me to say "umm" and "ahh" and talk over the host too much (that's what I recall of what I said) then now is your chance!
Does Camestros jump the shark? Find out here: Starship Fonzie #15.
(3) SF IN HUNGARY. [Item by Bence Pintér.] Csilla Kleinheincz, an influential author/translator/editor of Hungarian SFF, does a Q&A with Guest Editors Vera Benczik and Beata Gubacsi at SFRA Review: "Interview with Csilla Kleinheincz".
Guest Editors: How does the Hungarian fantastic incorporate and/or subvert the themes and tropes of Anglo-American fantastic tradition? Do you think there's a pressure to follow international trends?

Csilla Kleinheincz: …What Hungarian SF can offer is its own unique blend of the fantastic that could be written only by Hungarian authors, reflecting on our own cultural and historical influences and leaning on our own surroundings. Hungarian weird fiction is especially strong nowadays, perhaps because our history and our present are so rich in grotesque and dystopian elements and also because a small but very active creative community has formed around the main publisher of weird fiction, The Black Aether….
(4) PROFILE ON A HUGO FINALIST. [Item by Olav Rokne.] In their Special Issue on Contemporary African Literature, Open Country profiles Hugo finalist Oghenechovwe Donald Ekpeki. "Oghenechovwe Donald Ekpeki's Curation of African Speculative Fiction".
"A lot of people were pleasantly perplexed," Ekpeki says of the initial reaction. "Almost every review had a phrase like 'this is unusual speculative fiction based on unusual cultures,' so they still find African speculative fiction unusual. There is still a lot of ground for us to cover, it would seem."
(5) AND THE VOTERS SAY! When the Jean Cocteau Cinema in Santa Fe, NM reopens this weekend, here are what poll respondents picked as the "Upcoming Events" from 10 options offered by theater owner George R.R. Martin.
Thank you to the nearly 300 folks who voted in our audience poll to choose the movies for the Jean Cocteau Cinema's grand re-opening weekend! Unveiling the top 5 films, the first films to play in the newly renovated theater, May 6-8th:

Spirited Away 
Beauty & the Beast (1946)
Forbidden Planet
War of the Worlds (1952)
Cabaret

All screenings will be seated FIRST COME, FIRST SERVED. Theater doors will open 20 minutes before showtime. Anyone who isn't able to get a seat is most welcome to hang out with a cocktail in the lobby bar, or a coffee over at Beastly Books!  
(6) NOT QUITE TRUE NORTH. At Grimdark Magazine, Matthew John reviews "The Northman".
The Northman is a film that should not exist–not at its scale, not in this day and age. It is an unflinching epic of fire and ice, of burning love and cold-served vengeance. It is a story rooted in legend, but most viewers will probably be familiar with the bones of this tale from Hamlet, the Lion King, or Conan the Barbarian. Our protagonist, Prince Amleth, must avenge the death of his father and rescue his mother from the clutches of his uncle (or so he thinks). How director Robert Eggers managed to convince a studio to pay northward of a hundred million dollars so he could adapt this legend into an R-rated, ultra-violent, artistic yet historically-accurate viking film is beyond this reviewer's ken. But man…am I glad he did!…
(7) USE THE VOICE, LUKE. [Item by Cora Buhlert.] This tweet by Mark Hamill suggests that there will be a second season of Masters of the Universe: Revelation, which was probably the most pleasant TV surprise of the year for me last year:
The fact that there may be a second season is itself another pleasant surprise, since I feared the show would fall victim to toxic fanboys complaining that Teela having muscles ruined their childhood or some such thing as well as to Netflix ditching its entire animation department to focus more on soap operas about rich people in pretty dresses.
(8) DEFLECTING THE CUT DIRECT. "Sony Refuses Chinese Demand to Delete Statue of Liberty from Latest 'Spider-Man'" reports National Review, and the studio ultimately did not release the film in China.
Chinese authorities asked Sony to delete the Statue of Liberty from the climactic sequence of Spider-Man: No Way Home before distributing the movie in China, Puck reported on Sunday citing multiple sources.

The climactic sequence of the movie features an action sequence of over 20 minutes in which characters battle amid scaffolding around the Statue of Liberty.

When Sony refused to delete the statue from the movie, Chinese authorities asked if the company could diminish the statue's presence. Sony considered the request, the sources told Puck, but ultimately decided against editing the movie and did not release it in China. It's unclear whether Chinese censors blocked the movie's release or if Sony preemptively opted against releasing it….
(9) MEDIA BIRTHDAY.
1956 — [By Cat Eldridge.] Sixty-six years ago, Forbidden Planet opened in New York City in general release, following a March debut at a science fiction convention and a limited release elsewhere.
It was produced by Nicholas Nayfack, and directed by Fred M. Wilcox. The screenplay was by Cyril Hume who had previously written several Tarzan films from a story by Irving Block and Allen Adler. (A year later, he'd write The Invisible Boy (aka S.O.S Spaceship) which had Robbie the Robot as one of the characters. No, I've never heard of it. Here's the poster for it.)
It had a primary cast of Walter Pidgeon as Dr. Edward Morbius, Anne Francis as Altaira "Alta" Morbius and Leslie Nielsen as Commander John J. Adams. Les Tremayne was the Narrator. And no, I've not forgotten Robbie the Robot which had Frankie Darro as the Robot and Marvin Miller as the voice of the Robot. I could write an entire essay on Robbie the Robot and if I remember correctly I have.
Forbidden Planet was released to film theaters during 1972 as one of MGM's Kiddie Matinee features with some six minutes of film cut to make it receive a "G" rating from the MPAA, including a Fifties-style nude scene of Anne Francis swimming sans a bathing suit. (It's debatable if she was actually nude.)
So what was the reception for it upon its release? Well it turned a very modest profit of eight hundred thousand over its budget of two million.
Critics were generally impressed with it. The New York Times critic said he "had a barrel of fun with it. And, if you've got an ounce of taste for crazy humor, you'll have a barrel of fun, too," while Variety proclaimed "Imaginative gadgets galore, plus plenty of suspense and thrills, make the Nicholas Nayfack production a top offering in the space travel category."
And let's give the Los Angeles Times the last word: "a more than another science-fiction movie, with the emphasis on fiction; it is a genuinely thought-through concept of the future, and the production MGM has bestowed on it gives new breadth and dimension to that time-worn phrase, 'out of this world."
Audience reviewers at Rotten Tomatoes give it a spectacular eighty-five percent rating.
(10) TODAY'S BIRTHDAYS.
[Compiled by Cat Eldridge.]
Born May 3, 1928 — Jeanne Bal. In Trek's "The Man Trap" episode, she played Nancy Crate, a former lover of Leonard McCoy, who would be a victim of the lethal shape-shifting alien which craves salt. This was the series' first-aired episode that replaced "The Cage" which the Network really didn't like. She also had one-offs in Thriller and I-Spy. (Died 1996.)
Born May 3, 1939 — Dennis O'Neil. Writer and editor, mostly for Marvel Comics and DC Comics from the Sixties through the Nineties, and was the Group Editor for the Batman family of titles until his retirement, which makes him there when Ed Brubaker's amazing Gotham Central came out.  He himself has written Wonder Woman and Green Arrow in both cases introducing some rather controversial storytelling ideas. He also did a rather brilliant DC Comics Shadow series with Michael Kaluta as the artist. A police procedural series from Matt Reeves was in development, to be set in the same continuity as The Batman. Gotham Central was very seriously being considered as the name for the series. It unfortunately will not happen. (Died 2020.)
Born May 3, 1949 — Ron Canada, 73. He's one of those actors who manages to show up across the Trek verse, in this case on episodes of Next Generation, Deep Space Nine and Voyager. He also showed up in the David Hasselhoff vanity project Nick Fury: Agent of SHIELD as Gabe Jones, and had further one-offs on The X-Files, Star Gate SG-1, Elementary, Grimm and The Strain. He has a recurring role on the Orville series as Admiral Tucker.
Born May 3, 1958 — Bill Sienkiewicz, 64. Comic artist especially known for his work for Marvel Comics' Elektra, Moon Knight and New Mutants. His work on the Elektra: Assassin! six issue series which written by Frank Miller is stellar. Finally his work with Andy Helfer on The Shadow series is superb.
Born May 3, 1965 — Michael Marshall Smith, 57. His first published story, "The Man Who Drew Cats", won the British Fantasy Award for Best Short Story. Not stopping there, His first novel, Only Forward, won the August Derleth Award for Best Novel and the Philip K. Dick Award. He has six British Fantasy Awards in total, very impressive indeed. 
Born May 3, 1985 — Becky Chambers, 37. My last encounter with her was the most excellent The Galaxy, And The Ground Within. Her Wayfarers series won the Best Series Hugo at Dublin 2019: An Irish Worldcon. A Closed and Common Orbit was a finalist at WorldCon 75 for Best Novel but lost out to another exemplary novel, N. K. Jemisin's The Obelisk Gate. Record of a Spaceborn Few would be on the ballot at Dublin 2019 but lose out to yet another exemplary novel, Mary Robinette Kowal's The Calculating Stars. (A digression: The Wayfarers are the best series I've listened to in a long time.) "To Be Taught, if Fortunate" was a finalist at ConZealand in the Best Novella category but lost out to "This Is How You Lose the Time War" by Amal El-Mohtar and Max Gladstone.
Born May 3, 1986 — Pom Klementieff, 36. In the MCU film universe she plays Mantis and first she's up in Guardians of the Galaxy Vol. 2, but then is in Avengers: Infinity War and Avengers: End Game and two films in production, Thor: Love and Thunder and Guardians of the Galaxy Vol. 3. Plus forthcoming on Disney +, The Guardians of the Galaxy Holiday Special. It's amazing what a pair of very, very cute antennae will do! (Also been in Black Mirror, Westworld, and voiced characters on The Addams Family.)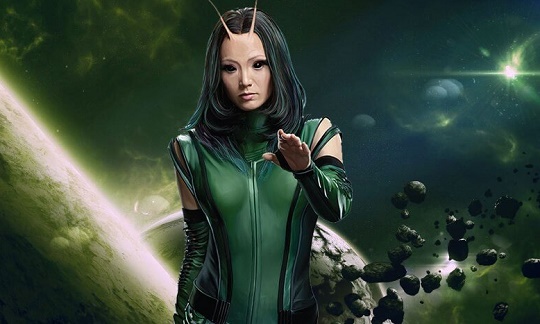 (11) AUTHOR PUSHES BACK. [Item by Cora Buhlert.] This isn't SFF, but I think there is a lot of audience crossover. Luke Jennings, author of the novels that the TV show Killing Eve was based upon, speaks out regarding the controversial finale of the TV series (which killed off a major lesbian characters) and says that he does not feel bound to what the TV show has done: "'Villanelle will be back!' Killing Eve's author speaks out over the catastrophic TV finale" in the Guardian. Beware spoilers!
…When Phoebe Waller-Bridge and I first discussed Villanelle's character five years ago, we agreed that she was defined by what Phoebe called her "glory": her subversiveness, her savage power, her insistence on lovely things. That's the Villanelle that I wrote, that Phoebe turned into a screen character, and that Jodie [Comer] ran with so gloriously.

But the season four ending was a bowing to convention. A punishing of Villanelle and Eve for the bloody, erotically impelled chaos they have caused….
(12) INCOMING. No one goes unsplattered in Raquel S. Benedict's latest bid for attention, "The Sterility of Safe Fiction: Who Are We Protecting?" at Seize the Press. This circular accusation kicks off the piece:
…And yet an influential faction of authors, editors, publishers and critics within contemporary sci-fi and fantasy speaks as though safe is the greatest quality a work of art can aspire to. Fiction must be safe, they say. If it's not safe, then it might cause harm. What kind of harm? Who are we harming? That's not important. The important thing is to avoid harm by making your fiction as safe as possible. By making our fiction safe, we will make the sci-fi/fantasy community safe….
It's an introduction, but not to what follows the immediate three-asterisk break. In the next section Benedict's new topic is that there's trouble my friends, right here in the sff genre, and apparently anybody who pays to attend one of the workshops in the field is to blame for whatever that ill-defined trouble might be. Benedict recites the dollar costs involved in attending Clarion West and the Odyssey Writing Workshop and judges:
…But those who can pay the gatekeeper get to determine what it means to be safe. And so our notions of safety are shaped by bourgeois sensibilities…. 
(13) SHOCKED, I TELL YOU. [Item by Martin Morse Wooster.] J.R.R. Tolkien's grandson Simon tells BBC Live Breakfast in 2012 that his grandfather would not have liked any film that depicted his imaginary world and "my grandfather knew what an elf looked like, and it did not look like Orlando Bloom."
(14) WEIRD TRAILER. Is the world ready for Daniel Radcliffe as…Weird Al Yankovic? Coming this fall to the Roku Channel. "Weird: The Al Yankovic Story".
(15) MINI SERIES. According to Slashfilm, "Rebecca Romijn Insisted On Wearing A Starfleet Dress On Star Trek: Strange New Worlds".
The original "Star Trek" series remains spellbinding for its forward thinking science fiction ideas. But it remains equally spellbinding for being a show so firmly entrenched in the '60s that all female crew members on board the USS Enterprise wear short miniskirts while the men get to strut around in far less revealing uniforms. And while "Trek" has gone a long way in the decades since to make Starfleet uniforms work for all genders and body types ("The Next Generation" even featured male officers in the Starfleet minidress, or "skant," uniform), that classic short-skirt look has at least one major fan: "Star Trek: Strange New Worlds" star Rebecca Romijn. 

Una Chin-Riley, better known to Captain Christopher Pike and "Star Trek" fans as "Number One," rocks the Starfleet dress look throughout the first five episodes of "Strange New Worlds," with the tough-as-nails first officer of the Enterprise making a strong case for this seemingly outdated look to make a major comeback. And you can consider this mission accomplished for Romijn, who not only requested that Una wear a Starfleet dress, but that she actively wear it during action sequences…
(16) SCIENTIFIC OBJECTIVE. [Item by Mike Kennedy.] Scientists are describing a theoretical new telescope that could be used to image exoplanets. It would use the gravity of the sun as the objective lens.
Positioning the telescope proper in a line with the Sun and the exoplanet in question would take significant advances in space propulsion. The telescope would have to be positioned many times further away from the Sun than any of the planets & moved around to line up the shot. It would then need to be repositioned for the next planet of choice.
The paper, "Integral Field Spectroscopy with the Solar Gravitational Lens," was published in The Astrophysical Journal.
"Scientists describe a gravity telescope that could image exoplanets" at Phys.org.
In the time since the first exoplanet was discovered in 1992, astronomers have detected more than 5,000 planets orbiting other stars. But when astronomers detect a new exoplanet, we don't learn a lot about it: We know that it exists and a few features about it, but the rest is a mystery.

To sidestep the physical limitations of telescopes, Stanford University astrophysicists have been working on a new conceptual imaging technique that would be 1,000 times more precise than the strongest imaging technology currently in use. By taking advantage of gravity's warping effect on space-time, called lensing, scientists could potentially manipulate this phenomenon to create imaging far more advanced than any present today.

In a paper published on May 2 in The Astrophysical Journal, the researchers describe a way to manipulate solar gravitational lensing to view planets outside our solar system. By positioning a telescope, the sun, and exoplanet in a line with the sun in the middle, scientists could use the gravitational field of the sun to magnify light from the exoplanet as it passes by. 
(17) JUSTWATCH – TOP 10S IN APRIL. JustWatch – The Streaming Guide says these were the Top 10 Sci-Fi Movies and TV Shows in the US in April 2022.
| | | |
| --- | --- | --- |
| Rank* | Movies | TV shows |
| 1 | Spider-Man: No Way Home | Severance |
| 2 | The Batman | Moon Knight |
| 3 | Sonic the Hedgehog | Halo |
| 4 | Moonfall | From |
| 5 | Ghostbusters: Afterlife | Doctor Who |
| 6 | Venom: Let There Be Carnage | Outlander |
| 7 | Dune | Star Trek: The Next Generation |
| 8 | Spider-Man: Far From Home | The Walking Dead |
| 9 | Spider-Man: Homecoming | Star Trek: Picard |
| 10 | Spider-Man: Into the Spider-Verse | Ghosts |
*Based on JustWatch popularity score
(18) YOU WILL BELIEVE A DOG CAN FLY. Just because they're super – doesn't make them heroes. In theaters July 29, "DC League of Super-Pets".
(19) VIDEO OF THE DAY. [Item by Martin Morse Wooster.] In "Ghostwire: Tokyo," Fandom Games says this game is very good at describing Japanese folklore, but "feels like an anime you really have to convince people to watch." SJWs will like the cat who runs a convenience store, but another plot point is a character who's really constipated.
[Thanks to JJ, John King Tarpinian, Chris Barkley, Andrew Porter, Cora Buhlert, Hampus Eckerman, Olav Rokne, Bence Pintér, Michael Toman, Cat Eldridge, Mike Kennedy, and Martin Morse Wooster for some of these stories. Title credit belongs to File 770 contributing editor of the day Daniel Dern.]