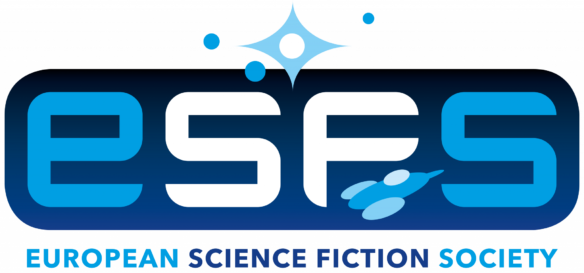 The European Science Fiction Society presented the 2023 ESFS Achievement Awards, ESFS Hall of Fame Awards, Chrysalis Awards and European Grandmaster Award at Konflikt, the 2023 Eurocon, on June 11 in Uppsala, Sweden. (The English-language descriptions come from the ESFS website.)
THE ACHIEVEMENT AWARDS
BEST WORK OF ART
Cover art for biopunk anthology "Bio Jednom Jedan Punk", by Katarina Šumski (Croatia) — Katarina created cover for yearly SFeraKons anthology of Croatian SF – 2022. biopunk themed book "Bio Jednom Jedan Punk". Her art embodies its visceral nature and invokes uneasy feelings. Orange colors that bring  forward optimism about possibilities that biotech brings are splashed with liver purple, color that warns and calls for caution. Babies are image of the future, and what might be…
BEST DRAMATIC PRESENTATION
Movie "Maksym Osa" (Ukraine)
BEST FANZINE
Himmelskibet, 63 (Spring 2022) (Denmark) — Himmelskibet 63 is the 2022 issue of the fan magazine of the recently defunct Danish SF/F/Horror society "Fantastik". It is edited and written by dedicated members of organized Danish fandom, containing short stories, reviews, articles, and lists of the new Danish publications in the fantastic genres.
BEST WORK FOR CHILDREN
Poe la nocchiera del tempo by Licia Troisi (Italy)
BEST INTERNET PUBLICATION
History of Ukrainian SF&F (Ukraine) — The series of video lectures "History of Ukrainian SF&F" by Fantastic talk(s)
BEST WRITTEN WORK OF FICTION
Grim by Sara Bergmark Elfgren (Sweden)
---
THE HALL OF FAME AWARDS
BEST ARTIST
BEST AUTHOR
BEST PUBLISHER
Science Fiction Cirklen (Denmark)
BEST PROMOTER
Flora Staglianò (Italy). Long time fan and excellent organizer of SF convention "DeepCon" and 2 EuroCons in Fiuggi.
BEST MAGAZINE
Future Fiction Magazine (German Edition) by Sylvana Freyberg and Uwe Post (Germany)
BEST TRANSLATOR
Sebastian Musielak (Poland)
---
CHRYSALIS AWARDS
Given to a writer or artist from a European country who has emerged in the last three years
Jacqueline Mayerhofer (Austria)
Lea Katarina Gobec, aka Sintarija (Croatia)
Anouck Faure (France)
Aiki Mira (Germany)
Derek Ugochukwu (Ireland)
Laura Silvestri (Italy)
Łukasz Kucharczyk (Poland)
Myriam M. Lejardi (Spain)
Natalia Matolinets (Наталія Матолінець) (Ukraine)
---
EUROPEAN GRANDMASTER
John-Henri Holmberg (Sweden)