(1) DRUMROLL, PLEASE! Cora Buhlert presents "The 2021 Darth Vader Parenthood Award for Outstandingly Horrible Fictional Parents".
…This summer, an unexpected candidate in the form of King Randor of Eternia threw his hat or rather his crown in the ring. Now Randor has never been a stellar parents by any means, as chronicled in more than 100 episodes of the original Masters of the Universe cartoon. He not only completely fails to notice that his son Prince Adam is also the superhero He-Man despite the fact that in the original cartoon, He-Man is basically Adam with a tan and his clothes off, but also constantly berates Adam for not being whatever Randor expects from his son….
But this guy does not get the award – in fact, two even worse finalists finished ahead of him. And believe me, this is an extremely entertaining post!
(2) ROSE PARADE GRAND MARSHAL. Look for him on New Year's Day:"LeVar Burton Talks About COVID Precautions And What The Rose Parade Means To Him" at LAist.
…When Burton found out about his selection as Grand Marshal, he said he was "gobsmacked." The L.A. resident seemed to have been gravitating toward the role since he was a kid.

This year, the Rose Parade's theme is "Dream, Believe, Achieve." The credo strikes a particularly personal chord with Burton.

"[The theme] is almost as if it's a recipe … for my life. My mother … Erma Jean Christian … I am the man that I am because she was the woman that she was. Education was primarily important to her," Burton said. "My mother had two careers. First, as a teacher of high school English, and then as a social worker. So the values that she established in our family are all about dreaming your personal dream, whatever that is, and believing that you not only can achieve it but deserve it."

Dreaming and believing that you deserve that dream, those two steps, said Burton, are necessary for anyone hoping to live out the "Dream, Believe, Achieve" theme….
(3) CHALLENGING COLONIZATION. Jerrine Tan finds Dune suffers by comparison to a Miyazaki classic: "Fear Is the Mind Killer; What Enlivens the Mind? — Dune's Alt-Victimhood and Radical Nonviolence in Nausicaä" in the LA Review of Books.
…Dune in 2021, unchanged in its plot, but imagining an underclass of native people as made up of a smattering of different ethnicities (mostly Brown and Black), embodies what David M. Higgins calls "imperial fantasy" and "alt-victimhood" in his latest book, Reverse Colonization (2021). Higgins describes a genre of reverse colonization narratives in which audiences "who are most often the beneficiaries of empire [are invited] to imagine what it feels like to be on the receiving end of imperial conquest," provoking audiences to "identify as colonized victims." It's hardly surprising, then, that white supremacists have long cathected to Frank Herbert's Dune, and white nationalists — a group that feels threatened by the presence of people of color, and increasingly aggrieved and attacked by liberal pushes to address systemic racism — have eagerly anticipated Villeneuve's latest adaptation. As Jordan Carroll succinctly sums up: "Fascists love Dune." Suddenly, the privileged chosen one — the imperialist who is also the Christ figure — becomes the suffering victim deserving of sympathy. In this way, identification with victimhood becomes a seductive imperial fantasy for the most privileged in society, what Higgins terms "alt-victimhood."…
… In this mode, a revisit of another 1984 film about a similar ecodystopian future can uncover a more radical and historically grounded politics apt for our contemporary moment. Hayao Miyazaki's early animated film Nausicaä of the Valley of the Wind (1984) drew inspiration from the fantasy world of Herbert's Dune and shares uncanny similarities with the Dune film adaptations: where Dune has giant sandworms, Nausicaä has the Ohmu; where Dune has desert, Nausicaä the Sea of Decay; Dune the Harkonnens, Nausicaä the Tolmekians. Instead of yet another imperially appointed master, in Nausicaä, the people are led by a daring princess, one who leads by example and is beloved by her people; one who resists imperial expansionists, but not at the cost of her own people; and most importantly, one who radically chooses nonviolent action against all possible defense of rational violence, and eventually achieves harmony through cooperation and understanding.

Ursula K. Le Guin once said that "[t]o use the world well, to be able to stop wasting it and our time in it, we need to relearn our being in it." Crucially, Nausicaä imagines a new way of being in the world by radically reframing our relation to it and our understanding of it. Instead of a desert, the inhospitable environment in Nausicaä is known as the Sea of Decay. But far from a dying and deadened milieu, the Sea of Decay is in fact brimming with life….
(4) ONCE AND FUTURE SPIDER-MEN. If you can't find enough spoilers in the introductory paragraphs of Camestros Felapton's "Review: Spider-Man and Hawkeye, MCU stuff, spoilers etc" he promises there are lots more below the fold!
(5) LOOKING BACK. Anime UK News begins its year-end retrospective with "Anime UK News Review of 2021 Part 1: Anime".
After the difficulties of 2020 – in which we were all really grateful for the ability to stream and watch at home – 2021 has been an odd blend of lockdown and modified freedom. Scotland Loves Anime (and its regional offshoots) triumphantly brought live audiences back to the cinema. Funimation has managed to have anime screenings in many local cinemas. As for the world of streaming and simulcast, in August we had the official confirmation that Sony's Funimation Global Group had acquired Crunchyroll. How this will all pan out for viewers/subscribers remains to be seen. Earlier, Manga Entertainment became Funimation UK, bringing an end to a famous label and uniting streaming, home video and cinema releases under the same name.

With all these changes, how has the anime-viewing experience been for the fans? Has there been too much material available on streaming services ranging from Netflix and Amazon Prime to dedicated companies like Crunchyroll and Funimation, leading to a dip in quality? Our writers have been looking back at their favourites from 2021 and are here to share their thoughts. Let us know what your '21 favourite have been too!
(6) BORROWED TIMES. "NYC Libraries Release Their Top Checkouts Of 2021" – Gothamist has the lists, which include a couple works of genre interest.
The NYPL Systemwide (the Bronx, Manhattan & Staten Island)
The Vanishing Half: A Novel by Brit Bennett
Mexican Gothic by Silvia Moreno-Garcia
Klara and the Sun: A Novel by Kazuo Ishiguro
A Promised Land by Barack Obama
Caste: The Origins of Our Discontents by Isabel Wilkerson
The Guest List: A Novel by Lucy Foley
Where the Crawdads Sing by Delia Owens
Maybe You Should Talk to Someone: A Therapist, Her Therapist, and Our Lives Revealed by Lori Gottlieb
The Other Black Girl: A Novel by Zakiya Dalila Harris
Malibu Rising: A Novel by Taylor Jenkins Reid
(7) MEDIA BIRTHDAY.
1967 — [Item by Cat Eldridge.] Fifty-four years ago, "The Trouble with Tribbles" first aired on NBC as written by David Gerrold and directed by Joseph Pevney, with some of the guest cast being Charlie Brill as Arne Darvin, Stanley Adams as Cyrano Jones, Whit Bissell as Station Manager Lurry, Michael Pataki as Korax.
Memory Alpha says "Wah Chang designed the original tribbles. Hundreds were sewn together during production, using pieces of extra-long rolls of carpet. Some of them had mechanical toys placed in them so they could walk around."
Memory Alpha also notes Heinlein had Martian flat cats in The Rolling Stones that were similar to these and Roddenberry called to apologize for these being so similar. My understanding is that they brought the issue to Heinlein's attention and asked for permission to continue. To their surprise, he granted it in exchange for a signed copy of the episode's script.
(I know that Heinlein's authorized biography contradicts this story. Really contradicts this story.)
It would come in second in the Hugo balloting at BayCon to "The City on the Edge of Forever" written by Harlan Ellison. All five final Hugo nominees at BayCon were Trek episodes written by Jerome Bixby, Norman Spinrad and Theodore Sturgeon.
David Gerrold wrote a book on his experiences in the creation of this episode, The Trouble with Tribbles: The Birth, Sale and Final Production of One Episode. He did a children's book as well, Too Many Tribbles!.
There would be two more Trek stories done with Tribbles. "More Tribbles, More Troubles", the fifth episode of the first season of the animated series riffed off them. And of course Deep Space Nine would revisit the story in "Trials and Tribble-ations" which blended seamlessly footage from the original episode with new video including the Charlie Brill character. It, too, would be nominated for a Hugo, this time at LoneStarCon 2. (Babylon 5's "Severed Dreams" won.)
Tribbles have been also seen in other Trek episodes and films, including The Search for Spock and the rebooted Star Trek and Star Trek Into Darkness. They also appeared in Enterprise's "The Breach". Phlox uses them as food for his creatures in sickbay. Which is either truly disgusting or really appropriate given how prolific they are. Or both.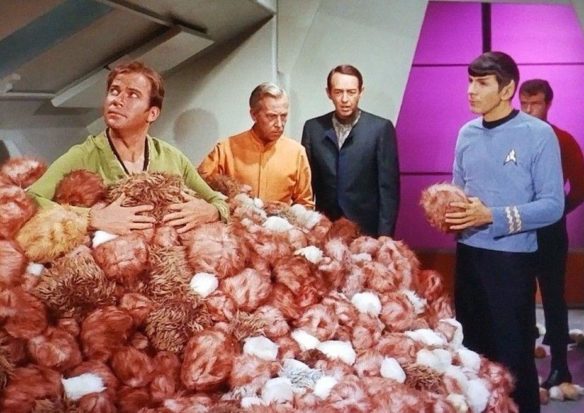 (8) TODAY'S BIRTHDAYS.
[Compiled by Cat Eldridge.]
Born December 29, 1901 — William H. Ritt. US cartoonist and author, whose best known strip, Brick Bradford, was SF. Two of the early Thirties strips, Brick Bradford and the City Beneath the Sea and Brick Bradford with Brocco the Mountain Buccaneer, became Big Little books. In 1947, Brick Bradford, a 15-chapter serial film starring Kane Richmond, was produced by Columbia Pictures. (Died 1972.)
Born December 29, 1912 — Ward Hawkins. Alternative universes! Lizard men as sidekicks! He wrote the Borg and Guss series (Red Flaming Burning, Sword of Fire, Blaze of Wrath and Torch of Fear) which as it features these I really would like to hear as audiobooks. Not that it's likely as I see he's not made it even to the digital book realm yet. (Died 1990.)
Born December 29, 1928 — Bernard Cribbins, 93. He has the odd distinction of first showing up on Doctor Who in the Peter Cushing as The Doctor non-canon Daleks' Invasion Earth 2150 A.D. film. He would show up in the canon when he appeared as Wilfred Mott in the Tenth Doctor story, "Voyage of the Damned", and he's a Tenth Doctor companion himself in "The End of Time", the two-part 2009–10 Christmas and New Year special.
Born December 29, 1963 — Dave McKean, 58. If you read nothing else involving him, do read the work done by him on and Gaiman called The Tragical Comedy or Comical Tragedy of Mr Punch: A Romance. Brilliant, violent, horrifying. Well and Signal to Noise by them is worth chasing down as well. 
Born December 29, 1966 — Alexandra Kamp, 55. Did you know one of Sax Rohmer's novels was made into a film? I didn't. Well, she was the lead in Sax Rohmer's Sumuru which Michael Shanks also shows up in. She's also in 2001: A Space Travesty with Leslie Nielsen, and Dracula 3000 with Caspar van Dien. Quality films neither will be be mistaken for, each warranting a fifteen percent rating among audience reviewers at Rotten Tomatoes. 
Born December 29, 1969 — Ingrid Torrance, 52. A very busy performer who's had one- offs in Poltergeist: The Legacy, The Sentinel, Viper, First Wave, The Outer Limits, Seven Days, Smallville, Stargate: SG-1, The 4400, Blade: The Series, Fringe, The Tomorrow People, R.L. Stine's The Haunting Hour and Supernatural. 
Born December 29, 1972 — Jude Law, 49. I think his first SF role was as Jerome Eugene Morrow in Gattaca followed by playing Gigolo Joe in A.I. with my fave role for him being the title role in Sky Captain and the World of Tomorrow. He was Lemony Snicket in Lemony Snicket's A Series of Unfortunate Events, Tony in The Imaginarium of Doctor Parnassus, Dr. John Watson in Sherlock Holmes and Sherlock Holmes: A Game of Shadows, Remy in Repo Men and he voiced Pitch Black in one of my favorite animated films, Rise of the Guardians.
(9) COMICS SECTION.
(10) BEST PICS OF 2021. [Item by SF Concatenation's Jonathan Cowie.] From Nature's end-of-year edition, "Images of the year."
This one is of a 40-million-year-old gnat in amber. Photographed by Levon Biss and it got an honourable mention in the 2021 Nikon Small World Photomicrography Competition. If it were over a score of million years older, then shades of Michael Crichton's Jurassic Park!
My personal topical favourite of the year, which I downloaded in case I ever needed it for a talk, is a computer simulation of the SARS-CoV-2 virus. This is also a .gif and an animation. Alas, I forget the source (it was one of the papers we covered in SF2 Concatenation CoVID coverage during the year) but it is quite a nifty simulation showing spike movement. This jiggling helps enable it to lock on to human cell membrane proteins giving it access to the cell. To see it, click here.
(11) OVERDUE BOOK. For your Fifties viewing pleasure: The Man From 1997, an episode of the Conflict anthology TV series aired in 1956. In the episode, Charles Ruggles portrays an elderly time-traveling librarian from the future attempting to retrieve a 1997 almanac that he mistakenly left 41 years before it is supposed to exist. I loved one of the comments somebody left – "Damn he from 1997 and he didn't even ask them if he can smoke in their house."
The cast also includes actor James Garner. Wikipedia says he caught producer Roy Huggins' attention with a comedic performance as a gambler in the episode, Huggins to cast Garner as the lead the following year in his television series Maverick, according to Huggins' Archive of American Television interview.
(12) I'LL FLY AWAY. Click and "See the Faberge x Game of Thrones Dragon Egg That Sold for $2.2M" at The Hollywood Reporter.
That iconic theme song practically starts playing upon laying eyes on Fabergé's decadent Game of Thrones dragon egg. But if you were hoping to add the $2.22 million hand-forged creation to your collection, well, that Targaryen ship has sailed.

The luxurious "commemorative egg objet" was sold to an anonymous U.S. buyer in April shortly after its announcement and before the nine months of painstaking work was begun by Fabergé workmaster Paul Jones and his team of artisans, global sales director Josina von dem Bussche-Kessell told The Hollywood Reporter….
(13) STILL THINKING ABOUT THEM. New York Times opinion columnist Ezra Klein tweeted a list of recommended books from 2021, and several are sff. Thread starts here.
(14) SFF IN THE EIGHTIES. Nicholas Whyte continues to reacquaint himself with past Hugo-winning novels, discussing the 1983 and 1984 winners in "Blood Music", by Greg Bear; Startide Rising, by David Brin".
…And Brin has put a lot of work into thinking about how intelligent creatures with completely different mindsets might work together, especially with the undertones of slavery and colonialism which are the foundation of the series. I really enjoyed revisiting it. Where "Blood Music" is "My God! What if…", Startide Rising is sensawunda reflecting contemporary debates (as always).
(15) OFF THE BEAM. [Item by Martin Morse Wooster.] This is from October, but it was news to me! "NYC Mayor de Blasio Explodes Millions of Trekkie Heads By Misidentifying His Star Trek Costume — And BLOWING Prime Directive" at Mediaite.
New York City Mayor Bill de Blasio set his verbal phasers on "stun" with a shocking display of Star Trek ignorance at a press conference, falsely identifying his uniform and making a complete hash out of Starfleet's Prime Directive.

The shameful display occurred during a lengthy press conference at which the mayor covered a variety of topics, including having a safe Halloween.

As State Senator Kevin Parker completed his presentation on highspeed broadband, de Blasio appeared onscreen sporting a blue Starfleet shirt with a science department badge and command insignia, an obvious tribute to Commander S'chn T'gai Spock — or Mr. Spock to humans, and Dr. Spock to confused Boomers….
(16) VIDEO OF THE DAY. [Item by Martin Morse Wooster.] In "The Method Actor Tutorial" on Screen Rant. Ryan George plays Kurt Truffle, method actor. Truffle knew he would be a method actor because as a kid, he'd object to losing duck duck goose by speaking in goose language, so the other kids couldn't understand him. Truffle claims that method actors can be jerks on the set and in life because method actors will do what it takes to stay in character.
[Thanks to Michael Toman, Cat Eldridge, Mike Kennedy, StephenfromOttwa, Michael J. Walsh, Martin Morse Wooster, JJ, John King Tarpinian, and Andrew Porter for some of these stories. Title credit belongs to File 770 contributing editor of the day – no, wait, it's OGH!]