(1) DUBLIN 2019 CALL FOR PAPERS. The Dublin 2019 Worldcon's academic track has put out a call for papers and posters. The submission form will be available at the link until February 22.
Academic tracks at Worldcon provide an opportunity for scholars to present critical reflections and research to an interested, knowledgeable and active audience….

We are particularly interested in three themes:
Ireland has been home to many prominent writers in the genre, while Irish and Celtic history, culture and myth has provided inspiration for many works. We look to take this opportunity to explore this rich cultural background at Dublin 2019 – An Irish Worldcon.
We also welcome proposals which provide scholarly insights on the work of Worldcon Guests and visiting authors, and timely contemporary issues in the field.
Mindful that Science Fiction is a powerful tool for envisioning the future, we welcome contributions that help the community to write a better tomorrow. These might address design fiction, future studies, or explore the relationship between work in the field and current and future societal challenges.
(2) MARVEL WOMEN. SYFY Wire's "Fangrrls" have selected "The greatest Marvel women of all time". Their justifications are compelling, for example, second on the list —
Jubilation Lee

Jubilation Lee, specifically pre-M-Day, doesn't have the coolest powers. (Plasmoids? Those are FINGER FIREWORKS, nice try.) She isn't the strongest mutant. She's not always the best in a fight. When I was a kid reading comics, she seemed the most like me — she just wanted to hang out and pal around with the other mutants. She never seeks to be the star, she just wants to be helpful. And that is what makes her so great: Jubilee is a good friend. She's there when you need her, even if she is hopelessly in over her head. She's dependable, she has your back — how many times did she save Wolverine? Jubilee never really fit in as one of the fighting X-Men, but she is always there when someone needs backup or support. She's there in a pinch, using her stupid finger fireworks to help you out with whatever mess you've made now. Even when she lost her powers in M-Day, she didn't stop being a buddy system expert. Jubilee is often mocked for her admittedly dumb powers, and beyond cameos, she's been benched from the current run of superhero movies. She's never been properly appreciated for her true power, that of being a good friend. Most superheroes suck at interpersonal relationships, but not Jubilee. She's the one you call when you need bail money. And now she's a vampire, so she has that going for her, too. – Sarah Marrs
(3) THE ORIGINAL SERIES, YEAR FIVE. IDW has new Trek comic books in the works: "'Star Trek: Year Five' Will Detail The Fifth Year Of TOS Enterprise's Mission".
IDW Publishing is going to be giving Trekkers who love The Original Series a new comic that we'll be dying to read in 'Star Trek: Year Five.' While the show gave the first three years of the original voyages of the USS Enterprise, many assumed that the animated series which ran from 1973-1974 gave us the final two. That isn't going to be the case here as we'll explore new life and new civilizations with Captain Kirk who is taking his crew into the last year of their voyage. This will be the year that the Enterprise journies home. The comic won't just focus on their adventures but also how each member of the crew feels about what their lives will be like when returning to Earth.

There is a massive creative team behind the book as well which consists of a full writer's room including Brandon Easton, Jody Houser, Jim McCann, and the writing team Collin Kelly and Jackson Lanzing. Kelly and Lanzing will be penning the first part of this series which is set to be illustrated by Stephen Thompson.
Incidentally, notes The Hollywood Reporter, "the first issue features an unexpected first: legendary illustrator Greg Hildebrandt working on Star Trek for the first time in a career that's spanned 60 years."
(4) TIME WAR RESUMES. Fansided points to "Doctor Who spin-off news: Gallifrey: Time War 2 – story details revealed!"
It's the CIA versus the War Council, as more details of what we can expect in the second series of Doctor Who spin-off Gallifrey: Time War have been revealed.

The first series of Gallifrey: Time War was an absolutely amazing box set. Just four episodes, and yet there were so many twists and turns throughout, plus some really great drama. It was a great reminder of exactly why Gallifrey is one of the best Doctor Who spin-offs out there.
The Big Finish audio trailer can be heard here. The four new chapters in the Gallifrey saga are:
Havoc by David Llewellyn
Partisans by Una McCormack
Collateral by Lisa McMullin
Assassins by Matt Fitton
(5) ANSWERING FAN MAIL. Doug Ellis posted a bit of sff history on Facebook:
Here's a letter from Astounding Science Fiction editor F. Orlin Tremaine to Jack Darrow, an eminent fan in the 1930's. Dated February 18, 1936, I thought Tremaine's comment on the circulation of SF pulps, compared to detective or western, was interesting.
A scanned copy of the letter is at the link.
(6) TODAY'S BIRTHDAYS.
[Compiled by Cat Eldridge.]
Born January 22, 1906 – Robert E. Howard. Pulp writer. You knew that. Created Conan the Barbarian and Kull the Conqueror. You know that too. Spawned some truly bad films. Yes, you know that. Generally thought to have created the sword and sorcery genre. Hell you know that. So tell me something that I'm not likely to know about him. (Died 1936.)
Born January 22, 1932 – Piper Laurie, 87. Margaret White In Carrie, Catherine Martell / Mr. Tojamura In Twin Peaks, and Aunt Em in Return to Oz. 
Born January 22, 1934 – Bill Bixby. Principal casting in several genre series, first in My Favorite Martian as Tim O'Hara, a young newspaper reporter for the LA Sun who discovers that alien, and then as Dr. David Banner in The Incredible Hulk series, and in both The Incredible Hulk Returns and The Death of the Incredible Hulk films. He shows up in a number of other genre series including Fantasy Island, Tales of the Unexpected, Night Gallery, The Ghost & Mrs. Muir and The Twilight Zone (original version). He also had the lead as Anthony Blake / Anthony Dorian in The Magician seriesbut as he was a stage illusionist, I couldn't count it as genre. (Died 1993.)
Born January 22, 1940 – John Hurt. If we count his role as Tom Rawlings in The Ghoul, Hurt had an almost fifty-year span in genre films and series. He next did voice work in Watership Down and The Lord of the Rings before appearing as Kane in Alien. Though not genre, I must comment his role as Joseph Merrick in The Elephant Man — simply remarkable. He had the lead as Winston Smith in Nineteen Eighty-Four and had a cameo as Kane in Spaceballs. He narrates Roger Corman's Frankenstein Unbound and was one of the narrators of Jim Henson's The Storyteller. Ok, I'm at 1994. He's about to be S.R. Hadden in Contact. Did you remember he played Garrick Ollivander In Harry Potter films? You certainly remember him as Trevor Bruttenholm in the Hellboy films. He's in Indiana Jones and the Kingdom of the Crystal Skull but I'll freely admit I've not, nor am planning on watching, that film. Series wise, he's been around. I've got him in Spectre, a Roddenberry occult detective pilot. Later he shows up voicing General Woundwort in the Watership Down series. On the Merlin live action series, he provides the voice of the Great Dragon. It's an amazing role for him. And of course he played The War Doctor. Big Finish, the audiobook company, had the singular honor of having him flesh out his character in a series of stories that he did with them just before his death. I've heard some, they're quite remarkable. You can find their complete listings here. (Died 2017.)
Born January 22, 1959 – Linda Blair, 60. Best known for her role as the possessed child, Regan, in The Exorcist. She reprised her role in Exorcist II: The Heretic. (I saw the first, I had no desire to see the second film.)  Right after those films she started she started starring in a lot of the really bad horror films. Let's see… Stranger in Our House, Hell Night (fraternity slasher film), Grotesque, Witchery, Dead Sleep and Scream name a few. She even starred in Repossessed, a comedy parody of The Exorcist. 
Born January 22, 1965 – Diane Lane, 54.I've got her as Ellen Aim In Streets of Fire which I count as genre. She's Chief Judge Barbara Hershey in Judge Dredd, a film I'll freely admit that I actually like because it catches the pop culture feel of the 2000 A.D. comics in a way the second film doesn't. Next up for her is playing Mary Rice in Jumper. She's been playing Martha Kent in the DC Universe films as of late.
Born January 22, 1970 – Alex Ross, 49. Comic writer and artist. His first work was as an artist was Terminator: The Burning Earth. My favorite work is Kingdom Come was written by Mark Waid and him and painted by him.
(7) COMICS SECTION.
(8) DEL TORO CHAMPIONS BOOKSTORE BAILOUT. SYFY Wire spotlights the director's help to rescue a bookstore: "The campaign to save horror bookstore Dark Delicacies got a huge burst from Guillermo del Toro"
The quest to save the iconic Burbank, CA horror-themed bookstore got a shot in the arm from one of the genre's most prolific and respected filmmakers.

Earlier this week, Del Howison, the owner of Dark Delicacies, posted a GoFundMe campaign he started with his wife, Sue, asking for help to save his business among skyrocketing rents in the Burbank metro area. Faced with rising costs, they'd expected to shutter their doors in May, just short of their 25th anniversary. That changed when a new storefront came available across the street, which the Howisons saw as their one shot to keep their "home of horror" going.

To help their cause, Guillermo del Toro shared the campaign via his Twitter account earlier today, asking his followers to spread the word about Dark Delicacies, who are "asking for a little help in making a resurrection possible."
(9) DID ANYONE ASK JANE? [Item by Mike Kennedy.] Them's fightin' words. At SYFY Wire, contributor Charlie Brigden chimes in with an opinion piece listing eight of the variants of the Enterprise by, well, the story lists the criteria but it's not clear how they are weighted or how they are applied ("From one generation to the next: Ranking the Starships Enterprise").
"It's been a long road, getting from there to here," croons Russell Watson in the opening titles of Star Trek: Enterprise, and you might be forgiven to think he's talking about the lineage of starships named Enterprise.

[…] Before we begin, please note: The following starships were judged based on four main factors: their warp speed, their weaponry and tactical ability, the crew serving on them, and their aesthetic qualities. They have been loosely put into two groups based on the technology gap between the 23rd and 24th centuries, where the warp scale was reconfigured to allow for the new velocities reachable by starships. Also, neither the new Enterprise from Discovery nor the Enterprise-J have been included in this list because they've only been seen for a minimal time and as such the Memory Alpha entries are pretty sparse.
Brigden discusses the evaluation of each ship in 3–4 paragraphs apiece. How did they rank, you ask? (And what did Brigden call them to differentiate different variants and timelines?)
8 Enterprise (NX-01)

7 The J.J.-prise


6 Enterprise-B


5 Enterprise-C

4 The Original Enterprise

3 Enterprise-E

2 Enterprise-D

1 The Constitution-refit
(10) PLANET NINE FROM OUTER SPACE. Astronomer Mike "Pluto Killer" Brown responds to the idea that instead of a planet there might just be a ring of debris with the same mass. In "Is Planet Nine just a ring of icy bodies?" he essentially argues that a single planet is a much simpler hypothesis and that a ring would probably have already been detected if there were one.
The fact that no Planet Nine alternative was proposed for so long was a testament to the fact that it is really really hard to explain the quite good data in any other way.

Finally, however, after three years, a new hypothesis has been proposed which can at least explain the alignments without Planet Nine. The basic trick is to take Planet Nine and split it up into a massive ring of bodies on an eccentric inclined orbit like that of Planet Nine's. Because Planet Nine's long distance gravitational effects are mostly caused by the long term average position of Planet Nine (which is basically an inclined eccentric ring!) this ring has more or less the same effects that Planet Nine has. (For the aficionados out there, read this as "Planet Nine's interactions are predominantly secular rather than resonant.")

I am happy that there is finally an alternative explanation, even if that alternative is only Planet-Nine-ground-up-into-a-ring.

So, is Planet Nine really just an eccentric inclined ring of icy bodies?

As happy as I am to see alternative hypotheses, and as correct as I think the underlying physics of this paper is, I think it is utterly unlikely that our solar system has a massive eccentric inclined ring of material….
(11) A GIFT NOT FROM EARTH. Probably best to take care of the one you have, however, if that doesn't work out — "Why your new heart could be made in space one day".
Imagine a laboratory growing human hearts – and imagine that laboratory floating in space hundreds of miles above the surface of the Earth.

That may sound like science fiction, but bizarre as it seems, it could bring new hope for transplant patients within the next decade.

While about 7,600 heart transplants were carried out around the world in 2017, there's a desperate shortage of organs, with thousands of people on waiting lists dying every year.

Efforts to grow human hearts in the lab are showing promise, but are hampered by the need for the organs to grow around a "scaffolding" to make sure they don't collapse during the process. Reliably removing the scaffolding once the heart is complete is proving to be a challenge.

Space tech company Techshot believes zero gravity could be the answer.
(12) UNIQUE AND ANTIQUE JAPANESE FANTASY ART. "Visitors to Tokyo's Nezu Museum display, open until February 17, are able to mark the visual evolution of the Shuten-Dôji legend (which originated in the 14th Century), from a colorful medieval handscroll to a sprawling eight-scroll illustrated epic made in the 19th Century that has never before been shown in its entirety." "Yorimitsu and Shuten-Dôji: The drunken demon of Kyoto".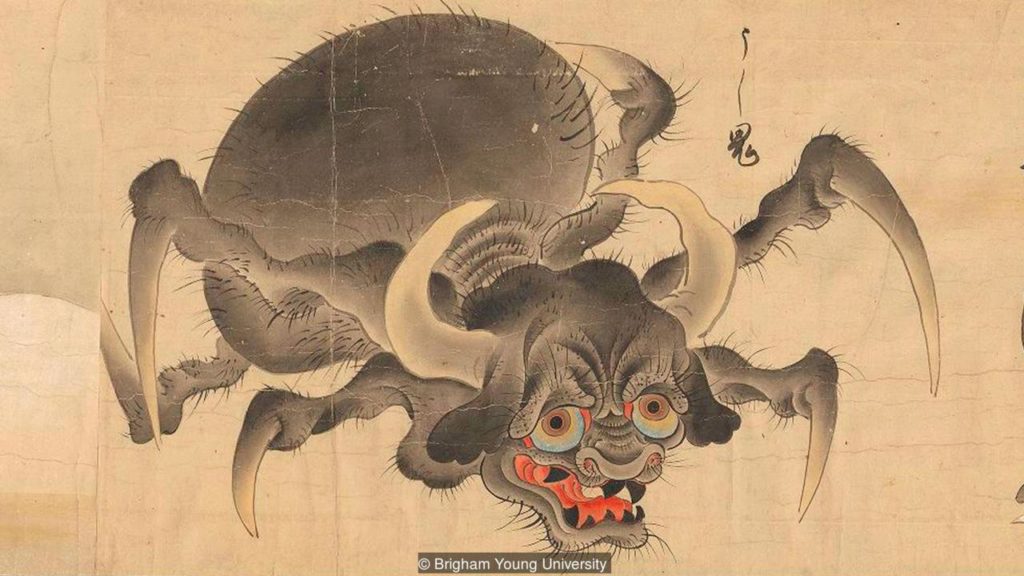 A new exhibition looks at a legend that has gripped the Japanese imagination since the 14th Century – a myth whose graphic novel-like plot has all the makings of a Hollywood blockbuster

As the world braces itself for the unleashing later this year of another surge of comic-book sequels and spinoffs – from fresh instalments of Hellboy and The Avengers in the spring to a new chapter of the Spider-Man saga in the summer – an exhibition of Japanese scrolls in Tokyo's Nezu Museum has me wondering just how far back the endless rebooting of superhero (and super villain) stories can be traced. A Tale of Expelling the Demon: The Shuten-dôji Picture Scroll is devoted to a popular medieval legend that for the ensuing centuries gripped the Japanese imagination – a myth whose graphic novel-like plot has all the makings of a Hollywood blockbuster.

The tale begins with news that young women are going missing from the streets of what was then the capital city, Kyoto. As the abductions accelerate, frustration mounts at the lack of evidence that might unmask the mysterious perpetrator. Desperate for answers, authorities turn to a shadowy mystic who conjures the identity of the villain responsible for the string of kidnappings: a fearsome demon (or 'oni') known as 'Shuten-Dôji' whose castle lair is hidden in a dark and forbidding mountain. The task of slaying the demon and freeing his countless captives is made all the more perilous, if not impossible, by the ogre's ability to fly and assume the shape of any object or animal. The kingdom's only hope is to enlist the agile mind and limber muscles of a fabled warrior, Minamoto no Yorimitsu, and his crack squad of skilled swordsmen known as the Four Guardian Kings. But can they succeed?

…Anticipating our own era's insatiable obsession with serials, the legend of Yorimitsu quickly licensed itself into other popular myths and offshoot franchises beyond the narrative of Shuten-Dôji. Among the more thrilling of the fables associated with him is one that finds the warrior once again in chase of an airborne skull, which leads the reader through a mountain forest to the doorstep of another ferocious oni, Tsuchigumo: a Godzilla-sized spider with a tiger-like torso and striped furry legs.
(13) DELOS HARRIMAN WARNED US. Of course, he was worried about advertising on the moon. But a Russian firm has announced an ambitious plan to deploy "orbital billboards" using an array of small satellites by the early 2020s. Universe Today has the story ("Astronomers Aren't Pleased About a Russian Plan to Put Billboards in Space"). Can we all just agree this is a terrible idea?
While the rest of us look up at the night sky, and wonder at what we're seeing, ponder how it all fits together, and strain ourselves trying to understand how our origins are intertwined with all that we see, others don't. They look up at the magnitude of the night sky and think none of these things.

Instead they think, "Hmmm…that's a big, empty billboard. How can I make money from it?"

Russian company StartRocket is proposing to use Cubesats, small satellites with inexpensive launch profiles, to put billboards in space. At an altitude of about 450 km (280 miles), the satellites would unfurl a mylar sail about 9 meters (30 ft.) long. A group of CubeSats would work together to create a singe billboard, and the result would be a pixelated billboard with a viewable area of about 50 sq. km., visible in morning and evening twilight, when they catch and reflect sunlight.
(14) LATE NIGHT. Beginning about 4 minutes and 40 seconds into the interview, Sonequa Martin-Green explains "hipster Spock."
[Thanks to Cat Eldridge, Greg Hullender, Mike Kennedy, John King Tarpinian, Martin Morse Wooster, JJ, Chip Hitchcock, Carl Slaughter, and Andrew Porter for some of these stories. Title credit goes to File 770 contributing editor of the day JJ.]