(1) MICHELLE YEOH RETURNS TO TREK. "'Star Trek: Section 31′ Original Movie Event Starring Oscar Winner Michelle Yeoh Announced" at StarTrek.com.
Paramount+ today announced it has officially greenlit Star Trek: Section 31 starring Academy Award winner Michelle Yeoh. In this special original movie event for the service, Yeoh will return to her role as Emperor Philippa Georgiou, a character she first played in Star Trek: Discovery's first season.

In Star Trek: Section 31, Emperor Philippa Georgiou joins a secret division of Starfleet tasked with protecting the United Federation of Planets and faces the sins of her past. Produced by CBS Studios, production will begin later this year….
(2) UK POLICE ARREST FRENCH PUBLISHER. Publishers Weekly reports from London Book Fair 2023 about how a shocking arrest started the show.
Protests Greet Arrest of French Publisher

In an upsetting action prior to the start of the fair, Ernest Moret, foreign rights manager for the French publisher Editions La Fabrique, was detained by U.K. police on arriving at St. Pancras Station from Paris. He was stopped under Schedule 7 of the Terrorism Act 2000 and detained for questioning without a lawyer present, allegedly to determine whether he was engaged in terrorist acts or in possession of material for use in terrorism, according to a joint press release from Editions La Fabrique and Verso Books, on Tuesday morning. Moret was traveling with the author Alain Damasio, a well-known French science fiction writer, and had planned to attend meetings at the fair before returning to France on Friday.

The police claimed that Moret had participated in demonstrations in France, presumably that threatened the authorities, as a justification for the initial detention. How this justifies detention in the U.K. is unclear. The detaining officers demanded that Moret surrender his phone and passwords. After he refused, Moret was formally arrested and accused of obstruction. As of Tuesday afternoon, he was still in police custody.

"We consider these actions to be outrageous and unjustifiable infringements of basic principles of the freedom of expression and an example of the abuse of anti-terrorism laws," Éditions La Fabrique and Verso Books said in their release. "We consider that this assault on the freedom of expression of a publisher is yet another manifestation of the slide towards repressive and authoritarian measures taken by the current French government in the face of widespread popular discontent and protest. It is crucial for all defenders of basic democratic values to express in the strongest terms that we find this intolerable and outrageous."
(3) BEWARE HACKED FAN FB ACCOUNTS. "Orange Mike" Lowrey reported today, "Several fans' Facebook accounts have been hacked and hijacked; in addition to mine, I know that filk legend Tom Smith has been a victim. I don't know when and how we will be able to recover our accounts. I am told that Tom Smith and I are not fandom's only victims."
Someone posted a dog adoption post to Lowrey's FB page, apparently as a phishing scheme.
(4) BOOK TOWN. [Item by Daniel Dern.] The Sunday Boston Globe had this article (including an interesting book reference/suggestion). Fortunately MSN.com picked it up, so it's not paywalled: "A haven for bookworms in the Catskills".
Book towns, which are exactly what you'd expect, are located mostly outside the United States — in the United Kingdom, Norway, New Zealand, Japan, India, etc. According to Alex Johnson, author of "Book Towns," the definitive book on the subject: "A book town is simply a small town, usually rural and scenic, full of bookshops and book-related industries … it started with Hay-on-Wye in Wales in the 1960s, picked up speed in the 1980s, and is continuing to thrive in the new millennium." The success of book towns is very good news for those of us who revere the printed word.

Luckily for local bibliophiles, Hobart Book Village, the only book town east of the Mississippi River, is not too far away, in the northern Catskills. It's a bucolic, blink-and-you-miss-it hamlet of fewer than 500 souls that was reinvented as a book village in 2005 through the efforts of local entrepreneur, Don Dales. Dales is Hobart Book Village's prime mover, unofficial mayor, and, as it happens, an accomplished pianist. He sought to revive a faded and economically depressed community and, after hearing about Hay-on-Wye, hit upon the idea of using books to do so. He bought up a few key buildings on Main Street and rented them to bookshops at drastically reduced rates (initially zero dollars). And it worked. Now, according to Dales, "instead of tumbleweeds, we have pedestrians walking down Main Street." He adds, somewhat emphatically, that the name of the village is pronounced "Hobert." So now you know….
And here's some older (but probably less-paywalled) articles on Hobart:
New York's Catskills is truly a unique destination for more reasons than one. Not only is it home to the abandoned Borsch Belt resorts, but it's also scenic in all of its mountainside beauty. It's often overlooked compared to its mountain neighbor to the north, the Adirondacks, but there's one town, in particular, that has gained quite a reputation.

It might come as a surprise to know that book lovers should be adding the Catskills to their bucket list, and that's thanks to one town: Hobart. This (very) small village is home to more bookstores than any other type of store in town, and that was done so intentionally. It's a unique corner of the Catskill Mountains and is one that's worth spending a day – or a weekend – exploring….
Calling all bookworms! This quaint little town in New York made up entirely of bookstores is the next spot to cross off on your summer bucket list….
(5) LEE HARDING (1937-2023). Australian writer Lee Harding died April 19. [Date corrected as requested by Belinda Gordon, on 6/23/23.] Jean Hollis Weber announced on Facebook:
Belinda Gordon (daughter of Lee Harding) writes that Lee died peacefully at 6.33 am this morning in Perth. He had been unwell for some time.
Harding was among the founding members of the Melbourne Science Fiction Club, together with Race Mathews, Bertram Chandler, Bob McCubbin, Merv Binns and Dick Jenssen. He and John Foyster started the prestigious fanzine Australian Science Fiction Review in 1966.
His first published sff short story, "Displaced Person" appeared in 1961 in Science Fantasy. He also wrote two 12-part science fiction serials for ABC Education Radio and dramatized an H.G. Wells story for the same program. During his career he won two Ditmar Awards, for "Dancing Gerontius" (1970) and "Fallen Spaceman" (1972). In 2006 he was honored with the A. Bertram Chandler Memorial Award for outstanding achievement in Australian SF, presented by Australian SF Foundation.
(6) LARRY CARD. First Fandom member Larry Card died April 15 after an 18-month illness reports John L. Coker III. Arlan K. Andrews, Sr.'s writeup about the sad news included this background: "A member of Mensa and Intertel, Larry was an advanced ham radio operator, an expert in 19th Century telegraphy, and a black powder gun enthusiast. With a background in crypto, he served in both the US Army and Navy, as a technician at Bell Labs, and then at Naval Air Warfare Center (later Raytheon), in Indianapolis."
(7) MEMORY LANE.
1975 – [Compiled by Cat Eldridge.]
A note about the Beginnings. Cat and Mike collaboratively choose both the authors and the works that the Beginnings that are from. Then Cat does the writing. The one for this Scroll was the choice of Mike.
Michael Bishop's A Funeral for the Eyes of Fire was his debut novel. It was published by Ballantine Books forty-eight years ago in a hardcover edition.
It picked up a Nebula nomination, but critics were decidedly mixed on it were some comparing it favorably to the work of Le Guin and Tiptree while another critic thought it was "highly imperfect" whatever that means.
The 1980 revision SFE notes is rather different as it is essentially an author's preferred edition that changes the meaning of the novel. No spoilers there really I'd say.
Now I've not read it, so I'd like your opinions on it. I must say that I did read the first several chapters of the 1980 revised edition and I am quite, quite impressed with what I read.
So now our Beginning…
PROLOGUE
Long ago there was a jongleur-thief in Kier, before Kier was yet a nation, and the name of the jongleur-thief was Jaud. Gla Taus, The World, was new in those days, only lately formed from the primordial slag, and in every situation in this new world Jaud acted out of the selfish center of himself. This was not unusual, for in the beginning the world was without law and the people had no word for conscience.
Jaud's disposition was merry and cruel at once, and he chose to live by stealing. After each theft he whirled before his victim and deftly juggled the items he had stolen: rings, bracelets, coins, seashells, beads, digging tools, and even weapons. Often his victims applauded these performances. Only rarely did the aggrieved Gla Tausian try to recover his belongings, for Jaud was impatient of those who interfered with his juggling, and throughout the land his deadliness with knife and hand ax was well known.
In the infancy of Gla Taus, Jaud honored only Jaud and a few fellow thieves who served as his disciples and retainers, having recognized in him a sorcerer of chicanery and bloodthirstiness. For untold years, the Thieves of Jaud preyed upon the people of Kier before Kier was a nation. They made themselves a bastion in the Orpla Mountains, from which they undertook forays of theft, jugglery, and slaughter.
But as time passed, people drew together against the indifference of Gla Taus and the cruelty of Jaud. From these first feeble bands tribes arose, and from the tribes chiefdoms, and from the chiefdoms primitive states, and from the primitive states a nation that called itself Kier. Kier exercised dominion through the authority of the first Prime Liege, whom everyone knew as Shobbes or Law. Only Jaud and his fellow jongleur-thieves failed to acknowledge the preeminence of Law, for they were free spirits obeying no statutes but those written in the runes of their blood. How could they know that the superstitious taboos of the first bands had become the inhibitory customs of the tribes? That the customs had become ordinances, and that finally Shobbes had had these ordinances codified in writing?
(8) TODAY'S BIRTHDAYS.
[Compiled by Cat Eldridge.]
Born April 18, 1884 — Frank R. Paul. Illustrator who graced the covers of Amazing Stories from May 1926 to June 1939, Science Wonder Stories and Air Wonder Stories from June 1929 to October 1940 and a number of others well past his death date. He also illustrated the cover of Gernsback's Ralph 124C 41+: A Romance of the Year 2660 (Stratford Company, 1925), published first as a 1911–1912 serial in Modern Electrics. He was inducted into Science Fiction and Fantasy Hall of Fame in 2009. Stephen D. Korshak and Frank R. Paul's From the Pen of Paul: The Fantastic Images of Frank R. Paul published in 2010 is the only work I found that looks at him. (Died 1963.)
Born April 18, 1930 — Clive Revill, 93. His first genre role was as Ambrose Dudley in The Headless Ghost, a late Fifties British film. He then was in Modesty Blaise in the dual roles of McWhirter / Sheik Abu Tahir followed by The Private Life of Sherlock Holmes playing Rogozhin. A choice role follows as he's The Voice of The Emperor in The Empire Strikes Back. As for one-offs, he shows up in The Adventures of Robin Hood, The New Avengers, Wizards and Warriors in a recurring role as Wizard Vector, Dragon's Lair, the second version of The Twilight Zone, Batman: The Animated Series in recurring role as as Alfred Pennyworth, Babylon 5, Freakazoid in a number of roles, Lois & Clark: The New Adventures of Superman and Pinky and The Brain… that's not even close to a full listing!
Born April 18, 1946 — Janet Kagan. She wrote but three novels in her lifetime, Uhura's Song, set in Trek universe, Hellspark and Mirabile which is a stitch-up of her Mirabile short stories. The Collected Kagan collects all of her short fiction not set in the Mirabile setting. Her story "The Nutcracker Coup" was nominated for both the Hugo Award for Best Novelette and the Nebula Award for Best Novelette, winning the Hugo at ConFrancisco. (Died 2008.)
Born April 18, 1965 — Stephen Player, 58. Some birthday honor folks are elusive. He came up via one of the sites JJ gave me but there is little about him on the web. What I did find is awesome as he's deep in the Pratchett's Discworld and the fandom that sprung up around it. He illustrated the first two Discworld Maps, and quite a number of the books including the 25th Anniversary Edition of The Light Fantastic and The Illustrated Wee Free Men. Oh, but that's just a mere wee taste of all he's done as he did the production design for the Sky One production of Hogfather and The Colour of Magic. He did box art and card illustrations for Guards! Guards! A Discworld Boardgame. Finally, he contributed to some Discworld Calendars, games books, money for the Discworld convention. I want that money.
Born April 18, 1969 — Keith R. A. DeCandido, 54. I found him working in these genre media franchises: such as Supernatural, Andromeda, Farscape, Firefly, Aliens, Star Trek in its various permutations, Buffy the Vampire Slayer, Doctor Who, Spider-Man, X-Men, Hercules, Thor, Sleepy Hollow,and Stargate SG-1. Now I will admit that his Farscape: House of Cards novel is quite fantastic, and it's available from the usual suspects. He's also written quite a bit of non-tie-in fiction.
Born April 18, 1971 — David Tennant, 52. The Tenth Doctor and my favorite of the modern Doctors along with Thirteen whom I'm also very fond of. There are some episodes such as the "The Unicorn and The Wasp" that I've watched repeatedly and even reviewed at Green Man. He's also done other spectacular genre work such as the downright creepy Kilgrave in Jessica Jones, and and Barty Crouch, Jr. in Harry Potter and the Goblet of Fire. He's also in the Beeb's remake of the The Quatermass Experiment as Dr. Gordon Briscoe.
Born April 18, 1973 — Cora Buhlert, 50. Winner of the 2022 Best Fan Writer Hugo. With Jessica Rydill, she edits the Speculative Fiction Showcase, a most excellent site. She has a generous handful of short fiction professionally published. I've got her Paris Green: A Helen Shepherd Mystery in my far too long to-be-read list.
(9) TEACHING TOLKIEN. David Bratman shared these memories of Mike Foster, who died April 12.
…At the big 50th anniversary of The Lord of the Rings conference at Marquette University, where the papers are held, Mike gave a talk bristling with intelligent and clever ideas of how to teach Tolkien.

For instance, he outlined the papers he assigned in his Tolkien class. First, an analysis of any chapter – of the student's choice – from any of Tolkien's major works: how it contributes to the story. Second, a study of a work Tolkien might have read and its possible influences. Third, an evaluation of any full-length critical study. And last, a study of the evolution of one particular character.

But my favorite line of Mike's – one I refer to often – was one he occasionally noted on an essay: "That happened in the film you obviously saw, not in the book you were supposed to have read."…
(10) CELEBRATE MARVEL COMICS' BIRTHDAY IN MARVEL AGE #1000. Pick up a giant-sized spectacular starring the X-Men, Spider-Man, and more to celebrate Marvel Comics' birthday on August 31 when Marvel celebrates the release of Marvel Comics #1, the one that started it all, and the 84 years of stories and characters since then that have shaped pop culture. To mark the occasion, Marvel will be releasing MARVEL AGE #1000, a massive commemorative issue that includes contributions from some of the most storied creators in Marvel history.
J. Michael Straczynski and Kaare Andrews create the Marvel Universe in a backyard!
Dan Slott and Michael Allred depict a crucial turning point for Captain Marvel!
Rainbow Rowell and Marguerite Sauvage explore the blossoming relationship between Cyclops and Jean Grey!
The original Human Torch finds his purpose thanks to Mark Waid and Alessandro Cappuccio!
The Silver Surfer confronts Mephisto under the guidance of Steve McNiven!
Jason Aaron and Pepe Larraz detail Thor's impact on a mortal life!
Ryan Stegman explores the support network of Spider-Man's friends and family!
Armando Iannucci and Adam Kubert pit Daredevil up against a very human problem!
And more!
In addition, MARVEL AGE #1000 will bring back a classic and beloved Marvel Comics tradition: The Marvel Comics Value Stamp! Who or what will the ultimate Marvel Value Stamp, #1000, feature?
Check out Gary Frank's cover below. For more information, visit Marvel.com.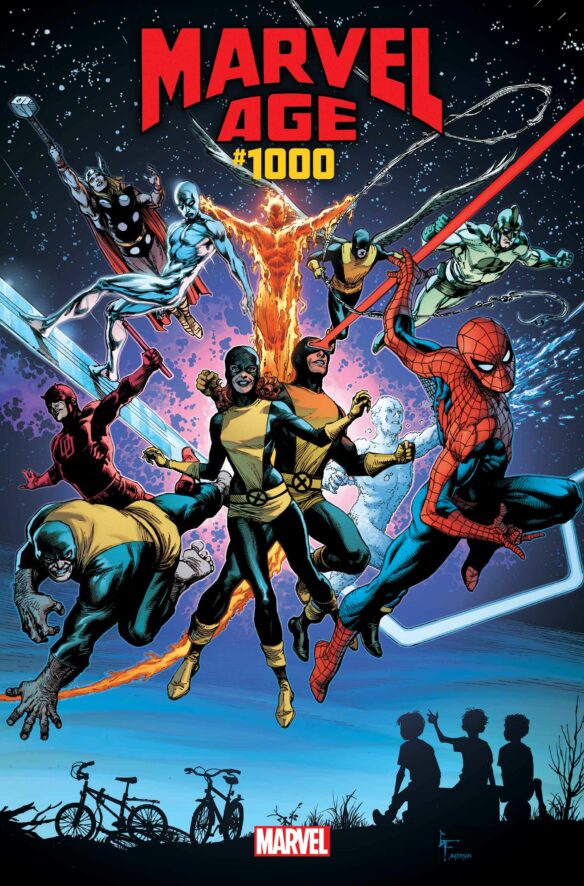 (11) BORGES LITERARY ESTATE. AP News reports the "Future of Borges estate in limbo as widow doesn't leave will".
The rights to the works of the late Jorge Luis Borges, considered Argentina's most internationally significant author of the 20th century, have fallen into limbo because his widow died last month without a will.

The revelation this week surprised the country's literary circles, because Borges' wife, Maria Kodama, devoted much of her life to fiercely protecting his legacy. She set up a foundation under the writer's name, but did not detail plans for what should happen after she died, even though she was battling breast cancer….

…Borges died in 1986 at age 86 and left Kodama, a translator and writer whom he had married earlier that year, as his only heir. They never had children. She died March 26, also aged 86.
(12) CORGO SHIP. [Item by Daniel Dern.] See the silly image on this Facebook page.
(13) VOLTAIC TECHNOSAUSAGES. [Item by Daniel Dern.] Some Italians are perfecting classic cuisine while others are doing this: "Scientists Develop A Tasty Rechargeable Battery Made From Food And Yes It's Edible" – HotHardware has the story.
Researchers at the Istituto Italiano di Tecnologia (IIT) have created the world's first fully edible rechargeable battery. Key foodie ingredients of the new battery may include extracts from almonds, pomegranates, mushrooms, capers, seaweed, charcoal, and beeswax. The electrodes also make use of food-grade gold leaf, which may invoke thoughts of extravagant cuisine, but the combination of the flavors outlined isn't going to win any culinary awards. This low-power rechargeable battery could become a key component in the burgeoning field of edible electronics, with solutions mainly targeting medical devices and the food safety.

The IIT researchers say that their invention was inspired by living organisms which generate electricity. Organisms typically use "redox cofactors to power biochemical machines," and this is the base technology for this research. In its current state, the edible battery isn't going to crank out as much voltage as an electric eel though, and it doesn't even sound powerful enough for tackling the more modest demands of a smartwatch, for example. A proof-of-concept edible rechargeable battery created by the research team operated at 0.65 V, sustaining a current of 48µA for 12 minutes. Don't worry though, the researchers are already working on cells with both greater capacity and density.
[Thanks to John King Tarpinian, Chris Barkley, Michael Toman, Daniel Dern, John L. Coker III, Joyce Scrivner, Michael J. "Orange Mike" Lowrey, Cat Eldridge, Mike Kennedy, and Andrew Porter for some of these stories. Title credit belongs to File 770 contributing editor of the day Joe H.]