(1) NOW PLAYING IN THE THEATER OF YOUR MIND. Pat Cadigan pointed Facebook readers to the 23rd Legion's review of her forthcoming book: "Alien – Alien 3: The Lost Screenplay by William Gibson by Pat Cadigan".
… This story is gritty as all hell. Focusing largely on Hicks and Bishop after being "rescued" with Ripley and Newt in the Sulaco where they ended up at the conclusion of Aliens, this version of Alien 3 goes from "Ehhh, things might be ok." to "What the hell do you think you're doing?" to "Oh yeah, everything is totally screwed."

We see a whole lot of evolution in the Xenomorphs in this story. Their adaptation and speedy evolution is both terrifying and, for franchise fans, fascinating given the total lore that already exists. These bugs are a total game changer when it comes to their propagation and swarm-like spread….
(2) THEY DID THE MONSTER STAMP. On September 24, 2021, in Topeka, KS, the United States Postal Service® will issue the Message Monsters stamps (Forever® priced at the First-Class Mail® rate) in four designs, "Message Monsters Ready to Bring a Smile to Your Mail".
The U.S. Postal Service will celebrate Message Monsters with the most playful, customizable Forever stamp design ever. The four monster illustrations on this pane of 20 stamps invite interactivity with dozens of self-adhesive accessories on the selvage. The monster-ific accoutrements include cartoony voice balloons and thought bubbles with exclamations and salutations, hats and crowns, hearts, stars, crazy daisies and other fun flair.

Art director Antonio Alcalá designed the pane with original artwork by Elise Gravel, author and illustrator of popular children's books.
(3) TUNE IN TO FM. But if you want to spend a lot more for monster art, Heritage Auctions can fix you up: "Basil Gogos Famous Monsters Cover Art from the Kevin Burns Collection" goes on the block November 5-7. Article by Joe Moe, well-known 4SJ batman.
In 1958, a monster magazine intended to be a one-off hit the newsstands – and sold out! This specialty mag was Famous Monsters of Filmland, and would go on to become the longest published, and one of the most influential entertainment periodicals, ever! Throughout the 1960s, publisher James Warren and editor Forrest J Ackerman's FM did something no other magazine of the era had. It turned the spotlight from the stars in front of the camera to the artists behind the camera. The people who actually made the movie magic that captured the imagination of audiences. Basil Gogos' vivid cover paintings became the freaky face of and "gateway" to the magazine. A magazine that was a vessel for the exciting, creative world kids dreamed of being a part of. Gogos created hallmarks of the "big bang," that inspired legendary careers. A Basil Gogos FM cover painting is impossible to find…until now.

Basil Gogos' (1929-2017) paintings brought black and white monsters to vivid, colorful life….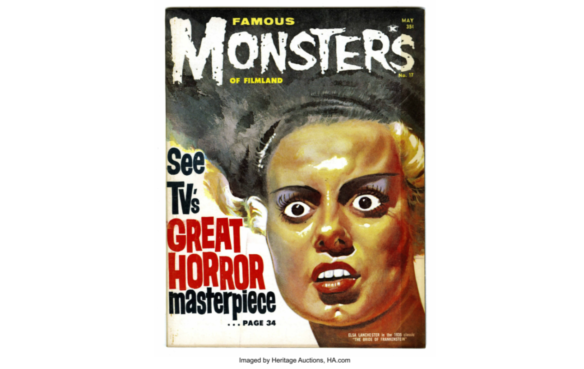 (4) SURPLUS TO REQUIREMENTS. Benjamin C. Kinney does an in-depth discussion of "Short Fiction Rejection Letters: Best practices and expectations" at the SFWA Blog.
…Most markets send form-letter rejections. These are typical and acceptable; other options take work, and more work per submission means slower responses. Vague rejection language like "it didn't work for us" is common, and means exactly what it says. Form rejections can be brief, but the market's staff should be aware of the emotional impact of words, and write a letter that feels supportive rather than dismissive.

Some markets use "tiered forms," which means they have a handful of different form letters, and the choice reflects something about the staff's reaction to your submission….
(5) PRESERVING FANHISTORY. The latest FANAC.org newsletter was distributed today. When it's online the link will be here — F. A. N. A. C. Inc. (fanac.org). An excerpt:
Behind the Scenes or How the Sausage is Made:
     Finding Anne Steul: Anne Steul is not a familiar name to most of us. In June, Rob Hansen sent us a scan of Fantum 1, edited by Anne Steul, who he remarked had also organized the first German SF con with some help from Jim and Greg Benford. That led to an expansion of Anne Steul's Fancyclopedia article, followed by more biographical data on her from Rob Hansen. We asked Thomas Recktenwald if he could tell us more. Thomas provided insight into why she left fandom, and a link to Rainer Eisfield's book, Zwischen Barsoon und Peenemunde (Between Barsoom and Peenemunde) that had 10 pages on Anne Steul, and German fandom of the time, including bibliographic data and a photo. Next, Joe asked Jim and Greg Benford for additional info and Greg forwarded a few 2013 issues of CounterClock, a fanzine from Wolf von Witting published in Italy, that had articles on early German fandom. So now we have expanded our knowledge, added her Fantum, and added to the Fancyclopedia entry. And that's how the Fan History sausage is made. As a result, Thomas Recktenwald is helping us add information about German fandom to Fancyclopedia. Thomas is a long-time contributor to The Fan History Project having provided many photos, fanzines and  recordings.
(6) DON'T IT JUST FRY YOUR SHORTS? [Item by Rob Thornton.] Here's another "SF written by a mainstream writer" example. French guy writes a novel about "what if the Incas invaded Europe in the 16th century" and it is getting all the attention, including media deals. "How a French Novelist Turns the Tables on History" in the New York Times. (Registration required.)
…It's an imaginary scenario — of the Incas of Peru invading 16th-century Europe, not the other way around, which is what happened in 1532 — that haunted and inspired Binet.

"There's something melancholic in my book," he said in an interview at his home last month, "because it offers the conquered a revenge that they never really had."

The reality for the Incas, like many other Indigenous populations, was that they were killed and exploited, Binet added. "That's what both fascinates and horrifies me: You can think what you like of the past but you can't change it."

Binet, 49, has made his name writing historical novels that blur the boundaries between fact and fiction. His debut "HHhH," which was translated into 34 languages (including English in 2012), melded history, fiction and autobiography to explore the events surrounding the assassination of the Nazi leader Reinhard Heydrich. He followed it up in 2015 with "The Seventh Function of Language," a murder mystery set in the 1980s that poked fun at the posturing of Parisian intellectuals. The French magazine L'Express called it "the most insolent novel of the year."…
(7) TGIFF FILM FESTIVAL. [Item by Darius Luca Hupov.] The second edition of "The Galactic Imaginarium" Film Festival will take place in hybrid format at location, in Romania and online (TGI Sci-Fi and Fantasy Film Festival), from September 15-19, 2021.
The festival will screen 66 short and feature films, in 4 categories: Science Fiction, Fantasy/Fantastic, Comedy/Parody (SFF) and Animation (SFF). The public will see the films at the local drive-in cinema (due to the pandemic restrictions) and online, at the festival streaming platform. Also, the program of the festival (panels, debates, presentations, workshops, contests, etc.) will be present online, on ZOOM and the Discord channel of the Festival (https://discord.gg/hgDjxCMT).
In the program you can meet our Special Guests:
Josh Malerman, the New York TImes best selling author of Bird Box and Goblin
Naomi Kritzer (won the Hugo Award, Lodestar Award, Edgar Award, and Minnesota Book Award)
John Wiswell, a Nebula winner, and a World Fantasy and Hugo finalist
Representatives from Seed&Spark, Mogul Productions, Storycom…
And many, many more. You can find more details and get an online General Access Ticket here.
(8) N3F'S FRANSON AWARD. Patricia Williams-King's service to the National Fantasy Fan Federation has been recognized with the Franson Award by N3F President George Phillies:
The Franson Award was originally called the N3F President's Award. It was renamed in honor of Donald Franson. This award started because past N3F Presidents have wanted to give a show of appreciation to people – even those who may have won the Kaymar Award, which you can only win once. Presidential Statement Patricia Williams-King has faithfully and energetically served the N3F for many years, most recently by maintaining the N3F Round Robin Bureau. Round Robin groups discuss a topic by circulating a papermail letter bundle from one member to the next. If one member of a group gafiates, the group stops functioning. The Bureau Head has the task of restarting groups, so to speak bringing them back to life. Through thick and through thin, in the face of great obstacles, personal and fannish challenges, and other hindrances to smooth operation, Patricia Williams-King gave us an N3F Bureau that largely continued to function. As your President, it is my privilege and honor to give a 2021 Franson Award to Patricia WilliamsKing. 
(9) MULTIVERSE NOW. "Strange New Spider-Man Trailer Drops And, Yes, Marvel Is Officially Going There" warns Yahoo!
The trailer for "Spider-Man: No Way Home" dropped on Monday — hours after a version leaked online — and it confirms months of rumors over the newest phase of the Marvel Cinematic Universe. 

They're not waiting until next year's "Doctor Strange in the Multiverse of Madness" to open up the multiverse. 

In the trailer, Peter Parker accidentally messes up a Doctor Strange spell, creating a rift that brings out elements of previous Spider-Man film eras, which didn't share much of a timeline… until now…
(10) MEMORY LANE.
1999 – Twenty-two years ago, the Compton Crook Award, Baltcon's Award for the Best First Novel, went to James Stoddard for The High House. It is the first novel of his Evenmere trilogy that was continued in The False House and which was just completed in 2015 with his Evenmere novel.  It had been been published by Warner Aspect the previous year.  It would also be nominated for the Mythopoeic Fantasy Award for Adult Literature in the year the illustrated edition of Stardust would garner that Award. It was also nominated for a Locus Best SF Novel Award. If you've not read it, Stoddard has let us put the first chapter up at Green Man and you can read it here.
(11) TODAY'S DAY.
Shed a tear.
(12) TODAY'S BIRTHDAYS.
[Compiled by Cat Eldridge.]
Born August 24, 1899 — Gaylord Du Bois. He was a writer of comic book stories and comic strips, as well as Big Little Books. He wrote Tarzan for Dell Comics and Gold Key Comics from the Forties to early Seventies.) He was one of the writers for Space Family Robinson which was the basis for the Lost in Space series. (Died 1993.)
Born August 24, 1899 — Jorge Luis Borges. I'm reasonably sure my first encounter with him was at University with the assignment of The Library of Babel. I'm not deeply read in him but I also loved The Book of Imaginary Beings, and though not genre, recommend The Last Interview and Other Conversations for an excellent look at him as a writer. (Died 1985.)
Born August 24, 1932 — William Morgan Sheppard. Best remembered I think as Blank Reg in Max Headroom: 20 Minutes into the Future. Genre wise I'd add him being the Klingon Prison Warden In Star Trek VI: The Undiscovered Country, Merrit in The Prestige, the rather scary Soul Hunter on Babylon 5 and a Vulcan Science Minister in Star Trek. He appeared in a seventies Broadway production of Sherlock Holmes though I can't tell you who he played. (Died 2019.)
Born August 24, 1934 — Kenny Baker. Certainly his portrayal of R2-D2 in the Star Wars franchise is what he's best known for but he's also been in Circus of Horrors, Wombling Free, Prince Caspian and the Voyage of the Dawn Treader series, The Elephant Man, Sleeping Beauty, Time Bandits, Willow, Flash Gordon and Labyrinth. Personally I think his best role was as Fidgit in Time Bandits. (Died 2016.)
Born August 24, 1936 — A. S. Byatt, 85. Author of three genre novels, two of which I'm familiar with, Possession: A Romance which became a rather decent film, and winning the Mythopoeic Fantasy Award for Adult Literature for The Djinn in the Nightingale's Eye, and one I've never heard of, Ragnarok: The End of the Gods,  but I'm actually much, much more fond of her short fiction. I'd start with the Little Black Book of Stories and Angels & Insects collections. 
Born August 24, 1951 — Tony Amendola, 70. Prolly best known for being the Jaffa master Bra'tac on Stargate SG-1. He's also had recurring roles as Edouard Kagame of Liber8 on Continuum and on Once Upon a Time as Pinocchio's creator, Geppetto. His list of one-off genre appearances is extensive and includes Angel, Charmed,  Lois & Clark, Space: Above and Beyond,  the Crusade spin-off of Babylon 5, X Files, Voyager, Dirk Gently's Holistic Detective Agency, Terminator: The Sarah Connor Chronicles, Alias, She-Wolf of London and Kindred: The Embraced. He's also been a voice actor in gaming with roles in such games as World of Warcraft: Warlords of Draenor, World of Warcraft: Legion and Workd of Final Fantasy. (CE)
Born August 24, 1957 — Stephen Fry, 64. He's Gordon Deitrich in V for Vendetta, and he's the Master of Lakedown in The Hobbit franchise. His best role is as Mycroft Holmes in Sherlock Holmes: A Game of Shadows though he made an interesting narrator in the film version of The Hitchhiker's Guide to the Galaxy, and not to be overlooked is that he's the narrator for all seven of the Potter novels for the UK audiobook recordings. Interestingly when first commissioned, the eleventh episode of Doctor Who's second series with David Tennant was to be called "The 1920s".  It was based on a script written by Stephen Fry. It was never produced.
Born August 24, 1958 — Lisa A. Barnett. Wife of Melissa Scott. Some of her works were co-authored with her: The Armor of Light, Point of Hopes: A Novel of Astreiant and Point of Dreams: A Novel of Astreiant. They wrote one short story, "The Carmen Miranda Gambit". (Died 2006.)
(13) D&D. The Kingfisher & Wombat party resume their adventures. Thread starts here.
(14) SERIOUS ABOUT SERIES. Electric Theist shares the fruit of their labors and rates the finalists "The Hugo Award for Best Series: 2021 Reviews".
Reading the nominations for the Hugo Awards for Best Series takes dedication. I have read at least the first three books of every single one of the series and given the series a grade and review based upon that reading. If I have not read the entire series, I have noted it in my review of the series. I would love to talk about these series with you, dear readers, and want to know what you think about them. Which is your favorite? Have you read them all? This year's nominations are a pile of excellent books, so it's worth diving in.
(15) BABY STEPS. "Japan tests rotating detonation engine for the first time in space" reports Inceptive Mind.
The Japan Aerospace Exploration Agency (JAXA) has announced that it has successfully demonstrated the operation of a "rotating detonation engine" for the first time in space. The novelty of the technologies in question is that such systems obtain a large amount of thrust by using much less fuel compared to conventional rocket engines, which is quite advantageous for space exploration.

On July 27, the Japanese agency launched a pair of futuristic propulsion systems into space to carry out the first tests…

…The rotating detonation engine uses a series of controlled explosions that travel around an annular channel in a continuous loop. This process generates a large amount of super-efficient thrust coming from a much smaller engine using significantly less fuel – which also means sending less weight on a space launch. According to JAXA, it has the potential to be a game-changer for deep space exploration.

The rocket began the test demonstrations after the first stage separated, burning the rotating detonation engine for six seconds, while a second pulse detonation engine operated for two seconds on three occasions. The pulse engine uses detonation waves to combust the fuel and oxidizer mixture.

When the rocket was recovered after the demonstration, it was discovered that the rotary engine produced about 500 Newtons of thrust, which is only a fraction of what conventional rocket engines can achieve in space….
(16) ROLE PLAYING GAME. "Invasion of the Robot Umpires" in The New Yorker.
…Two years ago, DeJesus became the first umpire in a regular-season game anywhere to use something called the Automated Ball-Strike System. Most players refer to it as the "robo-umpire." Major League Baseball had designed the system and was testing it in the Atlantic League, where DeJesus works. The term "robo-umpire" conjures a little R2-D2 positioned behind the plate, beeping for strikes and booping for balls. But, for aesthetic and practical reasons, M.L.B. wanted human umpires to announce the calls, as if playacting their former roles. So DeJesus had his calls fed to him through an earpiece, connected to a modified missile-tracking system. The contraption looked like a large black pizza box with one glowing green eye; it was mounted above the press box. When the first pitch came in, a recorded voice told DeJesus it was a strike. He announced it, and no one in the ballpark said anything.

…Baseball is a game of waiting and talking. For a hundred and fifty years or so, the strike zone—the imaginary box over home plate, seventeen inches wide, and stretching from the batter's knees to the middle of his chest—has been the game's animating force. The argument between manager and umpire is where the important disputes over its boundaries are litigated. The first umpires were volunteers who wore top hats, at whom spectators "hurled curses, bottles and all manner of organic and inorganic debris," according to a paper by the Society for American Baseball Research. "Organic debris" wasn't defined, but one wonders. A handful of early umpires were killed….
(17) A DIFFERENT KIND OF DOGSLED. "The Oscar Mayer Wienermobile Joins Lyft" reports Food & Wine. I'm wondering who would be the ideal convention GoH to be picked up by this ride.
…Starting tomorrow, your Lyft XL ride may send your jaw dropping to the ground when the driver arrives in… the Oscar Mayer Wienermobile.

From August 25 to 27, Oscar Mayer and Lyft will be offering free Wienermobile trips in New York, Chicago, Los Angeles, and Atlanta — which were chosen because they are "the nation's hottest rideshare cities." The brand says riders can simply request a Lyft XL and one of Oscar Mayer's Hotdoggers — the name given to those who drive the Wienermobile — may show up in a 27-foot hot dog on wheels instead. (Assuming it hasn't been pulled over on the way.)
(18) VIDEO OF THE DAY. [Item by Martin Morse Wooster.] In Transformers: Dark of the Moon Pitch Meeting" on Screen Rant, Ryan George says in the third Transformers movie, Sam Witwicky may be "smelly, whiny, and stinky," but he's easily able to find a new supermodel to be his girlfriend and let him live in her apartment rent-free because he can't find a job. We also learn that Chernobyl happened because of a secret Transformers battle, which leads the producer to say that "the worst nuclear disaster in history was caused by Hasbro products."
[Thanks to Michael Toman, John King Tarpinian, Dann, Rob Thornton, Darius Luca Hupov, Chris Barkley, Cat Eldridge, Mike Kennedy, Andrew Porter, Martin Morse Wooster, JJ for some of these stories. Title credit belongs to contributing editor of the day Jayn.]