By James Bacon: Fantasy Forest Festival took place this year at Sudely Castle, Gloucestershire in the beautiful Cotswolds.
An excitingly adventurous event, only in its second iteration, it combines Art, Music, Performance and a wide variety of family entertainments but is seeking a broad audience and welcoming of all fans and ably demonstrated with appearances of Daleks to Deadpool.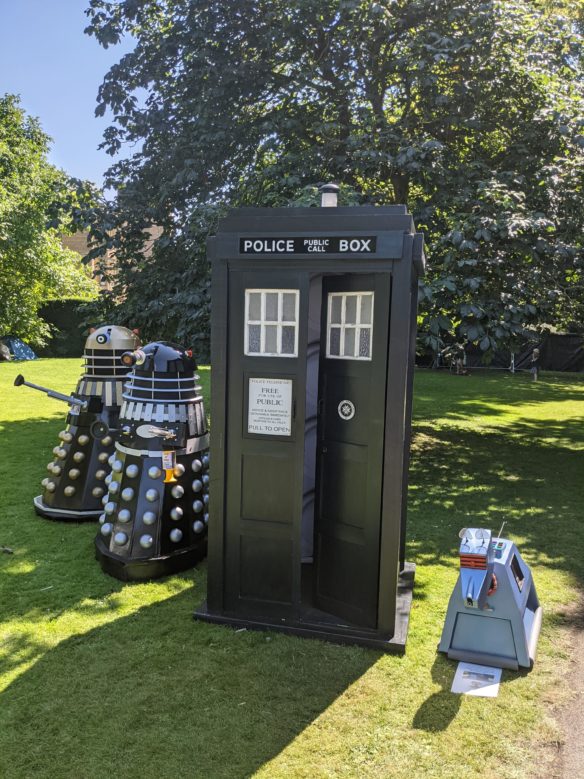 The traders, and three stages for entertainment are the main attractions. With over seventy traders selling everything from medieval-style furniture to delicate jewelry, there is a strong emphasis on crafting, be it in leather, crochet, paper, or even role playing swords.
Anne Stokes was on hand with a pavilion of art wonders and "Stoked 2021" took place, a mini-convention within the festival, with a dedicated talk and crafting space, continually on the go. Kids loved this, while fans were excited by the huge hand-sculpted dragon's head, sculpted by John J. Woodward based on Anne's art. Anne in leather armour was busy engaging and meeting her fans continuously from what I could see.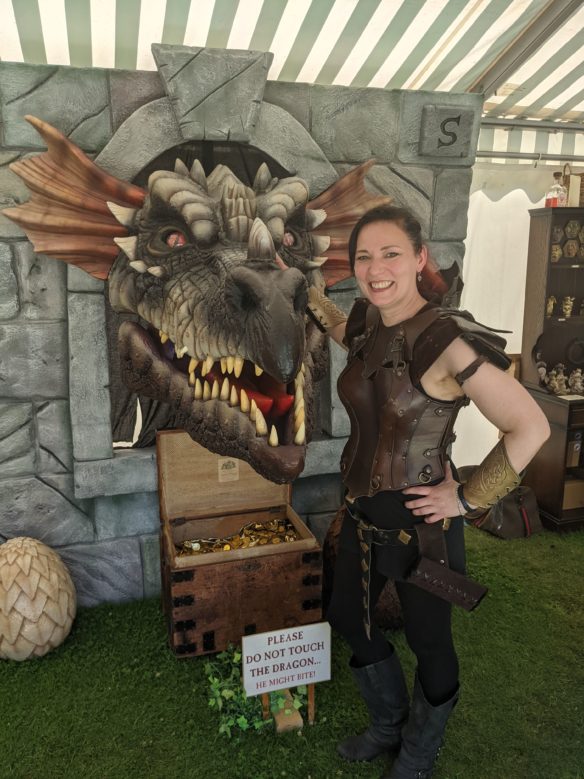 Chris Achillios, Anne Sudworth, and Micheal Meech were among the other artists attending while armourer Terry English also had an impressive stand full of historical things to see, with affordable items to purchase.
The music ranged from Inkubus Sukkubus, English Underground Goth Rock, The Dolmen, Celtic Rock and Slainte traditional Irish players. There were three stages, two were for music the third for performances, talks, and costume competitions.
A wooden Phoenix sculpture was set alight, but first this beautifully made offering was allowed to be written on, and held a basket full of notes, wishes, hopes and so on. We watched on as it was lit and soon burning furiously.
In Covid times, having everything outdoors was very helpful, hand san was everywhere while there were ample hand washing facilities and a social distancing rule. Seats were set out in a spacious manner, and Orcs rambled about encouraging the 2-metre rule where people gathered. Generally people kept apart and it felt safe.
The fusion appears unique. This was not a music festival, yet music was very much a part of the weekend. It was about bringing together a variety of elements. Arts and crafts were very much to the forefront.
The festival organisers state, "A festival that brings fans from all genres of fantasy together for the weekend, providing a feast of entertainment and spectacle. Whether you're into sci-fi & fantasy films, books and TV, fantasy art, comics, Anime, Cosplay, LARP, Steampunk or historic re-enactment, all are welcome. A gathering place to meet like-minded people – get together with old friends and make new ones! For fans of Lord of the Rings to Star Wars; Star Trek to Harry Potter; Game of Thrones to Doctor Who; Marvel superheroes to Tim Burton; pirates, fairies and medieval days of yore – there's something for everyone."
Having attended Ren Faire events in the US, this was far from that experience, which I generally felt was a forced Disney-esque experience. Here, the armourers made armour, historically accurate, the falconry people save and care for all types of birds of prey, and also ravens, and would not fly them in the heat of the day, happy to chat. Once in, one did not have to pay for anything else and could still have a terrific time. Many experiences were gathering funds for charity or welcoming tips, but in a discreet and nice way. There were a few things you could learn, blacksmithing for instance, and I admit smashing a white hot metal rod twixt an anvil and heavy hammer not only appeared appealing but an affordable good value training session.
Obviously as people encounter new things, it's exciting and we talked to LRP weapon sculptor Simon Medlock (Medlock Armoury) who had a cracking weekend, surpassing his expectations, but then considering the personality, detail and individuality of his pieces, with incredible attention to detail, pieces of art in their own right, people found then wonderfully attractive.
There was a Dalek display, a Star Wars group but really the event benefited hugely from the ingenuity and willingness to dress up that so many attending really got into.  The amount of whimsically wonderful summer frocks, pirates, especially the Salty Dog Pirate Crew gang who were handing out medals made of snot to the "best farter" or "biggest booger picker" and number of wonderful costumes was incredible and that buy-in made the event so colourful and exciting.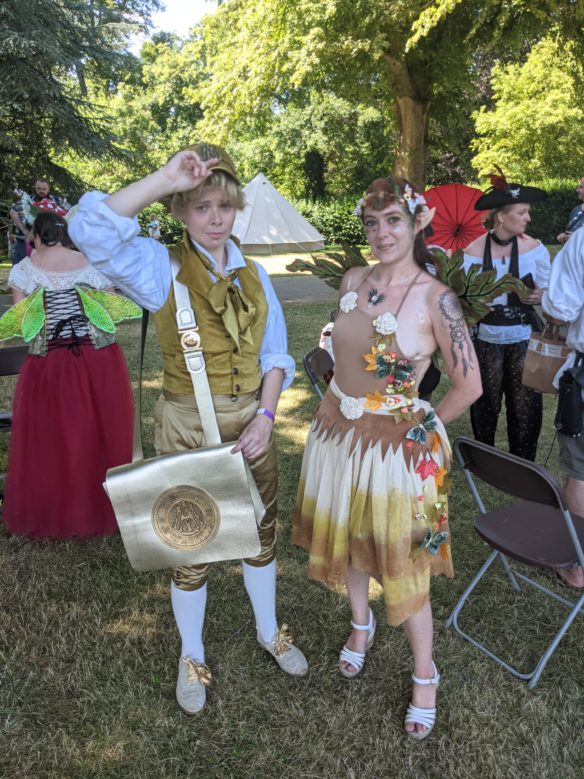 I was very fortunate to have camper van accommodations and I know the hot weather was a struggle for some. With a background in Dutch events, the organisation heavily relies on volunteers, with many people wearing the purple shirt, gaining access in return for six hours of volunteering a day, although one got to recognise the stalwarts who enjoy the festival work, despite the sun trying to kill them. 
With Covid in mind the organisers had put a 3,000 person limit one third of capacity, camping and glamping had sold out with reduced limits, and there was a roll over arrangement from 2020 which was cancelled, day tickets were readily available and many families attended for the day.
The growth potential here is huge. I pondered what sort of weekend booksellers or authors would have had, notably in their absence, but I assume welcome to apply for space like anyone else, and I did then think how publishers will no doubt focus on this potential market as it grows.
A cracking day out awaits anyone who heads to Fantasy Forest, which I hope returns next year.
 Many more photos follow the jump. –>
Continue reading