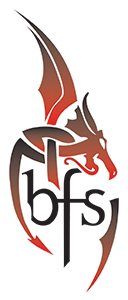 The British Fantasy Society's annual convention will be held after all despite a week ago Lee Harris having announced that FantasyCon 2022 would not be possible this year because of financial issues.
The British Fantasy Society quickly ran a survey "the results of which have convinced us that a smaller event is possible." They told members today that FantasyCon will go ahead this year, still on the same weekend and still in Heathrow, although it will be a two-day event rather than the usual three.
Join us at the Radisson Red Hotel and Conference Centre, Heathrow, on 17th and 18th September for two days packed full of panels, workshops, readings and book launches. Programming will start at 10am on Saturday and run until 3pm on Sunday. Anyone arriving on Friday evening is welcome to join us for an informal social in the bar, while Saturday evening will see the banquet and British Fantasy Awards ceremony. Ticket information is at the link.
The BFS Annual General Meeting will take place September 18 at 10:00 a.m. BFS members can attend the AGM, even if they are not attending the convention. FantasyCon attendees are welcome to attend the AGM but cannot vote.