(1) FIRE WATCH. The Westworld sets are casualties of the Woolsey Fire – Variety has the story: "'Westworld' Location at Paramount Ranch Burns Down".
The historic Western town area at Paramount Ranch in Agoura Hills, Calif., where productions including "Westworld" have shot, burned down Friday in the Woolsey fire, according to the Santa Monica Mountains National Recreation area's Twitter feed.

"Westworld" uses the Western town set to shoot its Main Street scenes. The HBO series is also shot at the Melody Ranch in Santa Clarita and in Utah and other locations.
Sad for fans of @WestworldHBO and shows like Dr Quinn Medicine Woman, the Paramount Ranch western town movie set has burned to the ground in the Woolsey Fire @CBSLA #westworld #Woolseyfire pic.twitter.com/DhZWaGbr6g

— John Schreiber (@johnschreiber) November 9, 2018
(2) EATING THE FANTASTIC. Taste the tiramisu with Vina Jie-Min Prasad in episode 81 of Scott Edelman's podcast Eating the Fantastic.
Vina Jie-Min Prasad has been a multiple awards finalist with fiction "working against the world-machine" published in Clarkesworld, Uncanny, Fireside Fiction, Queer Southeast Asia, and HEAT: A Southeast Asian Urban Anthology. Her short story "Fandom for Robots" and her novelette "A Series of Steaks" were both finalists for the Nebula, Hugo, and Sturgeon Awards, and she was also a finalist for the John W. Campbell Award for Best New Writer.

We discussed why she didn't start writing any fiction until the release of J.J. Abrams' Star Trek reboot, the reason food has such a prominent place in her fiction, why she might never have become a writer if the Internet hadn't existed, the lessons she took away from her fan fiction days, what she meant when she wrote in her bio that she's "working against the world-machine," why her multi-nominated story "A Series of Steaks" was her first submission to a speculative fiction magazine, her fascination with professional wrestling and wrestling fandom, why her story "Pistol Grip" needed a warning for sexual content but not violence (and what Pat Cadigan called her after reading that story during the Clarion workshop), the reason she likes working in the present tense, and much more
(3) FANTASTIC BEASTS. The BBC's roundup of critical reaction: "Fantastic Beasts: The Crimes of Grindelwald gets mixed reviews".
The latest Fantastic Beasts film The Crimes of Grindelwald has earned mixed reviews from critics.

It has a number of three-star reviews with suggestions that the plot is "overburdened" with details and preparing for future adventures.

There is praise for the "vibrantly drawn" characters and Jude Law is highlighted for his performance as young Dumbledore.

Many agree JK Rowling's imagination is "as awe-inspiring as ever

The second of five planned Fantastic Beasts films by JK Rowling also earns praise for its special effects.
(4) KNOW YOUR BEASTS. Merriam-Webster.com sets a challenge: "Here Be Dragons: A Creature Identification Quiz". I scored 8/13, which isn't good, but is better than I've done on some other quizzes….
You are an amateur cryptozoologist, setting out on an adventure to evaluate evidence of monsters around the world. On your plane ride to your first destination, we recommend you bone up on your monster lore here.
(5) ANIMAL PHYSICS. Kathryn Schulz' article in the November 6, 2017 New Yorker, "Fantastic Beasts and How to Rank Them", discusses imaginary creatures and how they continue to persist in the imagination. (Martin Morse Wooster sent the item with an apology: "Yes, I am 11 months behind in reading the New Yorker. You may report me to the Reading Control Board.")
Although Walt Disney is best remembered today for his Magic Kingdom, his chief contribution to the art of animation was not his extraordinary imagination but his extraordinary realism.  'We cannot do the fantastic things, based on the real, unless we first know the real,' he once wrote, by way of explaining why, in 1929, he began driving his animators to a studio in downtown Los Angeles for night classes in life drawing. In short order, the cartoons emerging from his workshop started exhibiting a quality that we have since come to take for granted but was revolutionary at the time:  all those talking mice, singing lions, dancing puppets, and marching brooms began obeying the laws of physics.

It was Disney, for instance, who introduced to the cartoon universe one of the fundamental elements of the real one:  gravity.  Even those of his characters who could fly could fall, and, when they did, their knees, jowls, hair, and clothes responded as our human ones do when we thump to the ground.  Other laws of nature applied, too.  Witches on broomsticks got buffeted by the wind. Goofy, attached by his feet to the top of a roller-coaster track and by his neck to the cars, didn't just get longer as the ride started plunging downhill; he also got skinnier, which is to say that his volume remained constant.  To Disney, these concessions to reality were crucial to achieving what he called, in an echo of Aristotle, the 'plausible impossible.'  Any story based on 'the fantastic, the unreal, the imaginative,' he understood, needed 'a foundation of fact.'
(6) FINLANDIA. The Finlandia Prize is the premiere award for literature written in Finland, awarded annually to the author of the best novel written by a Finnish citizen (Finlandia Award), children's book (Finlandia Junior Award), and non-fiction book (Tieto-Finlandia Award). It has had its eyes on stfnal books before: in 2000 Johanna Sinisalo (GoH at the Helsinki Worldcon) won it with her fantasy novel Not Before Sundown. Tero Ykspetejä's news blog Partial Recall reports this year's Finlandia award also has some nominees of an stfnal character: "Finlandia Award Nominees 2018":
Magdalena Hai's Kolmas sisar is a nominee for best children & YA novel, and the general literature category nominees announced today include Hunan by J. Pekka Mäkelä.
(7) THE SATANIC VERSUS NETFLIX. Not everyone believes the axiom that "all publicity is good publicity." "The Satanic Temple Files $50 Million Copyright Infringement Suit Against Netflix And 'Chilling Adventures Of Sabrina'" – ScienceFiction.com has the story:
The Satanic Temple has made good on threats made by co-founder Lucien Greaves on Twitter about two weeks ago, and filed a $50 million lawsuit against Netflix for their use of a statue of the pagan deity Baphomet as a set piece on its new series 'Chilling Adventures of Sabrina'.  Greaves claims that the creators of 'Sabrina' stole its design of the statue from the Satanic Temple, which placed a copyright on their design, which depicts the goat-headed deity with two children by its side, looking up at him.  On 'Sabrina', the statue is never referred to by name but is a focal point at the Academy of Unseen Arts, where young witches and warlocks go to hone their magical abilities.

The Satanic Temple is not only seeking financial compensation but wants Netflix and Warner Brothers to stop distributing 'Chilling Adventures…' or further distributing it, meaning releasing it on DVD or Blu-Ray.
Really? Wow…what a haggard response to some of the BEST free advertising one could EVER hope for. Becoming the Lawsuit group for EVERYTHING under the sun isn't doing the cause much good IMHO either. ?

— Satanic Living (@LivingSatanic) October 29, 2018
(8) FAST OUT OF THE STARTING GATE. The B&N Sci-Fi & Fantasy Blog has a fine list of the "50 of the Greatest Science Fiction & Fantasy Debut Novels Ever Written". It includes —
Tea with the Black Dragon, by R.A. MacAvoy (1983)
R.A. MacAvoy's debut is pitch-perfect in its light use of fantasy elements. Martha Macnamara is a middle-aged, free-spirited musician who meets Mayland Long, an older Asian man with elegant manners and a lot of money—who also claims to be a 2,000-year old black dragon in human form. Their conversation (over tea, naturally) hints that he was an eyewitness to momentous events throughout history, and counts as close friends many long-dead historical figures. He and Martha strike up a thoroughly charming, adult relationship, instantly and believably drawn to one another as the story morphs into a mystery. It's the sort of novel that floats between genres, never precisely one thing, never entirely another. It's an achievement many writers never manage; MacAvoy nailed it on her first try.
(9) HAWKING AUCTION. "Stephen Hawking's wheelchair, thesis fetch $1 million at auction" – DW has the story.
A motorized wheelchair and a thesis belonging to Stephen Hawking have sold at auction for more than $1 million. The sale raised money for two charities, including one belonging to the British physicist.
(10) MARVEL ACTION DOLLS.  The entire line-up of Hasbro's Marvel Rising Action Dolls is available exclusively at Target. They'll feature on the covers of some Marvel comics soon –
The next generation of super heroes have arrived! To celebrate, Marvel is excited to present Marvel Rising Action Doll Homage variants, hitting comic shops this December!

Featuring Marvel Rising characters such as Ms. Marvel, Squirrel Girl, America Chavez, Ghost Spider, and Quake stepping into their predecessor's shoes, each of the five covers is a homage to a classic cover from years past.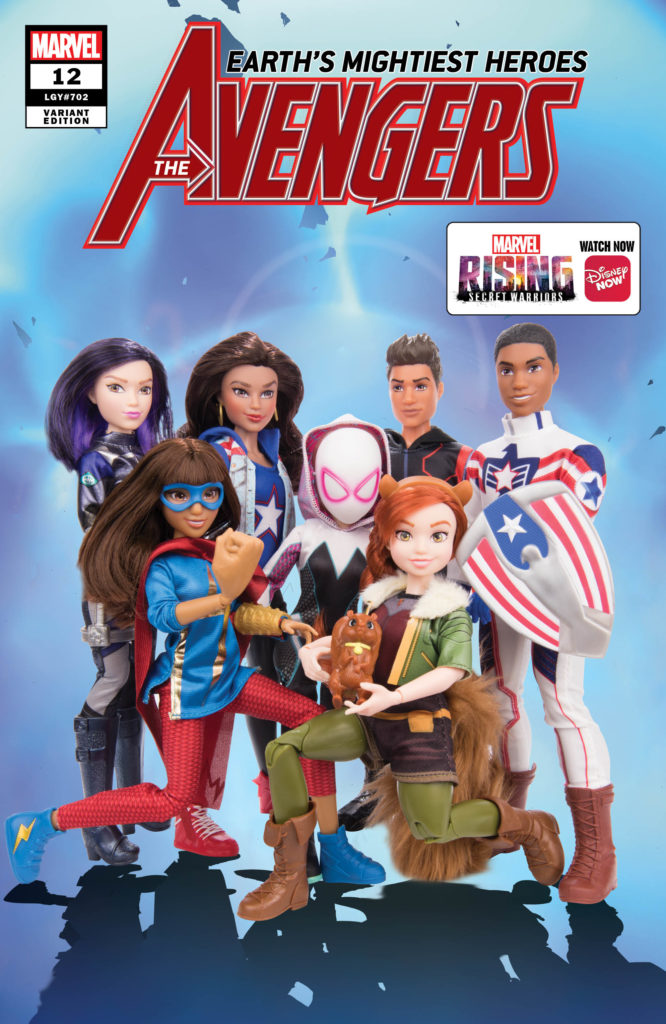 (11) TODAY'S BIRTHDAYS
[Compiled by Cat Eldridge and JJ.]
Born November 9, 1921 – Alfred Coppel. Have I ever mentioned how much I love pulp? Everything from the writers to the artwork to the magazines themselves are so, so cool. And this writer was one of the most prolific such authors of the fifties and sixties. That he was also sf writer is an added bonus. Indeed his first science fiction story was "Age of Unreason" in a 1947 Amazing Stories. Under the pseudonym of Robert Cham Gilman, he wrote the Rhada sequence of galactic space opera novels aimed at a young adult market. Wiki claims he wrote under the name A.C. Marin as well but I cannot find any record of this. (Died 2004.)
Born November 9, 1946 – Marina Warner, 72, Writer, Historian, and Mythographer from England who is known for her many nonfiction books relating to feminism and myth. She has written for many publications, and has been a visiting professor, given lectures and taught on the faculties of many universities. Her nonfiction works From the Beast to the Blonde: On Fairy Tales and Their Tellers and No Go the Bogeyman: Scaring, Lulling, and Making Mock have garnered several Mythopoeic Award nominations and a win, and a host of non-genre awards as well. In 2017, she was elected president of the Royal Society of Literature (RSL), the first time the role has been held by a woman since the founding of the RSL in 1820. She was honored with a World Fantasy Award for Life Achievement.
Born November 9, 1962 – Teryl Rothery, 56, Actor who is best known for her role as Dr. Janet Fraiser on Stargate SG-1. She can also be found as ISN reporter, Ms. Chambers, in the Babylon 5 movie Voices in the Dark, and has appeared in many genre series including The X-Files, The Outer Limits, Jeremiah, M.A.N.T.I.S., Kyle XY, Eureka, and the Battlestar Galactica prequel, Caprica.
Born November 9, 1973 – Eric Dane, 45, Actor who stars currently as Captain Tom Chandler in the The Last Ship series, and played James Arthur Madrox, aLso known as the Multiple Man, in X-Men: The Last Stand. He also played a character named Jason Dean on the superb original Charmed series, and Nick Pierce in the Painkiller Jane film.
(12) COMICS SECTION.
(13) ROCKS AROUND THE CLOCK. [Item by Mike Kennedy.] Three NEOs will make relatively close approaches to Earth this Saturday (Newsweek: "Three Asteroids to Whizz Past Earth in One Day—And One Will Come Closer Than The Moon"). The first one (2018 VS1) will pass by about 861,700 miles from Earth at 9:03AM (Eastern time). The second (2018 VR1) will be significantly further away at over 3 million miles, about 15 minutes later. The third (2018 VX1), though, will pass only about 238,900 miles from Earth at 1:26AM.
The three objects are relatively small—variously estimated to be from 43 to 98 feet wide—but big enough that they could cause widespread destruction if they were a wee bit (by astronomical standards) closer on a future pass. In the US, Near Earth Objects are the province of CNEOS—NASA's Center for Near Earth Object Studies.
(14) A LABOR OF LINGO. The legacy of a 15th-Century noblewoman lives on in the form of collective nouns used to describe groups of animals across the world: "Why a Group of Hippos Is Called a Bloat".
As it turns out, these scintillating nouns are neither coincidence nor misnomer, but rather the result of centuries of linguistic evolution.

People have been coming up with terms to describe animal groupings for hundreds of years, but it wasn't until The Book of St Albans, written by Juliana Berners, a 15th-Century Benedictine prioress from England, that they were recorded extensively. Also known by the title The Book of Hawking, Hunting and Blasing of Arms, Berners' 1486 publication of this gentlemen's catalogue of wildlife and hunting included 165 collective nouns for animal species, and is said to make her one of the earliest female authors writing in the English language.
(15) DISNEY HIRES LOKI. His show will be part of Disney's new streaming service — "Tom Hiddleston to return as Loki in new TV series". When was the last time a villain got their own series?
(16) DIGGING MARS. BBC says "ExoMars: Life-detecting robot to be sent to Oxia Planum"
The robot rover that Europe and Russia will send to Mars in 2020 will be targeted at a near-equatorial site on the Red Planet known as Oxia Planum.

The area was recommended by an expert panel meeting at Leicester University.

Oxia is rich in clays and other minerals that have resulted from prolonged rock interactions with water.

The ExoMars vehicle will carry a drill and sophisticated instruments to this ancient terrain to look for signs of past or even present life.
(17) THE ONLY WAY TO WIN. "The gamer who spent seven years in his dressing gown" has created a game to wean people from game addiction.
It's a role-playing board game for small groups.

Players meet once a week over a period of weeks or months, improving their social skills as they play.

No equipment is needed aside from a pen and paper, but additions can include dice and character descriptions.

The idea is the participants play themselves, earning points by achieving certain tasks.

They can improve their "characters" and get extra points in between sessions by taking on a challenge in the real world.

Participants have to prove they have completed the tasks and share the details in an online group set up for each game
(18) YOU'RE ON YOUR OWN NOW. Maybe they couldn't compete with YouTubers free game videos? Variety reports "Video Game Strategy Guide Publisher Prima Games Is Shutting Down".
The imprint's guides all feature in-depth content, detailed screen captures, quick-reference tips, and professional strategies. They were a godsend to many gamers of a certain age, back before internet walkthroughs and wikis became de rigueur. Prima Games later tried adapting to an increasingly digital world by offering eguides filled with interactive maps, streaming video, searchable apps, and more.
(19) NEWS FAKER. Yet another job—newsreader—is under threat from Artificial Intelligence (Popular Mechanics: "This AI Reporter Would Never Get Kicked Out of Press Briefings"). Chinese media, already tightly controlled, appears to be in the process of becoming even more buttoned down. (Original source Xinhua.net: "World's first AI news anchor makes 'his' China debut")
With a state-run media like China's, there's already some concern that newscasters are little more than puppets. After an AI news anchor debuted at the World Internet Conference in China this week, we're one step closer to that reality.

The anchor was created in a partnership between Xinhua News Agency, China's official state-run media outlet, and sogou.com, a Chinese search engine company. The Chinese news, of course, is thrilled and impressed, claiming that the character "can read texts as naturally as a professional news anchor." Two versions of the AI anchors are now available on Xinhua through their apps, WeChat account, and online news channel.
(20) NUCLEAR CHRISTMAS GIFT. You can now order Threads on Blu-ray, called "The most influential film about nuclear war ever made."
Directed by Mick Jackson (The Bodyguard) and written by Barry Hines (Kes).

Threads shocked the nation when it first aired on BBC Two in 1984 at the height of Cold War nuclear paranoia, and became one of the most significant and iconic films ever produced by the BBC.

It was nominated for seven BAFTAs in 1985, winning four including Best Single Drama.

Threads was one of the first films to depict the full consequences of global nuclear war when a bomb hits the city of Sheffield. It is uncompromising in its display of the tense weeks leading up to the bomb dropping, the attack, and the bleak years of nuclear winter that are left in its aftermath.
(21) VISIT FROM A DINO. There's a giant, animatronic dinosaur roaming around BBC…
(22) CHAMPION MAGICIAN. Gizmodo promises "The Winning Trick at the World Championships of Magic Might Fry Your Brain Like an Egg".
But Chien's 'Ribbon' routine is a non-stop barrage of lightning-quick illusions, leaving you with little time to figure out what you just saw before his next trick baffles your brain all over again.
[Thanks to John King Tarpinian, Cat Eldridge, Chip Hitchcock, JJ, Karl-Johan Norén, Martin Morse Wooster, Mike Kennedy, Errolwi, Carl Slaughter, Daniel Dern, and Andrew Porter for some of these stories Title credit belongs to File 770 contributing editor of the day Anna Nimmhaus.]