(1) AMAZON BAILS. Amazon notified subscribers they are leaving the digital and print magazine subscriptions business, apparently. Several Filers sent me a copy of their notice regarding digital subscriptions, and I received one myself for a print magazine. Here is an excerpt from the digital notice.
Thank you for being a valued Amazon Kindle Newsstand subscriber. We are writing to inform you that we have made the decision to stop selling Kindle magazine and newspaper subscriptions on Amazon….

Starting on March 9, 2023, you will no longer be able to purchase new subscriptions or renew your existing subscription(s) through Amazon… You will still be able to read all issues that have already been delivered to you by visiting Your Kindle Library. If you wish to continue receiving content from a publisher directly, please visit their website for alternative subscription options.
…Select digital magazine subscriptions are also available in Kindle Unlimited.
(2) WORLD FANTASY NOMINATIONS OPEN. If you were/are a member or World Fantasy Convention in 2021, 2022 or 2023 you can nominate works from 2022 in the World Fantasy Awards: 2023 WFA Nomination Ballot. Voting by email is available. Paper mail ballots must be postmarked by May 31, 2023.
(3) EATING THE FANTASTIC. Scott Edelman invites listeners to polish off a Polish meal with Walter Jon Williams in Episode 193 of the Eating the Fantastic podcast.
I was thrilled to be able to grab lunch with Walter Jon Williams the day Boskone began at Cafe Polonia, which has been serving traditional and gourmet Polish and Eastern European dishes in South Boston for more than 20 years.

Walter's the author of more than forty volumes of fiction, in addition to works in film, television, comics, and gaming. He began his career by writing historical fiction, the sea-adventure series Privateers & Gentlemen. But after the market for historicals died, he relaunched himself as a science fiction writer. He's written cyberpunk (Hardwired, Voice of the Whirlwind, Angel Station), near-future thrillers (This Is Not a Game, The Rift), classic space opera (Dread Empire's Fall), "new" space opera (Aristoi), post-cyberpunk epic fantasy new weird (Metropolitan and City on Fire), and the world's only gothic western science fiction police procedural (Days of Atonement).

He's been nominated for many literary awards, and for a number of years was science fiction's "Bull Goose Loser" — that is, the person who had the most award nominations without having actually won anything — a streak which ended when he won a Nebula Award in 2001 for his novelette "Daddy's World." His short fiction has appeared in such magazines as Omni, Fantasy and Science Fiction, Asimov's, and others, as well as such anthologies as Alien Crimes, The New Space Opera, Songs of the Dying Earth: Stories in Honor of Jack Vance, plus George R.R. Martin's Wild Cards project. He's also been involved in the gaming industry, having written RPGs based on Privateers & Gentlemen and Hardwired, contributed to the alternate-reality game Last Call Poker, and written the dialog for the Electronic Arts game Spore. In 2017, he was the Guest of Honor at the 75th World Science Fiction Convention, held in Helsinki.

We discussed why when he started out he didn't think he was good enough to make it as a science fiction writer, how if I were to read his first drafts they'd terrify me, the con at which Gordon Dickson wandered around trying to sell one of Walter's novels to editors, why the '50s was the Golden Age of historical fiction in America, the way in which his first science fiction novel was an inversion of all the historical fiction he'd written before, which issues of Fantastic Four got him so angry he quit reading comics for 20 years, how deep he was into his career before he finally realized he might actually make a go at this writing thing, the most frequent problem found when teaching Taos Toolbox, what he learned about his Hugo and Nebula Award-nominated "Surfacing" by leaving it untouched in a drawer for six months, his motivation for the one time he had to say no to an editorial suggestion, what his extremely rare bouts of writers block — lasting only a few days — were really about, and much more.
(5) TWO ARTICLES ON EEAAO FOR FILERS. Here are a pair of articles about Everything Everywhere All At Once before Oscar night!
… According to IGN's calculations, the multiversal hit is now the most-awarded film ever with 158 accolades to date from major critics organizations and awards bodies. This spot was previously held by The Lord of the Rings: The Return of the King, which earned 101 major awards by IGN's math.

IGN painstakingly tallied every single accolade Everything Everywhere All at Once has received this awards season, including those from major critics organizations and pre-Oscars awards such as the Golden Globes, SAG Awards, and Indie Spirits.

Now, some caveats, and why our math may look different from yours: not every single critics' organization made the cut, and neither did things like IGN's own year-end best-of list….
… The Oscars and science fiction have a weird history. In recent years, sci-fi(ish) films like The Shape of Water and Gravity have racked up wins. The Lord of the Rings: Return of the King made inroads for the fantasy genre back in 2003. But never has a movie about a woman (Yeoh) who skips through several alternate versions of her life to try to save the multiverse ever taken the top prize—or even been considered for it.

The Daniels' movie is so bizarre—with its hot-dog fingers and philosophical everything bagels—that there has obviously never been a movie like it, period. Let alone one that got nominated for a staggering 11 Oscars (seriously, those are James Cameron numbers)….
(6) CHANGES AT TOR PUBLISHING GROUP. Via Shelf Awareness.
Michelle Foytek has been promoted to associate director of publishing operations.
Alex Cameron has been promoted to associate director of publishing strategy.
Isa Caban has been promoted to assistant director of marketing.
Andrew King has been promoted to assistant marketing manager.
Yvonne Ye has been promoted to ad/promo coordinator.
(7) MEMORY LANE.
1968 – [Compiled by Cat Eldridge.]
I know I've said before that, for most the part, I prefer Larry Niven's short fiction to his longer works. In fact, there's only a handful of his novels that I like, but all of his short stories are, in my estimation, well worth reading multiple times which indeed I have.
Tonight's Beginning is that of "All the Myriad Ways" which was first published in the October 1968 issue of Galaxy. It was nominated at St. Louiscon for a Hugo. It's at the very top of my best liked stories by him.
If you've not read it, or want to read it again, it's in the All the Myriad Ways collection which is available from the usual suspects. It's a splendid collection that also has other favorite stories of mine including " For a Foggy Night", "Passerby" and "What Can You Say About Chocolate Covered Manhole Covers?".
There's a splendid Audible exclusive with narration by Bronson Pinchot.
And here's the Beginning…
There were timelines branching and branching, a megauniverse of universes, millions more every minute. Billions? Trillions? Trimble didn't understand the theory, though God knows he'd tried. The universe split every time someone made a decision. Split, so that every decision ever made could go both ways. Every choice made by every man, woman and child on Earth was reversed in the universe next door. It was enough to confuse any citizen, let alone Detective-Lieutenant Gene Trimble, who had other problems.
Senseless suicides, senseless, crimes. A city-wide epidemic. It had hit other cities too. Trimble suspected that it was world wide, that other nations were simply keeping it quiet.
Trimble's sad eyes focussed on the clock. Quitting time. He stood up to go home, and slowly sat down again. For he had his teeth in the problem, and he couldn't let go.
Not that he was really accomplishing anything.
But if he left now, he'd only have to take it up again tomorrow.
Go, or stay?
And the branchings began again. Gene Trimble thought of other universes parallel to this one, and a parallel Gene Trimble in each one. Some had left early. Many "had left on time, and were now halfway home to dinner, out to a movie, watching a strip show, racing to the scene of another death. Streaming out of police headquarters in all their multitudes, leaving a multitude of Trimbles behind them. Each of these trying to deal, alone, with the city's endless, inexplicable parade of suicides.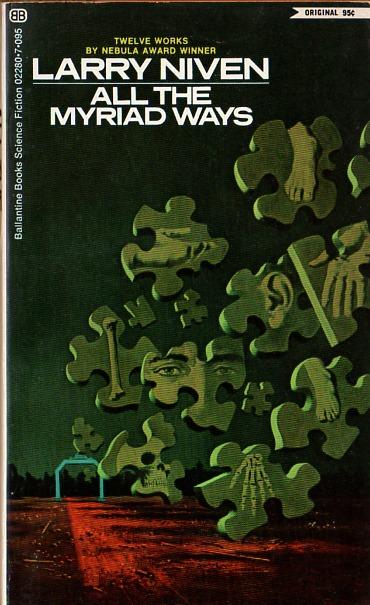 (8) TODAY'S BIRTHDAYS.
[Compiled by Cat Eldridge.]
Born March 10, 1891 — Sam Jaffe. His first role was in Lost Horizon as the High Lama and much later in The Day the Earth Stood Still playing Professor Jacob Barnhardt. Later on we find him in The Dunwich Horror as Old Whateley, voicing Bookman in Bedknobs and Broomsticks, playing The Old-Man in The Tell-Tale Heart, and in his last film, appearing in Battle Beyond the Stars as Dr. Hephaestus. John Sayles wrote the script of the latter. (Died 1984.)
Born March 10, 1918 — Theodore Cogswell. He wrote almost forty science fiction stories, most of them humorous, and was the co-author of a Trek novel, Spock, Messiah!, with Joe Spano Jr. He's perhaps best remembered as the editor of the Proceedings of the Institute for Twenty-First Century Studies in which writers and editors discussed their and each other's works. A full collection of which was published during 1993 except, as EoSF notes "for one issue dealing with a particularly ugly controversy involving Walter M. Miller". (Died 1987.)
Born March 10, 1938 — Ken Sobol. I will single him out for having personally received Astrid Lindgren's personal blessing to write the Pippi Longstocking series which he worked on with puppeteer Noreen Young. He also contributed scripts to Batman, Curious George, G.I. Joe, George of the Jungle, Hardy Boys, Highlander, Superman, and Wizard of Id, and that's hardly a complete listing. He also wrote one of the best works done on baseball, Babe Ruth and the American Dream. (Died 2010.)
Born March 10, 1938 — Marvin Kaye. He was the editor of Weird Tales; he has also edited magazines such as H. P. Lovecraft's Magazine of Horror and Sherlock Holmes Mystery Magazine. The Fair Folk anthology which is most excellent and which he edited won a World Fantasy Award. (Died 2021.)
Born March 10, 1951 — Christopher Hinz, 72. His Liege Killer novel, the first in his most excellent Paratwa Saga, won the Compton Crook Award, the BSFS Award for the Best First Novel. (And yes, there is a prequel, Binary Storm, which was written much later.) He was nominated for an Astounding Award for Best New Writer.
Born March 10, 1977 — Bree Turner, 46. She's best known for her role as Rosalee on Grimm. She also starred in the pilot episode ("Incident On and Off a Mountain Road") of Masters of Horror. She was in Jekyll + Hyde as Martha Utterson. Confession time: I got through maybe three seasons of Grimm before giving up as it became increasingly silly.
Born March 10, 1979 — Fonda Lee, 44. Her Jade City novel was a finalist for a Nebula Award for Best Novel and won a World Fantasy Award. It has a sequel. Jade War. And her Cross Fire novel was named Best YA Novel at the 2019 Aurora Awards for best Canadian speculative fiction.
(9) COMICS SECTION.
Amazing Spider-man has a little in-joke.
(10) WILL BE BURIED ALIVE. "Over $30 Million Worth Of Funkos Are Headed To The Landfill" reports Kotaku. "Ouch," says Cat Eldridge. "That said, I'm not surprised. When I was still out and about prior to the knee injury, some three years ago now, Newberry Comics, the pop culture shop at the Mall, carried every single Funko. That's in the mid hundreds. Name a pop cultural series, a graphic novel and it's likely that did Funko pop figures for it. And yes, I do have some here including a great Lady Thor. One of the staff there said they were getting a dozen new ones every month."
The company that makes Funko Pop! collectibles is in so much trouble it's preparing to throw hundreds of thousands of its pop culture-inspired figurines into the garbage. Funko revealed the plans in a recent earnings call filled with so much bad news its stock price fell off a cliff the next day.

"Inventory at year-end totaled $246.4 million, an increase of 48% compared to a year ago," the company wrote in a press release on Wednesday, (via ICv2). "This includes inventory that the Company intends to eliminate in the first half of 2023 to reduce fulfillment costs by managing inventory levels to align with the operating capacity of our distribution center. This is expected to result in a write down in the first half of 2023 of approximately $30 to $36 million."

Translation: Funko's warehouses are overflowing with five inch chibi replicas of Machine Gun Kelly, Spider-Man, Pikachu, and every other vaguely famous cultural icon, and throwing them out will be cheaper than trying to sell them. During a call with investors, CEO Brian Mariotti said a new distribution center in Arizona was so full that the company has been bleeding cash renting shipping containers to hold all of the excess inventory….
(11) ZAP! "Scientists Discover Enzyme That Turns Air Into Electricity" – Slashdot has the links to the story. "Gives new meaning to 'A Pail Of Air'," says Daniel Dern.
…Australian scientists have discovered an enzyme that converts air into energy. The finding, published in the journal Nature, reveals that this enzyme uses the low amounts of the hydrogen in the atmosphere to create an electrical current. This finding opens the way to create devices that literally make energy from thin air….
(12) SOLAR DOESN'T MEAN SOLO. The Sun's 'birth cluster' could have contained as many as 20,000 stars. "How many siblings did the Sun have? Ancient dust holds clues" at Nature.
The Sun was born within a cluster of stars. Seeking to determine the number of stars in that birth cluster, researchers focused on aluminium-rich minerals found in some of the oldest dust particles in the Solar System. According to one theory, the isotope aluminium-26 was injected into the Solar System by a supernova — an exploding star. The authors suggest that this injection must have occurred during the first 100,000 years of the Solar System's history.

The scientists used modelling to determine the probability of a supernova occurring in a given period of time. This allowed them to calculate how many stars must have been in the cluster to make it reasonably likely that one exploded at the appropriate time to supply the aluminium in the dust. The answer: 2,000–20,000 stars, depending on how long it took the Solar System to form….
Primary research paper https://www.aanda.org/articles/aa/pdf/2023/02/aa44743-22.pdf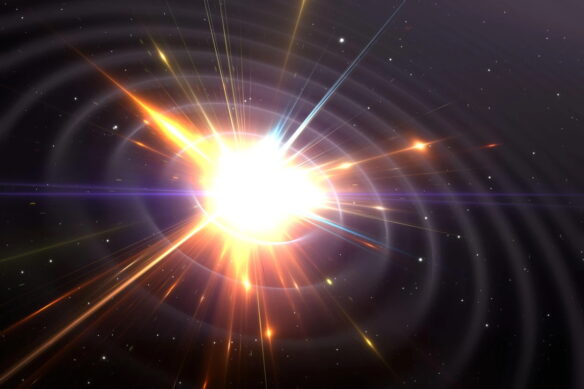 (13) ASTEROID DIET PLAN. Studies reveal final moments before NASA probe crashed into an asteroid: "Asteroid lost 1 million kilograms after collision with DART spacecraft" at Nature.
Last September, NASA's Double Asteroid Redirection Test (DART) spacecraft smashed into an asteroid, deliberately altering the rock's trajectory through space in a first test of planetary defence. Now scientists have deconstructed the collision and its aftermath — and learnt just how successful humanity's punch at the cosmos really was.

…DART's success has been reported before; now, five studies in Nature describe the final moments of the crash and how it affected the asteroid. …

The impact ejected at least one million kilograms of rock from Dimorphos's 4.3-billion-kilogram mass. The debris formed a tail that stretched for tens of thousands of kilometres behind the asteroid.
Primary research papers here: https://www.nature.com/articles/s41586-023-05805-2_reference.pdf; https://www.nature.com/articles/s41586-023-05810-5_reference.pdf; https://www.nature.com/articles/s41586-023-05811-4_reference.pdf; https://www.nature.com/articles/s41586-023-05852-9; https://www.nature.com/articles/s41586-023-05878-z_reference.pdf.
[Thanks to Andrew Porter, Michael Toman, Cat Eldridge, Jennifer Hawthorne, SF Concatenation's Jonathan Cowie, Daniel Dern, Mike Kennedy, John King Tarpinian, and Chris Barkley for some of these stories. Title credit belongs to File 770 contributing editor of the day Maytree.]