(1) An Al Hirschfeld signed lithograph of the Star Trek: The Next Generation crew is for sale by the Baltimore Science Fiction Society.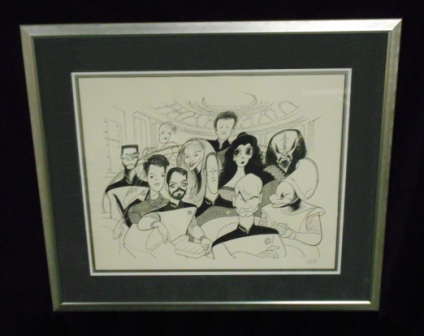 This a signed limited edition (127 of 375) print originally owned by science fiction fan legend Marty Gear. The lithograph shows the cast of the Star Trek the Next Generation TV Series and was commissioned by cast member Brent Spiner (Commander Data) with many given to the cast and crew of the show during the show's original run as gifts…. This hand signed numbered print was dry mounted and framed by Marty Gear in a silver frame with glass and was bequeathed to BSFS in Marty's will. It is in perfect condition. We are offering this item for $1,495.00 plus tax and shipping.
(2) "(Almost) Every SFF Adaptation Coming to Television and Movie Theaters!" compiled by Natalie Zutter at Tor.com.
Thanks to Game of Thrones and Marvel's Cinematic Universe, we've entered a golden age of sci-fi and fantasy properties being developed for film and television. It seems that nearly every network and studio has snatched up the rights to old and new classics, with a bevy of projects in production or premiering in the coming months. We've compiled a master list of every SFF adaptation currently in the works, from American Gods to Y: The Last Man. And surprising no one, prolific writers Neil Gaiman and John Scalzi each have a number of projects in varying stages of development.
(3) The fourth installment of Superversive Blog's interview with Ruth Johnston, author of Re-modeling the Mind: Personality in Balance, is titled "Culture War Post 4: The War Over Archetypes!"
L. Jagi Lamplighter poses the questions in this series described as "Speculative Fiction meets Jung."
Q: So the group that is interested in exploring gender roles and seeing them as less restrictive probably loves books like Ancillary Justice or Left Hand of Darkness, which do just that. In fact, it was probably a major factor in Ancillary Justice winning the Hugo in 2014.

A: If there's one thing the two sides in the Hugo controversy agree on, it's that the most important thing about Ancillary Justice is not the story itself but the way it used pronouns to obscure gender. Everyone is "she" until the narrator has a reason to identify male or female. It's explained in the story as just part of the narrator's native language which, like Chinese and Turkish, doesn't specify gender in a normal sentence. The narrator, writing in English, is forced to make gender choices in every sentence, so instead just uses "she" for everyone. But I had to read some of the story to understand the thing about language, because when people talk about Ancillary Justice, they elevate the single pronoun to such importance that it's like the story was really just about obscuring gender. If they liked the story, it's because at last we're disrupting mental assumptions that gender will always be visible. If they didn't like the story, it's because obscuring gender became more important than whatever was happening.

So that's a great example of the wider culture battle interfering in science fiction and crowning a winner in what might otherwise just be a dispute about literary taste. Once it's connected to the wider question of how we, in real life, see men and women, then it's about life and death, good and evil. It's like they're saying, "If you don't like this story, maybe it's because you want to suppress the "'other'." Those who didn't like the story respond in defensiveness: "well maybe if you like the story, it's because you care more about message! You just want to disrupt society." Now it's no longer about literary taste, it's about hurting people or destroying the culture, and things "just got real," as they say. There are pre-existing political sides to take, and these sides are ready to swing into action even if they don't care about science fiction or fantasy.
(4) From a website devoted to Joyce Carol Oates — "Into the Void: Lovecraft and the World Fantasy Award".
Into the Void: H.P. Lovecraft and the World Fantasy Awards – a twitter conversation with… https://t.co/O6EsNLilRb pic.twitter.com/MtTBRy3ZMc

— Celestial Timepiece (@PoisonedKiss) November 11, 2015
Joyce Carol Oates's short story "Fossil-Figures" from the collection The Corn Maiden and Other Nightmares won a World Fantasy Award in 2011. Her story collection Haunted: Tales of the Grotesque was a finalist for the collection award in 1995. The award itself is a bust of H.P. Lovecraft.
At the link is a Twitter conversation about the news that the Lovecraft statue will no longer be used for the award.
(5) The publisher of Castalia House, Vox Day, would like everyone to know the firm is doing well.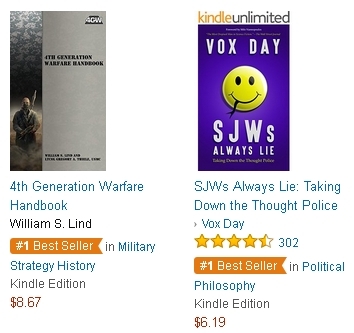 Two simultaneous #1 bestsellers isn't bad, especially when you only publish one book each month.

It's also worth noting that in the Military Strategy category, Castalia House currently publishes five of the top 40 bestsellers.
(6) Kate Paulk, never known for her economy of prose, could have distilled today's Mad Genius Club post into this sentence:
And yet, when I pointed out that our dear anti-Puppy friends were behaving like the Nazis did, complete with examples and quotes, I was horrible, just absolutely horrible.
(7) But this is a strange field. John Scalzi wrote a post reassuring the original Sad Puppy, Larry Correia, that when it comes to book tour audiences, "Size Matters Not".
I've been actively touring novels since 2007, when Tor put me on tour for The Last Colony. Since that time, across several tours, I'd say my largest tour event had several hundred people at it, and my smallest event had… three. Yes, three. I was at the time a New York Times best selling, award-winning author, and yet three people showed up to a tour event of mine. And they were lovely people! And we had a fine time of it, the three of them and I. But still: Three.

Because sometimes that happens. And it happens to every writer. Ask nearly any writer who has done an event, and they will tell you a tale of at least one of their events populated by crickets and nothing else. Yes, even the best sellers. And here's the thing about that: Even with the best sellers, it's an event often in the not-too-recent past. Every time you do an event, you roll the dice. Sometimes you win and get a lot of people showing up. Sometimes you lose and you spend an awkward hour talking to the embarrassed bookstore staff. Either way, you deal with it, and then it's off to the next one.

Also, tangentially: the dude on Twitter trying to plink one off of Larry because of the size of his event crowd? Kind of a dick. …

And then those seven or eight or forty or however many people will go home feeling valued by Larry, and they'll keep buying his books and keep recommending them to friends and others. Because that's the point and that's how it's done. The value of doing a book event is not only about who is in the crowd that day. It's the knock-on effect from there — building relationships with fans and booksellers, and benefiting when they talk you up to friends and customers and so on….
(8) It really must be National Pat Your Puppy Day, because George R.R. Martin claimed to have found a silver lining in the Hugo disaster:
Last time I talked about some possible nominees for Dramatic Presentation, Long Form. This time I want to focus on Dramatic Presentation, Short Form. In other words, best television episode. (No, not officially, but that's what it usually comes down to, and let's ignore the silliness of nominating an Easter Egg or an acceptance speech from the previous year's Hugos).

I was no fan of the efforts of Puppies to game the Hugo Awards last year. I don't think I have been shy in my opinions on that subject. But I will give the Puppies this much — their efforts did break the decade-long hold that Dr. Who fandom had on the nominations in this category. I have no problem with episodes of DR. WHO being nominated, and indeed winning, mind you… and the Doctor has won plenty of times in this category over the past decade… but when four of the six finalists are from the same category, that strikes me as way unbalanced and, well, greedy. The Doctor's fans love their show, I know, but there is a LOT of great SF and fantasy on the tube right now. Nominate DR. WHO, by all means… but leave some room for someone else, please.
(9) Even S. T. Joshi got some love today — in Black Gate's post "New Treasures: The Madness of Cthulhu, Volume Two, edited by S.T. Joshi".
The reason his stock is still flying high is because Black Gate's review of Volume 1 is quoted on the back cover…
G. Winston Hyatt wrote:
Lovecraft's At the Mountains of Madness serves as the inspiration for many of the authors in The Madness of Cthulhu… it's masterful in concept and at times in execution. A fusion of Antarctic adventure, science fiction, and early-modern horror, it not only offers chilling passages with an escalating sense of dread and isolation, but also constructs a world horrifying in its implications about mankind…
The second volume contains 14 brand new stories inspired by Lovecraft's At the Mountains of Madness.
(10) As SF Site News explains, "In 2014, SFWA developed an accessibility checklist for its internal events, such as the Nebula Award Weekend or the New York Reception. SFWA has now elected to make the checklist public and available to other events which may desire to have some guidelines."
"Accessibility Checklist for SFWA Spaces" is now posted at the SFWA Blog.
The SFWA Accessibility Checklist is provided for the use of conventions and other gatherings who want to ensure that their event is fully accessible by all attendees.
The checklist was assembled by Matthew Johnson, Teresa Frohock, Peggy Rae Sapienza, Tanya Washburn, and Bill Thomasson.
(11) RedWombat in a comment on File 770.
Let us go then, me and you,
When the awards are nearly due,
Like shoggoths dissected upon a table;
Let us go, through eldritch winding blogs,
Muttering and wordy slogs,
Of those upset in one-line tweets
And those who pound the well-worn beats:
"PC censorship!"–a tedious argument
Of insidious intent
To lead you to an overwhelming question….
Oh, do not ask, "What the hell is that?"
You behold the bust of Lovecraft.

In the room the fans go fore and aft,
Talking of H. Phillip Lovecraft.
(12) Glenn Fleishman visited Amazon's new brick-and-mortar bookstore in Seattle to shoot some photos – and in the process caught a labeling error in the sf section where Neil Gaiman's American Gods is listed as the 2015 Hugo Award winner. (It won in 2002.)