(1) GOOD OMENS GRAPHIC NOVEL KICKSTARTER BREAKS RECORDS. A Kickstarter to publish a hardcover graphic novel of Pratchett and Gaiman's Good Omens, adapted by illustrator Colleen Doran, raised over $1 million in the first two days. According to the project page, it broke two Kickstarter records: the most successful 24 hours of any comic campaign and the most-backed comics Kickstarter.
Dunmanifestin, the publishing arm of Terry Pratchett estate, will also make GOOD OMENS: the Official (and Ineffable) Graphic Novel available to bookstores as well through a pledging pre-order process.
(2) MOVE NOW TO GET "JOHN THE BALLADEER" BONUS. Place your order for the Haffner Press' Manly Wade Wellman collection The Complete John The Balladeer by August 10 to receive a chapbook of the unpublished Wellman story, "Not All a Dream".
Here's the cover for the story, and photos of the big book in final stages of production.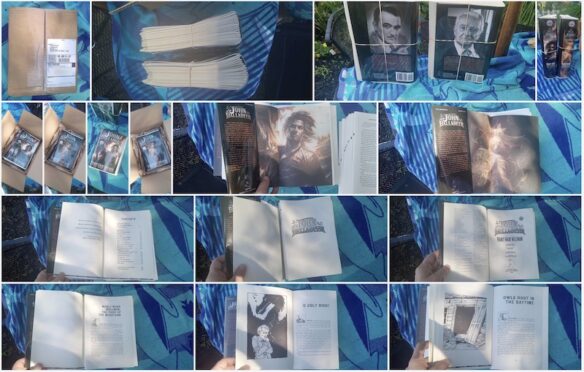 (3) ZOOMING THROUGH FANHISTORY. Fanac.org's next Fanhistory Zoom Session is: Boston in the 60s, with Tony Lewis, Leslie Turek and Mike Ward, moderated by Mark Olson on September 23.To get an invite, send a note to [email protected].
Boston in the 60s was a generative hotbed of fannish activities, with long lasting consequences. The first modern Boskone was held in 1965 by the Boston Science Fiction Society, as part of its bidding strategy for Boston in '67. NESFA began in 1967, and the first Boston Worldcon was held in 1971. MIT provided a ready source of new fans, and they made themselves heard in fanzines, indexes, clubs and conventions (and invented the micro-filk). What was Boston fandom like in the 60s? How was it influenced by MIT? Who were the driving forces and BNFs? What were the impacts of the failed 67 bid? What made Boston unique?

September 23, 2023 at 4PM EDT (New York), 1PM Pacific (PDT), 9PM London (BST) and 6AM Sept 24 in Melbourne
(4) HE'S A CEO BRO. [Item by Mike Kennedy.] The good news: Warner Bros. believes the writer's and actor's strikes may be over soon.
The bad news: They're telling investors that, meanwhile, WB is saving sooooo much money that investors should jump for joy (and maybe root for the strikes to continue). "Warner Bros. thinks the strike will end soon. Meanwhile, it's saving millions" in the Washington Post.
…Warner Bros. Discovery expects that the Hollywood strike will end in a few weeks, executives said in a public earnings call Thursday. But even if actors and writers remain on the picket lines into next year, the studio is projecting hundreds of millions of dollars in savings as an "upside."

Chief financial officers Gunnar Wiedenfels said a work stoppage by thousands of unionized writers in May resulted in more than $100 million in savings, which helped juice Warner's free cash flow above projections — to $1.7 billion between April and June. The company reported about $10.4 billion in revenue for the quarter, though it still lost $1.2 billion.

Analysts expect Warner's free cash flow to remain strong next quarter, which will include the impact of tens of thousands of unionized actors who joined the strike in July, shutting down almost all remaining production in Hollywood….
(5) DECLINED CHENGDU OFFER. The Octothorpe team, John Coxon, Alison Scott, and Liz Batty, are not taking up the Chengdu Worldcon's offer of financial and other assistance to attend the con.
(6) STATUS OF HUGO VOTER PACKET. The Chengdu Worldcon told Facebook readers today: "We are still collecting materials for the voter packet. Hopefully, within a week we will see all. Fingers crossed!"
(7) GET OFF MY LAWN. "George Lucas learned he's not official owner of California driveway — so he's suing" – Yahoo! has the story.
George Lucas, the creator of "Star Wars" and "Indiana Jones," recently learned he's not the official owner of a paved driveway leading to one of his properties in California's Bay Area, according to a lawsuit.

Lucas, and those permitted by his agents, have driven up the strip to the San Anselmo property over the past three decades — dating back to around 1990, a complaint filed Marin County Superior Court on May 15 says

The acclaimed filmmaker suspects heirs of his deceased neighbors may have been granted the right to access part of the driveway and believes they may claim that right, the complaint says.

As a result, Lucas has filed a lawsuit against those heirs and the town of San Anselmo to ensure he's declared the rightful owner of the strip, the complaint shows. The lawsuit was first reported by the Marin Independent Journal…
(8) CLARION WEST INTERVIEWS. This summer Clarion West is featuring three interviews with people from their community. Access them at the link.
Q&A with 2023 Six-Week Workshop instructor Samit Basu
Get to know our Week 3 instructor, Samit Basu, as he shares about writing and publishing across multiple genres (and countries!), plus what he's looking forward to with Clarion West.

Interviews with Sagan Yee (CW '21) and Fawaz Al-Matrouk (CW '21)
Six-Week Workshop alumni Sagan Yee and Fawaz Al-Matrouk share their virtual workshop tips and insights for this year's class. Helpful advice on balance, self-care, and facilitating online connection — useful for anyone interested in virtual learning!
(9) TODAY'S BIRTHDAYS.
[Compiled by Cat Eldridge.]
Born August 3, 1861 — Michel Jean Pierre Verne. Son of Jules Verne who we now know rewrote some of his father's later novels. These novels have since been restored using the original manuscripts which were preserved. He also wrote and published short stories using his father's name. None of these are the major works Jules is now known for. (Died 1925.)
Born August 3, 1904 — Clifford Simak. I was trying to remember the first novel by him I read. I'm reasonably sure it was Way Station though it could've been City which won a well-deserved Retro Hugo. I'm fond of Cemetery World and A Choice of Gods as well. By the way I'm puzzled by the Horror Writers Association making him one of their three inaugural winners of the Bram Stoker Award for Lifetime Achievement. What of his is truly horror? (Died 1988.)
Born August 3, 1920 — P. D. James. Author of The Children of Men which she wrote to answer the question "If there were no future, how would we behave?" Made into a film which she said she really liked despite it being substantially different than her novel. I like authors who can do that. ISFDB lists her as having done a short story called "Murder, 1986" which they say is genre but I've not read it. (Died 2014.)
Born August 3, 1940 — Martin Sheen, 83. So that was who that was! On Babylon 5: The River of Souls, there's a Soul Hunter but the film originally didn't credit an actor who turns out to be Sheen. Amazing performance. He's been in a number of other genre roles but that's the ones I like most. Though I will single him out for voicing Arthur Square in Flatland: The Movie.
Born August 3, 1946 — John DeChancie, 77. A native of Pittsburgh, he is best known for his Castle fantasy series, and his SF Skyway series. He's fairly prolific even having done a Witchblade novel. Who here has read him? Opinions please.
Born August 3, 1950 — John Landis, 73. He'd make this Birthday List if all he'd done was An American Werewolf in London, but he was also Director / Producer / Writer of the Twilight Zone movie. And wrote Clue which is the best Tim Curry role ever. And Executive Produced one of the best SF comedies ever, Amazon Women on the Moon. Neat fact: he was the puppeteer for Grover in The Muppet Movie, and he later played Leonard Winsop in The Muppets Take Manhattan.
Born August 3, 1972 — Brigid Brannagh, 51. Also credited, in astonishing number of last names, as Brigid Brannagh, Brigid Brannah, Brigid Brannaugh, Brigid Walsh, and Brigid Conley Walsh. Need an Irish red headed colleen in a genre role? Well she apparently would do. She shows up in Kindred: The Embrace, American Gothic, Sliders, Enterprise (as a bartender), Roar, Touched by an Angel, Charmed, Early Edition, Angel (as Virginia Bryce in a recurring role), Grimm, Supernatural and on Runaways in the main role of Stacey Yorkes.
(10) WHO HAS THEM? "Doctor Who missing episodes are 'out there', says TV archive boss" to Radio Times.
The head of TV archive Kaleidoscope has suggested that 'missing' episodes of Doctor Who are known to still exist, but remain in private collections.

Out of 253 episodes from the show's first six years, 97 remain lost in their original form, due to the BBC's policy of junking archive programming between 1967 and 1978.

As a result, numerous adventures of the First Doctor (played by William Hartnell) and the Second Doctor (played by Patrick Troughton) are either incomplete or missing in their entirety….
(11) OCTOTHORPE. In episode 89 of the Octothorpe podcast, "The Winner Does Not Receive a Pie", John Coxon, Alison Scott, and Liz Batty "read your lovely letters of comment before discussing podcast transcripts, podcast programme, generative AI, free trips to China (we're not going), and picks."
(12) OCTOTHORPE HUGO VOTER PACKET SUBMISSION. And while we're busy making this the all-Octothorpe edition of the Scroll, the team announced they have uploaded transcripts and subtitles for Episodes 49, 62, and 72 as part of their Hugo Voter Packet submission.
(13) IN CASE YOU WERE WONDERING. "Gal Gadot Developing Wonder Woman 3 With James Gunn, Peter Safran (Exclusive)" reports Comicbook.com.
The DC Universe on film is headed in a new direction under James Gunn and Peter Safran, but it sounds like Gal Gadot is still going to be involved with Wonder Woman's future. Gadot debuted as Diana Prince in 2016's Batman v Superman: Dawn of Justice. She then headlined 2017's Wonder Woman and its 2020 sequel, Wonder Woman 1984 opposite Chris Pine as Steve Trevor, both helmed by director Patty Jenkins, while also appearing in Justice League (and the fully Zack Snyder-helmed director's cut). As Gunn and Safran took over as co-heads of the rechristened DC Studios for Warner Bros., plans for Patty Jenkins to return for Wonder Woman 3 were scrapped. That left Gadot's future as Wonder Woman unclear. Things became murkier when she appeared in a cameo role in Shazam! Fury of the Gods, but had a similar cameo cut from The Flash, starring Ezra Miller, where she would have appeared alongside Ben Affleck as Batman and Henry Cavill as Superman, further confusing fans.

Speaking to ComicBook.com's Chris Killian for her new Netflix movie Heart of Stone before the SAG-AFTRA strike, Gadot said that, as she understands it, she will be developing Wonder Woman 3 together with Gunn and Safran. "I love portraying Wonder Woman," Gadot says….
(14) ALL ROADS LEAD TO CURRY. [Item by SF Concatenation's Jonathan Cowie.] You know how it is — been to see a few panels, desperately avoid spending too much in the dealers room, catch a recent art house SF film — and it's the evening and you've had a few beers in the hotel bar… So it's time for a curry. But for how long have people been doing this?
Researchers have now found on ancient culinary tools from 2,000 years ago in Southern Vietnam "culinary spices that include turmeric, ginger, finger root, sand ginger, galangal,clove, nutmeg,and cinnamon. These spices are indispensable ingredients used in the making of curry in South Asia today. [The researchers] suggest that South Asian migrants or visitors introduced this culinary tradition into Southeast Asia during the period of early trade contact via the Indian Ocean, commencing about 2000 years ago." [Wang, W., et al (2023) Earliest curry in Southeast Asia and the global spice trade 2000 years ago. Science Advances, vol.9 (29), eadh551]
The maritime trading networks and the Silk Road linked the Eurasian continent and the ancient civilizations of the world at least since 2,000 years ago. Southeast Asia, such as the trading entrepôt, Oc Eo, is at the crossroads of the ancient maritime trading networks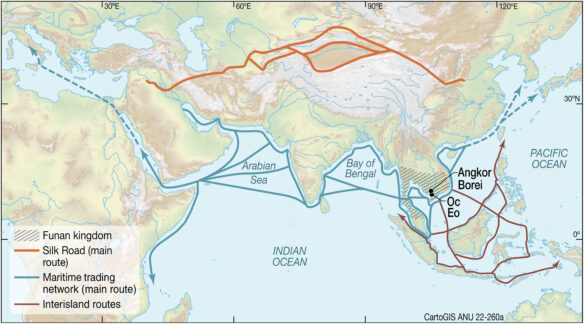 (15) VIDEO OF THE DAY. The Planet Zoom Players bring us "The Crystal Egg" by H. G. Wells, a play adaptation with effects.
Join us to see what kindly old Mr. Cave sees in his crystal egg. What does this new world mean for Earth's future. This performance is enhanced with illustrations, music, and animations. This is an amateur production created by Planet Zoom Players.
[Thanks to SF Concatenation's Jonathan Cowie, Mike Kennedy, Andrew Porter, John King Tarpinian, Chris Barkley, Michael Toman, and Cat Eldridge for some of these stories. Title credit belongs to File 770 contributing editor of the day Andrew (not Werdna).]