(1) HOPE FOR THE JAMES WHITE AWARD. Gareth Jelley, editor and publisher of Interzone, responded to the comments about the James White Award in yesterday's post "Are These Awards Dead or Just Pining for the Fjords?"
Thank you for the interesting post today on awards. Funnily enough, I'm becoming a big fan of James White's writing and have one of his books on the bedside stack at the moment.

But you are right: I've not yet been asked about Interzone and the James White Award.

It is on my radar, though! It has been on my list of things to do as Martin McGrath and I chat once in a while on the IZ Digital Discord. But we've both been quite busy.

So, not 100% an ex-award yet — it is something I would definitely like to get going again, once Interzone is back on its feet.
(2) BEHIND THE SCENES. "Disney+ Celebrates 'Star Wars: Ahsoka' Debut with 'Rebel Crew' Featurette" and Animation World Network has the story.
Disney+ celebrated yesterday's launch of Lucasfilm's newest series, Star Wars: Ahsoka, by sharing the Rebel Crew featurette, a look behind the making of the series. The first two episodes of the show are now available.

The show, set after the Empire's fall, follows the former Jedi Knight Ahsoka Tano as she investigates an emerging threat to a vulnerable galaxy.

Rosario Dawson, who reprises her The Mandalorian role as Ahsoka Tano, is joined by Natasha Liu Bordizzo as Sabine Wren; Mary Elizabeth Winstead as Hera Syndulla; Ivanna Sakhno as Shin Hati; Wes Chatham as Captain Enoch; Hayden Christensen as Anakin Skywalker; the late Ray Stevenson as Baylan Skoll; David Tennant as Huyang; Temeura Morrison as Captain Rex; and Lars Mikkelsen as Grand Admiral Thrawn….
(3) EATING THE FANTASTIC. Scott Edelman invites listeners to chow down on crispy pickled cucumbers with Lisa Morton in Episode 205 of his Eating the Fantastic podcast.
My second guest from this year's Pittsburgh StokerCon is Lisa Morton, a screenwriter, award-winning prose writer, author of non-fiction books, and Halloween expert.

She's written more than 150 short stories, including the Bram Stoker Award-winning "Tested" (from Cemetery Dance magazine) and "What Ever Happened to Lorna Winters?," chosen for inclusion in Best American Mystery Stories 2020. In 2010, her first novel The Castle of Los Angeles was awarded the Bram Stoker Award for First Novel. Her other novels include Malediction (nominated for the Bram Stoker Award for Best Novel), Netherworld, and Zombie Apocalypse: Washington Deceased.

Her work as an editor includes the anthology Midnight Walk, winner of the Black Quill Award and nominated for the Bram Stoker Award, Haunted Nights (co-edited with Ellen Datlow), Ghost Stories: Classic Tales of Horror and Suspense, and Weird Women: Classic Supernatural Fiction by Groundbreaking Female Writers 1852-1923, co-edited with Leslie Klinger. As a Halloween expert, Lisa wrote the definitive reference book The Halloween Encyclopedia (now in a second edition), and the multiple award-winning Trick or Treat: A History of Halloween. Her screenplay credits include the feature films Tornado Warning, Blood Angels, Blue Demon, and The Glass Trap. She's is a former President of the Horror Writers Association.

We discussed how seeing The Exorcist at age 15 changed her life, why she sometimes feels guilty about her path to publication, our memories of the late, great Dennis Etchison, the differences between trick or treating in New York vs. L.A., the weirdest thing about working in a bookstore during the pandemic, the differing ways our writing was affected by lockdown, how she myth-busted Halloween, why she doesn't think of rejection as rejection, what she means when she says horror fiction should be more political, writing for themed anthologies, what it would take for us to turn our hand to novels, and so much more.
(4) SFF ABOVE THE 38TH PARALLEL. Ars Technica leads readers to "The strange, secretive world of North Korean science fiction".
A plane is flying to the Philippines, gliding above "the infinite surface" of the Pacific Ocean. Suddenly, a few passengers start to scream. Soon, the captain announces there's a bomb on board, and it's set to detonate if the aircraft drops below 10,000 feet.

"The inside of the plane turned into a battlefield," the story reads. "The captain was visibly startled and vainly tried to calm down the screaming and utterly terrorized passengers."

Only one person keeps his cool: a young North Korean diplomat who has faith that his country will find a solution and save everyone. And he's right. North Korea's esteemed scientists and engineers create a mysterious anti-gravitational field and stop the plane in mid-air. The bomb is defused, and everyone gets off the aircraft and is brought back safely to Earth.

This story, Change Course (Hangno rǔl pakkura) by Yi Kŭmchǒl, speaks about solidarity, peace, and love for the motherland, displaying an intricate relationship between literature and politics. It was first published in 2004 in the Chosǒn munhak magazine, only to be reprinted 13 years later, around the time North Korea claimed it was capable of launching attacks on US soil.

"Political messages in every North Korean sci-fi can be hardly missed," historian of science Dong-Won Kim, who taught at Harvard University and the Korea Advanced Institute of Science and Technology in South Korea, told me….
(5) GALAXY QUEST NEWS. "Is Sigourney Weaver Reprising Her Role in a 'Galaxy Quest' Series?" Animation World Network thinks the answer is yes.
Finally, a morsel of news from the Paramount+ series adaptation of Galaxy Quest! While the project has finally made headway after a stint in production hell, we can now report that Sigourney Weaker will reprise her role as Gwen DeMarco, according to a source close to Giant Freakin Robot. Gwen will serve as a mentor-like figure for a new generation of cast members aboard the Protector, if the news is to be believed….

…The Galaxy Quest series will be produced by Mark Johnson under his Gran Via Productions banner. No other execs have been announced.
(6) TODAY'S BIRTHDAYS.
[Compiled by Cat Eldridge.]
Born August 25, 1909 — Michael Rennie. Definitely best remembered as Klaatu in The Day the Earth Stood Still. He would show up a few years later on one of The Lost World films as Lord John Roxton, and he's got an extensive genre series resume which counts Lost in Space as The Keeper in two episodes, The Batman as The Sandman, The Time Tunnel, The Man from U.N.C.L.E. and The Invaders. (Died 1971.)
Born August 25, 1913 — Walt Kelly. If you can get them, Fantagraphics has released Pogo in six stunning hardcover editions covering up to 1960. They're planning to do all of his strips eventually. Did you know Kelly began his career as animator at Walt Disney Studios, working on Dumbo, Pinocchio and Fantasia? (Died 1973.)
Born August 25, 1940 — Marilyn Niven, 83. She was a Boston-area fan who lives in LA with her husband Larry Niven. She has worked on a variety of conventions, both regionals and Worldcons. In college, she was a member of the MITSFS and was one of the founding members of NESFA. She's also a member of Almack's Society for Heyer Criticism.
Born August 25, 1947 — Michael Kaluta, 76. He's best known for his 1970s take on The Shadow with writer Dennis O'Neil for DC in 1973–1974. He'd reprise his work on The Shadow for Dark Horse a generation later. And Kaluta and O'Neil reunited on The Shadow: 1941 – Hitler's Astrologer graphic novel published in 1988. If you can find them, the M. W. Kaluta: Sketchbook Series are well worth having.
Born August 25, 1955 — Simon R. Green, 68. I'll confess that I've read pretty much everything he's written. Favorite series? The Nightside, Hawk & Fisher and Secret History are my favorite ones with Drinking Midnight Wine the novel I've re-read the most.
Born August 25, 1958 — Tim Burton, 65. Beetlejuice is by far my favorite film by him. His Batman is interesting. Read that comment as you will. Charlie and the Chocolate Factory is definitely more Dahlish than the first take was, and Sleepy Hollow is just damn weird. Well, too damn weird for my liking.
Born August 25, 1970 — Chris Roberson, 53. Brilliant writer. I strongly recommend his Recondito series, Firewalk and Firewalkers. The Spencer Finch series is also worth reading. He won two Sidewise Awards, first for his "O One" story and later for The Dragon's Nine Sons novel. He's had five Sidewise nominations. And he's scripted a lot of comics, primarily Hellboy related, but also Fables, The Shadow, Doc Savage, iZombie and House of Mystery.
(7) SAND STOPS RUNNING IN THE HOURGLASS. "'Dune: Part Two' release postponed to 2024 as actors strike lingers" reports the Portland (ME) Press-Herald.
The release of "Dune: Part Two," one of the fall's most anticipated films, has been postponed from November until next near, Warner Bros. confirmed Thursday.

Denis Villeneuve's science-fiction sequel had been set to open Nov. 3 but will instead land in theaters March 15. With the actors strike entering its second month, "Dune: Part Two" had been rumored to be eyeing a move. Variety earlier this month reported Warner Bros. was mulling the delay.

Warner Bros. is opting to wait until its starry cast can promote the follow-up to the 2021 Oscar-winning "Dune."…

…Dune: Part Two" is one of the biggest 2023 films yet postponed due to the ongoing strikes by actors and screenwriters. Recent releases have mostly opted to go ahead, despite lacking their stars on red carpets or on magazine covers. SAG-AFTRA has asked its members not to promote studio films during the work stoppage….
(8) NEXT DOMINO TO FALL IS TOLKIEN ANIME FILM. "'Lord Of The Rings: The War Of The Rohirrim' Release Delayed Until December 2024" reports Deadline.
New Line's animated movie The Lord of the Rings: The War of the Rohirrim is moving from its April 12, 2024 release date to December 13 of next year.

The move stems from a chain reaction of Warner Bros re-dating Thursday, spurred by Legendary Entertainment's Dune: Part Two moving from November 3 this year to March 15, 2024, which pushed that financier and producer's other title, Godzilla X Kong: The New Empire, from that date to April 12, 2024.

Dune: Part Two had to move had to shift on account of the unavailability of its cast to promote during the ongoing actors strike.

War of the Rohirrim will now face off on its new December date against Sony's reboot of The Karate Kid.

The anime feature, directed by Kenji Kamiyama, is set 183 years before the events chronicled in the original New Line Lord of the Rings trilogy. Those Peter Jackson movies, in addition to his Hobbit trilogy, always played the December year-end holiday period.

The War of the Rohirrim centers on the fate of the House of Helm Hammerhand, the mighty King of Rohan, a character from the appendix of JRR Tolkien's The Lord of the Rings: The Return of the King. Succession actor Brian Cox will provide the voice of the protagonist.
(9) FOUND ON FACEBOOK. This is a little touch of genius.
(10) DO YOU KNOW SHUTTLE LORE? The National Air and Space Museum Hackathon invites you to play Galactic Mystery. As far as I can tell I got all the questions right. Is that possible? That has never happened before!
Each year, the National Air and Space Museum holds the Air and Space Hackathon, in collaboration with Deloitte, for local students. A hackathon is a design sprint-like event with the goal of creating functioning software or hardware by the end of the event.

In the most recent Air and Space Hackathon, small teams from schools around the DC area took on the challenge of designing a web or mobile prototype aimed at a K-12 student audience. The goal of their prototype was to highlight inspiring stories of diversity in the past, present, and/or future that connects to something on display at the Steven F. Udvar-Hazy Center.

Team Rambutan from the Governor's School @ Innovation Park was the winner of our latest Hackathon! They created a game called "Galactic Mystery" in which users answer questions related to Space Shuttle Discovery to solve the mystery of who stole Canadarm. As players successfully progress through the game, their shuttle climbs through the levels of the atmosphere.

And now, their "Galactic Mystery" game is a reality! Anyone can play from wherever you are to test your knowledge of Space Shuttle history.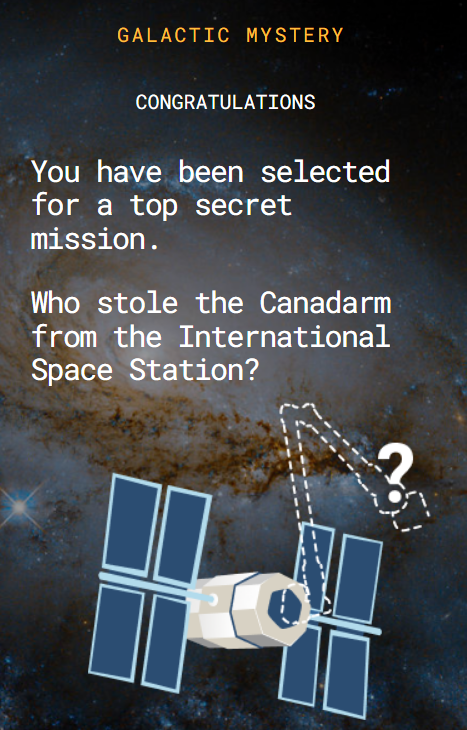 [Thanks to Mike Kennedy, Andrew Porter, John King Tarpinian, Chris Barkley, Michael Toman, Cat Eldridge, SF Concatenation's Jonathan Cowie for some of these stories. Title credit belongs to File 770 contributing editor of the day Joe H.]