(1) COMIC-CON STREAM IS LEGAL, GETS BLOCKED ANYWAY. "Cartoon Network and Star Trek Panels at San Diego Comic-Con Were Blocked by Youtube's ContentID" – which reminded The Digital Reader of what happened to the Hugo Awards livestream in 2012.
Alas, no one was paying attention to Youtube's ContentID copyright bot yesterday until after it shut down a couple officially sponsored livestreams from San Diego Comic-con. The first to get the boot was a Star Trek panel, and then a couple hours later Cartoon Network's panel was also cut off.

Here's why this is newsworthy: Both of these panels were blocked by Youtube the networks were streaming content that belonged to the networks.
Ars Technica reported "CBS' overzealous copyright bots hit Star Trek virtual Comic-Con panel"
ViacomCBS kicked things off today with an hour-long panel showing off its slew of current and upcoming Star Trek projects: Discovery, Picard, Lower Decks, and Strange New Worlds.

The panel included the cast and producers of Discovery doing a read-through of the first act of the season 2 finale, "Such Sweet Sorrow, Part 2." The "enhanced" read-through included sound effects, effects shots, and storyboard images meant to bolster the actors as they delivered lines from their living rooms and home offices.

Even if the presentation didn't look like a real episode of Discovery to the home viewer, it apparently sounded close enough: after the Star Trek Universe virtual panel began viewers began to lose access to the stream. In place of the video, YouTube displayed a content ID warning reading: "Video unavailable: This video contains content from CBS CID, who has blocked it on copyright grounds."

After being blacked out for about 20 minutes, the panel was restored, and the recording of the virtual panel has no gaps in playback.
The Digital Reader reminded everyone:
This is not the first time that livestreams have been blocked when they were legally using content; I am reminded of the Worldcon awards dinner livestream that was shut down because someone played a Doctor Who clip. The video had been provided by the BBC (the show had won an award that year) but apparently no one told Ustream's bot.
(2) TIME IS DRAGON ALONG. The Dragon Award nominations closed July 17, so what better day for their site to make its first post in over a year? Er, wait, it's July 24! Makes a good reason to call it "A Blast from the Past (Winners) – Part 1":
…Now in its sixth year, the Dragon Con hosted Dragon Awards has proven to be the defining "must" list for the greatest in genre novels, media, comics, and games. While the world is locked inside, members and fans have turned to past award winners to build their reading lists.

We reached out to eight winners and asked them to talk about their award-winning novels, their other works, the Dragon Awards ceremony, and what they have coming up that they would like to share….

… This is your chance say as much as you want right now to tell all the fans what they should know about you as a person and author, your work, and your career.

…Harry Turtledove: It's all L. Sprague de Camp's fault. I found his Lest Darkness Fall in a secondhand bookstore when I was about 15, and started trying to find out how much he was making up (very little) and how much was real (most). And so, after flunking out of Caltech the end of my freshman year (calculus was much tougher than I was), I wound up studying Byzantine history at UCLA. I got my PhD in 1977. If I hadn't found that book then, I wouldn't have written most of what I've written. I would have written something–I already had the bug–but it wouldn't be alternate history. I wouldn't be married to my wife; I met her when I was teaching at UCLA while my professor had a guest appointment in Greece. I wouldn't have the kids and grandkids I have. I wouldn't be living where I'm living. Other than that, it didn't change my life a bit. Imagining me without reading Lest Darkness Fall is alternate history on the micro-historical level.
(3) FAN RESOURCES. Congratulations to Fanac.org for reaching new milestones in preserving fanhistory.
FANAC by the Numbers. Numbers can be misleading, but they do give us some idea of the progress we are making in documenting our fan history. As of today, we have 11,526 fanzine issues consisting of more than 179,423 pages. This is up from the 10,000 fanzine issues and 150,000 pages reported in our April update. Our YouTube channel is now at 621 subscribers, and 90,356 views, up from last time's 500 and 75,000. Fancyclopedia 3 has exceeded 32,000 items.
(4) TIED UP AT THE DOCK. Next year's JoCo Cruise, technically a Jonathan Coulton fan cruise but really a week-long ocean cruise of all sorts of nerdery, science fiction fandom, and boardgaming, has been postponed a year to March 5-12, 2022. John Scalzi, a regular participant, also wrote a post about the announcement.
(5) COPYRIGHT INFRINGEMENT SUIT UPDATE. Publishers Weekly reports on the defendants' appeal in the media: "Internet Archive to Publishers: Drop 'Needless' Copyright Lawsuit and Work with Us"
During a 30-minute Zoom press conference on July 22, Internet Archive founder Brewster Kahle urged the four major publishers suing over the organization's book scanning efforts to consider settling the dispute in the boardroom rather than the courtroom.

"Librarians, publishers, authors, all of us should be working together during this pandemic to help teachers, parents, and especially students," Kahle implored. "I call on the executives of Hachette, HarperCollins, Wiley, and Penguin Random House to come together with us to help solve the challenging problems of access to knowledge during this pandemic, and to please drop this needless lawsuit."

Kahle's remarks came as part of a panel, which featured a range of speakers explaining and defending the practice of Controlled Digital Lending (CDL), the legal theory under which the Internet Archive has scanned and is making available for borrowing a library of some 1.4 million mostly 20th century books….

But the practice of CDL has long rankled author and publisher groups—and those tensions came to a head in late March when the IA unilaterally announced its now closed National Emergency Library initiative, which temporarily removed access restrictions for its scans of books, making the books available for multiple users to borrow during the Covid-19 outbreak. On June 1, Hachette, HarperCollins, John Wiley & Sons, and Penguin Random House filed a copyright infringement lawsuit in the U.S. District Court for the Southern District of New York.

In a press release announcing the suit, executives at the Association of American Publishers said the Internet Archive's scanning program was not a public service, but an attempt "to bludgeon the legal framework that governs copyright investments and transactions in the modern world," and compared it to the "largest known book pirate sites in the world."..
(6) GEEK PARTNERSHIP SOCIETY FUNDRAISER. At least four Minneapolis-St. Paul conventions call the Geek Partnership Society's office space home, and a host of other groups use it, too (listed below). The facility may not be able to afford to stay open, and after three weeks the GPS GoFundMe has raised only $13,010 of its $40,000 goal.
Geek Partnership Society may not be able to honor the terms of its lease and could face permanent closure if funds cannot be raised by end of July, 2020.

Please act now to support our facility, our community programs, and the resources we strive to provide to all geeks in the Twin Cities.

So, what happened?

-Clubs and individuals canceled their rentals of GPS's venue spaces as people complied with sheltering orders and tried to maintain social distance.

-GPS Charity Auction events that we rely on for income were canceled as local conventions were canceled or postponed.

-Some of our large annual contributors are also having financial difficulties. because their conventions were postponed/cancelled for 2020.

What needs to happen now?

We need your help to keep GPS running through the end of the year. This will provide the time needed to plan a more flexible revenue model going into 2021. Our goal is to raise $40,000.
The GPS blog has more information: "GoFundme Launched – Save Your Geek Partnership Society".
Here are some groups and programs who rely on GPS' support.
Crafty Geek / Make It Sew
Geek Physique
Geeks Read Book Club
GPS Photography Club
GPS Movie Appreciation Posse
Tsuinshi Anime Club
United Geeks of Gaming
Annual Volunteer Appreciation Party (community wide)
Geek presence at Art-A-Whirl
Holiday Emporium
Scavenger Hunt
(7) THE REDISCOVERED COUNTRY. "1000 Women in Horror author says book could have been ten times longer": Entertainment Weekly interviews author Alexandra Heller-Nicholas.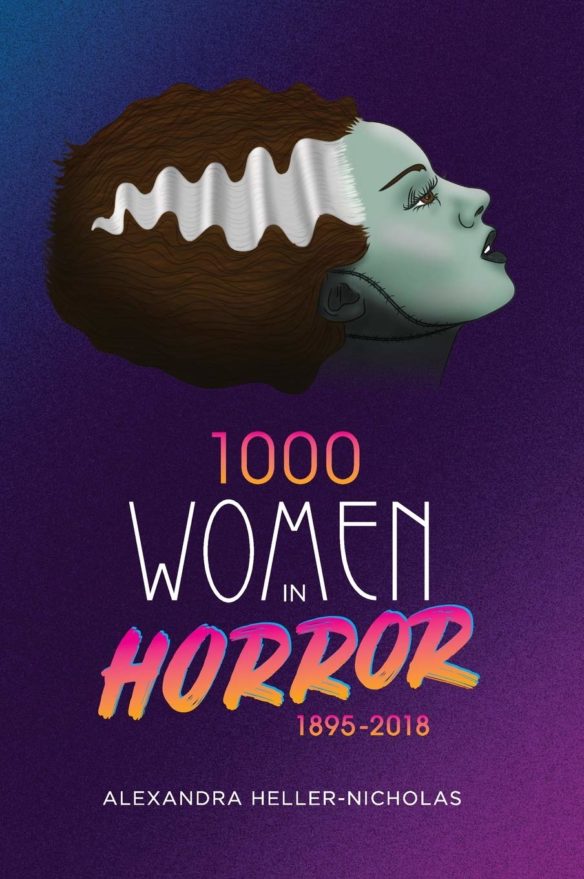 The history of the horror genre is routinely told via the careers of male directors such as James Whale, Alfred Hitchcock, George Romero, John Carpenter, and Wes Craven. Author Alexandra Heller-Nicholas' just-published book 1000 Women in Horror: 1895-2018, takes a very different approach, showcasing the contributions of women directors and actors as well as those who have toiled, often unsung, in other capacities. "When we think of women in horror, we default to Janet Leigh or Texas Chain Saw Massacre, those really iconic images from horror films," says Heller-Nicholas, who has previously written books on Dario Argento's Suspiria and Abel Ferrara's Ms. 45. "We think of terror as being embodied through women's bodies — screaming and running. I really wanted to explode that a little bit and say the person at the editing deck might be a woman, the person in the director's chair might be a woman, the cinematographer might be a woman. If we move outside of the 'single male genius' who else is working on this stuff? And it turns out there's actually some pretty amazing people, and some of them are women. There's a lot more going on that women embody in horror than screaming. Not that there's anything wrong with screaming. It's hard work!"
Heller-Nicholas was inspired to have 1895 be the chronological starting point for her collection of mini-biographies after seeing a film from that year titled The Execution of Mary Stuart. "It's a very very early example of special effects," says the writer. "It's Mary going up to the guillotine and having her head chopped off and her head being picked up, that's the end of the film. I was first drawn to this because Mary is played by 'Mrs Robert Thomas.' I was fascinated by 'Mrs Robert Thomas.' Seemingly it's a woman, but she's defined through her relationship to a man. But I did some digging around and apparently it was actually played by a man. There was something about it, a little it of playfulness and the idea that gender and identity is slippery even in 1895."
(8) MEDIA BIRTHDAY.
July 24, 1952 — Blackhawk: Fearless Champion of Freedom serial premiered. This was a fifteen-chapter black-and-white movie serial from Columbia Pictures, based on the Blackhawk comic book, first published by Quality Comics, but later owned by DC Comics. The latter company would re-use the name in several versions of the group. It was directed by Spencer Gordon Bennet (as Spencer Bennet) Fred F. Sears and produced by Sam Katzman. It was written by George H. Plympton, Royal K. Cole and Sherman L. Lowe. It starred Kirk Alyn, Carol Forman and John Crawford. Despite being very well received, the Blackhawk serial was the last film serial shown on air flights.
(9) TODAY'S BIRTHDAYS.
[Compiled by Cat Eldridge and John Hertz.]
Born July 24, 1802 – Alexandre Dumas. Published work amounts to over 100,000 pages, translated into a hundred languages, inspiring two hundred motion pictures. Born on Haiti (as it now is); father, a general and the son of a marquis; grandmother, a black slave; Dumas, the name he used, was hers. His Nutcracker, a version of Hoffmann's, is the basis of Tchaikovsky's. The Wolf-Leader, an early werewolf novel; The Marriages of Father Olifus, just (2017) re-translated as The Man Who Married a Mermaid; The Count of Monte Cristo, a root of The Stars My Destination. (Died 1870) [JH]
Born July 24, 1878 – Edward Plunkett, 18th Baron Dunsany. Chess and pistol-shooting champion of Ireland. Fifty Tales of Pegana with its own history, geography, gods. Ten dozen unlikely tales told by Joseph Jorkins to anyone buying him a whiskey at their club. Clute and Langford say D's prose has muscular delicacy. In Fitzgerald's This Side of Paradise Blaine and D'Invilliers recite D's poetry. Translated into Czech, Dutch, French, German, Italian, Japanese, Russian, Spanish, Turkish. (Died 1957) [JH]
Born July 24, 1895 — Robert Graves. Poet, mythologist, historical novelist, critic. Author of, among other works, The White Goddess (a very strange book which Yolen quotes from in The Wild Hunt), two volumes called The Greek Myths, Seven Days in New Crete which Pringle has on his Best Hundred Fantasy Novels list, and more short fiction than really bears thinking about. (Died 1985.) (CE)
Born July 24, 1916 – John D. MacDonald. While the score of books (I warned you about these puns) featuring salvage consultant Travis McGee and his friend Meyer are favorites of many, JDM is here for three SF novels, five dozen shorter stories, he wrote until the end. Wine of the Dreamers has been translated into Dutch, French, German, Italian, Portuguese, Spanish, Swedish; its title if not already meaning something else might name fan activity or SF – or if not unfair to nondrinkers. (Died 1986) [JH]
Born July 24, 1936 — Phyllis Douglas. She also appeared in two episodes of the Trek series in "The Galileo Seven" and "The Way to Eden" and in a two-parter of Batman ("The Joker's Last Laugh" and "The Joker's Epitaph") where she was Josie. She was in an uncredited role in Atlantis: The Lost Continent, and her very first role was at age two in Gone with The Wind. (Died 2010.) (CE)
Born July 24, 1936 — Mark Goddard, 84. Major Don West, the adversary of Dr. Zachary Smith, on Lost in Space. Other genre appearances were scant. He played an unnamed Detective in the early Eighties Strange Invaders and he showed up on an episode of The Next Step Beyond which investigated supposed hauntings as Larry Hollis in "Sins of Omission". Oh, and he was an unnamed General in the Lost in Space film. (CE)
Born July 24, 1945 – Gordon Eklund, 75. Some are fans, some are pros, some are both; GE won a Nebula co-authoring with Greg Benford, another: they have written two novels (including If the Stars Are Gods, expanded from the novelette), half a dozen shorter stories, together. Three decades after Stars GE won a FAAn (Fan Activity Achievement) Award as Best Fanwriter. Twenty novels, six dozen shorter stories, translated into Croatian, Dutch, French, German, Italian, Portuguese, Serbian, including two early Star Trek novels, of which one has a Dyson sphere. Recent collection, Stalking the Sun. [JH]
Born July 24, 1946 – Tom Barber, 74. Three dozen covers for books and magazines, a dozen interiors. Here is the May 79 Galileo. Here is The Men in the Jungle (in German as The Brotherhood of Pain). Here is the Mar 76 Amazing; here is the Mar 19; the magazine itself is well-named. [JH]
Born July 24, 1950 – Bob Fowke, 70. Two dozen covers, a dozen interiors. Here is The Golden Apples of the Sun. Here is Connoisseur's SF. Here is King Creature, Come. Here is La flamme des cités perdues; not all who wander are lost, but here is The Lost Star. [JH]
Born July 24, 1951 — Lynda Carter, 69. Wonder Woman of course. But also Principal Powers, the headmistress of a school for superheroes in Sky High; Colonel Jessica Weaver in the vampire film Slayer; Moira Sullivan, Chloe Sullivan's Kryptonite-empowered mother in the "Prodigy" episode of Smallville; and President Olivia Marsdin In Supergirl. (CE)
Born July 24, 1959 – Zdrvaka Evtimova, 61. Author and translator. Nine short stories for us in or translated into English, much more outside our field. Besides Bulgaria and Anglophonia, published in France, Germany, Iran, Japan, Poland, Russia, Spain, Vietnam – two dozen countries. Six Bulgarian awards. Member of the Bulgarian Writers' Union and the UK Writers' League. See her here (Contemporary Bulgarian Writers; in English, with a photo, book covers and excerpts, links to online stories in English). [JH]
Born July 24, 1964 — Colleen Doran, 56. Comics artist and writer. She's done includes Warren Ellis' Orbiter graphic novel, Wonder Woman, Legion of Superheroes, Teen Titans, "Troll Bridge":by Neil Gaiman and her space opera series, A Distant Soil. She also did portions of The Sandman, in the "Dream Country" and "A Game of You". She's tuckerized Into Sandman as the character Thessaly is based on Doran. (CE)
Born July 24, 1981 — Summer Glau, 39. An impressive run in genre roles as she was River Tam in the Firefly series and of course the Serenity film, followed by these performances: Tess Doerner in The 4400, as Cameron in Terminator: The Sarah Connor Chronicles, Bennett Halverson in Dollhouse (is this worth seeing seeing?), Skylar Adams in Alphas and lastly Isabel Rochev who is The Ravager in Arrow. (CE)
(10) COMICS SECTION.
The Far Side shows that somebody needs a manual for first contact. (Fist contact?)
And ever is heard a discouraging word — Dilbert shows it's tough to be a beginning writer.
(11) PILING ON. James Davis Nicoll finds "Five More Massive Works of SFF to Add to Your Must-Read Pile".
Are we having fun with the lockdown yet? Some of you may live, like me, in a region where our pal COVID-19 seems to be under control—or you may be trapped in some dire realm where it is not. Yet, for even those of us who are momentarily spared, respite may prove temporary—it's always best to stay safe and plan for the possibility of continued isolation. That suggests that it would be prudent to add to your personal Mount Tsundoku, preferably with tomes weighty enough to keep one occupied through weeks of isolation and tedium. Omnibuses could be the very thing! Below are five examples…
(12) READ SANDERSON CHAPTERS. As they've done with previous books in the Stormlight Archive, Tor.com will be releasing one chapter from Brandon Sanderson's upcoming novel Rhythm of War each week from now through its release in November. "Read Rhythm of War by Brandon Sanderson: Prologue and Chapter One".
(13) REAL PERSEVERANCE. In The Guardian, Alison Flood interviews Brandon Sanderson, who discusses the long struggle he had to become a successful fantasy novelist. "Brandon Sanderson: 'After a dozen rejected novels, you think maybe this isn't for you'".
Watching the numbers tick up on Brandon Sanderson's Kickstarter is a remarkable way to pass the time. The fantasy author initially set out to raise $250,000 (£198,500) to release a 10th anniversary, leather-bound edition of his doorstopper novel, The Way of Kings. In less than 10 minutes, it became the most-funded publishing project of all time when it topped $1m. With 15 days still to go, he's raised more than $5.6m. All this for a book that was just one of 13 Sanderson wrote before he'd even landed a publishing deal.

Most writers have novels that never see the light of day. But 13? That's serious dedication. The books were written over a decade while Sanderson was working as a night clerk at a hotel – a job chosen specifically because as long as he stayed awake, his bosses didn't mind if he wrote between midnight and 5am. But publishers kept telling him that his epic fantasies were too long, that he should try being darker or "more like George RR Martin" (it was the late 90s, and A Song of Ice and Fire was topping bestseller charts). His attempts to write grittier books were terrible, he says, so he became "kind of depressed"….
(14) PRESSED OWN AND OVERFLOWING. Alasdair Stuart's The Full Lid 24th July 2020opens with a tour of duty with Matt Wallace's Savage Legion. TheSin Du Jour author has turned in his first epic fantasy novel and it's fiercely intelligent, uniquely perceptive and exactly what the genre needs.
After that, I take a look at the March trilogy of graphic novels. Covering the life of Rep. John Lewis, they're engrossing, pragmatic, inspiring and horrific. They're also by some distance some of the best graphic storytelling I've ever read.

Our interstitials this week feature the men of The Witcher doing things. Well, attempting things. Well, in the case of baking, being present while it notionally occurs…

This week's playout is a unique and wonderful version of The Cure's The Lovecats by the Ukulele Orchestra of Great Britain. Enjoy! I did.

The Full Lid is published every Friday at 5pm BST. It's free, and you can find both sign up links and an archive of the last six months at the link above.
(15) KING REVIEWS BEUKES. [Item by Rob Thornton] In the upcoming issue of the New York Times Book Review, Stephen King has great things to say about Lauren Beukes' post-apocalyptic novel "Afterland," which is described by King as "science fiction" at one point and a "neo-noir" at another. Everybody gets into the naming game: "Stephen King on Lauren Beukes's 'Splendid' New Thriller".
…The flap copy on my advance edition declares that "Afterland" is a "high-concept feminist thriller that Lauren Beukes fans have been waiting for." It is a thriller, I grant you that, and feminist in the sense that most of the men have been erased by a flu virus that develops into prostate cancer, but Beukes is too wise and story-oriented to wham away at ideas that have been thoroughly explored, sometimes at tedious length, on cable news and social media. She lets her tale do the talking, and the results are quite splendid.

This is your basic neo-noir, coast-to-coast chase novel, and Beukes, who is from South Africa, sees America with the fresh eyes of an outsider. …
(16) UNHAPPY HOLIDAYS. "Blocked Busters: Disney Pushes 17 Movie Release Dates" – NPR assesses the damage.
When Warner Brothers pulled Christopher Nolan's $200-million thriller, Tenet, from its release schedule earlier this week, industry analysts expected a domino effect, and Disney announced this afternoon that the first 17 dominos have fallen.

The Mouse House's live-action remake of Mulan, the last big-budget Hollywood blockbuster scheduled for August, is now "unset," on the company's release schedule.

And the studio has pushed back or cancelled the release of another 16 Disney and Fox films, in a ripple-effect that will affect movie releases for years.

One Searchlight film, The Personal History of David Copperfield, is still scheduled for summer, though pushed back two weeks to August 28. But such other Fox films as Kenneth Branagh's Agatha Christie remake Death on the Nile, and the supernatural thriller film The Empty Man have been delayed to later in the fall, while Wes Anderson's The French Dispatch, which was to have opened in October, has been postponed indefinitely.

Other films, including Ridley Scott's historical thriller The Last Duel, and the supernatural horror film Antlers have been moved to 2021.

And in perhaps the most telling shift, three Star Wars pictures and four Avatar sequels, originally scheduled to alternate as Christmas releases starting next year, have all been moved back a full year, meaning the pandemic will affect film releases through Christmas of 2028.
(17) GOOSEBUMPS. Not the series, the Harvard study: "Getting to the bottom of goosebumps"
Harvard scientists find that the same cell types that cause goosebumps are responsible for controlling hair growth

If you've ever wondered why we get goosebumps, you're in good company — so did Charles Darwin, who mused about them in his writings on evolution. Goosebumps might protect animals with thick fur from the cold, but we humans don't seem to benefit from the reaction much — so why has it been preserved during evolution all this time?

In a new study, Harvard University scientists have discovered the reason: the cell types that cause goosebumps are also important for regulating the stem cells that regenerate the hair follicle and hair. Underneath the skin, the muscle that contracts to create goosebumps is necessary to bridge the sympathetic nerve's connection to hair follicle stem cells. The sympathetic nerve reacts to cold by contracting the muscle and causing goosebumps in the short term, and by driving hair follicle stem cell activation and new hair growth over the long term.

Published in the journal Cell, these findings in mice give researchers a better understanding of how different cell types interact to link stem cell activity with changes in the outside environment.
(18) FIAT LUX. CNN delivers "11 billion years of history in one map: Astrophysicists reveal largest 3D model of the universe ever created".
A global consortium of astrophysicists have created the world's largest three-dimensional map of the universe, a project 20 years in the making that researchers say helps better explain the history of the cosmos.

The Sloan Digital Sky Survey (SDSS), a project involving hundreds of scientists at dozens of institutions worldwide, collected decades of data and mapped the universe with telescopes. With these measurements, spanning more than 2 million galaxies and quasars formed over 11 billion years, scientists can now better understand how the universe developed.

"We know both the ancient history of the Universe and its recent expansion history fairly well, but there's a troublesome gap in the middle 11 billion years," cosmologist Kyle Dawson of the University of Utah, who led the team that announced the SDSS findings on Sunday.

"For five years, we have worked to fill in that gap, and we are using that information to provide some of the most substantial advances in cosmology in the last decade," Dawson said in a statement.
[Thanks to Nina Shepardson, Errolwi, JJ, John King Tarpinian, Lise Andreasen, Mike Kennedy, Andrew Porter, Martin Morse Wooster, Josh Hesse, Michael Toman, John Hertz, Cat Eldridge, Cally Soukup, James Davis Nicoll, and Andrew Porter for some of these stories. Title credit belongs to File 770 contributing editor of the day Andrew.]