(1) LAFFERTY FANS. LAFFCON, the annual celebration of science fiction author R. A. Lafferty, returns June 12, 2021. LAFFCON is a free event and open to the public. This year's conference will be held online via Zoom. Register now.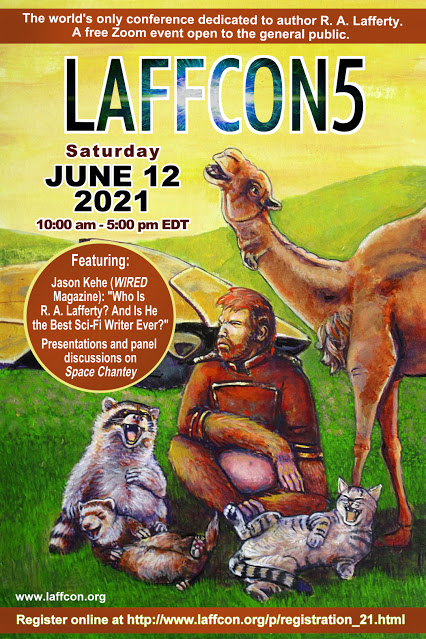 (2) STORYBUNDLE. The 2021 Pride Bundle, curated by Catherine Lundoff and Melissa Scott, Includes our Heather Rose Jones' 3rd Alpennia book. (Available for another 28 days.)
We're back again with another queer-themed bundle for Pride — five books in the main bundle and a generous eleven in the bonus, for a total of sixteen if you spring for the bonus. As has become usual, we were spoiled for choice: there are just so many writers out there for whom intelligent, nuanced queer writing is their default mode. There is never an easy way to winnow things down to a manageable number.

For StoryBundle, you decide what price you want to pay. For $5 (or more, if you're feeling generous), you'll get the basic bundle of five books in any ebook format—WORLDWIDE.
No Man's Land by A.J. Fitzwater
Silver Moon by Catherine Lundoff
Dropnauts by J. Scott Coatsworth
Burning Bright by Melissa Scott
Highfeil Grimoires by Langley Hyde
If you pay at least the bonus price of just $15, you get all five of the regular books, plus eleven more books! That's a total of 16.
The Four Profound Weaves by R. B. Lemberg
Succulents and Spells by Andi C. Buchanan
City of a Thousand Feelings by Anya Johanna DeNiro
Mother of Souls by Heather Rose Jones
Blood Moon by Catherine Lundoff
Spellbinding by Cecilia Tan
Glitter + Ashes edited by Dave Ring
Queens of Noise by Leigh Harlen
Stone and Steel by Eboni Dunbar
Skythane by J. Scott Coatsworth
Stories to Sing in the Dark by Matthew Bright
(3) DERN'S LATEST PROFILE ABOUT AN EE WHO WRITES SFF. [Item by Daniel Dern.] I've been doing a bunch of these (monthly), including Bruce Schneier (who's directly sfnal via his crypto algorithm and appendix for Neal Stephenson's Cryptonomicon). My latest, just up a week or so ago, is on S. B. Divya: "S.B. Divya: How This EE Combines Engineering With Writing Some of the Best Sci-Fi Around", IEEE Spectrum, (online) May 21, 2021 (online); page 19, June 2021 issue.
Engineers often find themselves in the role of turning ideas that used to be science fiction into reality. So it's natural that some of them turn the flow of ideas in the other direction, and become authors of science fiction. One such engineer-turned-writer is Divya Srinivasan Breed, who writes her science fiction as S.B. Divya, and whose stories have been nominated for Hugo and Nebula awards.

"In my novella Runtime (2016), my main character was putting together exoskeletons, hacking firmware, people were embedding chips in their bodies…. And my novel Machinehood (2021) reflects my understanding of where we are today and where we are headed in terms of machine intelligence, and where some of the trouble spots are, socially, for labor, economics, humanity, and ethics," says Divya. All the engineering aspects "were things I had studied or done at my jobs." …
(4) WIDE WORLD OF SFF. The Best of World SF: Volume 1 is editor Lavie Tidhar's "The Big Idea", as he explains to Whatever readers today:
…I set out to do this book because I didn't think anyone would do it for me. I hunted for stories far and wide—picking up horror collections in Malaysia, getting writer friends in China to send me rough translations, translating stories myself from Hebrew, begging and cajoling to find writers in Latin America, Africa, Eastern Europe… And I pitched the first Apex Book of World SF to Jason Sizemore in 2008, by telling him it wasn't going to make him any money but it was a good thing to do.

Improbably, he agreed….
(5) REVIVING CURIOSITY. [Item by Martin Morse Wooster.] David Marchese has an interview with Neil deGrasse Tyson in the April 24 New York Times Magazine. Topics include how to get the public interested in science, how he got his points across when being interviewed by Colbert and Jon Stewart, and, if the footnotes come through in the web version, why the proportions of Elsa in Frozen are all wrong. "Neil deGrasse Tyson Thinks Science Can Reign Supreme Again".
In your work, you often bring up wanting to inculcate in people a scientific mind-set, which is a way of thinking that would help navigate misinformation. But we don't always recognize misinformation for what it is. So what questions should people be asking themselves when they encounter material that's skeptical about mainstream science?

Let me first offer a transition from your question: I've gotten simultaneously famous and infamous for commenting on Twitter on films and whether they get their science correct.

If something lands awkwardly, I ask myself, Could they have done that better or differently? Then later I comment. My defense is, if you are watching a period piece that takes place in the 1950s in L.A., and there's a 1962 Chevy Bel Air on the road, and the person you see the movie with is a car buff and says, "That car wasn't made yet," you say, "That's pretty good that you noticed that." Or if you're watching a Jane Austen period piece: The carriage rolls up, and somebody is wearing a derby instead of a top hat. If you're a costume designer, you would cry foul. Those people aren't criticized for making those observations. Because I'm bringing science to that table, people reject it unfairly. Now getting back to your point: What's behind all this? The missing link is curiosity. Without curiosity you're no longer probing for what is true. If someone says, "I saw Bigfoot the other day," there are people who say, "Yeah, that's great!" And people who say, "No, you're full of [expletive]" — both of those responses require no brain work. What is the brain work I would like to see more of? It's: Tell me more. When did you see this? Where did you see it? Did you find other evidence? You start probing. It's the absence of curiosity that concerns me.
(6) PAVED WITH GOOD INTENTIONS. James Davis Nicoll knows the one thing that ruins even the best-designed plans: "Would-Be Utopias: Five Books Featuring Arcologies and Domed Cities".
Strength of Stones by Greg Bear (1981)

Rather than settle their new world willy-nilly, the hopefuls who migrated to the planet they dubbed God-Does-Battle decided to start with a clear vision made into manifest reality. They hired Robert Kahn, humanity's greatest architect, to design perfect cities, which they then built. Utopia could only result!

To quote Sartre, "Hell is other people." Utopias tend to fell apart as soon as humans are introduced. Kahn's cities had a simple solution: They expelled all the humans, to survive or not, as fate decreed on, the surface of God-Does-Battle. The arcologies were now free to operate without human complications.

A thousand years later, Kahn's creations are beginning to run down, which may give the starvelings outside a chance to reclaim their lost homes.
(7) YOU ARE THERE. Galactic Journey livetweeted today's (in 1966) Gemini 9 mission — There's a concept for you!
(8) LISTEN TO THIS. "APA Says Audiobook Sales Rose 12% in 2020" – Publishers Weekly has the numbers.
The Audio Publishers Association's annual review of the audiobook market found another year of double-digit sales increases as well as a profound shift in listening habits.

In 2019, 43% of listeners said they most often listened to audiobooks in their car, a percentage that fell to 30% last year when work-at-home orders kept people from commuting to the office. The percentage of people who took part in the APA survey who said home was their preferred listening spot jumped to 55% in 2020, from 43% in 2019.

Despite concerns early in the pandemic that the plunge in commuting would lead to a drop in sales, the APA found that sales from the 27 companies that report results to the APA sales survey increased 12%, to $1.3 billion. The sales gain is in keeping with data from the AAP, whose preliminary figures also show a double-digit increase in audiobook sales.

The consumer part of the survey found that 67% of audiobook consumers said that one of the reasons they enjoy listening to audiobooks is to reduce screen time….
(9) NOT JUST A BABBLING BROOK. Radio Times' Tom Chapman declares that "Doctor Who's River Song is the best companion of all time".
Since the BBC relaunched Doctor Who in 2005, there's been a colourful cast of fan-favourite companions that have joined the time-travelling Time Lord. From the early days of Rose Tyler through to Martha Jones, the Ponds, Yasmin Khan and all the rest, each has brought something different to the table.

However, all of the above pale in comparison to a certain River Song, aka the wife of the Doctor, who first debuted in the series to acclaim 13 years ago today. (Don't get too attached though – Steven Moffat claims she's been married 428 times.)

While naming River so definitively as the greatest companion of all time is sure to spark a debate hotter than the Satan Pit, she rightly earns her place at the top thanks to her flirty and fearsome attitude – and a few other qualities that have helped her unlock more than just the door to the TARDIS. Though before we get into all that, it's time for a trip down memory lane…
(10) GRAB YOUR BRICKS. The first ever LEGO CON is happening online June 26.
(11) MEDIA BIRTHDAY.
June 3, 1991 — On this date in 1991, The Guyver premiered in the United States. Directed by Screaming Mad George (really) and Steve Wang, it was produced by Brian Yuzna from the screenplay by John Woo Jr. It starred Mark Hamill, Vivian Wu, David Gale, Linnea Quigley, Michael Berryman and many others. The critics really, really didn't like it and audience reviewers at Rotten Tomatoes currently give it a rating of just thirty-six percent.
(12) TODAY'S BIRTHDAYS.
[Compiled by Cat Eldridge and John Hertz.]
Born June 3, 1809 – Margaret Gatty. Capable marine biologist; British Sea Weeds (1872) took 14 years, described 200 species, still used in the 1950s. Also that year The Book of Sun-Dials, with 350; there's a 2010 paperback reprint. For us, founded and edited Aunt Judy's Magazine with contributions by Lewis Carroll, Hans Christian Andersen, Caldecott, Cruikshank; books of parables and tales – Legendary Tales was illustrated by Phiz. (Died 1873) [JH]
Born June 3, 1861 – Sophie Jewett. Poet, translator; taught at Wellesley. Rendered The Pearl in its original meter. (Died 1909) [JH]
Born June 3, 1929 – Brian Lewis. Ninety covers for New Worlds (here's one), Science Fantasy (here's one), Science Fiction Adventures (here's one), for a few books, sometimes realistic, sometimes surrealistic; fifty interiors; also comics. (Died 1978) [JH]
Born June 3, 1946 — Dame Penelope Alice Wilton DBE, 75. She played the recurring role of PM Harriet Jones in Doctor Who and became one of the most popular characters in it. She also played Homily in The Borrowers and The Return of the Borrowers as Shaun of the Dead as Barbara and The BFG as The Queen. (CE)
Born June 3, 1948 – Dale Payson, age 73. Here is her cover for The Silver Crown. Here is her frontispiece for The Sleepy Time Treasury. Here is On Reading Palms. Here is The Pop-Up Magic Castle Fairytale Book. Outside our field, applauded for still-life and relatively-still life paintings. [JH]
Born June 3, 1950 — Melissa Mathison. Screenwriter for E.T. the Extra-Terrestrial. Spielberg credits the line "E.T. phone home" line to her. (She's Eliot's school nurse in the film.) She also wrote the screenplays for The Indian in the Cupboard and BFG with the latter being dedicated in her memory. And she wrote the "Kick the Can" segment of Twilight Zone: The Movie. (Died 2015.) (CE)
Born June 3, 1958 — Suzie Plakson, 63. She played four characters on Trek series: a Vulcan, Doctor Selar, in "The Schizoid Man" (Next Gen); the half-Klingon/half-human Ambassador K'Ehleyr in "The Emissary" and "Reunion" (Next Gen); the Lady Q in "The Q and the Grey" (Voyager); and an Andorian, Tarah, in "Cease Fire" (Enterprise). She also voiced Amazonia in the "Amazon Women in the Mood" episode of Futurama. Really. Truly. (CE)
Born June 3, 1960 – Daniel Horne, age 61. Ten dozen covers, twoscore interiors. Here is the Jan 89 Amazing. Here is Spectrum 9. Here is the Winter 2016 Baum Bugle (that's King Rinkitink, about whom much in this issue). Here is Vincent Price as Edward Lionheart in Theater of Blood. Here is Arcadia. Outside our field, here is President Lincoln. [JH]
Born June 3, 1964 — James Purefoy, 57. His most recent genre performance was in the recurring role of Laurens Bancroft in Altered Carbon. His most impressive role was I think as Solomon Kane in the film of that name. He was also in A Knight's Tale as Edward, the Black Prince of Wales/Sir Thomas Colville. He dropped out of being V in V for Vendetta some six weeks into shooting but some early scenes of the masked V are of him. (CE)
Born June 3, 1992 – William Broom, age 29. Half a dozen short stories, two in Aurealis, two in Beneath Ceaseless Skies. Here is a note last year at Rocket Stack Rank. [JH]
(13) COMICS SECTION.
Off the Mark shows why a certain Marvel superhero movie horrified this audience.
Rhymes with Orange shows what you might find in a used time machine.
Macanudo suggests a corporate symbol that might represent a particularly alluring vampire meal:
(14) SPACEDOG. "Owl! at the Library" is here to surprise us with the fact that One Hundred and One Dalmatians, the novel, has a sequel called The Starlight Barking. I haven't read it yet and already there are tears in my eyes… Thread starts here.
(15) RED FLAGS. Here's your opportunity to learn from a professional why he's self-rejecting from these short fiction markets. Joe Vasicek "Navigating Woke SF, Part 2: When Is It Not Worth Submitting?"
…"Woke" is a slang term describing a basket of socioeconomic and political ideologies that are incompatible with and antithetical to individual rights and liberties. Taken to their logical conclusion, they end in the sort of totalitarian horrors the world saw in the 20th century (and continues to see today in communist China)….

.. So now, with a working definition of "woke" (promoting ideologies incompatible with and antithetical to individual rights and liberties) and the determination that wokeness is toxic in any degree, how can I tell if a market has gone truly woke?

…So with that in mind, what are the red flags?

1) Has the market won any awards that have gone completely woke?

Specifically, I'm thinking here of the Hugo Awards. They were trending to the left for a very long time, but 2015 was the year that they specifically went woke by voting "no award" over several deserving authors and editors. The transformation was completed in 2017, when the new rules shut out the Sad and Rabid Puppies, and both of those movements died out.

Therefore, if a short story market has won a Hugo since 2015 or been nominated for a Hugo since 2017, I'm not going to bother submitting to them. And if a market has had stories that have won or been nominated for a Hugo in those years, I'm going to ignore the market as well, unless it appears to be a fluke or a one-off.

2) Does the market have an explicit diversity statement in their submission guidelines?

…Therefore, if a market has an explicit diversity statement that contains woke signaling language, it's going on the blacklist. Even if the market only put out a diversity statement to keep the woke mob from descending upon them, that's still a sure sign that they've bent the knee….

3) Does the market publish content that is explicitly woke?

Editors always say that the best way to know what they're looking for is to read a couple of issues or listen to a couple of episodes or stories. That seems like a reasonable standard, so I see no reason why I shouldn't hold them to it.

Do the editors ever go off on explicitly woke political rants, or try to explain the message of the story in woke ideological terms? Do the author bios read like a checklist of woke intersectional identities? Are the stories themselves often thinly veiled rants about woke issues? Again, it's important to apply the benefit of the doubt here, but you can tell a lot about a market by what they choose to publish. I won't be wasting my time with the markets that regularly publish any of those things….
Vasicek also predicts a backlash is coming "that will shock the people who are too deeply ensconced in their echo chambers." (Before you read that you didn't know that Joe thought echo chambers were a bad thing, did you?)
(16) VENUS IF YOU WILL. Some like it hot: "NASA picks Venus as hot spot for two new robotic missions" – AP has the story.
The space agency's new administrator, Bill Nelson, announced two new robotic missions to the solar system's hottest planet, during his first major address to employees Wednesday.

"These two sister missions both aim to understand how Venus became an inferno-like world capable of melting lead at the surface," Nelson said.

One mission named DaVinci Plus will analyze the thick, cloudy Venusian atmosphere in an attempt to determine whether the inferno planet ever had an ocean and was possibly habitable. A small craft will plunge through the atmosphere to measure the gases.

It will be the first U.S.-led mission to the Venusian atmosphere since 1978.

The other mission, called Veritas, will seek a geologic history by mapping the rocky planet's surface….
(17) HOT SHIRT. You can see Venus here, too. High Seas Trading Company has a new Planets / space themed Hawaiian shirt on offer, "A beautiful illustration of planets orbiting the sun."
(18) SUPERSONIC AIR TRAVEL RETURNING? USA Today reports United Airlines has a deal to acquire the new aircraft if they make it over all the hurdles: "United Airlines: Concorde-like supersonic jet will halve travel time".
…Overture, which is billed as an environmentally-friendly aircraft running only on up to 100% sustainable aviation fuel, is not expected to be introduced until 2025 and won't fly until 2026. The first passengers won't board until 2029, the companies said. Last year, Boom rolled out XB-1, a test aircraft.
The New York Times also reports that "United Airlines Wants to Bring Back Supersonic Air Travel".
…United and Boom would not disclose financial details, including the cost of each plane, but Mr. Leskinen said the economics should be about the same as a new Boeing 787, a wide-body plane that airlines typically use on international routes. United has committed to buying the planes if Boom manages to produce them, secure regulatory approvals and hit other targets, like meeting its sustainability requirements.

Boom also plans to make planes for Japan Airlines, an investor in the company.

What is not clear is whether Boom has solved the problems that forced British Airways and Air France to stop using the Concorde on trans-Atlantic flights — high costs, safety concerns and flagging demand.

"There was no airline interest," Henry Harteveldt, a travel industry analyst and consultant, said about why supersonic flights languished. "And a big part of the lack of airline interest was there were no engines that were commercially available that would allow a supersonic jet to be economically viable."

Two decades later, some start-up companies, including Boom and Spike Aerospace, are pushing ahead with new designs and plans.

Boom, which is working with Rolls-Royce, the British jet engine maker, said its plane would be more efficient than the Concorde; United estimates it will be 75 percent more efficient. Boom's planes will not be as noisy as the Concorde because their engines will create a sonic boom only when flying over water "when there's no one to hear it," said Boom's chief executive, Blake Scholl, who previously worked at Amazon and Groupon.
(19) WATCH THE WATCH. Hypebeast thinks you should wind up with a "Sonic the Hedgehog x Seiko 30th Anniversary Watch".
The watch dial references the Green Hill Zone from the SEGA game with an image of Sonic chasing golden ring hour markers at the four o'clock position. The inner bezel sees the game's pixelated green grass along with other details like satin-blue finishing, a star second hand, a 1/20-second chronograph at 12 o'clock, a date function, and a commemorative box and card.

Limited to 3,000 pieces, the Sonic x Seiko 30th-anniversary quartz watch is priced at ¥49,800 JPY (approximately $450 USD) and is expected to be delivered in mid-August.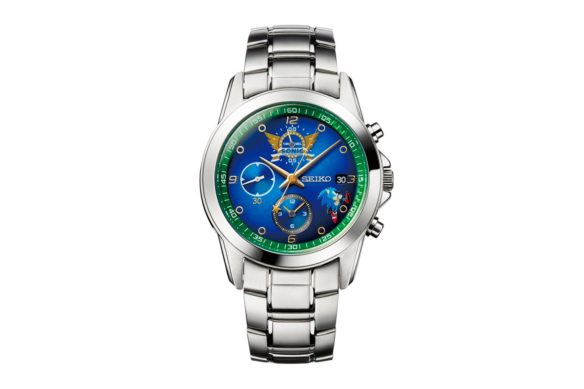 (20) VIDEO OF THE DAY. Robert Quaglia explains how this Bradbury conversation came to be.
Robert Sheckley speaks via teleconference with Ray Bradbury in the occasion of Bradbury's 80th birthday. This happened in Bergamo in July 2000. But why actually in Bergamo? During his "genovese" period, when Robert Sheckley was living in Italy as a guest of Roberto Quaglia, suddenly Ray Bradbury became 80 years old, and people of Bergamo, Italy, had earlier invited Bradbury to Bergamo. But in the last moment Bradbury didn't go, and knowing that Sheckley was in Italy, people of Bergamo decided to invite him so that Bradbury could speak with someone in a videoconference. This is the video of that unique – and to some extent bizarre – event. The moderator of the event is Corrado Augias.
[Thanks to Andrew Porter, Martin Morse Wooster, JJ, John Owen, Lise Andreasen, James Davis Nicoll, Daniel Dern, Michael Toman, John King Tarpinian, Cat Eldridge, John Hertz, and Mike Kennedy for some of these stories. Title credit belongs to contributing editor of the day Kip Williams.]