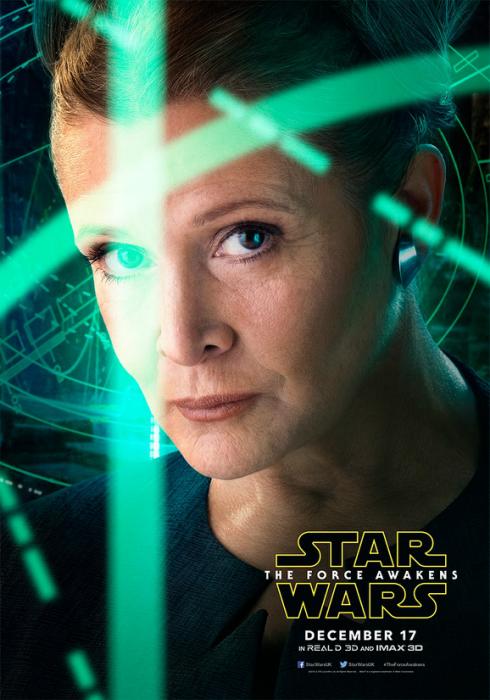 (1) Star Wars: The Force Awakens character posters are out.
(2) The WTF Bad Science Fiction Covers took a detour to Canadian sci-fi and comics.
Batman and Robin fail to prevent yet another Mountie murder due to their fondness for midnight, off-piste jaunts.
(3) Speaking of the Dynamic Duo, Batmobile designer George Barris passed away this morning at the age of 89.
In the '60s TV show "Batman," the Batmobile was powered by atomic batteries, equipped with a radar scope and "bat beam," and slowed by parachutes. The latter really worked — Barris was once pulled over on the Hollywood Freeway for using them.

For many years, Barris' handiwork was all over the television screen. He created the Munsters Koach — a combination of three Ford Model T's — for "The Munsters"; the surfboard-topped, flower-decaled Barris Boogaloo for "The Bugaloos"; and the convertible version of KITT from "Knight Rider," among many.
(4) Kalimac researches a Worldcon tradition.
The San Jose Worldcon bid wants to crowdsource suggestions for Guests of Honor. It says that among "the traditional criteria for Worldcon Guest of Honor consideration" is "an established career, usually considered to be 30 years from entry into the field."

And I wondered, how long has it been 30 years? In the early days, the SF field hadn't been around very long, and because it was small, new names could easily make a big impact. I remembered that Robert Heinlein was GoH at the third Worldcon in 1941, only two years after he sold his first story. That would be highly unlikely to happen today, even for another Heinlein.

So I made a list of all the professional fiction writers who've been Worldcon GoH over the years. Just the authors, because the SF Encyclopedia is conscientious about listing first published stories, but it's not so rigorous with the entry dates of artists or other categories of pros. Making a quick chart, I found that less than 30 years was the rule up until about 1970, and, that among authors, only Hugo Gernsback (1952, 41 years since his first published SF story, but he was really honored as an editor, and it was only 26 years since he'd founded Amazing), Murray Leinster (1963, 44 years), and Edmond Hamilton (1964, 38 years) exceeded it, though a few others came close.

Since 1970, under-30s have been less common, though for many years they still occurred frequently (Zelazny, 1974, 12 years; Le Guin, 1975, 13 years; Ellison, 1978, 22 years; Haldeman, 1990, 21 years; and some others). But since 2001, there have only been two authors with less than 25 years: Bujold in 2008 (23 years), and 2017's Nalo Hopkinson (who will be 21 years at that point).
(4) Amy Sterling Casil's engaging and substantial new post for Medium has a satirical title, but here's what it's really about —
This article is about 3 fantastic women artists whose work was sold or misidentified as painted by a man. This is only connected to Tim Burton in the sense his film Big Eyes about Margaret Keane (Medium readers may know the film as featuring Bond villain Christoph Waltz) introduced me to the concept that rather than my personal problem, I might just be one of the more recent members of a long line of women whose creative work had been literally misappropriated by men. As in "sold for profit under male names" like Frank Keane did to "Big Eyes" artist Margaret Keane until she fought back in court and won.
(5) Like anyone, Joe Vasicek sometimes bounces off books, and not necessarily the ones you'd predict (Brandon Sanderson!).
He discussed several examples in a post on One Thousand and One Parsecs – "Books I haven't been able to finish".
The Subtle Knife by Philip Pullman

On this I have to plead guilty of letting my own personal sentiments get in the way of enjoying the story. I read The Golden Compass and LOVED it… right up to the last five pages. I HATED the ending of that book—SO dissatisfying, as if the author had stuck out his tongue at me and said "neener neener neener! I'm not going to give you the ending you want—better read the next book!"

UGH. I hate that.

So I came at this book a little prejudiced. I read the first page with a judgmental eye, thinking "nope, no hook on the first page. Oh, and there's an unnecessary adverb, and there's a said bookism, and there's a…" etc.

Still, I didn't let that stop me from reading on, and after the first chapter, I was interested in the story. I just wasn't… I don't know, interested enough. The book stayed in my car, I got busy with other things, and eventually just dropped it.
(6) More people don't bounce off Philip Pullman, whose epic fantasy trilogy His Dark Materials is going to be produced as a drama series for BBC One.
To be made in Wales, the series, which will be told across "many episodes and series" has been commissioned by Charlotte Moore, controller BBC One and Polly Hill, controller BBC Drama Commissioning, and will be produced by Bad Wolf and New Line Cinema.

Hill said: "It is an honour to be bringing Philip Pullman's extraordinary novels to BBC One. His Dark Materials is a stunning trilogy, and a drama event for young and old – a real family treat, that shows our commitment to original and ambitious storytelling."

His Dark Materials consists of the Northern Lights, first published in 1995, which introduces Lyra, an orphan, who lives in a parallel universe in which science, theology and magic are entwined. Lyra's search for a kidnapped friend uncovers a sinister plot involving stolen children and turns into a quest to understand a mysterious phenomenon called Dust. In second novel, The Subtle Knife, she is joined on her journey by Will, a boy who possesses a knife that can cut windows between worlds. As Lyra learns the truth about her parents and her prophesied destiny, the two young people are caught up in a war against celestial powers that ranges across many worlds and leads to a thrilling conclusion in the third novel, The Amber Spyglass.
(7) Mark Lawrence answers the question "Do author blogs matter? One million hits" —
Very soon this blog of mine will pass 1,000,000 hits – it has 994,396 at the time of posting and averages around 1,400 hits a day.

I blog when I feel like it and generally don't feel under pressure to come up with something to 'fill the space'.

The high traffic author blogs tend to be political, championing the causes beloved of the more extreme left or right. I don't go there. I'm more about curiosities of the genre, the business of writing, info graphics, and random shit.

I do get a lot of authors asking me whether blogging is 'worth it'. Mostly they're people who don't want to blog, find it a chore to come up with regular posts, but worry that they're somehow letting themselves down if they don't – missing out on book sales that would otherwise be theirs.

So, is blogging 'worth it'?

I tend to tell the authors who ask me this question that they can probably relax. If they enjoy blogging, go for it. It might help a little. But if they don't enjoy it, just don't. My feeling is that the difference between bestseller and getting pulped isn't ever going to swing on whether you blogged.
(8) Kate Paulk ostentatiously pays no attention to Ancillary Felapton's "An open letter to Kate Paulk" in "That Moment When" at Mad Genius Club.
Seriously, folks, when the best you can manage in so-called critique is to claim that something I wrote was poorly written (without evidence of my alleged poor writing – which means it's probably a case of either "oooh, my feelz" or "I don't get it, it must be horrible") and then go on to repeat every single tactic I dissected with hardly any variations, you're doing it wrong. You're also kind of amusing, in a train-wreck kind of way.

I'm not going to bother dissecting this rather shallow bit of hurt feelings – I'd spend more time on it than it deserves and hand the so-called author more page views and it really isn't worth that (yes, it. Since this particular author is using a handle that's not obviously male or female, and is clearly so far in the non-binary-gender camp it's through the other side or something, I can't default to "he" or "she". I'm writing in English, which leaves "it" as the sole option for the non-binary-gender sort.)
(9) Brad R. Torgersen wonders, could this be "The Year Without Politics?"
My Facebook friends have also noticed that I am dialed up extra-cranky about the cultural Chekist infestation that's plaguing social media right now. I was prepared to launch into a lengthy tirade about the whole schizophrenic mess, but (irony of ironies) Bill Maher did it for me!

Now, nobody can accuse me of fondness for Maher; he's far too much of a raging anti-theist. But I think he nailed it right between the eyes with his Halloween 2015 commentary. It really says something when a chap like Maher is going off on the Politically Correct. His point at the end is especially apt. It's something I've been saying for awhile now: the cheap "virtue" of internet slacktivism, is no virtue at all. It's just self-righteous no-effort self-huggies for people who don't want to break a sweat, nor get their hands dirty. You want to make the world better? Get off the damned internet and go do something that takes work. Otherwise, you're not helping anyone, or anything.

Which takes me to Sad Puppies — or, rather, the people who fought against Sad Puppies with every fiber of their being. Because when the Hugo awards went off-script, it was literally a catastrophe so terrible and great that the Puppy-kickers pulled out all the stops to challenge Lord Vox in the Ritual of Desecration.
(10) Kermit is in trouble with more than just Miss Piggy – "'The Muppets' Showrunner Exits ABC Series".
Bob Kushell is exiting ABC's "The Muppets" as showrunner, TheWrap has learned.

Kushell's exit comes amid reports that the executive producer clashed with co-creator Bill Prady on the creative direction of the series. No official replacement showrunner has yet been named.

The news comes after the network gave the freshman comedy an additional three episode order last week, bringing the total number of episodes for the first season to 16. The show's most recent outing scored a 1.4 rating among adults 18-49 and an average of 4.5 million viewers during its half-hour run.
(11) This Week In History
On this day in 1928, THE VIKING, the 1st all-Technicolor feature with a synchronized soundtrack, opened in theaters. pic.twitter.com/r9ioGDYleE

— The Nitrate Diva (@NitrateDiva) November 2, 2015
(12) In NASA news, "Researchers Catch Comet Lovejoy Giving Away Alcohol".
Comet Lovejoy lived up to its name by releasing large amounts of alcohol as well as a type of sugar into space, according to new observations by an international team. The discovery marks the first time ethyl alcohol, the same type in alcoholic beverages, has been observed in a comet. The finding adds to the evidence that comets could have been a source of the complex organic molecules necessary for the emergence of life.
Poul Anderson would have enjoyed this discovery – and perhaps used it as an excuse for a sequel to his short story "A Bicycle Built For Brew".
(13) Alastair Reynolds reviews "Asimov's April/May 2015 double issue" on Approaching Pavonis Mons by balloon.
Unfortunately – for me, anyway – the lead story in this issue, "The New Mother" by Eugene Fischer, was one of those pieces I couldn't finish. I did try. It's an extremely lengthy account of the emergence of a strange new sexually transmitted pandemic that gives rise to diploid eggs, allowing for "virgin" births. It's competently told – there's nothing clumsy about it on a line by line or even page by page level – but the net result is, to my eyes, dull, diagrammatic storytelling, propped up by lengthy infodumps in the form of article excerpts. If you've ever wondered how the American medical system would respond to the kind of pandemic outlined in the story, it's probably accurate enough in its imagined details, but despite two goes I couldn't get more than a few dozen pages into it. I wasn't engaged by the journalist protagonist, her situation, her travels, the dull-but-credible dialogue. The stuff I want from short science fiction – colour, pace, weirdness, estrangement, invention, language, mood … it's all absent here. Sorry.
(14) Lis Carey's review of "The New Mother" was rather more enthusiastic, though she also identifies a serious flaw (not quoted here).
I was totally caught up in it. This is in many ways a very American story, with the issues surrounding HCP very tied up with American culture wars issues. That's not a weakness, but it is a reason this story may be less accessible to non-Americans.
(15) Today In History
November 5, 1605 – Guy Fawkes is caught guarding a cache of explosives beneath the House of Lords, foiling the Gunpowder Plot. The date is set aside by Parliament for thanksgiving. Guy Fawkes Day comes to be celebrated with bonfires and fireworks. (The photo comes from an old issue of Tops.)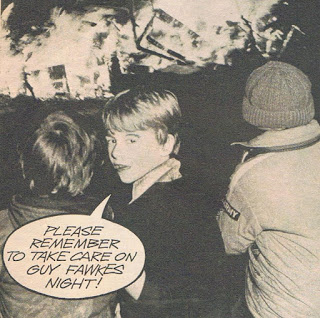 (16) Tammy Oler's review of Ancillary Mercy at Slate, "Oh, the humanity". SPOILER WARNING.
Central to Leckie's trilogy is how important it is to feel a sense of control over one's identity and how being recognized is a precondition for having power. These themes are not exclusive to one particular time or place, of course, but Leckie taps acutely into the feelings (and fears) that drive current American politics and movements for change. One of the chief pleasures of the trilogy is just how many wrongs Breq tries to make right and how committed she is to making incremental progress even when problems become fraught and complicated. Breq's actions are underscored by her profound grief, anger, and shame that give way, even if just a little bit, to the solace and hope she finds in her crew and her makeshift family of A.I.s. The end of Ancillary Mercy is satisfying because it is so very un-Radchaai: diverse, messy, and honest. "In the end," Breq realizes, "it's only ever been one step, and then the next."
(17) Famous Monsters' Caroline Stephenson reviews Tamashii Nations' samurai-inspired Ashigaru Stormtrooper.
(18) Today's Scroll closes with this 30 for 30-style documentary remembering the magical season chronicled by Angels in the Outfield….
No one will ever forget the incredible run the 1994 California Angels made on the back of Mel Clark. It was a team in disarray, managed by former cop Roger Murtagh, beloved by Joseph Gordon-Levitt, and starring Rust Cohle in centerfield. Despite the early season disaster, somehow, the team turned things around and went on to win the pennant.

ESPN's 30 for 30 didn't remember this improbable run in baseball history, probably because it's from a movie, but College Humor did. The result is a five-minute mockumentary of pure perfection.
[Thanks to Michael J. Walsh, Will R., Hampus Eckerman, Susan de Guardiola, John King Tarpinian for some of these stories. Title credit goes to File 770 contributing editor of the day ULTRAGOTHA.]