(1) I KNOW, YOU'RE FROM THE SIXTIES! Somebody may be slipping drugs into the coffee at the Arizona Opera Company. Coming in October is their production of Hercules vs Vampires.
Hold on tight for an out of this world event! Hercules vs Vampires combines operatic singing and 1960s pop culture, synchronizing live music with the 1961 cult classic film, Hercules in the Haunted World. Watch as the original film, starring bodybuilder Reg Park and horror legend Christopher Lee, is projected above a live orchestra and singers performing the music to a new, original score. You'll thrill as the mighty hero Hercules journeys through the underworld, battling fiendish monsters to rescue his beloved! Action packed, outlandish, and fun for the whole family, Hercules vs Vampires offers a fresh take on this gorgeously campy Technicolor world.
(2) BATMAN REMEMBERED. Adam West Day will be celebrated in the actor's hometown — Walla Walla, Washington — on September 19.
He said proceeds will go to Camp Rainbow, a free camp in Idaho for children who have survived or are undergoing treatment for cancer and blood-related disease or disorders. West, who had a home in Idaho, was a vocal supporter of the camp.

Grant plans to wear his own Batman costume to the screening and is urging others to join him.

"This is bigger than just one fan," Grant said. "This is a community getting together and doing something that should have been done long ago to honor someone that they love, and that they're very proud of."
They will also host a bat-signal lighting ceremony, similar to the one done in Los Angeles.
(3) 2017 HUGO VOTE TOTAL. I don't remember reporting this when it came out, so just in case:
We are happy to report that we have 3319 final ballot voters for the 2017 Hugo Awards! The third highest ever!

— Worldcon 75 (@worldcon75) July 16, 2017
(4) FINNISH WEIRD. This Is Finland continues its Worldcon coverage: "Proud to be weird at Worldcon".
[Maria] Turtschaninoff, who won the Finlandia Junior prize, is one of the most popular authors in Finnish literature today. She has had her book rights sold to over twenty countries and a movie has even been optioned. The first two books in her Red Abbey Chronicles series, Maresi and Naondel, have been called "feminist fantasy" by impressed reviewers.

"I'm not very interested in labels. I'm not that interested in messages either," she says. "But I am a feminist, and an environmentalist, and a humanist, and all my values are reflected in what I write. And the mere fact that I am a woman who gets to write and who writes about women is inarguably a feminist action."

Worldcon attendee Turtschaninoff says she is proud of the diversity in Finnish Weird, and says for such a small country Finnish writers have done quite well.

"From what I have seen, we in Finland are somewhat freed of the commercial expectations authors in, for instance, the Anglo-Saxon world face," she continues. "This gives us some room to experiment, to go beyond what is expected. I believe Finland is fertile ground for bold, different and new voices and stories."
(5) MEME OF THE DAY. A couple of SJW credentials have their own ideas about packing for the Worldcon.
Packing for WorldCon going just fine thanks. pic.twitter.com/7Ql1pBNbYy

— Goldeen Ogawa (@GrimbyTweets) August 6, 2017
Packing for @worldcon75 is going about as well as one might expect. pic.twitter.com/F74p12qTfk

— Corina Stark (@Zeteram) August 3, 2017
(6) AN EXCUSE IN EVERY PORT. Writing Excuses cruise "WXR 2017 in the Baltic Sea" docked today. Follow the #WXR17 hashtag to see tweets sent during the voyage:
Also, our ridic ship, the size of a minor royal palace. That floats on water. And moves between countries. #WXR17 https://t.co/aUETbKFTog pic.twitter.com/TXe7wQIVcX

— JY YANG ? ??? (@halleluyang) August 5, 2017
At the famous Church of the Spilled Blood in St. Petersburg. Amazing mosaics! #WXR17 https://t.co/hVXeKTPbxe pic.twitter.com/eA0FcH4Mmj

— David D. Levine (@daviddlevine) August 3, 2017
The workshop of a traditional Snickers craftsman in Sweden. Note use of the outmoded term "snickerier," akin to farrier or boulanger. #wxr17 pic.twitter.com/IjscdYvyX6

— TJ Berry (@TJaneBerry) August 1, 2017
Stylin'. #WXR17 https://t.co/NkpWGpKpMW pic.twitter.com/ajvbVbUN7I

— David D. Levine (@daviddlevine) July 31, 2017
"Guns and horses. Don't mess them up."@wes_chu is kicking off a Deep Dive on Action #wxr17 pic.twitter.com/SAlmlbNPDA

— Piper J. Drake (@PiperJDrake) July 31, 2017
Drank an "Accidental Pigeon Slayer" yesterday. Was not disappointed! #beer #ipa #wxr17 pic.twitter.com/f3UQ6ziX79

— Carmen Capiti (@CarmenCapiti) July 31, 2017
(7) 9W. Lots happening at Nine Worlds this weekend. One small example:
Geek BSL is the BEST. I've learned to sign dinosaur and Dr Who and 'winter is coming' and feminist and 'all men must die' #nineworlds

— Paranoid Android (@BlueHairedJo) August 5, 2017
(8) ALPHABET MALES. The Nameless Digest's "A to Z: Influential Science Fiction Authors" has photos of 26 authors in alphabetical order – including a rare one of a clean-shaven Larry Niven.
Unfortunately, no women included at all.
(9) OWNING LITERATURE. One never thinks of these numinous scenes as being associated with a real place that a person could buy: "E.B. White's former Maine farm, where Charlotte spun her web, goes up for sale".
White, who wrote the children's classics "Charlotte's Web" and "Stuart Little," bought the 44-acre property overlooking Blue Hill Bay with his wife, Katharine, in 1933. He lived there until his death in 1985.

The Gallants, who also own a home in South Carolina, purchased it shortly after White's death, and have lived half of each year there ever since. They are now in their 80s and plan to live full time in their single-level home in South Carolina.

The couple has tried to be respectful of White's memory – and the history of the house – by updating the kitchen and refinishing the floors but otherwise leaving its character alone.

"They have not gentrified it," said Martha Dischinger of Downeast Properties in Blue Hill. "They've not gone in and done weird things. They have made all the right improvements."

The barn that was the setting for "Charlotte's Web," the beloved children's book about a pig named Wilbur and his friendship with Charlotte the spider, is still there, including the famous rope swing whose motion was mimicked in White's writing.
(10) TODAY IN HISTORY
August 5, 1960 – William Castle's 13 Ghosts brings "Illusion-O" to moviegoers.
August 5, 1988 — The Blob remake oozes into theaters.
August 5, 2011 – Rise of the Planet of the Apes premiered on this day.
(11) TODAY'S BIRTHDAY MOONWALKER
Born August 5, 1930  — Neil Armstrong
(12) WHAT, HE WORRY? Kyle Smith at National Review Online has a piece called "Confederate and the Dunces Who Assume It's Pro-Slavery" where he argues that people who assume that 'Confederate' is going to promote slavery will have nothing to worry about.
Race these days is a kind of mental high-voltage power surge that is short-circuiting people's minds. Do these writers really lack the imagination to see what creative direction Confederate is going to take? Every character, scene, and line of dialogue is going to be scrutinized, double-checked, and triple-checked to make sure it sends the message that white supremacy is evil. The primary creative risk for Confederate is not, as many commenters fear, that it will amount to alt-right white-supremacy porn but that it'll be so focused on being the opposite of that it will keep pounding the same chords over and over. It'll be so single-mindedly determined to prove it is on the morally correct side that it might be didactic and repetitive. A creative project that is principally concerned with selling the audience a political message (even one as unexceptionable as opposition to racism) risks being more of a sermon than a story.
(13) PERSON OF INTEREST. Chip Hitchcock theorizes: "It looks likely that the authorities have again gotten the wrong angle on a computer crime: Bail of $30,000 set for UK cyber expert Marcus Hutchins. To those of us who remember the mess the Secret Service tried to make of Steve Jackson Games, this sounds way too familiar."
Ms Lobo said Mr Hutchins denied he was the author of the malware and said he would plead not guilty to all of the charges, which date between July 2014 and July 2015.

"He has dedicated his life to researching malware, not trying to harm people," she said. "Use the internet for good is what he has done.

"He was completely shocked, this isn't' something he anticipated. He came here for a work-related conference and he was fully anticipating to go back home and had no reason to be fearful of coming or going from the United States."

Mr Hutchins came to prominence in May this year after finding a "kill switch" to stop the WannaCry ransomeware attack that hit the NHS, as well as other organisations in 150 countries.

Also known as "MalwareTech" online, Mr Hutchins was hailed as an "accidental hero" after registering a domain name to track the spread of the virus, which actually ended up halting it.

Mr Hutchins, who works for Los Angeles-based computer security firm Kryptos Logi, had been in Las Vegas to attend the Black Hat and Def Con cyber-security conferences.

He was arrested at Las Vegas airport minutes before he was due to fly home.
(14) THE SHIRT OFF THEIR BACK. Pulp Coming Attractions runs a weekly roundup about publications and products of interest to pulp collectors and fans. That's where I spotted these magazine logo t-shirts —
Famous Fantastic Mysteries T-Shirt This is the authentic logo used for this classic pulp magazine from the 1940s. Note: red fabric only. $22.95
(15) STAR WARS WEATHER. You may also appreciate Snorgtees' "Alderaan 5-Day Forecast"…
(16) AND MATCHING SHOES. Yahoo! Movies' Marcus Errico recommends these "'Star Wars' Shoes: Put the Force on Your Feet For 40th Anniversary"
As the 40th anniversary celebration for A New Hope, rolls on, a new line of canvas footwear inspired by George Lucas's original 1977 space opera is ready to launch from shoemaker Sperry, which released a popular Jaws-themed collection last year. Arriving Aug. 10, the Star Wars x Sperry collection features five styles that run the gamut from the light side to the dark side with seminal designs, images, and iconography from the film
For example —
Cloud Slip-On Droids: Now you can walk a mile in C-3PO and R2-D2's shoes.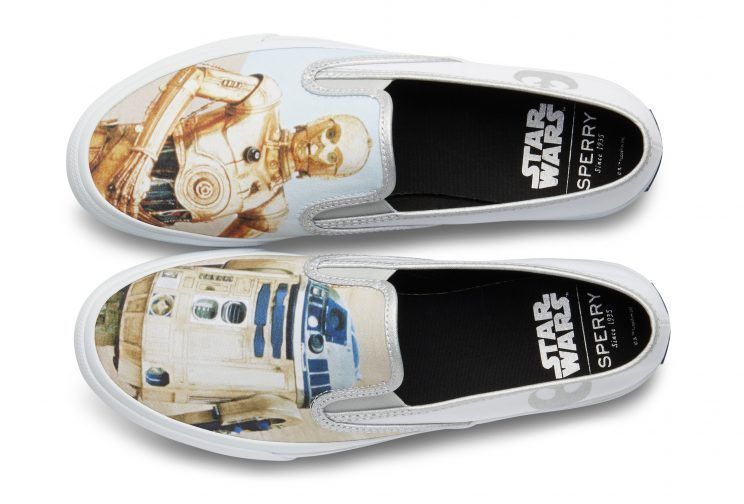 (17) MEMO FROM THE EMPEROR. Charlie Lee Jackson II's Empire of Entertainment has released two new digital books this week, both space operas.
Planet Patrol is about a small ship on which a Space Princess (like a circuit-riding judge of the Old west) travels the Solar System.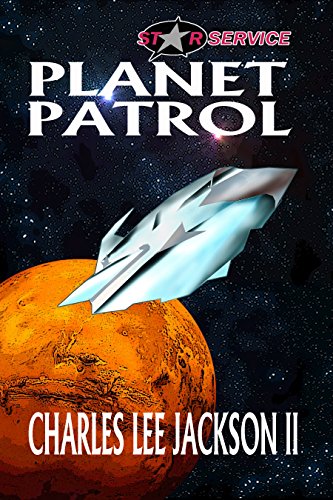 Dreadnought of Space is set centuries later, on one of those gigantic ships travelling to another star system to dispense justice. They represent the first books of a new series, "Star Service".
(18) PARK EFFECT. When you wish upon a star…. "MouseMingle helps Disney fans find their happily-ever-after".
Tavres, who scored six dates on MouseMingle, quit his full-time job as a technical program manager to work on the site. He's close to finishing a mobile app and site redesign…..

MouseMingle is not just about finding love. Subscribers can also find friends and park pals.

"It's not just about Disneyland, and it's not specific," Tavres said. "Everybody is welcome. I want people just to connect."

"I couldn't believe it when I learned couples were getting married from this site that I started," said Tavres, who noted that Disney contacted and applauded him but added that he stress the website was an unofficial fan site unaffiliated with the Walt Disney Co. "I'm so happy for all of them."

Tavres learned of the Guy wedding when Atwood-Knudson sent him an email thanking him for his creation.

Their wedding bands were set in three diamonds in the shape of Mickey Mouse's head and the character's silhouette was featured in tabletop topiaries and as a cake topper.

The bride walked down the aisle to "Married Life" from "Up." The new husband and wife left the ceremony to an orchestral version of "You're Welcome" from "Moana," shared their first dance to "Ma Belle Evangeline" from "The Princess and the Frog" and selected "Baby Mine" from "Dumbo" for the father-daughter number.
(19) FRANKENSTEIN LOVED GUACAMOLE. Do you find news like this anywhere else? Of course you don't.
(20) BEETLEJUICE ANNIVERSARY COMING. Documentary for the Recently Deceased is an independent documentary about Tim Burton's movie Beetlejuice. It will be available in 2018 to celebrate the 30th anniversary of the release of the film. Here's a trailer —
[Thanks to Bruce D. Arthurs, JJ, Andrew Porter, Cat Eldridge, Martin Morse Wooster, Chip Hitchcock, Charles Lee Jackson II, and John King Tarpinian for some of these stories. Title credit goes to File 770 contributing editor of the day Daniel Dern.]