(1) FRENCH LOCKDOWN. Utopiales, the International Science Fiction Festival of Nantes (France), scheduled for this weekend, was cancelled following today's announcement by the French president of a new nationwide lockdown.
French President Emmanuel Macron has announced a second national lockdown until at least the end of November.

Mr Macron said that under the new measures, starting on Friday, people would only be allowed to leave home for essential work or medical reasons.

Non-essential businesses, such as restaurants and bars, will close, but schools and factories will remain open.

Covid daily deaths in France are at the highest level since April. On Tuesday, 33,000 new cases were confirmed.

Mr Macron said the country risked being "overwhelmed by a second wave that no doubt will be harder than the first".
The Utopiales committee said:
…Maintaining a cultural offering is essential. That's why we made a commitment to the end and if we had it do over we would do it again. However, everyone's health is at the moment a top priority we must implement the decisions of the authorities.
(2) EXPLICATE! Camestros Felapton created a photo gallery of "Some buildings that look like Daleks".
…So is it worth pointing out that the NZ parliament building has a distinct resemblance to a Dalek and surely that tells you a lot about that nation? 
(3) REVERSE THE POLARITY. Fast Company explains how "This incredible Google experiment lets you time travel to your hometown 200 years ago" – always assuming there was a there there two hundred years ago. Quite likely in 1820 there was nothing but bushes in my California neighborhood.
In the 20 years he'd lived in New York, Raimondas Kiveris had seen the city change immensely. "It was a completely different place, a different town," says Kiveris, a software engineer at Google Research. This got him wondering what his neighborhood looked like even before that—before he'd lived there, before he'd even been born. "There's really no easy way to find that information in any organized way," he says. "So I was starting to think, can we somehow enable this kind of virtual time travel?"

Three years later, his attempt at virtual time travel is taking shape as an open-source map that can show, in both a bird's-eye view and a pedestrian-level view, the changes that happen to city streetscapes over time. With a slider to control the year, the map displays a historically accurate representation of development in almost any U.S. city dating back to 1800. Automatically generated 3D models of buildings rise from the landscape as the slider moves forward through time. It can even show a rough estimation of what a city would have looked like from the pedestrian's view, like a low-res Google Street View.

… The map was created using historical fire insurance maps, a rich source of information for the built environment that includes precise information about building ages, sizes, heights, roof shapes, and even materials. The map creates simplified 3D models of these buildings, and the time slider allows a user to see, for example, Washington, D.C.'s Dupont Circle nearly devoid of buildings in the 1870s and almost fully developed in the 1920s….
(4) CAMPAIGNING IN A SWING SHIRE. At McSweeney's, Keith Rubin serves up a stack of "Political Fundraising Emails From Middle-Earth".
Hi Bungo,

Have you heard the good news??? Will Whitfoot is SURGING in the latest polls! This is our chance to FINALLY elect a hobbit who TRULY loves banquets as Mayor of the Shire…. 
(5) HORROR TO TAKE YOUR MIND OFF THE ELECTION. The Washington Post's Michael Dirda suggests some things to read over the next few days: "For Halloween: a critic's pick of macabre treats for your library" .
…Consider, for example, "British Weird: Selected Short Fiction, 1893-1937," edited by James Machin, which features not only classic stories — including Algernon Blackwood's "The Willows" and E.F. Benson "Caterpillars"— but also less familiar ones such as Mary Butts's "Mappa Mundi." As an extra treat Machin reprints Butts's four-part 1933 essay, "Ghosties and Ghoulies: Uses of the Supernatural in English Fiction," likening it to H.P. Lovecraft's pioneering monograph, "Supernatural Horror in Literature."
(6) DEATH WILL NOT RELEASE YOU. Despite the title, "Richard Lupoff: A Remembrance", Ted White's piece for the Comics Journal is mainly about his own place in fanhistory, and a chance to rehearse his unhealed wounds.
… Dick had typed up the stencils for the first issue of his new fanzine, Xero. At his request, I took the subway to Pacific Avenue in Brooklyn, to a warehouse business called Pace Paper, and bought the required reams of mimeo paper for Xero. The first issue of Xero was thin, compared to subsequent issues, and memory tells me that the Lupoffs wrote most of it. Certainly the centerpiece of the issue was Dick's piece of comic-book nostalgia about "The Big Red Cheese," the original Captain Marvel.

No one then realized the subsequent impact of that piece. It didn't create comics fandom – which already existed – but it helped galvanize it. It sparked a wave of nostalgic interest in comics, mostly as relics of childhood, now fondly remembered, in SF fandom. SF fans had broad interests. Music was one, and comics turned out to be another.

In 1960, some of us had been comics fans for years. My friend Bhob Stewart created EC fandom with his fanzine, The EC Fan Bulletin. Bhob joined forces with Larry Stark and me to publish Potrzebie during the latter days of EC. EC fandom overlapped a lot with SF fandom, with some EC fans like Mike May becoming SF fans. Don and Maggie Thompson were SF fans who became comics fans around 1960.

This was the pot that Dick Lupoff stirred up.

I wrote the comics piece for Xero #2, "The Spawn of M.C. Gaines," an overly broad overview of the creation of comic books and superheroes. (I totally rewrote it for its book publication, focusing only on Superman and Batman.) The comics pieces in Xero were published under the running head, "All In Color For a Dime" and the series took off, with many fans clamoring to write pieces about their childhood favorite comics. One of them was Harlan Ellison, who was living just up my block at the time.

I mimeographed at least the first three issues of Xero, and had at Dick's request purchased the paper for the next issue when Dick did something I have never understood. Covertly, secretly, he arranged with friends living on Staten Island to mimeograph that and subsequent issues. I found out only when presented with a copy of the new issue.…
(7) MEDIA BIRTHDAY.
October 28, 1994 — Stargate premiered. It'd be a runner-up at Intersection to Star Trek: The Next Generation's "All Good Things…" which won the Hugo for Best Dramatic Presentation, Long Form. It was directed by Roland Emmerich and produced by Dean Devlin, Oliver Eberle and Joel B. Michaels. It was written by Roland Emmerich and Dean Devlin. Principal cast was Kurt Russell, James Spader, Jaye Davidson and Viveca Lindfors. It was a box office success despite the critics generally not being overly fond of it. Currently it holds a rating among audience reviewers at Rotten Tomatoes of an excellent 73%.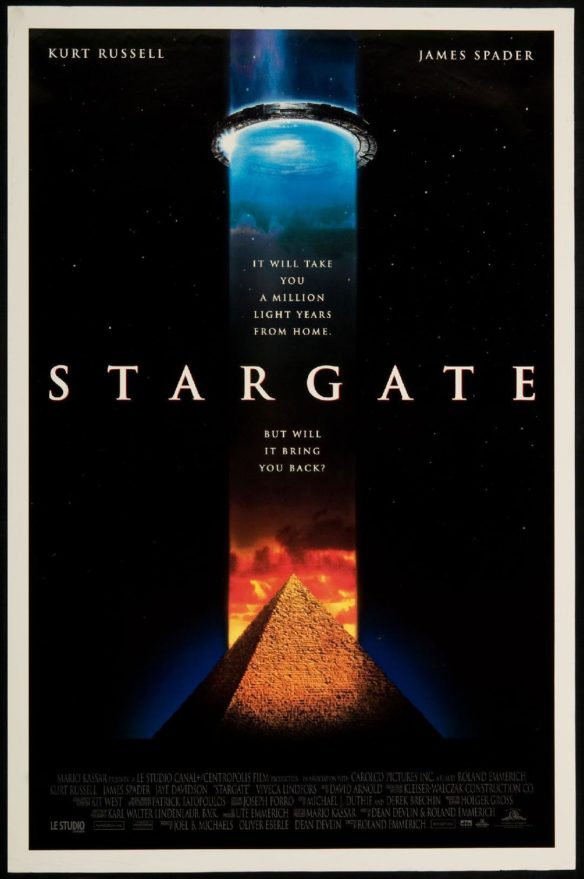 (8) TODAY'S BIRTHDAYS.
[Compiled by Cat Eldridge ad John Hertz]
Born October 28, 1818 – Ivan Turgenev.  This great Russian master (most noted for Fathers and Sons) left a dozen short stories for us.  Even Tolstoy – who once challenged IT to a duel, but withdrew – left five.  See e.g. The Mysterious Tales of IT (R. Dessaix tr. 1979).  (Died 1883) [JH]
Born October 28, 1903 – Evelyn Waugh.  Two novels, a dozen shorter stories for us, by another author famous otherwise, possibly great.  Here is his own cover for Vile Bodies.  Here is his cover for a chapbook of "Love Among the Ruins".  Was his best the biographies of Helena (248-330) and Ronald Knox (1888-1957)?  (Died 1966) [JH]
Born October 28, 1939 — Jane Alexander, 81. She's resistance fighter Virginia in Terminator Salvation, and has shown up in a number of genre series including playing C. on Elementary, Nora Morgan in an episode of Forever, and a recurring role as Klara on the intriguing sounding Tales from the Loop web series. She has several horror creds to her name as well, including Dr. Grasnik in The Ring and Sofi Kozma in The Unborn. (CE) 
Born October 28, 1951 — Joe Lansdale, 69. Writer and screenwriter whose DCU Jonah Hex animated screenplays are far superior to the live action Hex film. Bubba Ho-Tep, an American comedy horror film starring Bruce Campbell, is his best known genre work though he has done a number of another works including The God of The Razor and Reverend Jedidiah Mercer series which are definitely Weird Westerns.  (CE)
Born October 28, 1952 — Anne Potts, 68. Janine Melnitz in the still best Ghostbusters and in Ghostbusters II as well. She has a cameo as Vanessa the hotel clerk in the Ghostbusters reboot. She listed as reprising her original role in the forthcoming Ghostbusters Afterlife which I'll freely admit I know nothing about but which apparently has most of the original cast. (CE) 
Born October 28, 1958 — Amy Thomson, 62. Writer of four novels over a decade some twenty years ago including Virtual Girl. She won the Astounding Award for Best New Writer. She published one piece of short fiction, "The Ransom of Princess Starshine", in 2017 in Stupefying Stories edited by Bruce Bethke. (CE)
Born October 28, 1962 – Jean-Jacques Chaubin, 58.  Jewelry stylist with Van Cleef & Arpels; then comics, video games (including the 1992 Dune), computer graphics; fifty book covers.  Here is The End of Time, and After.  Here is A Hint of Nothingness.  Here is Galaxies 5.  Here is The Armies of Daylight.  [JH]
Born October 28, 1967 – Christopher Ecker, 53.  Author, translator, teacher, critic.  For us two novels, ninety shorter stories, a hundred sixty poems.  Friedrich Hebbel Prize, Saarland Art Prize.  His thousand-page novel Fahlmann (not "the pale man", it's the protagonist's name) is "one of the most excessive reading adventures that contemporary German literature has to offer" – the Hebbel jury really said exzessivsten, I can't help it.  Ulrich Commerçon, Saarland Minister of Education & Culture, said Ecker wonderfully combines fantasy and a philosophical world view, not forgetting wit.  [JH]
Born October 28, 1967 — Julia Roberts, 53. How can I resist giving Birthday Honors to Tinker Bell in Hook? Not to mention she was in the seriously weird Flatliners that I saw at a virtually empty theater. Of course, there's the ever weirder Mary Reilly with her in the title role. For something more charming, she voiced Charlotte the Spider in Charlotte's Web. I'm going to skip her as a Smurf I think… (CE)
Born October 28, 1974 – Ruth Ann Nordin, 46.  Almost a hundred books by now.  "One day, while browsing through the library, it suddenly occurred to me that if I wanted to read the book I had in mind, I was going to have to write it.  I've been writing ever since."  Mostly romances, Western, Regency, modern.  Ann's Quest to Be Queen and sequels (she becomes queen of the distant planet Raz), and five others, are ours.  When RAN apologized "I did not do as thorough a job of editing as I do today with my editor and three proofreaders.  I can't go back and edit those books … I lost control of them," she drew a comment "As always, you underestimate your talent."  [JH]
Born October 28, 1982 — Matt Smith, 38. The Eleventh Doctor, my third favorite of the modern Doctors, and he's also Alex in Terminator Genisys, a film I've not seen. He's also Jim in the quite excellent Sally Lockhart Mysteries: The Ruby in the Smoke based off the Philip Pullman novels.(CE) 
Born October 28, 1989 – Heather Frost, 31.  Her Seers and two sequels are for us, plus a prequel in her collection Asides.  She owns two typewriters and holds Lord of the Rings movie marathons.  Mansfield Park and Harold and the Purple Crayon are two of her favorite books, so we agree there (not meaning the typewriters).  [JH]
(9) COMICS SECTION.
(10) WHO'D HAVE THOUGHT? Leading off AbeBooks' "Most Expensive Sales from July to September 2020" is a copy of Michael Crichton's The Lost World – which went for $25,000!
An unread, as new first edition complete with its dust jacket. The book is signed by Steven Spielberg, special effects director Stan Winston, and 10 actors from the film adaption of this novel – Jeff Goldblum, Julianne Moore, Vince Vaughn, Pete Postlethwaite, Peter Stormare, Harvey Jason, Richard Schiff, Arliss Howard, Vanessa Chester, and Thomas F. Duffy. Published in 1995, the novel was the sequel to Crichton's 1990 bestseller Jurassic Park. The Lost World was adapted for cinema in 1997.
(11) WINNING THE PLANET SERIES. I'm a lifelong Dodger fan (I remember hearing "We're going to Milwaukee!" on TV in 1959) yet I never knew 'til this morning that pitcher Clayton Kershaw's Uncle Clyde discovered Pluto: "Clayton Kershaw Still Isn't As Cool As His Great-Uncle" at Central Track.
…It was a hell of a moment for sure — a coronation fit for a king, and an accomplishment Kershaw's extended family will surely brag on for generations to come.

On the other hand: Kershaw's great-uncle Clyde Tombaugh is the astronomer who discovered Pluto in 1930, so maybe a World Series win isn't such a huge deal in the great scheme of things for the Kershaw family tree?

For his part, and to his credit, Kershaw is quite proud of his ancestor's achievement. After Tombaugh passed in 1997, Kershaw has used his considerable platform to celebrate his great-uncle's discovery — and to keep championing Pluto's designation as a full-on planet despite its 2006 downgrading to a "dwarf planet."

Kershaw first publicly touted his familial connection to Pluto — and his dedication to its former status — in a 2009 online fan Q&A with ESPNLosAngeles. Then, in 2015, he discussed it during an interview on Jimmy Kimmel Live!, doubling down on his stance and even sharing a little insight into his family's thoughts on the matter.

"It's something that's been a huge problem in the Kershaw/Tombaugh family for a couple of years now," he said when Kimmel broached the subject. "My great uncle discovered Pluto. I know that sounds like a joke when it comes out, but it's true. Clyde Tombaugh, [my] great uncle, discovered Pluto. And they took it away from us — said it's a dwarf planet now. What scientists just decide to just get in a room one day and say, 'Oh, you know, we're out with Pluto'?"
(12) AIN'T EASY BEING MRS. GREEN. The Nerdist shows examples as "Artist Turns THE MUPPETS Into Famous Horror Movie Characters".
The collection includes:

–Gonzo as Jason Voorhees, with Camilla as Mrs. Voorhees
–Fozzie as Freddy Krueger
–Miss Piggy as Carrie White
–Kermit as Norman Bates
–Beaker as Michael Myers, with Dr. Bunson Honeydew as Dr. Loomis
–Swedish Chef as Leatherface
–Animal as Buffalo Bill
–Rowlf as Hannibal Lecter
–Sam the Eagle as Pinhead
–Scooter as Chucky
–Electric Mayhem as Capt. Spaulding and the Firefly Family
–Statler and Waldorf as The Grady Twins
(13) GROAN UPS. Polygon's Emily Heller knows what these books are about: "A Series of Unfortunate Events and the horror of adults being absolute dummies".
…A Series of Unfortunate Events is often described as surreal and absurdist. Handler has listed Roald Dahl, another children's author with a darkly whimsical style, as an influence on his work. But while the novels' world is certainly weird, it's important that it makes sense within kid logic.

When I was a kid, there were plenty of things that mattered so much to me, but adults just didn't get it. There were also things that adults seemed to understand implicitly, but didn't make any sense to me. I was fortunate to grow up in a comfortable, loving home, so those things were very low stakes, but they were very real — and frustrating and anxiety-inducing — in the moment.

A Series of Unfortunate Events reflects that dichotomy back to its young readers. The Baudelaires don't understand why Justice Strauss can't just adopt them and are frustrated when no one else seems to recognize Count Olaf under his obvious disguises. It's an exaggerated version of the truth that every child eventually starts to suspect: adults may not always know what they're doing.

Lemony Snicket lets children feel like they're in on a secret. That allows A Series of Unfortunate Events to do what so much good horror fiction does — explore and validate our deepest fears. It also gives readers the tools to deal with that horrifying reality….
(14) UNSATISFIED CUSTOMER. "Kellogg's Minecraft Creeper Crunch Cereal, Reviewed" at Serious Eats.
…For today's video, I tried Kellogg's Minecraft Creeper Crunch cereal. Not only am I old enough to have never played Minecraft, but I had no idea there was this much Minecraft merchandise and branded content. It appears, however, that kids are still crazy about the property, enough so that they'll want to have a little Minecraft iconography with their breakfast.

The problem is that this cereal, cinnamon-flavored with marshmallows, is not good. It barely tastes like cinnamon, and the marshmallows are flavorless. If Minecraft is a video game about building with digital blocks, then this cereal is like eating those blocks except, I imagine, far less satisfying. These aren't good as a snack, and the milk isn't particularly good either. They are, as far as cereal goes, a total failure.
[Thanks to Martin Morse Wooster, Rich Lynch, Michael Toman, John King Tarpinian, Cat Eldridge, JJ, N., Andrew Porter, Mike Kennedy, Contrarius, Michael J. Walsh, and John Hertz for some of these stories. Title credit goes to File 770 contributing editor of the day Olav Rokne.]