(1) MEASURED BY ANOTHER YARDSTICK. "Too Dystopian for Whom? A Continental Nigerian Writer's Perspective" by Oghenechovwe Donald Ekpeki at Uncanny Magazine.
It is a common conception that people come to fiction, especially the speculative, to escape reality. And that is indeed one of the purposes it can serve. Another is that conversely to escaping, people come to fiction to encounter or experience reality. A paradox? After all, we already live in reality, one that is ubiquitous. We have it all around us, painfully so sometimes. Hence the need for an escape. But you see, reality has different facets, different windows, like eyes, that reveal different vistas.

This is why the consumption of fiction and SF/F based on other cultures and by people of other demographics is a necessity. Doing so helps us diversify our understanding and encounter all these different realities that lie beyond our immediate purview. What we are often steeped in is our own immediate reality, which is, while occasionally painful, also painfully limited.

It has often been surmised, most especially around discussions of war, climate change, natural disasters, and more recently the outbreak of COVID-19, in articles like this in Wired and on The Apeiron Blog we are living in a dystopia. This realization has weaned many of the need for apocalyptic, post-apocalyptic, and dystopian fiction, and has them preferring instead to immerse themselves in lighter, more upbeat and positive work. This is of course valid, as we all must do what we feel right. But beyond personal preferences of individuals for lighter, "happier" works in this period of gloom, there is a wider and more general assertion that dystopias, apocalypses, grimdark, dark fantasy, and the like are now unnecessary because we live in and have it all around us. A Publishers Weekly piece talks about dystopian fiction losing its lustre due to the pandemic and spells doom for the subgenre of doom. But is this really so? In a viral tweet, the account tweets its disagreement, which I quite agree with, saying that "Dystopian fiction is when you take things that happen in real life to marginalized populations and apply them to people with privilege." The dystopian reality is not new and has been with us for a while. Its fictionalizing continues till date despite those debates regarding its relevance or necessity….
(2) FINALIST NUMBER ONE. Mark Lawrence has started posting finalists for the 8th Self-Published Fantasy Blog-Off. The first (and as of today only) finalist is Tethered Spirits by T.A. Hernandez.
(3) NOBEL PRIZE IN PHYSICS. The Royal Swedish Academy of Sciences today announced the winners of "The Nobel Prize in Physics 2022: Entangled states – from theory to technology".
The Royal Swedish Academy of Sciences has decided to award the Nobel Prize in Physics 2022 to
Alain Aspect, Université Paris-Saclay and École Polytechnique, Palaiseau, France,
John F. Clauser, J.F. Clauser & Assoc., Walnut Creek, CA, USA and
Anton Zeilinger, University of Vienna, Austria

Alain Aspect, John Clauser and Anton Zeilinger have each conducted groundbreaking experiments using entangled quantum states, where two particles behave like a single unit even when they are separated. Their results have cleared the way for new technology based upon quantum information.

The ineffable effects of quantum mechanics are starting to find applications. There is now a large field of research that includes quantum computers, quantum networks and secure quantum encrypted communication.

One key factor in this development is how quantum mechanics allows two or more particles to exist in what is called an entangled state. What happens to one of the particles in an entangled pair determines what happens to the other particle, even if they are far apart….
(4) THE ONION ISN'T KIDDING. "Area Man Is Arrested for Parody. The Onion Files a Supreme Court Brief." — the New York Times covers the litigation.
A man who was arrested over a Facebook parody aimed at his local police department is trying to take his case to the Supreme Court. He has sought help from an unlikely source, which filed a friend-of-the-court brief on Monday.

"Americans can be put in jail for poking fun at the government?" the brief asked. "This was a surprise to America's Finest News Source and an uncomfortable learning experience for its editorial team."

The source is, of course, The Onion.

Or, as the satirical website described itself in the brief, "the single most powerful and influential organization in human history."

The Parma, Ohio, area man in question, Anthony Novak, spent four days in jail over a Facebook page he created in 2016 that mocked his local police department. He was charged with using a computer to disrupt police functions, but a jury found him not guilty.

Mr. Novak says his civil rights were violated, and he is trying to sue the city for damages. A federal judge dismissed the lawsuit earlier this year, saying that the police had qualified immunity, and an appeals court upheld that decision. Now the high court is reviewing his request to take up the matter….
(5) STAR TREK SANDWICH. According to Boing Boing, "Harlan Ellison auction includes the world's most (in)famous "Star Trek" photo".
Heritage Auction's upcoming auction of Harlan Ellison's estate contains a wealth of memorabilia, including a photo of young Harlan flanked by Leonard Nimoy and William Shatner in full character costume. Nimoy inscribed the photo with, "Harlan, Love you & your great credits," and Shatner wrote, "Who's the kid in the middle."

Heritage says the photo is "sure to be one of the most fought-over, sought-after items in Heritage's history."

…Proceeds from the sale will benefit the Harlan and Susan Ellison Foundation, a nonprofit created by Straczynski. The foundation is working to turn the late couple's Los Angeles home into what Straczynski calls "a place dedicated to writing, creativity, art and music."

It will be a "memorial library," he says, "full of books (50,000 by actual count), art (the pieces in the Heritage auction represent only a small portion of what's there), comics, amazing architecture (complete with a tower, hidden rooms, gargoyles and the Lost Aztec Temple of Mars)." Straczynski says it will serve "fans of Harlan's work, sure, but also lovers of art and books and architecture, as well as academics who will be able to study his manuscripts and decades of correspondences with some of the most famous writers in and out of the science fiction genre."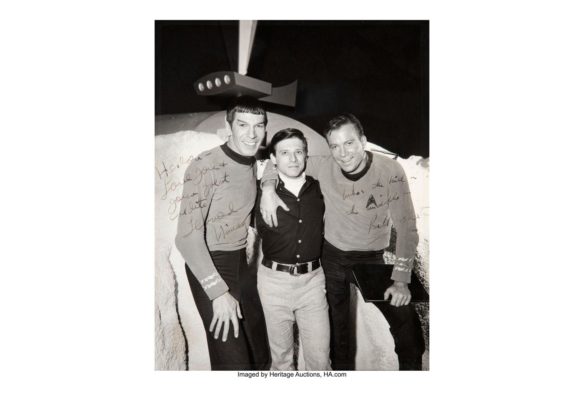 (6) DEBUT NOVEL OF FAMED COMICS CREATOR. Grant Morrison discusses their first novel at CrimeReads. "Grant Morrison on Gender, Genre, and Drag".
Molly Odintz: Luda is all about the instability of identity, exemplified by drag. What did you want to say about the identities we are assigned, and assume?

Grant Morrison: At the simplest level, I suppose I want to say that 'identity', at least from my point of view, appears to be conditional and refuses to be contained by any label; how does the 'identity' of a person as a two year old child square with that same person's alleged 'identity' as a 40-year old or as a dying 90-year old in a failing physical frame – our bodies and minds and how we feel about ourselves, and who we are within a larger constantly shifting and rearranging system, are subject to such radical transformations over decades that were we to speed a human life up to last ten minutes rather than 80 years the result would resemble a radical metamorphic shifting of shape and size, intellectual capacity and 'personality'. The idea of a single label adequate to that process seems absurd.
(7) SOCIAL MEDIA CRITICISM AGAINST GRRM COAUTHORS. George R.R. Martin's tweet publicizing a forthcoming Westeros reference book opened floodgates of criticism against his coauthors Linda Antonsson and Elio M. García Jr.
Variety reported today "'Game of Thrones' Fans Boycott George R.R. Martin's Next Book, Accusing Coauthors of Racism".
Bestselling fantasy author and "House of the Dragon" executive producer George R.R. Martin is caught in the crossfire of the heated battle over inclusive casting — and some of his fans are calling for a boycott of his upcoming book due to comments by its coauthors.

Out Oct. 25, "The Rise of the Dragon: An Illustrated History of the Targaryen Dynasty, Volume One" is being touted as a "deluxe reference book" for those itching to learn more about Westeros' most powerful family. When Martin publicized it on social media last week, thousands of fans responded in outrage, many calling out the problematic behavior and "history of racism" of his coauthors, married couple Linda Antonsson and Elio M. García Jr. "I will not be buying anything with Linda and Elio attached to it," one wrote, while others urged Martin to sever ties with the pair….

…Antonsson contends that upset fans are criticizing "cherry-picked statements stripped of context." She tells Variety that it bothers her to be "labeled a racist, when my focus has been solely on the world building." According to the author, she has no issue with inclusive casting, but she strongly believes that "diversity should not trump story."

"If George had indeed made the Valyrians Black instead of white, as he mused on his 'Not a Blog' in 2013, and this new show proposed to make the Velaryons anything other than Black, we would have had the same issue with it and would have shared the same opinion," Antonsson says.
Vulture carries more documentation: "'Game of Thrones' Book Co-Authors Accused of Racism by Fans".
…Married couple Linda Antonsson and Elio M. García Jr., who founded the fansite Westeros.org and have worked as fact-checkers on Martin's novels, have decried the casting of people of color in Game of Thrones for over a decade. In 2011 and 2012, Antonsson made numerous Tumblr posts saying that most of Westeros, including Dorne, and many of the overseas lands, should be considered "very white indeed," and getting angry and defensive at any suggestions from "whiny social justice crusaders" to the contrary. Antonsson insists that the only correct interpretation of the books is that "Unremarked skin colour=>white."

"If you start talking about there being a need — a need outside of what is in the text — to cast actors of certain ethnicites [sic] even if their appearance doesn't match at all what's in the text … well, fuck that, plain and simple," she wrote in May 2012. "I don't respect that approach, never have and never will, and that is a perfectly valid decision. It has nothing to do with racism, so kindly go fuck yourself with something sharp and pointy." She disapproved of the casting of a Black actor as Xaro Xhoan Daxos because that character was described as "pale" in the books, and celebrated the casting of a white actor to play Daario Naharis because of his race. In 2021, after the casting of Steve Touissant as Corlys Velaryon, Antonsson wrote on Twitter, "Take your woke fucking stupidity and shove it up you ass. Corlys is miscast, there are no black Valyrians and there should not be any in the show."…
(8) BIG DEALS. [Item by Martin Morse Wooster.] In the Financial Times behind a paywall, Tom Faber discusses the appeal of card games.
The influence of cards is more notable in the popular genre of 'deck-building' games. These titles such as Slay The Spire and the enormously popular Hearthstone, from World Of Warcraft creator Blizzard, prove particularly compelling because they augment cards with all the capabilities of digital technology, offering seamless online multi-player modes, visual pyrotechnics and an eternally expanding set of possible cards from which to choose…

…The enduring presence of cards is credit to their adaptability. Cards are not a game in themselves but a highly flexible medium which can be used as metaphors for combat, vehicles for strategy or links to a long lineage of play that stretches far back into human history. Today you can build memories out of houses of cards in Where Cards Fall or use cards as units of dialogue in Signs Of The Sojourner. Rather than killing off the humble playing card, video games have given them thousands of fresh possibilities.
(9) MEMORY LANE.
1965 – [By Cat Eldridge.] Fifty-seven years ago on the BBC, Out of this World series first aired. It. produced by the BBC and broadcast on BBC2 in four series.
It was created and produced by Irene Shubik while she was working on Armchair Theatre as a story editor. In the highly patriarchal workplace of the Sixties BBC, it was unusual that was allowed to do this.
(Very much to her credit, she was involved in The Jewel in the Crown undertaking, a most impressive series indeed.)
She was aided by the fact that Armchair Theatre had done an adaptation of John Wyndham's "Dumb Martian" story as a deliberate showcase for the Out of this World series.
It lasted but thirteen episodes of which one survives today as the BBC bulk erased them, the ass****s. Too bad as Boris Karloff presented it and the stories were based off tales written by Clifford D. Simak ("Immigrant"), Isaac Asimov ("Little Lost Robot") which is the only one that survives which the British Film Institute has released on DVD and Philip K. Dick ("Impostor").
(10) TODAY'S BIRTHDAYS.
[Compiled by Cat Eldridge.]
Born October 4, 1860 — Sidney Edward Paget. British illustrator of the Victorian era, he's definitely known for his illustrations that accompanied Arthur Conan Doyle's Sherlock Holmes stories in The Strand. He also illustrated Arthur Morrison's Martin Hewitt, Investigator, a series of short stories featuring the protagonist, Martin Hewitt, and written down by his good friend, the journalist Brett. These came out after Holmes was killed off, like many similar series. (Died 1908.)
Born October 4, 1904 — Earl Binder. Under the pen name of Eando Binder, he and his brother Otto published SF stories. One series was about a robot named Adam Link. The first such story, published in 1939, is titled "I, Robot". (A collection by Asimov called I, Robot would be published in 1950. The name was selected by the publisher, despite Asimov's wishes.) As Eando Binder, they wrote three SF novels — Enslaved Brains, Dawn to Dusk and Lords of Creation. There's lots of Eando Binder available on iBooks and Kindle. (Died 1966.)
Born October 4, 1923 — Charlton Heston. Without doubt, his best known genre role was astronaut George Taylor in the Planet of the Apes. He returned to the role Beneath the Planet of the Apes. He's also Neville in The Omega Man, and Detective Thorne in Soylent Green. By the way, once at the LA Music Center he played Sherlock Holmes in The Crucifer of Blood, opposite Richard Johnson as Dr. Watson. His IMDB credits show him as being on SeaQuest DSV in the "Abalon" episode. (Died 2008.)
Born October 4, 1932 – Ann Thwaite, 90. Author of AA Milne: His Life which won the Whitbread Biography of the Year, as well as The Brilliant Career of Winnie-the Pooh, a scrapbook offshoot of the Milne biography. (And yes, Pooh is genre.) In 2017 she updated her 1990 biography of A.A Milne to coincide with Goodbye Christopher Robin for which she was a consultant.
Born October 4, 1956 — Christoph Waltz, 66. He portrayed James Bond's nemesis Ernst Stavro Blofeld in Spectre and in No Time to Die. Genre wise, he also portrayed Qohen Leth in The Zero Theorem, Benjamin Chudnofsky in The Green Hornet (I lasted ten minutes before giving up), Cardinal Richelieu in The Three Musketeers, himself in Muppets Most Wanted, Léon Rom in The Legend of Tarzan and Dr. Dyson Ido in Alita: Battle Angel.
Born October 4, 1956 — Bill Johnson. His writing was strongly influenced by South Dakota origins. This is particularly true of his "We Will Drink a Fish Together" story which won a Hugo for Best Novelette in 1998. (It got a Nebula nomination as well.) His 1999 collection, Dakota Dreamin, is quite superb. (Died 2022.)
Born October 4, 1960 — Annabelle Lanyon, 62. She was Oona in Legend. And she showed as Isabel in the Quatermass franchise, Quatermass series and the Quatermass Conclusion. She's been in more genre related films and series than I can possibly list here, i.e. The Werewolves of The Third Reich which has a twenty-one rating among audience reviewers at Rotten Tomatoes,
Born October 4, 1975 — Saladin Ahmed, 47. His Throne of the Crescent Moon was nominated for the Hugo Award for Best Novel and did win the Locus Award for Best First Novel. He has also written for comics characters Kamala Khan (The Magnificent Ms. Marvel), Black Bolt, Exiles and the Miles Morales (Spider-Man) series, all on Marvel Comics. Oddly only his Marvel is available at the usual suspects.
(11) COMPLETELY MAD. [Item by Martin Morse Wooster.] In the Washington Post, Michael Cavna profiles Sergio Aragones, who is still active at 85 drawing for MAD, about his comic book Groo The Wanderer. "Sergio Aragones, MAD magazine artist, is still spoofing our humanity".
… "When Mad accepted me, that was a change of life, a change of mind, a change of everything. Somebody liked what I did," Aragonés says. Yet despite this "radical mind change," he appreciated: "I didn't have to change at all. It was what I had been doing since I was a kid, drawing, drawing, drawing."

Aragonés also cherished the famous annual Mad trips, sometimes to far-flung places. He roomed with his heroes in Switzerland, went on safari with them in Africa, and while onboard near Bermuda, helped surprise Gaines by re-creating the publisher's favorite Marx Brothers moment: the crowded cabin scene from "A Night at the Opera."…
(12) IT'S OFFICIAL. "Velma Is a Lesbian: New 'Scooby Doo' Film Makes Her Gay Officially" reports Variety.
Velma is officially a lesbian.

Clips from the brand new movie "Trick or Treat Scooby-Doo!," which show the Mystery Inc. member googly-eyed and speechless when encountering costume designer Coco Diablo, have gone viral on Twitter, confirming suspicions held by the "Scooby" fan base for decades.

"OMG LESBIAN VELMA FINALLY," reads one tweet, which has over 100,000 likes.

It's long been an open secret among fans and "Scooby-Doo" creatives that Velma is gay. Even James Gunn, who wrote the early live-action films, and Tony Cervone, who served as supervising producer on the "Mystery Incorporated" series, have confirmed the character's sexuality, but they were never able to make it official onscreen.

In 2020, Gunn tweeted that he "tried" to make Velma a lesbian in the live-action movies. "In 2001 Velma was explicitly gay in my initial script," he wrote. "But the studio just kept watering it down & watering it down, becoming ambiguous (the version shot), then nothing (the released version) & finally having a boyfriend (the sequel)."
(13) LOCAL ROVING. [Item by Steven French.] Wanted: job for redundant Mars rover! "Planetary rover once intended for Mars tested in Milton Keynes quarry" – the Guardianihas the story.
A planetary rover potentially destined for missions on the moon or Mars has been put through its paces at a quarry in Milton Keynes.

The Sample Fetch Rover (SFR), known as Anon, was intended to collect sample tubes left on the surface of Mars by Perseverance.

But this year Nasa and the European Space Agency announced the rover would no longer be needed for this work, as Perseverance, which landed on the red planet in February 2021, was already collecting samples from the planet.'

… Quarry testing is essential to the development process, providing a unique and dynamic landscape that cannot be replicated within the Mars Yard test facility at Stevenage, and the event marks the first time all the rover's systems are being tested simultaneously….
(14) PLAYING IN OVERTIME. [Item by Martin Morse Wooster.] In "The Visual Effects Crisis," the Royal Ocean Film Society notes that visual effects artists are suffering, with weeks of 100-hour days to make insane deadlines. The Phantom Menace used one visual effects company; The Rise Of Skywalker used 12, and some Marvel films use 35. But profit margins are thin, and companies frantically shift locations to take advantage of tax credits. CATS is exhibit A of what happens when visual effects companies screw up. The narrator notes that Rhythm and Hues's work helped Life Of Pi win four technical Oscars but the company went bankrupt because of the many changes they had to do to make director Ang Lee happy.
(15) VIDEO OF THE DAY. [Item by Martin Morse Wooster.] In "Honest Trailers: Avatar (2022 Remastered) the Screen Junkies say that even though they did Avatar in 2012 if there's a remastered version of Avatar in theatres they can take on the film again. They say the plot combines Dances With Wolves, Pocahontas, and Ferngully, with generic characters they call "Colonel Soldier" and "Doctor Samples" (because Sigourney Weaver's character is always looking for samples). The aliens look like a cross between Ugly Sonic and those creatures in CATS. And if you think "unobtainium" is a silly name, your inner 12-year old can look up the real mineral "cummingtonite" on Wikipedia.
[Thanks to Martin Morse Wooster, JJ, John King Tarpinian, Steven French, Andrew Porter, Chris Barkley, Michael Toman, Cat Eldridge, and Mike Kennedy for some of these stories. Title credit belongs to File 770 contributing editor of the day Daniel Dern.]