The 2023 Cordwainer Smith Rediscovery Award honoree is Josephine Saxton. The selection was announced this weekend at Readercon 32.
The 2023 jury consisted of Ann VanderMeer, Steven H Silver, Richard Horton, and Grant Thiessen, who gave these reasons for their choice:
---
The Cordwainer Smith Rediscovery Award jury have selected Josephine Saxton for the 2023 Award. Ms. Saxton's first story, "The Wall", appeared in Science Fantasy in 1965. She has since published dozens of short stories including "The Consciousness Machine", "The Power of Time", and "Elouise and the Doctors of the Planet Pergamon"; as well as the novels The Hieros Gamos of Sam and An Smith, Vector for Seven, Group Feast, Queen of the States; and the Jane Saint stories, comprising two short novels and several related stories. Her fiction is as original as any writer we know, marrying a striking almost surrealistic imagination with a fiercely feminist yet wholly personal viewpoint. She is like no other writer, and a writer whose work is as fresh now, three decades since her last short story appeared, as it was when she emerged in the mid 1960s.
---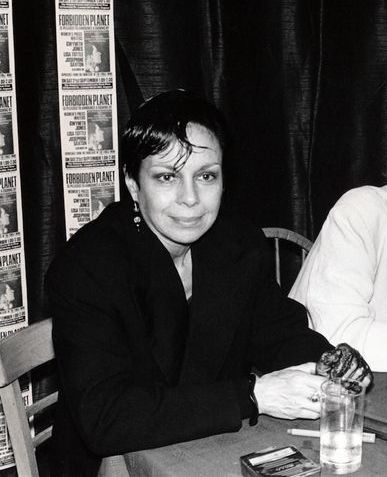 The Cordwainer Smith Rediscovery Award has been given annually since 2001 by the Cordwainer Smith Foundation, preserving the memory of science-fiction writer Paul Linebarger, who wrote under that pen name. The Cordwainer Smith Rediscovery Award honors under-read science fiction and fantasy authors with the intention of drawing renewed attention to the winners.
The award is presented at Readercon, and is sponsored by Paul Linebarger's estate, represented by B. Diane Martin.
[Thanks to Richard Horton for the story.]