(1) MONSTROUS WORD STUDY. At CrimeReads, Ellen Datlow discusses the nature of monsters from the introduction to her anthology Screams From The Dark. "Monstrosity Is in the Eye of the Beholder".
…In Old English, the monster Grendel was an "aglæca," a word related to "aglæc": "calamity, terror, distress, oppression." A few centuries later, the Middle English word "monstre"—used as a noun and derived from Anglo-French, and the Latin "monstrum"—came into use, referring to an aberrant occurrence, usually biological, that was taken as a sign that something was wrong within the natural order. So abnormal animals or humans were regarded as signs or omens of impending evil. Then, in the 1550s, the definition began to include a "person of inhuman cruelty or wickedness, person regarded with horror because of moral deformity." At the same time, the term began to be used as an adjective to describe something of vast size.

The usage has evolved over time and the concept has become less subtle and more extreme, so that today most people consider a monster something inhuman, ugly and repulsive and intent on the destruction of everything around it. Or a human who commits atrocities. The word also usually connotes something wrong or evil; a monster is generally morally objectionable, in addition to being physically or psychologically hideous, and/or a freak of nature, and sometimes the term is applied figuratively to a person with an overwhelming appetite (sexual in addition to culinary) or a person who does horrible things….
(2) PAYDAY. Rachel Swirsky's novella January Fifteenth will be released by Tordotcom Publishing on June 14. January Fifteenth tracks four points of view, each in a different part of the United States of America, on the day when the government disburses Universal Basic Income.
January Fifteenth—the day all Americans receive their annual Universal Basic Income payment.

For Hannah, a middle-aged mother, today is the anniversary of the day she took her two children and fled her abusive ex-wife.

For Janelle, a young, broke journalist, today is another mind-numbing day interviewing passersby about the very policy she once opposed.

For Olivia, a wealthy college freshman, today is "Waste Day", when rich kids across the country compete to see who can most obscenely squander the government's money.

For Sarah, a pregnant teen, today is the day she'll journey alongside her sister-wives to pick up the payment­­s that undergird their community—and perhaps embark on a new journey altogether.

In this near-future science fiction novella by Nebula Award-winning author Rachel Swirsky, the fifteenth of January is another day of the status quo, and another chance at making lasting change.
The Tordotcom Publishing 2022 Debut Sampler includes a preview of Swirsky's upcoming novella. (The writers represented in the Sampler are Scotto Moore, Marion Deeds, Malcolm Devlin, Rachel Swirsky, Joma West, Hiron Ennes, Aimee Pokwatka.)
(3) DO HUGO WINNERS LOSE THEIR FLAVOR ON THE BEDPOST OVERNIGHT? James Davis Nicoll asked the Young People Read Old SFF panel what they think of "Eyes of Amber" by Joan D. Vinge.
This month's Young People Read Old Hugo Finalists focuses on Joan D. Vinge's 1977 Hugo-winning Eyes of Amber. Initially giving the impression of high fantasy1, the story is in fact primarily set on a pre-Voyager Titan, imaged as a life bearing world whose intelligent inhabitants while inhuman in form struggle with issues familiar to humans. Interaction is limited to messages relayed via robot probe, but this is sufficient to raise intriguing moral issues for the humans monitoring the probe.

Readers of a certain vintage may have first encountered the story in 1979's Eyes of Amber and Other Stories. Readers of a slightly older vintage — readers like me, for example — might have encountered it in Analog's remarkable Women's Issue. Younger readers might never have encountered the story at all because in the grand tradition of Hugo finalists by women Eyes of Amber appears to have been out of print in English since 1987. The Young Readers therefore are likely to be engaging Vinge's Novelette with fresh eyes: will they like it as much as readers did 45 years ago?…
(4) GAME MAKING EMPLOYEES GROUND DOWN. Kotaku reports "Fallout 76 Developers Crunched Under ZeniMax's Mismanagement".
"No one wanted to be on that project because it ate people. It destroyed people," one former developer on Fallout 76 told Kotaku. "The amount of people who would go to that project, and then they would quit [Bethesda] was quite high."

Kotaku spoke to 10 former employees of Bethesda and its parent company ZeniMax Media who were familiar with Fallout 76's development, all of whom shared their accounts only under the condition of anonymity. Some sources said that they signed non-disparagement agreements upon leaving the company, and feared that ZeniMax's influence in the industry would prevent them from being hired elsewhere.

Testers who worked during the months leading up to the original launch said that they crunched 10-hour days for six days a week as the game trudged toward the beta's optimistic launch date of November 14, 2018.

Some testers would only find reprieve when they finally left the Fallout 76 team. Two former testers recounted that one of their colleagues said in a QA group chat after leaving the project: "I didn't cry last night when I was taking a shower." Another said in the same chat: "I pulled into work today, and I sat in my car for a second, and my chest didn't feel heavy like it normally does."…
(5) TITLE SEARCH. At Black Gate, Gregory Feeley finds that "The Fantastic Novels of Harlan Ellison" were more honored in the breach than the observance.
…In 1972, at the Los Angeles World Science Fiction Convention, Ellison told a large audience that his 1970 novella "The Region Between" would form the middle third of a novel, The Prince of Sleep. Ellison made the story sound exciting (the published novella ends with the destruction of the universe), which somewhat made up for his other announcement: that he had broken with Doubleday and The Last Dangerous Visions would soon be with another publisher. Not long after this, Locus announced the sale of the novel to Ballantine. The novel, which was never completed, would in time be sold to at least two subsequent publishers….
(6) AT THE OFFICE IN SPACE. According to WIRED, "'For All Mankind' Is the Best Sci-Fi of Its Era".
…Now in its third season, For All Mankind started with a simple question: What if the Americans weren't first to put a man on the moon? From that premise, though, it has built something far more complex: a show that combines political intrigue, military brinkmanship (aka a lunar standoff between American and Russian forces), and a space race that eventually lands on the surface of Mars.

But as much as the show, unsurprisingly cocreated by Battlestar Galactica and Trek producer Ronald D. Moore, can get wonky and gleefully trope-y, its success doesn't lie in the verisimilitude of the faux NASA hardware or brilliance of its space scenes. Instead, it's the fact that Moore and his cohort opted to treat the entire show like a grand workplace drama; Mad Men, but for NASA….
(7) ARE THEY FRIENDLY? JUST LISTEN. SYFY Wire lists "E.T. and 9 other great friendly aliens who really do come in peace".
In science-fiction, aliens don't typically "come in peace." Instead, they tend to be invaders or monsters — think War of the Worlds, Independence Day, Alien, or countless other examples of threats from Mars or beyond. However, there are some pop culture aliens who mean well, the most famous of which is undoubtedly E.T….

5. "THEODORE ARROWAY," CONTACT (1997)

No, Jodi Foster's dad is not an alien — that's just the form the actual alien takes to make Dr. "Ellie" Ann Arroway comfortable when she (and by extension, humanity) encounters a being from another world for the first time. The aliens in Contact are extremely friendly, wanting nothing more than to welcome a new space-faring race… in due time, of course. They are patient, thoughtful, and kind — and they believe in humanity enough to trust that we'll be able to figure out how to contact them and join them in the stars. They will be happy to have us there when we're ready. Extremely friendly of them, especially seeing as their first encounter with our species was a video of, uh, Adolf Hitler….
(8) OF COURSE. A skeptical Jessie Gaynor asks "Did Dr. Seuss know what horses looked like? (An investigation.)" at Literary Hub.
One of my toddler's favorite books is Dr. Seuss's ABC. I like the narcotic effect of the sing-song rhymes, she likes getting praised whenever she correctly screams a letter, and we both like the goofy little drawings. Every time I get to H, though—"Hungry Horse. Hen in hat. H…h…H"—I ask myself the same question. Not "What begins with H?" but: did Dr. Seuss go his entire life without seeing a horse? Or a photograph of a horse? Or an oil painting of a horse, standing next to Napoleon or Tony Soprano? Because, according to his rendering in Dr. Seuss's ABC, this is what Dr. Seuss thought a horse looked like…
(9) THE KINDLING EDITION. "A fireproof copy of 'Handmaid's Tale' auctioned for $130,000 to help fight book bans" – NPR has the figures.
Bidding on a special, fireproof copy of Margaret Atwood's The Handmaid's Tale ended on Tuesday afternoon, when the book was auctioned by Sotheby's for $130,000. Proceeds from the auction will go to PEN America's efforts to fight book banning.

In a promotional video for the auction, the 82-year-old Atwood tries, unsuccessfully, to burn the book with a flamethrower.

The Handmaid's Tale seems to be a favorite among those who fear the written word. The dystopian novel about misogyny and other dangers of oppression became a bestselling novel, an Emmy-winning TV show and a regular on banned book lists.

"I never thought I'd be trying to burn one of my own books… and failing," says Margaret Atwood in a statement. "The Handmaid's Tale has been banned many times—sometimes by whole countries, such as Portugal and Spain in the days of Salazar and the Francoists, sometimes by school boards, sometimes by libraries."…
(10) OCTOTHORPE. Episode 59 of Octothorpe is up: "Chickens". Art by Alison Scott.
John Coxon is roast beef, Alison Scott is pickled onion, and Liz Batty is flamin' hot. We get excited about the Fanzine Lounge at Chicon 8 before talking Hugo Voter Packets and discussing Kevin Standlee's wisdom on NASFiC voting. Listen here!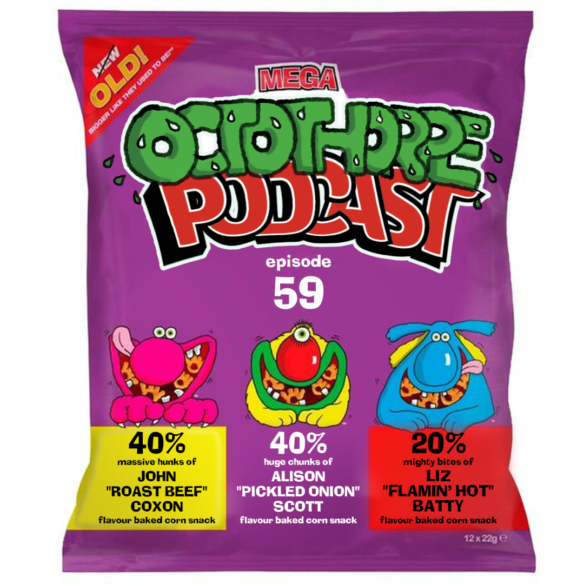 (11) A FAN'S APPRECIATION: CLIFFORD D. SIMAK'S WAY STATION
1963 – [By Cat Eldridge.]
Not an anniversary, though June was cover date on the magazine that published Clifford D. Simak's Way Station, this is intended as my appreciation of that stellar novel. It was originally published as Here Gather the Stars in the June and August 1963 issues of Galaxy Magazine, with the book publication coming in November of that year from Doubleday.
I don't think that there's a lot of outstanding fiction by this writer. This is along with City, A Choice Of Gods and All Flesh is Grass are great but a lot of his writing is just OK. This and City are stellar.
I like the novel because Enoch isn't perfect nor are the aliens who pass through it perfect but both are fully realized so that they feel quite real. The setting is interesting too — an interstellar way station that hadn't changed in a century manned by a Civil War veteran, and I don't think it says which side of the War he fought on, not allowed to live in his own house.
Having read it more times than I remember, I'm not surprised that it won the Hugo Award at Pacificon II. I should listen to it to see how it works that way. Simak is blessed as having a lot of his works done as audio narratives including City.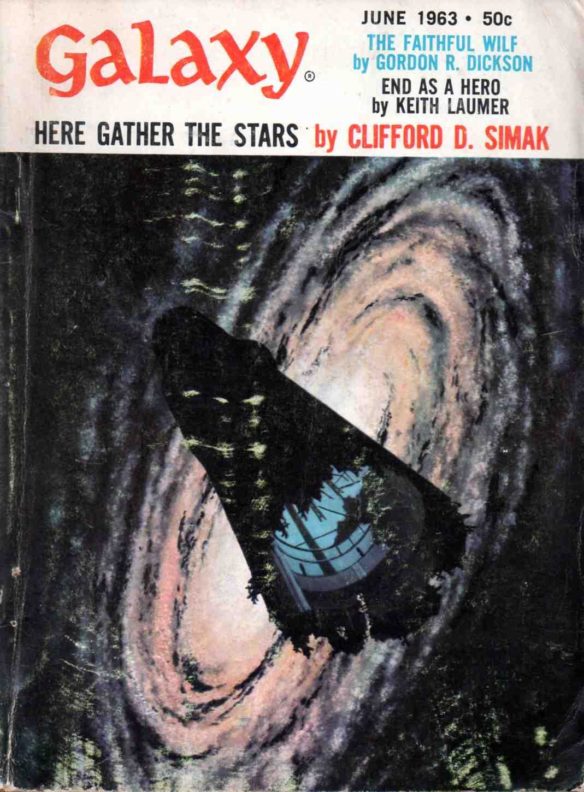 (12) TODAY'S BIRTHDAYS.
[Compiled by Cat Eldridge.]
Born June 9, 1925 — Keith Laumer. I remember his Bolo series fondly and read quite a bit of it. Can't say which novels at this point though Bolo definitely and Last Command almost certainly. The Imperium and Retief series were also very enjoyable though the latter is the only one I'd re-read at this point. He has two Hugo nominations, first at Noreascon for his "In the Queue" short story and then at IguanaCon II for his "The Wonderful Secret". The usual suspects have decent though not complete ebooks listings for him, heavy on the Imperium and Retief series and they've just added a decent though not complete Bolo collection too. (Died 1993.)
Born June 9, 1930 — Lin Carter. He is best known for his work in the 1970s as editor of the Ballantine Adult Fantasy series. As a writer, His first professional publication was the short story "Masters of the Metropolis", co-written with Randall Garrett, in The Magazine of Fantasy and Science Fiction, April 1957. He would be a prolific writer, average as much as six novels a year. In addition, he was influential as a critic of the fantasy genre and an early historian of the genre. He wrote far too much to me to say I've sampled everything he did but I'm fond of his Castillo, Great Imperium and Zarkon series. All great popcorn literature! (Died 1988.)
Born June 9, 1943 — Joe Haldeman, 79. Whether or not, it was written as a response to Starship Troopers as some critics thought at time, The Forever War is a damn great novel which I've read at least a half dozen times. No surprise that it won the Hugo at MidAmeriCon and the Nebula Award.
Born June 9, 1954 — Gregory Maguire, 68. He is the author of Wicked: The Life and Times of the Wicked Witch of the West based off of course the Oz Mythos, Confessions of an Ugly Stepsister retelling the tale of Cinderella and Mirror, Mirror, a revisionist retelling of the Snow White tale which is really excellent. Well you get the idea. He's damn good at this revisionist storytelling.
Born June 9, 1956 — Patricia Cornwell, 66. You'll know her better as the author of the medical examiner Kay Scarpetta mystery series, now some twenty-six novels deep and soon to be a series with Jamie Lee Curtis as the producer. She is here, well in part as I do like that series a lot, because she wrote two SF novels in the Captain Chase series, Quantum and Spin.
Born June 9, 1961 — Michael J. Fox, 61. The Back to The Future trilogy stands as one of the best SF series ever done and his acting was brilliant. Since 1999 due to his Parkinson's Disease, he's has mainly worked as a voice-over actor in films such as Stuart Little and Atlantis: The Lost Empire. Prior to his diagnosis, he performed on Tales from the Crypt and directed "The Trap" episode. He would return to live action performing in 2014, bless him, with The Michael J. Fox Show series. 
Born June 9, 1981 — Natalie Portman, 41. Surprisingly her first genre role was as Taffy Dale in Mars Attacks!, not as Padme in The Phantom Menace for which the fanboys gave her far too much hatred which is what they do when they do not have a real life. She'd repeat that role in Attack of The Clones and Revenge of The Sith and of course get fresh grief from them. She'd next play Evey in V for Vendetta. And she played Jane Foster, a role she played oh magnificently — and got more grief for — first in Thor, then in Thor: The Dark World and then in Avengers: Endgame. She'll reprise the role in Thor: Love and Thunder in which she'll play both Jane Foster and Thor. That I've got to see. 
(13) COMICS SECTION.
Bizarro shows superhero roommates have their own way of sharing housework.
The Far Side shows who wishes the Creator had rested even earlier.
Calvin and Hobbes illustrates why you can't fool all of the people all the time.
(14) JURASSIC Q&A. The New York Times interviews "Laura Dern, Jeff Goldblum and Sam Neill on Their 'Jurassic' Reunion".
…On their late-April Zoom call, Neil, Dern and Goldblum were eager to catch up, engage in some light teasing and ponder how their lasting chemistry as a trio has proved as potent a selling point as all those special effects. "These 'Jurassic' films, they're often known as dinosaur films, but if you're not interested in the people, the films don't work," Neill said. "Dinosaurs are the bit players, albeit awesome ones."

Here are edited excerpts from our conversation.

How long has it been since you've seen the original "Jurassic Park"?

SAM NEILL The last time I watched it in its totality was sitting beside Princess Di at Leicester Square at the London opening. On the other side of me was my son Tim — he was 11 and completely swept away by it, but about the time the T-Rex turns up, Tim started to fart. And the draft was drifting across me to royalty! I spent the whole film in a muck sweat, thinking, "Princess Di is being exposed to the horrors of a little boy's fart, but she's going to think it's me. I am going to be subliminally blamed for my son's crimes, and I don't think she'll talk to me afterwards." But she was well brought up and never mentioned it.

JEFF GOLDBLUM I love that story, Sam. I've heard him tell that a couple of times, and it's just amazing the lengths that he will go to still blame the boy.

LAURA DERN And Tim's a grown man now!
(15) NO LOOMPA LOOMPAS WERE HARMED. MSN.com reports "Two people rescued from chocolate tank at Mars factory in Pennsylvania". What is this, a Smothers Brothers tribute?
Two people were rescued from a tank full of chocolate at a Mars plant in Lancaster County, Pennsylvania, according to emergency dispatchers.

Crews were called around 2 p.m. to Mars Wrigley Confectionery in Elizabethtown after two workers became trapped in the tank and couldn't get out on their own.

"Fire crews have eliminated pulling them straight out of a tank," Brad Wolfe, communications supervisor for Lancaster County 911 dispatch, told CNN. "They have to cut a hole in the side of the tank to get them out," he said.

Wolfe said that it's unclear how the people fell into the chocolate tank.
(16) ON PARADE. SF Concatenation's Jonathan Cowie sent an even better photo of a Dalek in Queen's Jubilee regalia.
(17) YOU'LL BE AN OLD ONE BY THE TIME THEY ARRIVE. Steve Jackson Games would love to sell you a Cthulhu D6 Dice Set. Pre-order for shipping in September. I hope your luck holds out til then!
(18) DARKNESS FALLS. Hell's army just got stronger. We're gonna need some backup. Marvel's Midnight Suns, a tactical RPG from Firaxis Games and 2K, launches worldwide October 7, 2022.
(19) SPOILERIFFIC. "Jordan Peele's Final 'Nope' Trailer Reveals Its Mysterious Plot, Which Is All About [Spoilers]" warns Variety.
…Universal Pictures released the final trailer for "Nope," Jordan Peele's third feature film. It teases much of the movie's previously-unknown plot, in which Keke Palmer and Daniel Kaluuya star as the duo behind a horse training ranch for Hollywood productions, who, thanks to the aliens hovering over their property, hatch a scheme to capture and sell the first authentic footage of UFOs…
[Thanks to Cat Eldridge, Mike Kennedy, Martin Morse Wooster, JJ, N., SF Concatenation's Jonathan Cowie, John Coxon, John King Tarpinian, Chris Barkley, Andrew Porter, and Michael Toman for some of these stories. Title credit belongs to File 770 contributing editor of the day Peer.]