(1) EYE ON HORROR. Ellen Datlow posted almost a hundred photos from last weekend's StokerCon in Michigan.
(2) RE: STAN LEE. "Stan Lee's Former Business Manager Charged With Elder Abuse Against Late Icon" – The Hollywood Reporter says an arrest warrant has been issued.
The former business manager for Stan Lee has been charged with multiple counts of elder abuse related to the late Marvel icon. 

Keya Morgan was charged with multiple counts related to elder abuse, including alleged false imprisonment, a spokeswoman for the Los Angeles Superior Court told The Hollywood Reporter. 

…Last summer, legal representatives for Lee filed for a restraining order against Morgan, which was granted.

… Morgan, who has long been involved in the pop culture memorabilia scene, was one of the subjects of the investigation.

Last month, Morgan pleaded no contest to filing a false police report. He must stay away from Lee's family and residence, along with completing 100 hours of community service, according to the Los Angeles City Attorney's office. 
(3) NYT BOOK REVIEW ON MCEWAN. The New York Times Book Review's Tina Gordon almost reluctantly reports on the speculative fiction community's response to Ian McEwan's novel and his dismissal of the genre in the Guardian:
The sci-fi community began calling out McEwan's genre snobbery on Twitter and in opinion pieces. 'It is as absurd for McEwan to claim he's not writing sci-fi as it is for him to imply that sci-fi is incapable of approaching these themes interestingly," said one 'Alternative history and nonhuman consciousness are established sci-fi motifs.' Another wrote, 'Anyone is entitled to try out ideas. What you can't do is write a detective story and think 'the butler did it' is a world-first clever twist.'

As [NYT Book Review's] Dwight Garner noted in his review of Machines Like Me 'people are touchy about genre.' Kurt Vonnegut famously complained that he was 'a soreheaded occupant of a file drawer labeled 'science fiction' … and I would like out, particularly since so many serious critics regularly mistake the drawer for a urinal.' And Harlan Ellison once said, 'Call me a science fiction writer. I'll come to your house and I'll nail your pet's head to a coffee table. I'll hit you so hard your ancestors will die.'
(4) WHEN HEKTO WAS IN FLOWER. Paul Di Filippo reviews The Science Fiction Fanzine Reader: Focal Points 1930-1960 edited by Luis Ortiz at Locus Online.
…This immensely valuable and entertaining volume — purportedly the first of several — captures for posterity a chronologically delimited slice of the subculture of science-fiction fandom — currently dying or healthy; vanished or extant? — in such a manner that even those folks who have no prior inkling of the subculture — assuming they possess a modicum of curiosity and intelligence — should still be able to completely grok the subject matter and derive amusement and pleasure and wisdom from this richly annotated compilation….

… So just be aware that, for the most part, you will not get rehashed literary battles of the day as fought in the pages of these zines, but rather insights into the amateur press people and their publications themselves….
(5) TRAILER TIME. Disney's Maleficent: Mistress of Evil is in theaters October 18.
"Maleficent: Mistress of Evil" is a fantasy adventure that picks up several years after "Maleficent," in which audiences learned of the events that hardened the heart of Disney's most notorious villain and drove her to curse a baby Princess Aurora. The film continues to explore the complex relationship between the horned fairy and the soon to be Queen as they form new alliances and face new adversaries in their struggle to protect the moors and the magical creatures that reside within.
(6) EATING THE FANTASTIC. Scott Edelman says, "Dare to eat donuts with a dozen horrific creators during the 'StokerCon Donut Spooktacular'" on his Eating the Fantastic podcast.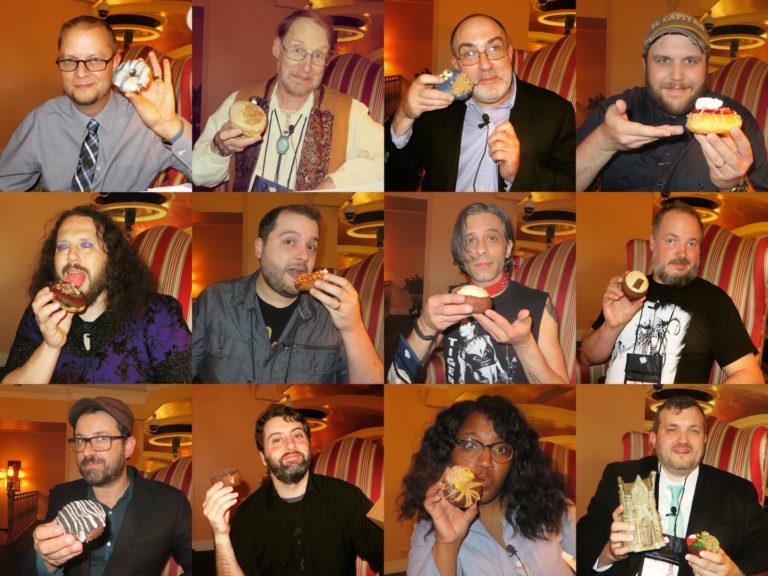 Regular listeners to Eating the Fantastic know that once a year, instead of serving up the usual well-researched one-on-one conversations which make up most of this podcast's ear candy, I opt for total anarchy, plopping myself down in a heavily trafficked area of a con with a dozen donuts and chatting with anybody who's game to trade talk for sugar and grease. It's totally spontaneous, as I never know to whom I'll speak until they pass by and their eyes light up at the sight of a free donut.

In 2016, you were invited to eavesdrop on the Readercon Donut Spectacular, in 2017 the Balticon Donut Extravaganza, and last year the Nebula Awards Donut Jamboree. Now it's time for the StokerCon Donut Spooktacular!

Late Saturday night, I sat down with an assorted dozen from The Donut Conspiracy in Grand Rapids accompanied by the usual sign explaining the setup, and found no shortage of willing guests.

Join us as Michael Bailey describes his novel inspired by a fire which turned his home to ashes in seven minutes, Geoffrey A. Landis shares about the Sherlock Holmes/Jack the Ripper horror story he published in the science fiction magazine Analog, Brian Keene explains why he chose last weekend to finally reappear at an HWA event, Wile E. Young tells why he thinks of the Road Runner whenever a story gets rejected, Anton Cancre reveals which guest that weekend earned most of his squee, and Wesley Southard offers his schtick for selling books when stuck behind a dealers table at a con.

Plus Erik T. Johnson gives an unexpected (but perfectly logical) answer when asked about one of the perks of StokerCon, Patrick Freivald looks back on how his horror career began via a collaboration with his twin brother, Josh Malerman recounts how he replaced readings with full blown Bird Box interactive performances and how an audience of 85-year-olds reacted, Asher Ellis shares how the Stonecoast MFA program made him a better writer, Kennikki Jones-Jones discusses her Final Frame award-winning short film Knock Knock, Eugene Johnson celebrates his Bram Stoker Award win that night for It's Alive: Bringing Your Nightmares to Life, and much, much more!
(7) DAY OBIT. Her recordings showed up in episodes of Quantum Leap and The Simpsons. Steve Vertlieb writes about "Remembering Doris Day, the 'Girl Next Door'" who died May 13.
Remembering the wondrously youthful, eternally vivacious Doris Day whose infinite flirtation with joy, music, and film ended this morning with her passing at age 97. She will forever remain timeless in our hearts and memories. She was truly everyone's favorite "girl next door." While famously private in her personal life, I was fortunate enough to receive a beautiful response from her several years ago when I wrote her of my life long affection for her. It is reproduced here with love, reverence, and respect. Doris Day will forever remain an integral component of my precarious youth, and coming of age. Rest Well, Doris. I shall always love you.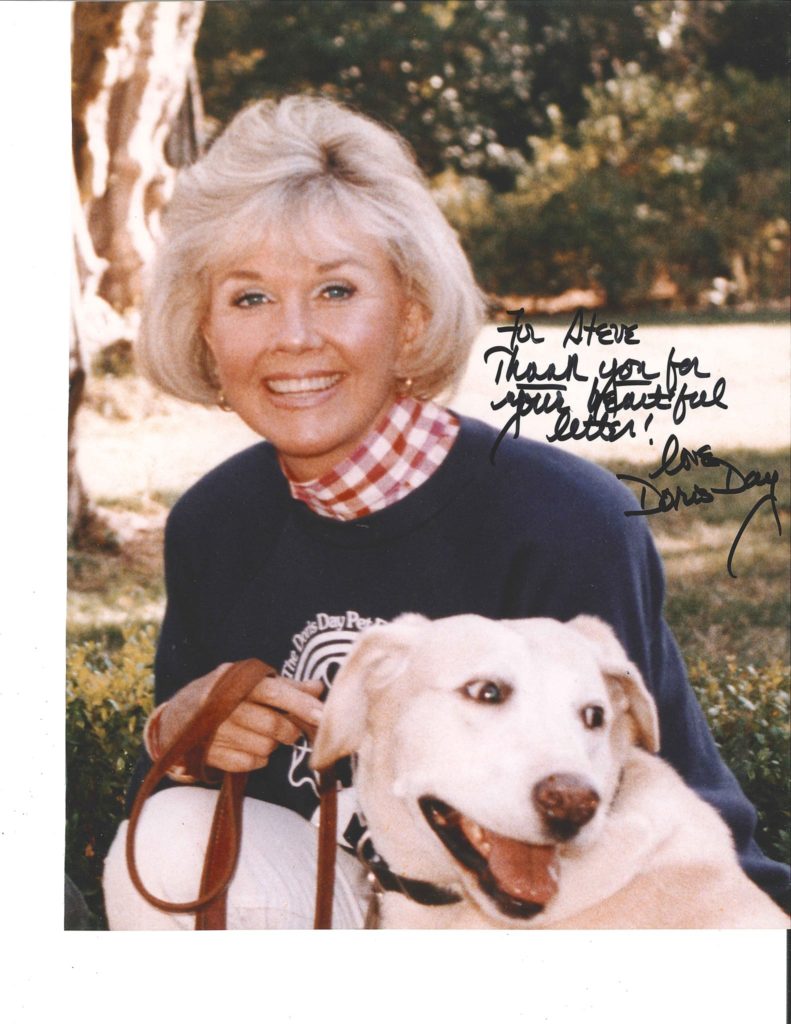 Some of the Enterprise crew bid farewell too:
(8) CONWAY OBIT. SYFY Wire pays homage to "Tim Conway, comedian and voice of Barnacle Boy on SpongeBob, dead at 85".
While well-known to the Baby Boomer generation for his comedic work on McHale's Navy and The Carol Burnett Show, Conway also endeared himself to Millennials and Generation Z, even if they don't know him by sight. That's because he voiced the character of Barnacle Boy on SpongeBob, the sailor's uniform-wearing super-sidekick to Mermaid Man, who was played by Conway's McHale's Navy co-star, Ernest Borgnine (1917-2012).
(9) TODAY'S BIRTHDAYS.
[Compiled by Cat Eldridge.]
Born May 14, 1933 — Siân Phillips, 86. Reverend Mother Gaius Helen Mohiam in Dune, Cassiopeia in Clash of The Titans, and Red Queen in Alice Through the Looking Glass.
Born May 14, 1944 — George Lucas, 75. He created the Star Wars and Indiana Jones franchise. (Raiders of the Lost Ark and Indiana Jones and the Last Crusade are fine. Several Star Wars films are.) and let's not forget THX 1138.
Born May 14, 1945 — Francesca Annis, 74. Lady Jessica in Dune, Lady Macbeth in Roman Polanski's Macbeth.
Born May 14, 1945 — Rob Tapert, 74. I'd say he's best known for co-creating Xena: Warrior Princess. He also produced and/or wrote several other television series including Hercules: The Legendary Journeys, M.A.N.T.I.S. and American Gothic. Tapert also co-created the prequel series Young Hercules which I loved. He's married to actress Lucy Lawless. 
Born May 14, 1952 — Robert Zemeckis, 67. So he's responsible for some of my favorite films including the Back to the Future trilogy, Who Framed Roger Rabbit and Death Becomes Her. What's your favorite films that's he had a hand In? 
Born May 14, 1952 — Kathleen Ann Goonan, 67. Her Nanotech Quartet is most particularly the first novel, Queen City Jazz. She's written an interesting essay on the relationship between sf and music, "Science Fiction and All That Jazz".
Born May 14, 1961 — Tim Roth, 58. Guildenstern In Rosencrantz & Guildenstern Are Dead. Gary 'Hutch' Hutchens in Twin Peaks, plus several one-offs in such genre series as Tales from the Crypt and Theatre Night.
Born May 14, 1965 — Eoin Colfer, 54. He is best known for being the author of the Artemis Fowl series. He wrote the sixth novel of the Hitchhiker's Guide to the Galaxy series, entitled And Another Thing…
(10) TONOPAH BID. Kevin Standlee says his proposed 2021 Westercon won't have guests of honor and will have light programming, so he really needs to answer the question "Why Tonopah?", which he does in this post on the SFSFC website.
Relaxed: We are currently planning a relatively light schedule of programming, giving our members an expanded opportunity to socialize and to explore the community. Rather than running the members off their feet rushing from item to item and constantly protesting that they seem to need to be in three places at once, we want our members to enjoy themselves without running themselves ragged.
(11) RELATED REVIEWS. Steve J. Wright has completed his Best Related Work Hugo Finalist reviews
Related Work
(12) THE WEAPONS SHOPS. NPR discovers "When Technology Can Be Used To Build Weapons, Some Workers Take A Stand".
On the night of Jan. 16, Liz O'Sullivan sent a letter she'd been working on for weeks. It was directed at her boss, Matt Zeiler, the founder and CEO of Clarifai, a tech company. "The moment before I hit send and then afterwards, my heart, I could just feel it racing," she says.

The letter asked: Is our technology going to be used to build weapons?

With little government oversight of the tech industry in the U.S., it's tech workers themselves who increasingly are raising these ethical questions.

O'Sullivan often describes technology as magic. She's 34 — from the generation that saw the birth of high-speed Internet, Facebook, Venmo and Uber. "There are companies out there doing things that really look like magic," she says. "They feel like magic."

Her story began two years ago, when she started working at Clarifai. She says one of her jobs was to explain the company's product to customers. It's visual recognition technology, used by websites to identify nudity and inappropriate content. And doctors use it to spot diseases.

Clarifai was a startup, founded by Zeiler, a young superstar of the tech world. But shortly after O'Sullivan joined, Clarifai got a big break — a government contract, reportedly for millions of dollars.

It was all very secretive. At first, the people assigned to work on the project were in a windowless room, with the glass doors covered.

O'Sullivan would walk by and wonder: What are they doing in there?
(13) EGGING THEM ON. Not everyone's against weapons research, at least of a certain kind: "Jacinda Ardern returns girl's 'dragon research' bribe".
New Zealand Prime Minister Jacinda Ardern has rejected a "bribe" from an 11-year-old girl who wrote asking her government to conduct dragon research.

The girl, identified only as Victoria, wanted to be given telekinetic powers so she could become a dragon trainer.

She included NZ$5 ($3.20; £2.50) with her letter, apparently as a bribe.

Writing back on official letterhead, Ms Ardern said her administration was "not currently doing any work in… psychics and dragons."

But in a handwritten note, she added: "P.S. I'll still keep an eye out for those dragons. Do they wear suits?"
(14) IT'S EVERYWHERE. Garbage voyages to the bottom of the sea: "Mariana Trench: Deepest-ever sub dive finds plastic bag".
An American explorer has found plastic waste on the seafloor while breaking the record for the deepest ever dive.

Victor Vescovo descended nearly 11km (seven miles) to the deepest place in the ocean – the Pacific Ocean's Mariana Trench.

He spent four hours exploring the bottom of the trench in his submersible, built to withstand the immense pressure of the deep.

He found sea creatures, but also found a plastic bag and sweet wrappers.

It is the third time humans have reached the ocean's extreme depths.
(15) GOOGLE U. During an exchange about JDA's lawsuit, Steve Davidson told Adam Rakunas "I went to the same law school you did," So Rakunas replied, "Remember our school's fight song?"
We're gonna fill up those search boxes
We're gonna write out those search strings!
We're the Fightin' Queries of Internet U
And we look up all the things!

Oh, we don't have accreditation
And no one gets degrees
But that doesn't stop us from sounding off
Go, go, go, Fightin' Queries!
[Thanks to Chip Hitchcock, Cat Eldridge, Rob Thornton, John King Tarpinian, JJ, Carl Slaughter, Andrew Porter, Mike Kennedy, and Martin Morse Wooster for some of these stories. Title credit goes to File 770 contributing editor of the day Daniel Dern.]