(1) INTERNET HIGHWAY ROBBERY. Chuck Wendig tees off on a Huffington Post UK editor who preens about not paying their 13,000 contributors.
Because it isn't "authentic." To pay writers.

You toxic tickledicks.

You venomous content-garglers.

You thieves, you brigands, you media lampreys.

Let us expose this hot nonsense for what it is: a lie meant to exploit writers and to puff up that old persistent myth about the value of exposure or the joy of the starving artist or the mounting power of unpaid citizen journalism.

The lie is this: writing is not work, it is not fundamental, it is a freedom in which you would partake anyway, and here some chucklefuck would say, haw haw haw, you blog at your blog and nobody pays you, you post updates on Twitter and nobody pays you, you speak words into the mighty air and you do it for free, free, free. And Huffington Post floats overhead in their bloated dirigible and they yell down at you, WE BROADCAST TO MILLIONS and DON'T YOU WANT TO REACH MILLIONS WITH YOUR MEAGER VOICE and THIS IS AN OPPORTUNITY FOR YOU.

But it is an opportunity for them, not for you.
But it seemed to me after a strong start Wendig's rant winds down and loses headway:
Writing is work. Most things begin with writing. Though I find writing a pleasure, it is also a thing that requires great mental effort. It is not mere content — that word said almost dismissively, as if it is a synonym for styrofoam peanuts. (And by the way: you actually have to buy styrofoam peanuts. They aren't free unless you rob them from boxes shipped to you.) Content is not slurry. It's not protein goo. It's not mud or air or some readily available resource…
Intrinsic value and market value are different things. While I don't think Chuck Wendig believes all writing has the same market value, or necessarily any market value, it seems to me he has conflated spiritual and economic value in this paragraph.
Wendig is right that Huffington Post capitalizes on uncompensated labor, of course. If HuffPo is making money, that establishes that the content collectively has some market value. Since none of that value flows through to the contributor, you can argue an injustice.
But are all these contributors trying to launch writing careers? I do agree that if somebody is trying to be a pro writer, which not all HuffPo contributors necessarily are, they should be working on material that has a paying market.
(2) THAT GETTING PAID THING. In a series of tweets, John Scalzi thanked Wendig for doing the heavy lifting today, and tossed in a few more points:
I should note I am only very rarely asked to write for free these days. Set enough people on fire for asking, everyone else catches on.

— John Scalzi (@scalzi) February 18, 2016
Publicists: Please don't "invite" me to participate in another author's blog tour. You're not doing me a favor. It's the other way around.

— John Scalzi (@scalzi) February 19, 2016
(3) WRITING VS. WIDGETS. Elizabeth Bear tells about detoxing as a writer, metaphorically speaking, in "if you live for something, you're not alone".
One of the things I've realized that I need to work on in order to develop a healthier relationship with my job involves certain toxic aspects of the professional writing/publishing culture that I've done an overly good job of internalizing. And I'm trying to scrape it out of my soul, because in the long term it winds up being the opposite of productive when dealing with a creative career.

Some of that is a competition thing: "Writer X turns in three books a year and I'm a slacker if I don't, too!" And that's not great, honestly, and the sheer pressure to produce isn't great, either, and doesn't necessarily lead to good work. One has to think up new things to say between books, after all, or one ends up writing the same book over and over again. No use in that.

I think there's a certain bravado of culture among may writers that is actively toxic in a lot of ways. And it's tied to the NaNoWriMo kind of mode of "produce a bunch of stuff really fast, lather rinse repeat" pressure, and also the "THIS JOB SUCKS AND WE'RE WARRIORS FOR DOING IT" thing. It's this weird Puritan machismo in suffering.

I mean, you don't learn to write well by turning out 50K in a month once a year. It's the two pages a day or whatever that get you there. Constant practice, as with any art. And mammals don't respond well to punishment for performance. If we do a thing and the result is horrible, we generally avoid doing that thing again
(4) STARSHIPPING. From the Initiative for Interstellar Studies, Principium, Issue 12, February 2016 [PDF file]. The overview begins —
In this edition our guest introduction is by Gill Norman. Gill is a former director of i4is. She has helped us become the reasonably well organised body that we now are. Her thoughts here are on the necessity of human engagement in Interstellar Studies and space in general, Space: It's all about people. She tells us how we need to engage resources and talents from all who feel our outward urge. Scientists and engineers are essential but so are entrepreneurs, PR experts and, of course, the best administrators we can find!
(5) FRAUD AT ICE CREAM COUNTER. "Astronaut ice cream is a lie"!
Astronaut ice cream — did it really fly? Vox's Phil Edwards investigates, with the help of the Smithsonian and an astronaut.
(6) MOVING DAY. "China displaces nearly 10,000 humans for huge telescope in search for aliens" reports Asia One.
China will move nearly 10,000 people to make way for the world's largest radio telescope which promises to help humanity search for alien life, state media reported on Tuesday.
It's compensating them less than $2,000 each to relocate.
(7) CONGRATULATIONS: Becky Thomson and Tom Veal, friends for over 45 years, have announced they are engaged to be married. The wedding will be on June 25, in Ft. Collins, Colorado.
(8) SIGNALLING THE BEST. At SF Signal, "Top 15 Sci-Fi Comics of 2015 (Becky Cloonan, Kelly Sue DeConnick, Greg Rucka, More" .
We don't write many articles about comics here at SF Signal. That's not to say that we dismiss comics as literature, though. Many of the contributors to this blog are huge fans of the medium, but sites devoted the field abound, and whether superheroes are actually science fiction or a form of fantasy that simply employs sci-fi conventions as convenient MacGuffins is debatable. The one notable exception to our comic freeze out is our annual list of the top science fiction comics of the year… which number exactly one, because last year's list was our first.

To my surprise, though, last year's list of the Top 14 Sci-Fi Comics of 2014 turned out to be one of our top ten most popular articles of 2015. So, back by popular demand, here's a rundown of the best on-going science fiction comics to hit stands in 2015. It's not exhaustive, because there were a LOT of great sci-fi series this year, but it's what we consider these to be the cream of the crop. Feel free to debate or contribute your own suggestions in the comments below….
(9) KENYON/CLARE ARTICLE. Laura Miller at Slate writes with a fannish slant about "The Shadowhunters vs. the Dark-Hunters".
A lawsuit between two best-selling authors involves fantasy, romance, charges of plagiarism, and fan fiction gone mainstream….

I have friends with deep roots in fandom—albeit without much connection to this particular sector of it—who believe that this is the true source of the undying animosity toward Clare: She left fandom "badly," or, worse yet, she seemed to be repudiating her own origins in that community by changing the spelling of her name. Fan-fiction writers are routinely and viciously ridiculed and shamed for their hobby, which makes their communities especially insular and self-policing. "Back in the day," Cleolinda Jones, a onetime regular at Fandom Wank, wrote to me, "we used to say, 'The first rule of fanfic is, do not take money for your fanfic.' Because the overriding fear was intellectual property holders would sue everybody and shut fandom down." Rights-holders that once issued cease-and-desists against fan sites for using promotional photos now encourage fan art and other tributes, Jones says, but in the early 2000s, "I just really cannot overstate the sense of living on borrowed time by the grace of the IP holders." This would explain why word-for-word plagiarism, as opposed to the transformative appropriation of another creator's characters and setting, would seem a catastrophically reckless sin against the entire community.

Of course, Clare was reviled—and adored—in Harry Potter fandom even before the plagiarism charges against her came to light. And fan fiction itself has come a long way, spawning numerous real-world stars, fan writers such as E.L. James who move on to publish best-sellers. Clare was among the very first to do this. But the prospect of going pro and striking it rich seems to many fan-fiction writers like a serpent in the garden, corrupting what once felt like an idyllic, egalitarian gift-economy of like-minded dabblers. Once, fandom was a destination in itself; now it's just another stepping stone for ambitious writers with their eyes on a richer prize. Like so much of the idealism of the early Internet, this, too, has become an offshoot of the marketplace. "I think what you don't understand," one friend told me when I expressed bafflement that Clare's fellow fan-fiction writers didn't view the popularity of her books as a feather in their collective cap, "is that a lot of them just feel used." When I admitted that didn't make sense to me, she added, "It's hard to explain, but that doesn't mean it isn't real."
(10) CON OR BUST. MidAmeriCon II has also pitched in:
MidAmeriCon II, August 17-21, 2016, Kansas City, MO, USA. MidAmeriCon is the 2016 WorldCon; its Guests of Honor are Kinuko Y. Craft, Patrick Nielsen Hayden, Teresa Nielsen Hayden, Tamora Pierce, and Michael Swanwick, and its Toastmaster is Pat Cadigan.

MidAmeriCon has donated four memberships to Con or Bust, either in full or as upgrades to supporting memberships (if the recipient already has one).
(10) TAKING ART IN NEW DIRECTIONS. "Best Fan Artist?" asks Steven H Silver. GPS Doodles' Stephen Lund creates figures by riding his bike in meatspace on routes tracked by Strava. Some are Star Wars-themed.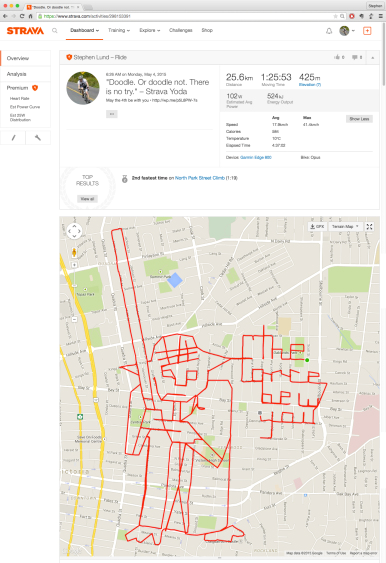 Wasn't it Yoda, Grand Master of the Jedi Order, who said "Doodle. Or doodle not. There is no try"?

Well, doodle I must. And on May the 4th, there's little choice but to doodle the Jedi Order's most disciplined master of the Force. Good ol' Yoda.

"Take a ride on the dark side"

Subject: ride along I'd like to request one. Can you come up with a suitable topic? Vader and his young apprentice perhaps?

It sounded like fun – not just the Star Wars theme but the idea of having someone along for the ride.

Kudos to Geoff, who stuck with me for the entire 4.5+ hours with no inkling whatsoever about what we were doodling. He was completely in the dark ("on the Dark Side," I suppose you could say) until he got home afterward and downloaded the ride to Strava.
(11) TODAY IN HISTORY
February 18, 1930 – Clyde Tombaugh discovered planet Pluto, before it became a dwarf.
February 18, 1977 – First unmanned test flight of space shuttle Enterprise mounted on another aircraft.
(12) ARE YOU SHOCKED? Kate Paulk's award overview series continues with "Hugo Categories Highlight – The Short Fiction Categories".
The problems of the Hugo voting/nominating population being relatively small and to a large extent long-term fans who could be termed the science fiction "establishment" (in the sense that many of these people have been to the same conventions for twenty and more years and helped each other run quite a few of them) have probably had years where they actually could read everything eligible with the result that they've seen practically everything.

This leads to a kind of weird inversion of killer mailbox syndrome (what happens to your marvelous tale about a killer mailbox when the slush reader has just read the third killer mailbox piece in the slush dive and the other three were horrible. The horrible gets imputed to your story because of the human mind's extreme pattern-making and association ability) where something that isn't all that great seems the freshest, most wonderful piece of the year because it's sufficiently unlike the rest of the entries it stands out. This gets good-but-not-extraordinary works nominated and winning awards because they aren't like everything else.

There's no need for a conspiracy to explain some of the "winning the future" selections in recent years – this effect will do just as nicely, particularly since many of said voting group have very similar opinions about what constitutes a desirable message and from what I've seen are honestly shocked that their views of what is right and proper are not shared by the rest of fandom (two rules that we fans have to remember: sufficiently advanced stupidity is indistinguishable from malice; and highly intelligent people are capable of extremely advanced stupidity).
(13) THE REBUTTAL. Vox Day at Vox Popoli makes additional arguments supporting his contention that he is a better editor than David Hartwell.
The SF-SJWs at File 770 are appalled at the fact that Tor Books and Castalia House author John C. Wright is willing to go on the record and state that, in his opinion, I am a better editor than the late, Hugo Award-winning editor David Hartwell:…

You see, I have perspective that they do not. Unlike them, I have seen Mr. Wright's unedited prose. I know exactly what it looks like. And as it happens, it looks very much like the prose that appears in Mr. Wright's novels that are published by Tor Books. John is an excellent writer; he is one of the greatest SF/F writers alive. But he writes very, very quickly and he is prone to what one might describe as an exuberant approach to writing. Last year, Castalia House offered him a contract for a 60k-word book. I am now reading the manuscript, which clocks in at nearly 200k words. Even those authors who don't like Mr. Wright or his style might well contemplate suicide if they truly understood how speedily and effortlessly the man writes… and writes well. When I say he is a great writer, I do not do so lightly, nor do I do so because I am fortunate enough to publish some of his works. I say it out of pure envy and awe.

…. UPDATE: It appears my surmise about the extent to which Mr. Wright's books were edited at Tor Books was correct, as per L. Jagi Lamplighter Wright

Just in case anyone wondered: John has tremendous respect for Mr. Hartwell, whom he admired, appreciated working with, and liked as a person. But Mr. Hartwell almost never made any changes to John's manuscripts.
(14) ADMIRATION. John C. Wright's contributions to the foregoing discussion included this compliment to another author:
I would have trouble editing George RR Martin's books. Most of the comments here mock him, but he is an exquisitely skilled writer, a consummate writer. His writing is a little dark for me, but reread the opening prologue of GAME OF THRONES: the text establishes a fullfledged three dimensional character, a man who is realistic yet sympathetic, and who is snuffed out as a redshirt a few paragraphs later to show you how the monster works — and it comes as a surprise because usually the redshirts are not given a backstory. What in other hands would have been a boring B-movie horror scene in Martin's is a masterful, and even moving, establishing scene. Now, to be frank, I have not read his last two volumes, and I may never, because he has killed off too many likable characters and is taking too long to get anywhere: but once the series is done, and I know it reaches a satisfying conclusion, I may revisit that decision. So Mr. Martin may be suffering from the victory disease, where some of his discipline lapses due to his popularity. Or he may be, as I am, an exuberant writer who likes his digressions.
(15) TROPE TRAP. At The Book Smugglers, Carlie St. George "examines the Sexy Douchecanoe trope" in "Trope Anatomy 101: Reader, I Didn't Marry Him – I Kicked His Jerk Ass to the Curb".
The Sexy Douchecanoe isn't an official trope, as such; at least, it's not one that I often find people analyzing, subverting, and/or railing against. It is one, however, that I run into constantly because, while they're often unfairly associated with strapping, half-dressed men on paperback covers, Sexy Douchecanoes actually pop up in every medium and every genre. The first time I remember coming across one, I was maybe 20 and reading Naked in Death by JD Robb. At the time, I'd been interested in giving romance a go, but as I hadn't read much of the genre, I wasn't entirely sure where to start. I figured the best plan was to pick a romance that was also a murder mystery set in the future.

And maybe that plan would have been successful, if I hadn't hated the love interest with the power of a thousand suns.
(16) MONSTER HIGH NOTE. Lady Gaga and Mattel are teaming to create a Monster High doll.
You know you've made it big when you're commissioned by a major toy manufacturer to design a doll. That's exactly what's happened to Lady Gaga. The singer/actress is adding "toy designer" to her resume now with a forthcoming Monster High doll. Is there anything she can't do? She's designing the doll with her sister, costume designer Natali Germanotta. Which is totally fitting, given Gaga's Mother Monster moniker.
https://twitter.com/LGMonsterFacts/status/698251609860485120
(17) THIRD MILLENNIUM. Part three of "Who Are Millennial Fans: An Interview with Louisa Stein" by Henry Jenkins at Confessions of an Aca-Fan.
[Louisa Stein] I mentioned above the TV series Supernatural's ambivalent depictions of female fans over the years. Supernatural is a series that has a dynamic and rich transformative fandom, and the majority of those participating in the fandom are women. Supernatural fans, while expressing love for the series and its characters and potential, have long been critics of its gender and racial politics, and have spoken out at times about how they have felt misrepresented and even attacked by the series and its metatexts, for example, in response to a preview that declared the teenage girl the "ultimate monster."
(18) STUBBY ON SPUDS. At Tor.com Stubby the Rocket says, "Matt Damon Has Replaced Sean Astin as the Face of Pop Cultural Potato Enthusiasm". Yes, I guess he has…. (It's a reference to this antique video from the dawn of YouTube.)
[Thanks to David K.M. Klaus, Brian Z., Dave Doering, Will R., and John King Tarpinian for some of these stories. Title credit goes to File 770 contributing editor of the day redheadedfemme.]