(1) SHOUT OUTS FOR SHUT INS. [Item by Daniel Dern.] Mask-makers and other Good News shout-outs. (You'll want to stick with this through to minute 11, trust me — at which point you WILL want to keep watching, I bet.)
(This was even cooler than when Click'n'Clack got a call from the Space Shuttle – io9 "The time an astronaut called into Car Talk from the Space Shuttle" for the story, and YouTube for the actual call )
(2) NO FINNCON THIS YEAR. Finncon 2020 in Tampere, Finland has been pushed back due to COVID-19. The announcement in Finnish and English is here.
We regret to announce that Finncon 2020 will have to be postponed until summer 2021. This is due to the current situation with the Corona virus around the world. Finncon in the capital region, which was originally going to happen in 2021, will also be postponed to summer 2022.

We will be organising a small-scale Virtual Finncon on July 10-12, 2020. The program for this Virtual Finncon will be organized during summer 2020.
(3) ANALYZING STORY. Ziv Wittes takes Knives Out and uses it as a case study for MICE – an approach to story structure that's pretty popular among genre writers. "Knives Out: A MICE Case Study by Ziv Wities" — on Cat Rambo's blog. BEWARE SPOILERS.
Here's our question: What kind of story is Knives Out?
Obviously, every story has many elements. But which feels most central? Is this story exploring a Milieu; investigating an Idea; following a Character's development; or struggling against a threatening Event?
(4) IF THERE'S TERRAFORMING, THERE MUST BE DISNEYLANDING. Josh Gorin, a creative development executive at Walt Disney Imagineering, invites people to "Enjoy a One-of-a-Kind Learning Experience from Disney Imagineers". His post on the Disney Parks blog explains —
Imagineering in a Box is a series of interactive lessons in theme park design and engineering, designed to give a behind-the-scenes peek into Imagineering's development process. It combines 32 videos of actual Imagineers, real-world case studies, and lots of interactive activities to give you the opportunity to dream and design your very own theme park experience!
Here's an excerpt from the introduction to the first lesson of Imagineering in a Box, hosted on the Khan Academy website.
Welcome to Imagineering in a Box!

Imagineering in a Box is designed to pull back the curtain to show you how artists, designers and engineers work together to create theme parks. Go behind the scenes with Disney Imagineers and complete project-based exercises to design a theme park of your very own.

Lesson 1: Build your own world

This lesson addresses the question: where do you want to go? It introduces the idea of experiential storytelling and the difference between an amusement park and a theme park. We'll explore how storytelling and theme impact every decision made in the design of a land and how they engage all senses.
(5) IT'S BUMPY UP THERE. Camestros Felapton's deconstruction of these Star Trek: The Next Generation episodes is both amusing and (comparatively) gentle: "Trek Tuesday: Unification Parts 1 & 2".
…Patrick Stewart naturally makes a great Romulan. Starfleet's Romulan disguises are top-notch because, of course, Romulans are actually just humans in theatrical make-up but it is a look that really suits both Stewart and Spiner. He also has an additional advantage. The Romulans are Space Romans obviously but they are Space Hollywood Romans and years of Hollywood epics (and BBC historicals) have created the association of British classical actors with the Roman Empire. It is practically type-casting.

However, it is Picard's affinity with Vulcans that provides the initial hook for the story. Ambassador Spock has gone missing and intelligence suggests he is on Romulus. Alarmed by the apparent defection, Starfleet despatches Picard to speak to Spock's father, Sarek who is dying from a degenerative disease. Picard has not only met Sarek before but in an earlier episode had mind-melded with him.

In this initial phase of the story there are repeated shots that follow the dramatic-soap-opera scene convention of having two characters talk to each other with both facing the camera but with one person standing behind the other.
(6) ZOOMJAM. "How USC students turned Zoom into a video game platform for coronavirus life" at the LA Times.
…Shortly after California Gov. Gavin Newsom placed restrictions on social gatherings, the USC Game School sprang into action. Jeff Watson, an assistant professor of Interactive Media & Games at the university, put out a call for students to create games using Zoom, keying in on the idea that many would now to be utilizing the platform to connect and in need of ways to use it for its full potential — that is, to play, of course.

…Watson, who is curating the submissions — he will reject no games for quality, he says, but will maintain a certain level of family-friendly decency — has begun posting the offerings on the site Zoomjam.org. More than half the submissions are from USC students. And while open to all, the Watson-led ZoomJam is gaining steam in academic circles. He's has been in touch with professors and universities in Texas, Australia and elsewhere….

Some highlights from the submitted games:

"Kitty, You're a Star." Any of us who have used Zoom, either for a business or social call, have likely seen it interrupted by a pet. "Kitty, You're a Star" is designed for those moments, to take advantage of what everyone is instantly now doing: paying attention to the kitty or puppy. Participants are called to immediately begin narrating a story about the pet's thoughts or life.

"Kitty, You're a Star" was created by Lark under the name Social Distance Warriors. "I think people are pretty good at making games on any platform or with any constraints they find themselves in," he says.

The rules are direct: "During a call, if a player's pet enters the frame, they must immediately move and give their pet center stage. The pet is now the protagonist of a story that the other players will narrate." To make sure no one talks over the other, the story of the pet shall unfold one sentence and one person at a time….
(7) MPFREE. Lots of genre here: "1,000 Free Audio Books: Download Great Books for Free" on Open Culture.
Download hundreds of free audio books, mostly classics, to your MP3 player or computer. Below, you'll find great works of fiction, poetry and non-fiction, by such authors as Twain, Tolstoy, Hemingway, Orwell, Vonnegut, Nietzsche, Austen, Shakespeare, Asimov, HG Wells & more.
(8) HONOR BLACKMAN OBIT. Actress Honor Blackman (1925-2020) died April 6 at the age of 94. She gained fame playing Cathy Gale in television's The Avengers opposite Patrick Macnee, and as Pussy Galore in the James Bond movie Goldfinger opposite Sean Connery. Blackman and Macnee also had a novelty hit with 1964's "Kinky Boots," which reached the Top 10 in 1990. She was in Doctor Who's "Trial of a Time Lord" (1986) as Professor Lasky. She also had genre movie roles as Hera in Jason and the Argonauts (1963), and Peggy in Cockneys v. Zombies (2013).
(9) TIM WHITE OBIT. British sff artist Tim White (1952-2020) died April 5. Bob Eggleton announced his death, saying, "He was an icon in the 1970s and early 80s with many bookcovers." White was nominated six consecutive times for the British Science Fiction Association Award for Best Artist, receiving the honor in 1983. More information at the Encyclopedia of Science Fiction.
(10) JAMES DRURY OBIT. Actor James Drury, primarily known as the lead in The Virginian tv series, died April 6. He was 85. In what might be his only sff role, he played a crewman in Forbidden Planet.
(11) TODAY IN HISTORY.
Born April 6, 1936 — The Flash Gordon: Space Soldiers serial premiered on theatre screens in the States. It was directed by Frederick Stephani and Ray Taylor from a screenplay by Frederick Stephani based on the comic strip by Alex Raymond. It of course starred Buster Crabbe as Flash Gordon and Jean Rogers as Dale Arden. It ran for thirteen episodes and the studio was quite unhappy at the three hundred and sixty thousand dollar budget. It's in the public domain now and you can watch the first four episodes here.
April 6, 1967 — Star Trek's "City of the Edge of Forever" first aired on NBC. Though Harlan Ellison wrote the original script, the episode had several writers contribute to it including Steven W. Carabatsos, D. C. Fontana and Gene L. Coon with Gene Roddenberry making the final script re-write. Roddenberry and Fontana both consider it one of their favorite episodes, the latter ranking it up with "The Trouble with Tribbles". Critics in general consider it one of the best Trek episodes done and many consider it one of the best SF series episodes ever.
April 6, 1968 — 2001: A Space Odyssey premiered. It was produced and directed by Stanley Kubrick. The screenplay was written by Kubrick and Arthur C. Clarke, and was inspired by Clarke's "The Sentinel" story. It starred Keir Dullea and Gary Lockwood. It would win the Hugo for Best Dramatic Presentation at St. Louiscon in 1969 over Yellow Submarine, Charly, Rosemary's Baby and The Prisoner's "Fallout" episode. Critical reception was decidedly mixed at the time though it's now considered a classic film, but the audience reviewers at Rotten Tomatoes currently give it a superlative 90% rating.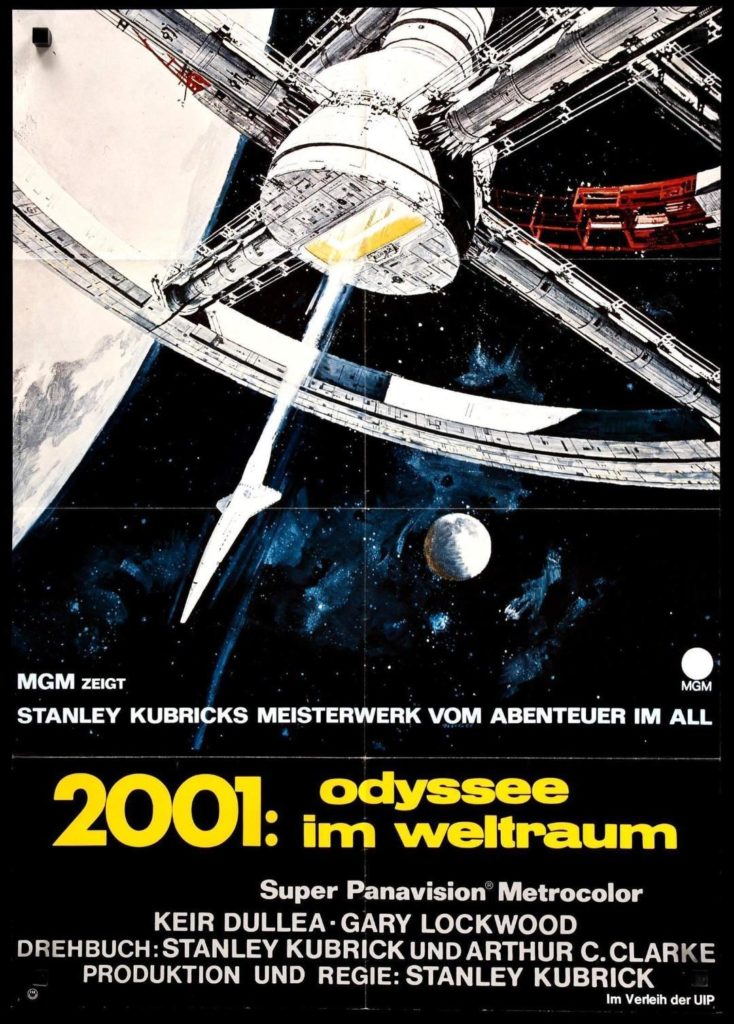 (12) TODAY'S BIRTHDAYS.
[Compiled by Cat Eldridge.]
Born April 6, 1924 — Sonya Dorman. Her best-known work of SF is "When I Was Miss Dow" which received an Otherwise retrospective award nomination. Her "Corruption of Metals" received won the Rhysling Award of the Science Fiction Poetry Association. She also appeared in Dangerous Visions with the "Go, Go, Go, Said the Bird" story. (Died 2005.)
Born April 6, 1926 — Gil Kane. Artist who created the modern look and feel of Green Lantern and the Atom for DC, and co-created Iron Fist with Roy Thomas for Marvel. I'm going to single him out for his work on the House of Mystery and the House of Secrets in the Sixties and Seventies which you can find on the DC Universe app. (Died 2000.)
Born April 6, 1937 — Billy Dee Williams, 83. He is best known for his role as Lando Calrissian in the Star Wars franchise, first appearing in The Empire Strikes Back. Other genre appearances include being Harvey Dent in Batman and voicing Two Face In The Lego Batman Movie. He also co-wrote with Rob MacGregor two SF novels, PSI/ Net and Just/In Time.
Born April 6, 1938 — Roy Thinnes, 82. Best remembered for his role of David Vincent in The Invaders. He was also in The Horror at 37,000 Feet, The Norliss Tapes, Satan's School for Girls, Battlestar Galactica, Dark Shadows (recurring role as Roger Colins) and Poltergeist: The Legacy.
Born April 6, 1938 — Anita Pallenberg. It's not a long genre resume but she was in Barbarella as, I kid you not, Black Queen, Great Tyrant of Sogo, the chief villainess. Over forty years later, she'd have a minor role as Diana in Grade B film 4:44 Last Day on Earth. (Died 2017.)
Born April 6, 1948 — Sherry Gottlieb, 72. Best remembered and loved as owner of the Change of Hobbit bookstore which her memoir lists as the oldest sf bookstore in the States. She's written two horror novels Love Bites and Worse Than Death.
Born April 6, 1948 — Larry Todd, 72. Writer and cartoonist, best known for the decidedly adult Dr. Atomic strips that originally appeared in the underground newspaper The Sunday Paper and his other work in underground comics, often with a SF bent. In our circles, Galaxy Science Fiction, Amazing Science Fiction and Imagination were three of his venues. He also did some writing for If. He also did, and it's really weird art, the cover art and interior illustrations for Harlan Ellison's Chocolate Alphabet.
Born April 6, 1956 — Mark Askwith, 64. Did you know there was an authorized Prisoner sequel? Well there was. The Prisoner: Shattered Visage is a four-issue comic book series written by him and Dean Motter who was also the artist. Askwith also wrote for DC Comics, specifically Batman: Gotham Knights.
Born April 6, 1959 — Mark Strickson, 61. Turlough, companion to the Fourth and Fifth Doctors. He didn't do much genre but he was a young Scrooge in an Eighties film version of A Christmas Carol. and like many Who performers, he'd reprise his character on Big Finish audio dramas.
Born April 6, 1977 — Karin Tidbeck, 43. Her first work in English, Jagannath, a short story collection, made the shortlist for the Otherwise Award and was nominated for the World Fantasy Award. The short story "Augusta Prima", originally written by her in Swedish, was translated into English by her which won her a Science Fiction & Fantasy Translation Award in the Short Form category.
(13) COMICS SECTION.
Non Sequitur tells of a lost discovery.
Poorly Drawn Lines has a weird one –
(14) PYTHON INSPIRATION. See the trailer for The Bug Trainer (view on demand on Vimeo ), a 2018 documentary on the life and art of pioneering Polish-Russian stop-motion animator Ladislas Starevich, who Terry Gilliam has described as a major influence on his work.
(15) DON'T BE DISCONTENTED. James Davis Nicoll says not everyone needs be doomed to disappointment: "Imaginary Space Programs Are Always Better Than Reality (But Reality Is Pretty Amazing)" at Tor.com.
Yuri's Night approaches. With it comes the inevitable cloud-shouting from persons my age about all the space habitats and Moon colonies we were promised and currently don't have. Hold on, guys…some of this discontent might go away if we adopted a different perspective….
(16) OLD ENOUGH TO DRINK. "Whale sharks: Atomic tests solve age puzzle of world's largest fish". Just in case you'd like to know.
Data from atomic bomb tests conducted during the Cold War have helped scientists accurately age the world's biggest fish.

Whale sharks are large, slow moving and docile creatures that mainly inhabit tropical waters.

They are long-lived but scientists have struggled to work out the exact ages of these endangered creatures.

But using the world's radioactive legacy they now have a workable method that can help the species survival.

Whale sharks are both the biggest fish and the biggest sharks in existence.

Growing up to 18m in length, and weighing on average of about 20 tonnes, their distinctive white spotted colouration makes them easily recognisable.
(17) NOT A VERY TALL TAIL. Russom's Universal Headless Credential! "Video Friday: Qoobo the Headless Robot Cat Is Back" – a collection of entertaining robot-themed videos at the IEEE Spectrum website. Here's the commercial from which the post takes its name —
(18) SLEEPLESS IN COLUMBUS. A surprising Le Guin reference in the introduction to this week's (very funny) James Thurber story, "The Night the Bed Fell" (from Library of America's "Story of the Week" series).
…James, the middle Thurber son, had just published My Life and Hard Times, a fictionalized memoir of growing up in a family home where "there was a three-ring circus in progress all the time," as one visitor described it. The episodes first appeared in The New Yorker in eight installments during the summer of 1933 and then as a book in November. Without notifying James in advance, his father and brother drove to Manhattan, showed up at the offices of the magazine, wandered uninvited through the halls of the editorial department, and ended up outside the door of fiction editor Katharine White. James had not yet arrived for work, and White was perplexed as to what to do with two men she knew only from Thurber's stories. "We felt as if we'd been caught robbing the place," Robert later told biographer Harrison Kinney. "It occurred to me later maybe she thought we'd sneaked in to blow up the place for revenge."
(19) LET THERE BE LIGHT. Via Slashdot:"Black Hole Photo May Also Have Captured Light From Around the Universe".
"When you point a telescope at a black hole, it turns out you don't just see the swirling sizzling doughnut of doom formed by matter falling in," reports the New York Times. "You can also see the whole universe."
(20) VIDEO OF THE DAY. Sandford Police using a Dalek to order people to stay inside. (Gently thieved from comments on Camestros Felapton's blog.)
[Thanks to Cat Eldridge, Chip Hitchcock, Jeff Smith, Michael Toman, Martin Morse Wooster, JJ, John King Tarpinian, Mike Kennedy, Daniel Dern, Edmund Schluessel, Lise Andreasen, Standback, and Andrew Porter for some of these stories. Title credit goes to File 770 contributing editor of the day Rob_Matic with an assist from Anna Nimmaus.]