(1) FIGURES DON'T LIE. Cora Buhlert resumes her Masters-of-the-Universe-Piece Theatre with "Cat Fight".
… Of course, I already have a very nice She-Ra figure, but since Mattel never made any of her friends and particularly her three canonical love interests in Origins for reasons best known to themselves (especially since they did make most of the male villains), my She-Ra was a little lonely.

However, a couple of characters from the vintage She-Ra: Princess of Power cartoons did come out in the Masterverse line, such as She-Ra's friend/rival/enemy/lover (it's complicated) Catra….
(2) FEMINISM IN SEVENTIES FANDOM. Fanac.org will be doing another Fan History Zoom program on March 18, "Feminism in 1970s Fandom". Please write to [email protected] to be put on the attendance list.
Schedule for Future sessions
March 18, 2023 – 4PM EDT, 3PM CDT, 1PM PDT, 8PM London, March 19 at 7AM in Melbourne, AU – Feminism in 1970s Fandom, with Janice Bogstad, Jeanne Gomoll, and Lucy Huntzinger
April 22, 2023 – 7PM EDT, 4PM PDT, April 23 at 12AM in London, 9AM in Melbourne AU – Wrong Turns on the Wallaby Track Part 2, with Leigh Edmonds and Perry Middlemiss
Past sessions are available on Fanac.org's YouTube channel.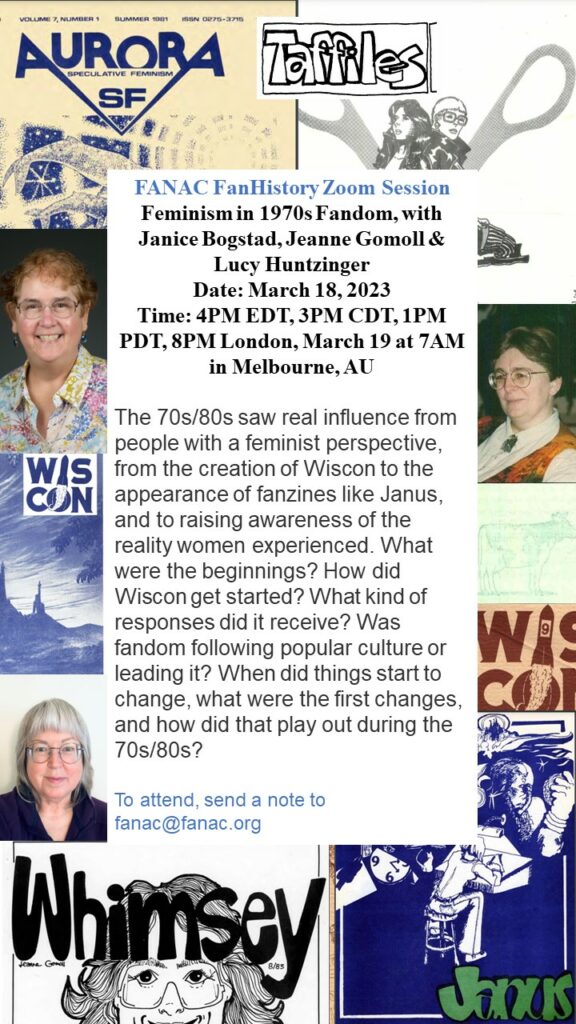 (3) VISONARY WOMEN. "Back to the Future Is Female!" will be a Zoom panel with Chelsea Quinn Yarbro, Pamela Sargent, Sheree Renée Thomas, and Lisa Yaszek, publicizing the book by the same name edited by Yaszek. The online event will take place March 14 at 6:00 p.m. Eastern. Registration required.
From Pulp Era pioneers to the radical innovators of the 1960s and '70s, visionary women writers have been a transformative force in American science fiction. For Women's History Month, acclaimed SF authors Chelsea Quinn Yarbro, Pamela Sargent, and Sheree Renée Thomas join Lisa Yaszek, editor of LOA's The Future Is Female!, for a conversation about the writers who smashed the genre's gender barrier to create worlds and works that remain revolutionary. 

There will be a brief Q&A at the end of the program; you will be able to type a question and submit it to the event moderator.
(4) SFF CREATORS DISCUSS AI. The SFWA Blog has done a roundup of members' posts about developments in AI: "SFWA Members Weigh in on AI & Machine Learning Applications & Considerations".
Recent developments in the use of technology to produce creative works have driven both insightful commentary and strong feelings in the science fiction and fantasy community. These artificial intelligence (AI) and machine learning tools and applications are being used to generate artwork, audio narration, nonfiction articles, and fictional narratives with increasing frequency. There are important considerations to be made about what the proper use of these technologies should be—practically, ethically, and legally—while recognizing that their applications are changing almost daily.

We can think of no group better to weigh in on these issues than the SFWA membership: writers and thinkers who have long considered exactly these questions and their ramifications in many great works of speculative fiction across many mediums. Therefore, we've created this webpage to feature our members' recent writing and thoughts on AI and machine learning. Each of the links below will take you to a different presentation of those thoughts, whether a personal blog post, a social media thread, a video, or a magazine article….
Their links include this one from Charon Dunn: The Blog: "Disco Doesn't Suck – And Neither Does AI Art".
I've been thinking about experimenting with resurrecting this blog so I can Rant About Issues and hopefully attract clicks that will result in book sales or other engagement. Fine. It's 2023, I know how these things work. Also I recently joined SFWA, after achieving (modest) sales of science fiction sufficient to meet their (recently lowered) threshold and one of their challenges had to do with arguments regarding AI. I did a Facebook post about the same thing that was enjoyed by some of my friends and misunderstood by others, so I've got an opinion or two on the subject….
(5) THE THREE LAWS. Jeremy Dauber looks at "What Isaac Asimov Can Tell Us About AI—And Robots That Love" in The Atlantic.
…We're told it's structurally, technically impossible to look into the heart of AI networks. But they are our creatures as surely as Asimov's paper-and-ink creations were his own—machines built to create associations by scraping and scrounging and vacuuming up everything we've posted, which betray our interests and desires and concerns and fears. And if that's the case, maybe it's not surprising that Asimov had the right idea: What AI learns, actually, is to be a mirror—to be more like us, in our messiness, our fallibility, our emotions, our humanity. Indeed, Asimov himself was no stranger to fallibility and weakness: For all the empathy that permeates his fiction, recent revelations have shown that his own personal behavior, particularly when it came to his treatment of female science-fiction fans, crossed all kinds of lines of propriety and respect, even by the measures of his own time.
(6) COMICS WORKERS UNIONIZE. "Image Comics Union Ratifies First Contract" reports Publishers Weekly.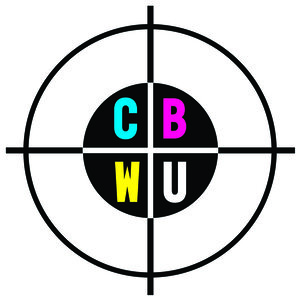 The union representing staffers at the Portland, Ore.-based Image Comics announced that workers voted overwhelmingly on March 1 to approve their first union contract.

In a statement released March 2, Comic Book Workers United (CBWU) celebrated the contract and thanked supporters as they continue their "collective bargaining journey."

"We were hopeful for, but could never have imagined, the outpouring of support we received when we began our collective bargaining journey," the union shared. "A lot has happened since that first announcement, and we cannot begin to adequately express our gratitude to the community of people within and without the industry who have stood with us during contract negotiations."

CBWU is a new union affiliate of the Communications Workers of America. The union was launched last November by a group of 10 Image Comics staffers to represent employees in editorial, production, and marketing. No comics artist are represented….
The union has a website: Comic Book Workers United.
(7) 2023 PEN LITERARY AWARDS. None of the works I identified as genre in my nominees post were winners at yesterday's 2023 PEN Lit Awards ceremony, however, Publishers Weekly's description of this book suggests I may have missed one:
…Among the 17 literary awards and grants presented throughout the evening, the biggest winner was Percival Everett, who received the $75,000 PEN/Jean Stein Book Award for his novel Dr. No (Graywolf Press), about a professor of mathematics who researches "nothingness" and the aspiring supervillain who attempts to recruit him. In his acceptance speech, Everett thanked Graywolf, which he said he has been with for the past 29 years, during which time he has "had one editor: Fiona McCrae." (McCrae retired last summer.)…
(8) ELFQUEST HUMBLE BUNDLE. Humble Bundle is offering a bundle of Elfquest books with proceeds to benefit the Hero Initiative. The Hero Initiative supports comic book creators in need: "Elfquest: The Complete Dark Horse Collection"
Discover the saga of Cutter, chief of the elfin tribe of the Wolfriders, and his epic quest across the World of Two Moons in ElfQuest, Wendy and Richard Pini's long-running fantasy graphic novel series. This collection features every volume of the series published by Dark Horse, including The Complete ElfQuest, The Final Quest, and Stargazer's Hunt. Celebrate 45 years of ElfQuest, and help support The Hero Initiative with your purchase
(9) CHRISTOPHER FOWLER. [Item by Michael J. Walsh.] Creator of the Bryant & May series Christopher Fowler died March 2 of cancer at the age of 69. (Not to be confused with Pat Cadigan's husband.)
His first novel Roofworld was a delightfully off-the-walls secret history. The Guardian calls it "a fantastical thriller about a secret community living on top of London's buildings." He followed that with other supernaturally tinged novels such as Spanky, Disturbia, Rune and Psychoville.
And his most well know bit of writing was 8 words:
He began his career as a copywriter and founded the film marketing company the Creative Partnership, coming up with the tag-line for the Alien movie in 1979: "In space, no one can hear you scream"
(10) MEMORY LANE.
2005 – [Compiled by Cat Eldridge.]
Christopher Fowler as Mike noted in the Scroll tonight passed recently. He had for quite some time been battling cancer as he documented on his blog.
Seventy-Seven Clocks was published in the U.K. by Doubleday eighteen years ago. It was the third novel in the series after Full Dark House and The Water Room. It was nominated by the British Fantasy Society for an Award.
I liked each and every one of the Peculiar Crimes Unit mysteries I read which was at least half of the twenty-one that came out. Bryant and May were nicely thought out characters, the Peculiar Crimes Unit was, errrr, peculiar, London of course was spot-on used by Fowler and the mysteries were not your typical mysteries in any sense of that word.
I don't think he ever reconciled the fact that his two detectives have to be close to a century old given that Full Dark House is set during the Blitz.
As always with these Beginnings, I give absolutely nothing away. So with that note, here's the Beginning…
Prologue
Talk me through peculiar.'
'What do you mean?' asked Arthur Bryant.
'I mean,' said the young biographer, 'why does this special police unit of yours only get the peculiar cases?' '
'There, you can speak properly when you try,' said Bryant. 'I don't hold with slang.' He fiddled with his trouser turn-up and extracted the stem of his pipe. 'I've been looking for that all morning. When we were founded as an experimental unit, "peculiar" meant "particular," as in "specialized." But we started to attract certain types of case, ones which were potentially embarrassing for the government, ones nobody else could get to grips with. Before we knew it, we were dealing with goat-bothering bishops and transvestite Conservatives, not that the latter constitutes much of a peculiarity these days. We acquired the cases that proved too obtuse for traditional police methods.' '
'Like the business with the Water Room.' The biographer had just finished recording Bryant's thoughts about this case because it had only just concluded, and everyone's memories of it were still fresh, even though they displayed Rashomon-style discrepancies. 'I don't suppose you've ever dealt with anything like that before.'
'Actually, you're wrong; there was another case involving water and art, although it was very different. And it happened much earlier, in 1973.' Bryant eyed the young man and wondered if he could get away with lighting his pipe in the small closed room. '
'All right, we'll try that. What do you remember about it?' The biographer had given up attempting to keep his subject's recollections in chronological order. He switched on his recording equipment in hope.
'Not a lot,' warned Bryant. 'I wouldn't make a very good elephant.' '
'I'm sorry?'
'Memory.' Bryant tapped the side of his bald head with a wrinkled forefinger. 'Or rather, lack of it. Information and experience. I mean, I have them both, but I'm for ever losing the former and forgetting the latter.' 'If you could try to think hard,' the biographer pleaded. His patience had been worn down over the last few weeks of interviews. He was beginning to regret embarking on his project: Bryant and May: A Life of Peculiar Crime. No one had written about London Peculiar Crimes Unit's legendary detective team before, and he could see why.
(11) TODAY'S BIRTHDAYS.
[Compiled by Cat Eldridge.]
Born March 3, 1863 — Arthur Machen. His novella "The Great God Pan" published in 1890 has garnered a reputation as a classic of horror, with Stephen King describing it as "Maybe the best horror story in the English language." His The Three Impostors; or, The Transmutations 1895 novel is considered a precursor to Lovecraft and was reprinted in paperback by Ballantine Books in the Seventies. (Died 1947.)
Born March 3, 1876 — David Lindsay. Best remembered for A Voyage to Arcturus which C.S. Lewis acknowledged was a great influence on Out of the Silent Planet, Perelandra and That Hideous Strength. His other genre works were fantasies including The Haunted Woman and The Witch. A Voyage to Arcturus is available from the usual suspects for free. And weirdly it's available in seven audio narratives. Huh. (Died 1945.)
Born March 3, 1920 — James Doohan. Montgomery "Scotty" Scott on Trek of course. His first genre appearance was in Outer Limits as Police Lt. Branch followed by being a SDI Agent at Gas Station in The Satan Bug film before getting the Trek gig. He filmed a Man from U.N.C.L.E. movie, One of Our Spies Is Missing, in which he played Phillip Bainbridge. Doohan did nothing of genre nature post-Trek that I'm aware of. (Died 2005.)
Born March 3, 1936 — Donald E. Morse. Author of the single best book done on Holdstock, The Mythic Fantasy of Robert Holdstock: Critical Essays on the Fiction which he co-wrote according to ISFDB with Kalman Matolcsy. I see he also did two books on Vonnegut and the Anatomy of Science Fiction on the intersection between SF and society at large which sounds fascinating. (Died 2019.)
Born March 3, 1955 — Gregory Feeley, 68. Reviewer and essayist who Clute says of that "Sometimes adversarial, unfailingly intelligent, they represent a cold-eyed view of a genre he loves by a critic immersed in its material." Writer of two SF novels, The Oxygen Barons and Arabian Wine, plus the Kentauros essay and novella.
Born March 3, 1945 — George Miller, 78. Best known for his Mad Max franchise, The Road Warrior, Mad Max 2, Mad Max Beyond Thunderdome and Fury Road. He also directed The Nightmare at 20,000 Feet segment of the Twilight Zone film, The Witches of Eastwick, Babe and 40,000 Years of Dreaming.
Born March 3, 1970 — John Carter Cash, 53. He is the only child of Johnny Cash and June Carter Cash. To date, he's written two fantasies, Lupus Rex which oddly enough despite the title concerns a murder of crows selecting their new leader, and a children's book, The Cat in the Rhinestone Suit, which I think Seuss would grin at.
(12) PROP$. "'Everything Everywhere All at Once' props auctioned for charity" – NPR tells how much they brought in.
Lucky bidders have gotten their (presumably non-hot dog) hands on pieces of one of this season's buzziest movies, after entertainment company A24 auctioned off dozens of props from Everything Everywhere All at Once.

The online auction, which closed Thursday, raised $555,725 for three different charities: the Asian Mental Health Project, the Transgender Law Center and the Laundry Workers Center.

… "You may only see a pile of boring forms, but I see a story," reads the description of a pile of crumpled, colorful receipts, which sold for $7,000….
(13) GOING PRO. Chicon 2000 Worldcon chair Tom Veal announces that he has become an author. See for yourself – read his story collection Strange Tales for Strange Times.
If you think you live in strange times, these tales will show you what strangeness really is.
"The Miracle Wrought by Silas Gantry": A down-on-his-luck pastor performs a world-shaking miracle, then has to endure the unanticipated consequences of a world where everyone believes in deity.
"Shadowloves: A Tale of Desire": Approaching middle age, a man who let romance pass him by rekindles an old flame at an exotic resort, only to discover that it won't let him go.
"The Monkey and the Amazon: A Tale of Illusions": In ancient Babylon, the alleged daughter of a warrior princess finds her fate entangled with a monkey that is more than it seems.
"Igor's Campaign: A Tale of Ambition": The World Science Fiction Convention comes to Yeltsin-era Russia and turns into a scene of speculative stock frenzy.
"A Fire at the End of Time: A Tale of Immortality": On the universe's last-born planet, a young scholar is offered a fearful chance to prolong his life past the death of the stars.
"Daimon Born: The First Adventure of Theagonistes": In the realm above the Moon, a daimon who seeks to penetrate the cosmos-enclosing Empyrean changes the Earth forever.
"Pages from the Universal Library": The Universal Library contains every book that has been or can be written. Presented here are reviews of works that lack only a connection to our version of reality. You will discover how thwarting the 9/11 plot led to the impeachment of George W. Bush, which holiday could not be decolonized, who made cricket America's national pastime (with an assist from the designated hitter rule) and why a German politician killed in the military coup of 1936 became a progressive hero.
"Clicks & Colluders": A Russian spy, a naïve journalistic neophyte and the aftermath of Hillary Clinton's election victory, which quickly veers in directions almost as strange as real life.
When you finish these stories, you will appreciate the placidity of the mundane world.
(14) SONG OF THE SOUTH REFERENCE DELETED. "Disneyland removes controversial 'zip-a-dee-doo-dah' lyric from its parade" – CNN Business has details.
Disneyland has removed the "zip-a-dee-doo-dah" lyric played during its park parades because it comes from a movie that has been criticized for racist portrayals of Black Americans.

The lyric initially appeared in the "Magic Happens" parade when it debuted in March 2020. The parade recently returned after a nearly three-year hiatus because of the Covid-19 pandemic. Upon its re-introduction last month, spectators of the twice-daily parade, described as "celebrating magical moments from legendary Disney stories" on its website, now hear the lyric — "think of the happiest things" from "Peter Pan"— in its place….

Disneyland officials told the OC Register in 2020 that the removal of the "Zip-A-Dee-Doo-Dah" song from the theme park resort is part of a continuous process to deliver an environment that features stories that are relevant and inclusive. The OC Register also reports that in 2020, the song was removed from music played in Downtown Disney, the shopping and dining district of the Disneyland resort, and in 2021 it was removed from the music played at the King Arthur Carrousel.
(15) VIDEO OF THE DAY. The Haunted Mansion teaser trailer is now online.
A single mom named Gabbie (Rosario Dawson) hires a tour guide, a psychic, a priest, and a historian to help exorcise their newly bought mansion; after discovering it is inhabited by ghosts. Watch "Haunted Mansion" coming soon to theaters in 2023.
[Thanks to Chris Barkley, Andrew Porter, SF Concatenation's Jonathan Cowie, Steven Johnson, Dann, Daniel Dern, Michael J. Walsh, Cora Buhlert, Michael Toman, Cat Eldridge, Mike Kennedy, and John King Tarpinian for some of these stories. Title credit belongs to File 770 contributing editor of the day Cat Eldridge.]