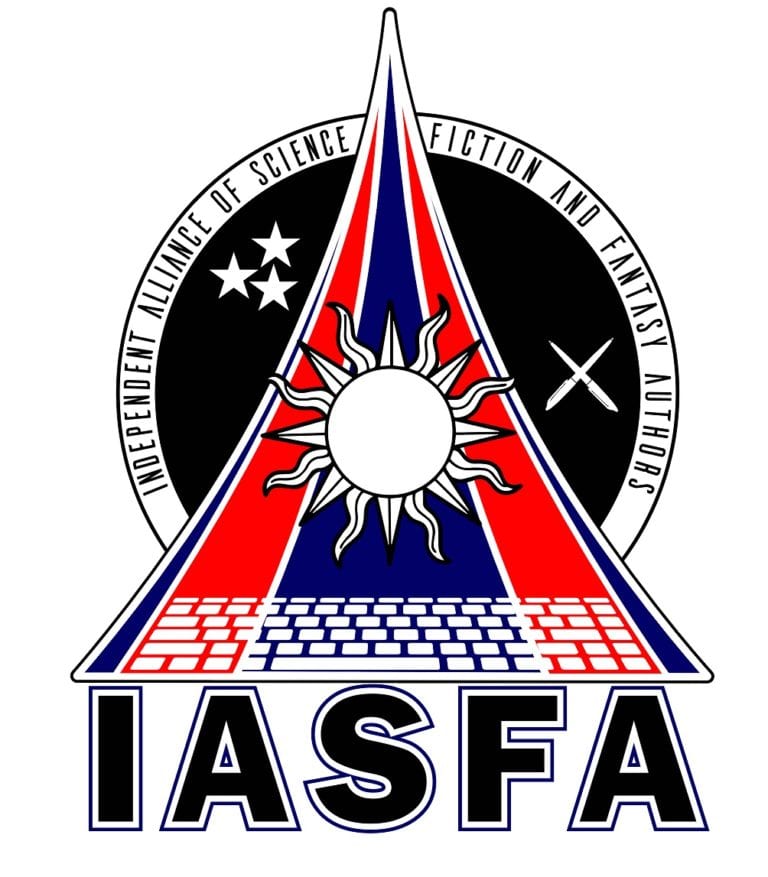 Craig Martelle, cofounder of the 20Booksto50k® Facebook group with 39,000 members, has launched a website for the Independent Alliance of Science Fiction & Fantasy Authors (IASFA) with the following Mission Statement:
To support the professional development of SFF authors through shared opportunities, camaraderie, and targeted philanthropy. To build an organization with a focus on bringing stories to an SFF loving readership through improved business practices.
To anyone who asks "Isn't there already a group doing this?" Martelle is ready with an answer:
Why did I start this organization, buying a domain and building a web presence? For the simple reason that in my opinion, professional organizations were hurting their members more than helping them. My idea of a professional is one who sells stories, whether short or long, and that they can repeat that process. I wanted an organization that was focused on helping science fiction and fantasy authors reach more fans. Period. Since one of those didn't exist, I started my own.
The 20Booksto50k® Facebook group is described as a "Safe place to discuss how to ethically make money as authors." They run an annual event — this year's 20Books Vegas Conference will be held in Las Vegas in November. Of interest is that among the first five guest speakers listed are three sff authors, Kevin J. Anderson, David Farland, and David Weber.
Jon Del Arroz, who attended the past two 20Booksto50K conferences, publicized the new group in a YouTube video: "INSTANT REGRET: SFWA's War On Indie Authors Creates New Rival Guild!" While reviewing Martelle's message JDA said, "Craig's being very cautious about not pointing fingers here," a display of subtlety that went over JDA's head given the title of his video. On the other hand, when Martelle says, "in my opinion, professional organizations were hurting their members more than helping them," it's not as if the sff field has many others.
Also, SFWA and 20Booksto50K have had some friction in the recent past. In 2019 Jonathan Brazee stirred up a hornets nest by calling on SFWA members in 20Booksto50K to support a slate of works for the Nebula Awards, for which he subsequently apologized. The intense criticism of the slate rankled Martelle, who said at the time: "It's hard not take negative comments about 20Booksto50k® personally since I run that group, but taking a step back, we did nothing untoward. Indies read indies. We support each other by reading and buying each other's stuff, often promoting it as well with our own hard-acquired email lists. The ignorance is appalling about what we do. I think ethically making money isn't dirty and that's part of the allusions."
At present the IASFA is not a nonprofit organization, as the "Support the IASFA" page explains. It is controlled by Craig Martelle and funds intended for it will flow through his business LLC.
At present IASFA is completely privately funded, but that limits our reach. If you could make a donation, we can improve our engagement and provide more benefits for our author members to include an expanded reach to touch the lives of more readers.

Funds will be collected by Craig Martelle, LLC who will immediately transfer all donations to the IASFA.
And from the "Join IASFA" page:
The Indie Alliance may eventually become a 501(c)(3) charity (where donations are tax deductible) but that isn't for right now. We want to make sure this is a viable alternative to other professional organizations. There will be no Indie Alliance awards, but there could be grants to help offset certain author-related costs to hopefully help the next great science fiction author get their legs beneath them.

Eventually, we hope to have a legal defense fund which is probably the most important thing that a professional organization can provide. Until then, we'll settle for growing a science fiction and fantasy fan base and interdependent place for professionals to hang out and talk shop – mainly how to sell more books. Nothing other than that belongs in here. No drama. No distractions. Focus.
The internet has many communities where people trade information about markets and promote their books, and there's more forming all the time. Talk is free. Will IASFA go to bat for writers victimized by copyright violations, raise issues with exploitive companies, or have tools to cope with Amazon's next idea for squeezing indies?
Others have tried to found the anti-SFWA before. Richard Paolinelli started the "Science Fiction and Fantasy Creators Guild" — its last blog post was dated February 14, 2018, and they never evolved beyond a Facebook discussion group with 270 members (and one that is no longer very active, only 4 posts in the last month).
Lou Antonelli, Michael Burstein, and Brad Torgersen tried to start the Society for the Advancement of Speculative Storytelling (SASS) and reported when they reached 19 dues-paying members in 2013. But there hadn't been a new post on the SASS blog in six years before Antonelli recently published an appeal there to vote for him as a SFWA director-at-large in the current election.   
A lovely logo only takes you so far.