(1) CELEBS READ POTTER. Daniel Radcliffe reads the first chapter of Harry Potter and the Philosopher's Stone/Sorcerer's Stone as WizardingWorld.com launches"Harry Potter At Home." Eddie Redmayne and Stephen Fry are among the other celebrities involved.
Daniel will be the first of many exciting contributors to help us read through the first Harry Potter book, as he introduces the Dursleys, who don't like anything mysterious. Enter a cat reading a map, owl-filled skies and whispers about the Potters. So, get comfy and enjoy! You can register with the Harry Potter Fan Club to get all the latest updates on further video readings too.
On the webpage there are also links to related activities, and discussion questions for students.
(2) MURDERBOT RETURNS. Martha Wells read from Network Effect at New York Review of SF's online book launch party hosted by Amy Goldschlager on Facebook.
(3) LAUNCH PREPARATIONS. Netflix dropped a teaser trailer for Space Force.
A four-star general begrudgingly teams up with an eccentric scientist to get the U.S. military's newest agency — Space Force — ready for lift-off.

Steve Carell, welcome to Space Force. From the crew that brought you The Office, Space Force is coming soon to Netflix.
(4) STEAMPUNK ACCIDENT. [Item by David Doering.] Yesterday morning there was a boiler explosion at the Little America Hotel in Salt Lake City–venue for this year's World Fantasy Con. The hotel says no one was seriously injured and repairs will be done well before the con. So not a major deal, just curious because when was the last time you heard of a boiler explosion? KSL reports: "2 injured in boiler explosion at Salt Lake's Little America hotel"
…Both of them had to be rushed to the hospital. One had significant burns and respiratory problems because of the steam. Luckily, the building had already been cleared out and guests were moved out before the repairs had even started, so no one else was hurt.

"Due to their low occupancy, they were able to evacuate that whole building because they anticipated the outage from the service," Stowe said.

Hazmat crews were also sent due to the explosion causing damage to a nearby natural gas line; some of that gas leaked.
(5) YOUNG PEOPLE. James Davis Nicoll introduces the Young People Read Old SFF panel to "Satisfaction Guaranteed by Joy Leache".
This is where I should paint a glowing picture of the author but as the introduction points out, this is one of just three Joy Leache works that saw print. It is the first work by Leache I knowingly encountered. The theme?–?a talented woman propping up a talentless knucklehead?–?seems universal. But what will my Young People make of it? 
(6) NOT YOUR AVERAGE FURRY. Giles Hattersley, in "The Judi Dench Interview: 'Retirement? Wash Your Mouth Out'", in the British edition of Vogue, gets Dame Judi to discuss Cats. She said that the costume she was made to wear in the film was "like five foxes f**ing on my back" and that she was made to look like "a battered, mangy old cat."
(7) KGB READING SERIES. Fantastic Fiction at KGB reading series hosts Ellen Datlow and Matthew Kressel present Leanna Renee Hieber and Ilana C. Myer in a YouTube livestream reading on Wednesday, May 20 at 7 p.m. The link is forthcoming – check back at the series' website. (Listen to their free podcast of previous readings here.)
Leanna Renee Hieber is an actress, playwright and award-winning, bestselling author of Gothic, Gaslamp Fantasy novels for Tor and Kensington such as the Strangely Beautiful, Magic Most Foul, Eterna Files and Spectral City series. Her work has been included in numerous notable anthologies and translated into many languages. A ghost tour guide for Manhattan's Boroughs of the Dead, she's been featured in film and television on shows like Mysteries at the Museum. http://leannareneehieber.com
Ilana C. Myer has worked as a journalist in Jerusalem and a cultural critic for various publications. She has written book reviews and critical essays for The Globe and Mail, the Los Angeles Review of Books, Salon, and the Huffington Post. Last Song Before Night was her first novel, followed by Fire Dance and The Poet King.
(8) LEVAR BURTON PROFILE. In the Washington Post, Caitlin Gibson has a profile of LeVar Burton, who has been calming frazzled parents who grew up listening to him read on "Reading Rainbow" by reading stories on Twitter three times a week for children, young readers, and adults, He's stopped readings for a while, but he read stories by Cat Rambo and Neil Gaiman while he was reading. "LeVar Burton still loves reading aloud. His storytelling might be what you need right now."
Burton, 63,has always had a particular love for the simple act of reading aloud, he says, a form of human connection that he views as vital, especially in times like these. Confined as we are, unsettled as we feel — when has the sense of possibility, the transportive power of stories, felt more necessary?

On his first night of what would ultimately become a month of readings, Burton begins with "We Can Get Them for You Wholesale," a dark work of speculative fiction by English author Neil Gaiman. Burton delivers the story with polish and precision, expressive but never distractingly so, careful to make the voices of characters feel distinctive, not over the top…
(9) SPLIT. Meantime, Gaiman fans are shocked by this item on Vulture: "Amanda Palmer's Patreon Subscribers Found Out About Her Breakup Before Neil Gaiman Did".
The fantasy author Neil Gaiman and Dresden Dolls lead singer Amanda Palmer have broken up. Palmer announced the split to the world — and, apparently, to Gaiman himself — in a post on her Patreon: "Since people are getting confused and asking and my phone and inbox is blowing up with 'where's Neil?' a few times a minute … I can only gather that he's finally told the internet that he's left New Zealand, and I thought I would come here with a short note." The note does not specify the reason for the breakup, but Palmer says she is "heartbroken." Gaiman now lives in the U.K., and Palmer is quarantining in New Zealand with the couple's 4-year-old son.
(10) TODAY'S DAY.
May 5 — For some Star Wars fans its "Revenge of the Fifth." The Southwest U.S. knows it's Cinco de Mayo. It's also National Astronaut Day. In honor of that, Newsweek has a list of astronauts who have established records in space: "National Astronaut Day: 10 Record-Breaking NASA Astronauts and Their Achievements".
Today is the fifth National Astronauts Day—an event held every year on May 5 to mark the day Alan Shepard became the first American in space.

On May 5, 1961, Shepard was launched into space in a Mercury spacecraft called Freedom 7, flying 116 miles high. The entire journey lasted 15-and-a-half minutes and was deemed a success.

Over the last 50 years or so, hundreds more have followed in his footsteps and become astronauts—a word derived from the Greek for "space sailor." In celebration, Newsweek has compiled a list of 10 record-breaking NASA astronauts and their out-of-this-world achievements.

1. First all-female spacewalk: Jessica Weir and Christina Koch (2019)

After months of anticipation, the first all-female spacewalk took place last year on October 18, when Jessica Weir and Christina Koch stepped outside the International Space Station (ISS) to replace a battery charge/discharge unit. The event had originally been scheduled for March 2019 but problems relating to space suits had put a dampener on the plans. It was a first for Meir, who became the 15th woman to perform a spacewalk….
(11) TODAY IN HISTORY.
May 5, 1946 — The Shadow's "The White Witchman of Lawaiki" first aired on Mutual as sponsored by D.L. & W. Coal Company  Blue Coal  and syndicated for the summer by Goodrich Tires. It was written by Joe Bale Smith.  The announcer was Don Hancock with the cast being Bret Morrison as Lamont Cranston and The Shadow, Lesley Woods as Margo Lane and additional cast of Luis Van Rooten, James Monks and Larry Haines.  An atypical episode as it takes place outside of NYC. Told through flashback, Lamont recounts the details of his search for J. MacDonald, an artist friend residing on an island paradise in the South Pacific. Lamont and Margot discover that Oly, a white man known as the White Witchman, has taken command of the natives in a fiendish plan to steal all the pearls they farm from the waters. You can listen to it here.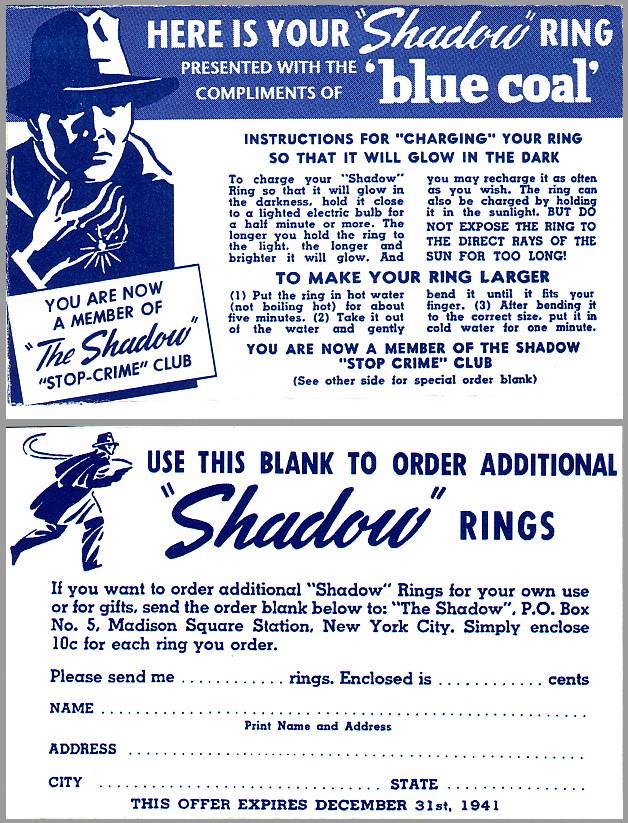 (12) TODAY'S BIRTHDAYS.
[Compiled by Cat Eldridge.]
Born May 5, 1822 — Sir Harry Paget Flashman VC, KCB, KCIE. Harry Flashman appears in a series of 12 of George MacDonald Fraser's books, collectively known as The Flashman Papers, (Died 1915.) 
Born May 5, 1856 — William Denslow. Illustrator best remembered for his work in collaboration with Baum, especially his illustrations of The Wonderful Wizard of Oz. He was known for his editorial cartoons, many using Oz in a political bent. Denslow also illustrated and held joint copyright with Baum on By the Candelabra's Glare, Father Goose: His Book and Dot and Tot of Merryland. Finally, it's worth noting he created the Billy Bounce comic strip which was as one of the earliest comic strips in which the protagonist has some manner of super powers. (Died 1915.)
Born May 5, 1890 — Christopher Morley. English writer who'd be here solely for Where The Blue Begins with its New York City inhabited solely by canines, but who also wrote The Haunted Bookstore which is at least genre adjacent depending on how you view it, and lovingly  crafted Sherlock Holmes and Dr. Watson: A Textbook of Friendship, his look at the writings of Arthur Conan Doyle. (Died 1957.)
Born May 5, 1908 — Pat Frank. Author of Alas, Babylon whoalso wrote a 160-page non-fiction book, How To Survive the H Bomb And Why (1962). (Insert irony here if you want.) Forbidden Area, another novel, he wrote, was adapted by Rod Serling for the 1957 debut episode of Playhouse 90. (Died 1964.)
Born May 5, 1942 — Lee Killough, 78. Author of two series, the Brill and Maxwell series which I read a very long time ago and remember enjoying, and the Bloodwalk series which doesn't ring even a faint bell. I see she's written a number of stand-alone novels as well – who's read deeply of her? 
Born May 5, 1943 — Michael Palin, 77. Monty Python of course. I'll single him out for writing Monty Python's The Meaning of Life and co-writing Time Bandits with Terry Gilliam. And it might be at least genre adjacent, so I'm going to single him out for being in A Fish Called Wanda for which he won the BAFTA Award for Best Actor in a Supporting Role.
Born May 5, 1944 — John Rhys-Davies, 76. He's known for his portrayal of Gimli and the voice of Treebeard in the Lord of the Rings trilogy, General Leonid Pushkin in The Living Daylights, King Richard I in Robin of Sherwood,  Professor Maximillian Arturo in Sliders, Hades in the animated Justice League Unlimited series, Hades in Justice League and Sallah in the Indiana Jones films. Oh, and voicing Macbeth in the exemplary Gargoyles animated series too.
Born May 5, 1957 — Richard E. Grant, 63. He first shows up in our world as Giles Redferne in Warlock, begore going on to be Jack Seward in Bram Stoker's Dracula. On a lighter note, he's Frederick Sackville-Bagg in The Little Vampire, and the voice of Lord Barkis Bittern in Corpse Bride. He breaks into the MCU as Xander Rice in Logan, and the Star Wars universe by being Allegiant General Enric Pryde in Star Wars: The Rise of Skywalker.
Born May 5, 1961 — Janet Brennan Croft, 59. She's  published any number of works on library science, but she is concentrated her research on Tolkien including the Mythopoeic Scholarship Award for Inkling Studies winning War and the works of J.R.R. Tolkien, Tolkien on Film: Essays on Peter Jackson's The Lord of the Rings, Tolkien and Shakespeare: Essays on Shared Themes and Language and Perilous and Fair: Women in the Works and Life of J. R. R. Tolkien. I'd also like to single her work, Baptism of Fire: The Birth of the Modern British Fantastic in World War I.
Born May 5, 1979 — Catherynne M. Valente,  41. My favorite work by her? Oh, by far that'd be the two volumes of The Orphan's Tales which I go back to fairly often — stunning writing. If you've not read them yet, here's her telling "The Tea Maid And The Tailor" as excerpted from In the Night Garden which is from Green Man. 
(13) XTREME COSPLAY. Here's a gallery you'll get a kick out of – ScreenRant's "15 Star Wars Cosplay That Are Nearly Impossible To Do (But Fans Pulled It Off)".
Have you ever walked by an automatic door and pretended to use the Force to open it? Has an empty wrapping paper tube at Christmas ever suddenly become the weapon of a Tusken Raider? Have you ever pretended to be holding a lightsaber when you were really holding a flashlight? The Star Wars Saga has inspired fans to try to become one of its many characters for generations, and now with the power of cosplay, they've only gotten more advanced with their efforts.

Forget holding cinnamon buns to the side of your head and pretending to be Princess Leia – this is painstakingly recreating her mother's wardrobe from The Phantom Menace down to the last hand-stitched bead. This is getting fellow fans to help you recreate the hulking silhouette of an Imperial Walker, or ingenious ways to transform yourself into General Grievous. All of these Star Wars cosplays should be next to impossible, but the force is with these 10 entries!
(14) FROM THE ISS. [Item by JJ.] John Krasinski (The Office, A Quiet Place, Jack Ryan) decided that everyone needed to be reminded that there is a lot of good in the world, so during lockdown he's been producing a show from home called Some Good News, which features good news from around the world as a way of lifting spirits and lightening hearts during these difficult times.
In the 6 episodes thus far, he's arranged to hold Prom and Graduation for the Class of 2020 with special Commencement speakers, as well as opening the baseball season at Fenway Park with frontline medical personnel and providing a personal command performance of Hamilton for a young woman whose birthday theater tickets were cancelled.
And yesterday's episode begins with a bunch of crowdsourced corrections — you'd think the Filers are working overtime!
(15) APEX PREDATOR. "Virologist Spends His Days 'Hunting The Thing That Wants To Hunt Us'"
As the novel coronavirus continues its global rampage, scientists around the world are racing to stop its spread.

Dozens of projects have been launched under great pressure to deliver a vaccine as quickly as possible.

Among the virologists trying to unlock the pathogen's secrets is Christopher Mores, the director of a new lab devoted to the research of highly infectious diseases. It's part of George Washington University's Milken Institute School of Public Health in Washington, D.C.

"I've always liked the idea of hunting the thing that wants to hunt us," Mores says.

…Mores' work over the decades since has brought him up close to a lot of dangerous viruses: Eastern equine encephalitis. West Nile. Dengue. Chikungunya. Zika. Ebola.

Now, his attention is entirely focused on this latest microbe of mystery: the new coronavirus.

"The speed with which this thing wrapped itself around the world has just been remarkable to behold," Mores says. "That was shocking for me, to see how fast it went."

Mores' lab opened up for research on March 24, when COVID-19 cases were spreading quickly throughout the U.S. The urgency of the epidemic made it clear that he and his team should scrap the chikungunya research they had originally planned. Now they devote all of their time to figuring out this new virus.

"There's a tempo and a challenge there," Mores says, "with stakes that you can sense, at least, if not see. It's compelling and it's cool to be in that fight."
(16) ENCOMPASSING. BBC listens in as "Scientists explain magnetic pole's wanderings".
European scientists think they can now describe with confidence what's driving the drift of the North Magnetic Pole.

It's shifted in recent years away from Canada towards Siberia.

And this rapid movement has required more frequent updates to navigation systems, including those that operate the mapping functions in smartphones.

A team, led from Leeds University, says the behaviour is explained by the competition of two magnetic "blobs" on the edge of the Earth's outer core.

Changes in the flow of molten material in the planet's interior have altered the strength of the above regions of negative magnetic flux.

"This change in the pattern of flow has weakened the patch under Canada and ever so slightly increased the strength of the patch under Siberia," explained Dr Phil Livermore.

"This is why the North Pole has left its historic position over the Canadian Arctic and crossed over the International Date Line. Northern Russia is winning the 'tug of war', if you like" he told BBC News.
(17) DEADLY HAT. The British version of Antiques Roadshow had an episode where people brought in James Bond related stuff, and someone brought in Oddjob's hat from Goldfinger. The hat was missing the metal band but was authentic and worth 25,000 pounds. Here's the clip.
(18) HORROR, THE NEXT GENERATION. Ramsey Campbell, in "How Having Kids Can Change Your Life—And Your Horror Fiction" on CrimeReads, looks at how the novels of Stephen King, Robert Bloch, and Sir Kingsley Amis changed after they had children.
…The Whisper Man is the first novel to be credited to Alex North, a name that hides the identity of a highly talented British crime writer. It's as rich and complex (which is to say, very) as any of his previous novels, and founds its intricate narrative on a series of relationships between fathers and sons, one of which is not immediately revealed. Hiding at its centre is a killer of children who abducts the protagonist's son. It's an agonisingly suspenseful book, but also moving and ultimately redemptive. If you're yearning for positive emotions to reward after you've been harrowed, The Whisper Man is a fine place to find them.
(19) AI DIAGNOSTIC TOOL. "The groundbreaking way to search lungs for signs of Covid-19".
When Covid-19 was at its height in China, doctors in the city of Wuhan were able to use artificial intelligence (AI) algorithms to scan the lungs of thousands of patients.

The algorithm in question, developed by Axial AI, analyses CT imagery in seconds. It declares, for example, whether a patient has a high risk of viral pneumonia from coronavirus or not.

A consortium of firms developed the AI in response to the coronavirus outbreak. They say it can show whether a patient's lungs have improved or worsened over time, when more CT scans are done for comparison.

A hospital in Malaysia is now trialling the system and Axial AI has also offered to donate it to the NHS.
(20) VIDEO OF THE DAY. "Future Shock Documentary (1972)" on YouTube is a documentary based on Alvin Toffler's 1970 Future Shock, narrated by Orson Welles. It's a documentary where people are concerned about the pace of change but no one thinks it's unusual that Orson Welles can walk through an airport smoking a cigar!
[Thanks to David Doering, Cat Eldridge, John King Tarpinian, JJ, Michael Toman, Mike Kennedy, Martin Morse Wooster, Chip Hitchcock, Michael J. Walsh, and Andrew Porter for some of these stories. Title credit goes to File770 contributing editor of the day Daniel Dern.]