(1) IBA WINNERS. The "Infected by Art 9 Winners" were announced January 18. The jury panel members were Ed Binkley, Tran Nguyen, John Picacio and Dug Stanat. [H/t Locus Online]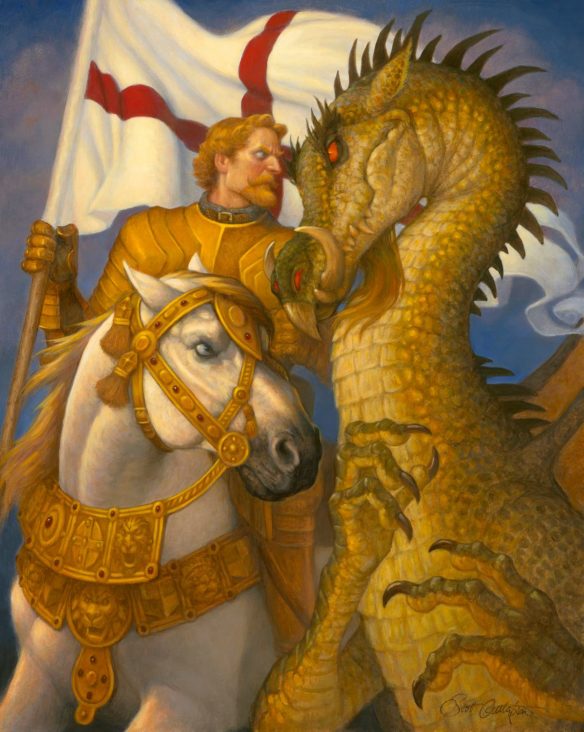 GRAND PRIZE WINNERS
The artworks that won Art Medium Category Honors are listed here.
Hope Doe was also chosen by her peers to win the Body of Work Award for IBA 9.

Out of almost 2,000 pieces submitted to this year's competition there were 63 artworks that were unanimously selected by the Jury Panel through their rounds of voting which have been given special recognition. What the Jury Panel felt were the best pieces submitted to IBA 9 can be viewed at the link. See all 336 artworks selected for IBA 9 here.

Infected by Art Volume 9 will have 269 artists represented. IBA 9 will go into production in Spring and debut next Fall at IX 2021.
(2) PERPETUAL FAVORITE. In the Washington Post, Danny Freedman discusses The Monster At The End Of This Book, a Sesame Street Little Golden Book which has sold 13 million copies, been turned into a book app and a half-hour animated special on HBO Max, and introduced generations of four-year-olds to metafiction. "'The Monster at the End of this Book' is still a hit".
… It's one of the top-10 selling Little Golden Books of all time. A decade-old interactive app version has been downloaded more than half a million times and is among the most popular book apps. Last fall, HBO Max released an animated special based on the book, giving sales another bump.

All of that has made "The Monster at the End of This Book" an unlikely constant, at a rarefied height, though it still chases the iconic status of picture books such as "The Cat in the Hat," "Goodnight Moon" and "Where the Wild Things Are."

And the book's long tail of influence is out of proportion with its 24 pages and its cardboard cover devoid of medallions. It's come to be regarded as an evolutionary step in children's metafiction, nudging further the creation of stories that "demystify bookmaking for children and invite them to sort of get their hands dirty," says children's book historian Leonard Marcus.
(3) WISCON 2021. Due to the pandemic there will not be a full-scale WisCon in 2021, only a small event sufficient to honor the hotel contract. The guests of honor have once again been rolled forward to the next in-person WisCon in 2022: Rebecca Roanhorse and Yoon Ha Lee, who were originally invited to attend WisCon 44 in 2020; as well as Sheree Renée Thomas and Zen Cho, who were originally invited to attend WisCon 45 in 2021.
What will happen instead?
Firstly, we are in the process of planning a much smaller in-person event to occur at the Concourse Hotel in May in order to fulfill the contract we signed with them. This would look something like an intensive workshop event, rather than a convention, and the Workshops department has been looking into how it could work. The number of attendees would also be vastly reduced, in compliance with whatever guidance Public Health Madison & Dane County has in place at the time. We'll be talking again with the Concourse Hotel this month and probably again later to revisit these plans.
The group would also like to plan another WisCONline to occur in 2021 if they can get enough help.
(4) THE MILENNIUM APPROACHES. James Davis Nicoll is making a list and checking it twice – of the number of works he's reviewed on his blog. James says, "I have just discovered I am 4 1/2 books away from having reviewed an even one thousand books by women."
Grand Total to Date
1770 works reviewed. 994.5 by women (56%), 738.5 by men (42%), 21 by non-binary authors (1%), 15 by gender unknown (1%), 488.75 by POC (28%)
(5) MEET THE FANEDS. Cora Buhlert has two more Fanzine Spotlight posts, one for Runalong the Shelves, a UK book blog by "Runalong Womble", and the other for Warp Speed Odyssey, a Canadian SFF site.
Tell us about your site or zine.

Runalong The Shelves is now in its fourth year and is very much a book blog with a big focus on reviewing science fiction and fantasy but also interested in horror and the occasional thriller. You may find me interviewing authors on recent works; answering the odd book tag and taking part in a small annual blogger jury award named Subjective Chaos Kind of Award which is a lot of fun debating books with different bloggers. I try to be diverse both in the types of books I review but also increasingly promoting the diverse voices creating them which I think is a wonderful move for our genre (and way overdue)
Who are the people behind your site or zine?

I [Steven Morrissette] started by myself slowly but then I met Jean-Paul Garnier from Space Cowboy Books who was of tremendous help and also became the first contributing author, reviewing some books and conducting some interviews for Warp Speed Odyssey. Furthermore, Robin Rose Graves who is a friend of Jean-Paul became the second contributing author submitting book reviews and interviews as well. And Finally, there is my sister Jessica who started translating some of the articles into french.
(6) DE FOREST OBIT. The Space Review reported the death of Kellam de Forest (1926–2021) on January 19 from complications due to COVID-19: "Kellam de Forest, who gave us Stardates and the Gorn".
…De Forest was one of two technical advisors that Gene Roddenberry employed during the production of the original Star Trek television series….

With a degree in American history from Yale, de Forest made many major contributions to the original television series created by Gene Roddenberry including developing the idea of the Stardate, which he supplied for Star Trek's second pilot, "Where No Man Has Gone Before."
(7) TODAY'S DAY.
January 31 – Gorilla Suit Day
Mad Magazine artist Don Martin created the idea of Gorilla Suit Day for a 1963 comic strip in which a character mocks the holiday and is then assaulted by gorillas and people in gorilla suits.
(8) MEDIA ANNIVERSARIES.
1981 — Forty years ago, Clifford D. Simak's "Grotto of the Dancing Deer" wins the Hugo Award for Short Story at Denvention Two. It would also win a Nebula, and both Locus and Analog Science Fiction/Science Fact would make it their first place pick that year. It was originally published in Analog Science Fiction/Science Fact in the April 1980 issue.
January 31, 1993 — Space Rangers came to a quick end on CBS, airing its fouth of sixth episodes, "To Be … Or Not To Be". (The final two episodes aired later.) It was created by Pat Densham, and it starred a cast that arguably was larger than the length of the series: Jeff Kaake, Jack McGee, Marjorie Monaghan, Cary-Hiroyuki Tagawa, Danny Quinn, Clint Howard, Linda Hunt and Gottfried John. The series is available on DVD which is out of print at this point.
(9) TODAY'S BIRTHDAYS.
[Compiled by Cat Eldridge and John Hertz.]
Born January 31, 1901 – Maria Luise Kaschnitz. Highly regarded as a poet; also prose fiction, essays. A novel and a few shorter stories for us; «Gespenster» is in English as "Ghosts!" Outside our field, see The House of Childhood; Circe's Mountain and Long Shadows (shorter stories); Whether or Not (tr. of memoir Steht noch dahin, more literally Still there); Selected Later Poems. Büchner Prize, Roswitha Prize. Kaschnitz Prize named for her. (Died 1974) [JH]
Born January 31, 1927 — Norm Prescott. Co-founder and executive producer at Filmation Associates, an animation studio he created with veteran animator Lou Scheimer. The studio is responsible for such productions as The New Adventures of Superman, Fantastic Voyage, The Batman/Superman Hour and Star Trek: The Animated Series. (Died 2005.) (CE)
Born January 31, 1937 — Philip Glass, 84. 1000 Airplanes on the Roof: A Science Fiction Music-Drama, Einstein on the Beach, The Making of the Representative for Planet 8 (with a libretto by Doris Lessing based on her novel of the same name), The marriages between zones three, four, and five (1997, libretto by Doris Lessing, after her second novel from Canopus in Argos), The Witches of Venice and The Juniper Tree would be a very fragmentary listing of his works that have a genre underpinning. (CE)
Born January 31, 1934 – Gene DeWeese. Fan and pro. Thirty novels, as many shorter stories, some with Buck Coulson; almost three hundred reviews in "Once Over Lightly" for SF Review. Now You See It/Him/Them and Charles Fort Never Mentioned Wombats, both with Buck, are classic faan fiction, i.e. fiction by fans about fans; Now is set at Discon II the 32nd Worldcon and has more or less recognizably e.g. Dean Grennell, George Scithers, Buck's wife Juanita; Charles is a sequel set in Sydney just before Aussiecon I the 32nd Worldcon with e.g. Rusty Hevelin, Denny Lien, Bob Tucker. (Died 2012) [JH]
Born January 31, 1941 — Jonathan Banks, 80. First genre role was as Deputy Brent in Gremlins, a film I adore. In the same year, he's a Lizardo Hospital Guard in another film I adore, The Adventures of Buckaroo Banzai Across the 8th Dimension. Ahhh, a good year indeed. Next I see him playing Michelette in Freejack, another better than merely good sf film. The last thing I see him doing film wise is voicing Rick Dicker in the fairly recent Incredibles 2. Series wise and these are just my highlights, I've got him on Star Trek: Deep Space Nine as Shel-la in the "Battle Lines" episode, in Highlander: The Series as Mako in the "Under Colour of Authority" episode and as Kommander Nuveen Kroll in short lived Otherworld series. In SeaQuest 2032 also had for two episodes as Maximillian Scully. (CE)
Born January 31, 1959 – Laura Lippman, age 62. Three short stories for us and, little as I like titles with colonitis, "In a Strange City: Baltimore and the Poe Toaster". Next door in detective fiction she has won the Agatha, Anthony, Barry, Edgar, Gumshoe, Nero, and Shamus Awards. Three NY Times Best-Sellers that I know of. Writes in a neighborhood coffee shop. Teaches at Goucher College. [JH]
Born January 31, 1960 — Grant Morrison, 61. If you can find it, his early stuff on such U.K. publishers as Galaxy Media and Harrier Comics is worth searching out. Not your hero in tights materials at all. For his work in that venue, I'd recommend his run on The Resurrection of Ra's al Ghul, all of his Doom Patrol work (and the HBO series is based on his work and is quite spectacular), Seven Soldiers and The Multiversity which is spectacularly weird. (CE)
Born January 31, 1963 – Jeffrey Scott Savage, age 58. A dozen novels for us, half a dozen others. Has been a plumber and a French chef. To "What is your favorite book that you didn't write?" he answered "I am always discovering new books that I love. But if I had to pick my very favorite of all time, it would probably be Alice's Adventures in Wonderland." [JH]
Born January 31, 1967 — Sam Weller, 54. Author of Ray Bradbury: The Last Interview, Shadow Show: All New Stories in Celebration of Ray Bradbury (co-edited with Mort Castle), The Bradbury Chronicles: The Life of Ray Bradbury and Listen to the Echoes: The Ray Bradbury Interviews. He also recently published his first collection of short fiction, Dark Black. (CE)
Born January 31, 1975 – Krista McGee, age 46. Three novels for us, as many others. Said C.S. Lewis' Space trilogy "is … fantastic … underappreciated…. a brilliant work of science fiction, well worth the time and effort it takes to read." [JH]
Born January 3, 1981 – Chris McCoy, age 40. Has a wicked tennis serve. Went via a writing scholarship to Australia, New Zealand, Fiji. First novel for us actually called Scurvy Goonda. Although, in case you couldn't tell, I don't always agree with Kirkus, its reviewer said "imaginary friends – no, 'Abstract Companions' – are … manufactured … in Orion's Belt…. all … vanish suddenly … recruited into an army of Ab-Coms…. [In] a climactic battle … a gigantic slab of bacon and melted-down video games figure prominently." Next, The Prom-Goer's Interstellar Excursion. [JH]
Born January 31, 1987 — Sabaa Tahir, 34. Pakistani-American YA writer best known for her NYT-bestselling An Ember in the Ashes series and its sequels. An Ember in the Ashes, the first novel in the now four novels deep series, was nominated for the David Gemmell Awards for Fantasy.(CE)
(10) COMICS SECTION.
Tom Gauld: "Waiting for Godot to Join the Zoom Meeting"
(11) ON THE SPINNER RACK. Cora Buhlert reaches back to the Sixties to review a then-new paperback for Galactic Journey: "[January 22, 1966] Monks, Demi-Gods and Cat People: The Sword of Lankor by Howard L. Cory".
…The Sword of Lankor by Howard L. Cory plunges us right in medias res with our hero, the mercenary Thuron of Ulmekoor embroiled in a tavern brawl in the city of Taveeshe on the planet of Lankor. Thuron is certainly the perfect protagonist, because – so the author assures us – "adventure followed him around like a friendly puppy". He's also tall, strong and a skilled swordsman.

During the tavern brawl, Thuron saves the life of Gaar, a member of a race of furry cat people called Kend. As a result, Gaar is now Thuron's servant for a year and a day, as the customs of his people demand. But Gaar brings other skills to the partnership as well, for he is an oracle, conjurer and pickpocket. Gaar is also the brains of the duo, while Thuron is the brawn.

If you are reminded at this point of Fritz Leiber's Fafhrd and Gray Mouser stories, you are not alone. And indeed the Burroughs comparison on the backcover is misleading, for there are many authors that The Sword of Lankor is more reminiscent of than Burroughs.
(12) BABYLON 5 VISUALS UPGRADED. Engadget delivers the good news that "'Babylon 5 Remastered' now available to buy or stream on HBO Max".
Nearly thirty years after its first broadcast and close to twenty since its troubled DVD release, Babylon 5 is finally getting a polish. From today, Warner Bros. is launching Babylon 5 Remastered both as a digital download (from iTunes and Amazon where available globally) and on HBO Max. It might not be the perfect version of the show that its creators had intended, but it's likely the best we're gonna get.

A Warner Bros. spokesperson told Engadget that Babylon 5 Remastered has been scanned from the original camera negative. The film sequences were scanned in 4K and then "finished," or downscaled, back to HD, with a dirt and scratch clean-up, as well as color correction. The show's CGI and composite sequences, meanwhile, have been digitally upscaled to HD with only some minor tweaks where absolutely necessary.

In order to maintain visual quality and fidelity between the show's filmed and effects-heavy sequences, the new version is only available in 4:3. That's the same format that the show was originally broadcast in, rather than the widescreen DVD releases….
(13) THAT'S HEDLEY. The Reprobate tells how Warner went through the charade of producing a Blazing Saddles TV series to hold onto its rights to make a sequel to Mel Brooks' movie: "Black Bart – The Buried TV Sequel To Blazing Saddles". I must have blinked and missed the pilot when it aired in 1975. The IMDB listing is here.
….But perhaps the most absurd of these contractual obligation projects came with Blazing Saddles, which was adapted into a TV series that ran for four seasons – which would suggest a major hit show by 1970s television standards, except for the fact that it never aired. Not a single episode beyond the pilot was shown on TV anywhere.

…What the cast and crew thought of all this is hard to gauge – Gossett has talked about the weirdness of it all, but you have to wonder just how anyone managed to drum up any enthusiasm once it became clear that the show would never air. Ironically, the plans for a Blazing Saddles sequel ultimately went nowhere – by 1979, it was clear that the moment had passed and audience tastes had changed. The sequel was shelved, and the series was finally cancelled. The pilot episode has since turned up on the Blazing Saddles DVD and blu-ray, but the other episodes have yet to be seen. It's entirely possible that they were never even completed beyond the ones shown to Brooks, and may have been trashed
(14) BRIDGE OVER TROUBLED WATERS. "Army robots made of robots? New LEGO-like method could make it happen" reports Army Times.
…"Robots rearranging to form a bridge made of robots, similar to ants, is one embodiment of our concept of structural robotics, which blur the line between active and passive elements and feature reconfigurability. It is still a motivating use case for the system, but we are looking at broader implications for ground robotics which are adaptable, reconfigurable, and resilient," said Dr. Christopher Cameron, an Army researcher.

Researchers are also interested in building those impact-absorbing materials for similar robots. Using the LEGO-lattice configuration paired with injection molding helps for rapid assembly. And they don't have to do just one thing.

That method of building the structures could give them a combination of characteristics such as becoming thicker when force is applied, getting stiff or flexible, depending on the need or reaction. And by using these materials in these ways, researchers said that larger structures can be put together than with conventional materials used in robots today.
(15) CRIME'S A WASTIN'. [Item by Cora Buhlert.] This is hilarious: "Midsomer Murders 'Series Finale': Finally An Explanation for all Those Murders" at Mystery Tribune.
DCI Barnaby looked down at the body and then at me. "Everyone else is dead or in jail. So, I'm going to guess you're the murderer."…
(16) VIDEO OF THE DAY. Thomas J. Yagodinski created "Jawa Plays Eruption: A Stop Motion Tribute to the Great Edward Van Halen".
…This was an extremely FUN way to pay respects to a musical Legend and to also challenge myself to recreate Eddie's amazing solo, frame by frame via stop motion animation. Is it perfect? Of course not, that's impossible and nothing ever is 🙂 The Jawa is a stop motion puppet I fabricated and the guitar is the 1:4 scale (16inch) Mini Guitar (#EVH?-004) that I further customized.
[Thanks to Cora Buhlert, JJ, Martin Morse Wooster, Andrew Porter, Michael J. Lowrey, Cat Eldridge, Michael Toman, John Hertz, Cliff, Mike Kennedy, and John King Tarpinian for some of these stories. Title credit goes to File 770 contributing editor of the day Daniel Dern.]