(1) THUMB UP. "Paul Krugman on the 'Dune' Scene That Won Him Over" in Variety.
… Why does "Dune" matter far more to readers than a thousand other space operas? Partly it's the richness of the world-building, with its borrowing from many cultures and its stunning ecological prescience. Many science fiction tales are basically Westerns in space; "Dune" draws deeply on Islamic and Ayurvedic tradition instead.

But it's also the unexpected subtlety: in Herbert's universe the greatest power comes not from weapons or mystical talents but from self-knowledge and self-control. The gom jabbar tests whether one can override pain and fear; Paul's ability to do so sets him on his heroic path….
(2) WHAT MIGHT HAVE BEEN. At Bradburymedia, Phil Nichols' latest Bradbury 100 podcast episode is about "The Best Martian Chronicles NEVER Made!"
The book came out in 1950, and The Martian Chronicles immediately became a mini sensation that same year, thanks to the radio drama series Dimension X, which dramatised several stories from the book. Ray knew that there was dramatic potential in his Martian tales, and the late 1950s saw him – by now an established screenwriter, thanks to Moby Dick and It Came From Outer Space – drawing up plans for a TV series to be called Report From Space.

Alas, the series didn't make it to air, and his attempts to develop The Martian Chronicles further for the big screen also came to nothing. But the scripts are pretty good, and allow us to play a game of what if:
What if Ray Bradbury's TV series came on air the same year as The Twilight Zone or Men Into Space?
What if the producer-director/actor team from 1962's To Kill A Mockingbird had succeeded in making The Martian Chronicles before 2001: A Space Odyssey (or Star Trek) had come along?
To find out more… listen to the episode…!
(3) FUTURE TANK. Christopher J. Garcia, Alissa McKersie, and Chuck Serface have decided upon the following deadlines and subjects for upcoming issues of The Drink Tank:
January 20, 2022: Orphan Black
February 15, 2022: The Beatles
March 10, 2022: Pre-1950 Crime Fiction
They invite submissions of articles, fiction, poetry, photography, artwork, personal reminiscences . . . you get the idea, as long as it's related to the above subjects. Send your submissions to [email protected] or [email protected].
(4) POST-RESURRECTION. Emily VanDer Werff surveys the five ages of Matrix: "The Matrix Resurrections: Why the Matrix movies never stopped being relevant" at Vox.
But I'm not talking about the movie's component parts; I'm talking about how the movie felt. And the feeling of watching The Matrix in 1999 was almost overwhelming. In the minds of Lana and Lilly Wachowski, all of these elements blended and fit together seamlessly. And the movie's masterstroke was setting its story in a world that felt very like the actual world in 1999, rather than an overtly fictional setting (as was the case with Dark City). The film captured a growing sense that nothing was real and everything was manipulated on some level, a sense that has only grown in the 22 years since the movie came out.

The Matrix has a complicated legacy. It's probably the most influential American movie since Star Wars came out in 1977 (and it is now almost exactly as old as Star Wars was when The Matrix came out), and it's by far the most popular piece of art created by trans people. But its sequels were divisive, and its ideas about questioning reality have influenced political reactionaries in dangerous ways. Now, with a fourth film in the series coming out on December 22, it's time to go back … back to the Matrix, across five eras of the franchise's history….
(5) GENRE BLENDING. Molly Odintz selects the sf novels that would interest crime fiction readers. "The Best Speculative Thrillers and Mysteries of 2021" at CrimeReads.
The future is here. It's bright. And it's terrifying. That's what these authors seem to think, anyway. As we've sleepwalked through the second year of the pandemic, lucid dreaming our way through endless possibilities in the midst of endless isolation, these authors have sought to capture the highs and lows, perils and opportunities, of a changing world. Get ready for clones, underwater high-rises, alternate histories, eco-terrorists, and of course, murders in space, all speaking to the inherent instability of identity and morality in the fraught future and rapidly disintegrating present….
(6) DEEP SPACE LINE. NASA is considering an Interstellar Probe that would go perhaps 10 times farther into space than the two Voyager spacecraft have. A 498-page document discussing the related issues can be downloaded here.
Traveling far beyond the Sun's sphere of influence, Interstellar Probe would be the boldest move in space exploration to date. This pragmatic near-term mission concept would enable groundbreaking science using technology that is near-launch-ready now. Flying the farthest and the fastest, it would venture into the space between us and neighboring stars, discovering uncharted territory. It would provide the first real vantage point of our life-bearing system from the outside, allowing us to better understand our own evolution. In an epic 50-plus-year journey, Interstellar Probe will explore questions about our place in the universe, enabled by multiple generations of engineers, scientists, and visionaries
(7) MEDIA BIRTHDAY.
1960 — [Item by Cat Eldridge.] Sixty-one years ago, Twilight Zone's "The Night of the Meek" first aired. This was a Christmas-themed story with Art Carney as a Santa Claus fired on Christmas Eve who finds a mysterious bag that gives an apparently unlimited stream of gifts. The script would be used over in the Eighties version of this series and on the radio program as well. Serling ended the original broadcast with the words," And a Merry Christmas, to each and all," but that phrase was deleted in the Eighties and would not be back until Netflix started streaming the series.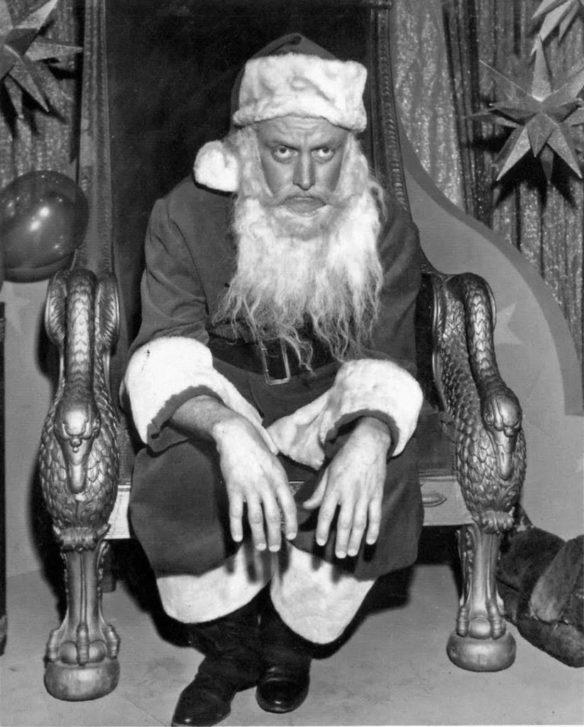 (8) TODAY'S BIRTHDAYS.
[Compiled by Cat Eldridge.]
Born December 23, 1945 — Raymond E. Feist, 76. Best known for the Riftwar series. The only novel I've read by him is was Faerie Tale, a dark fantasy set in the state of New York, which is one damn scary work. 
Born December 23, 1927 — Chuck Harris. A major British fan, active in fandom from the Fifities until his passing. He ran the infamous money laundering organization Tentacles Across the Sea with Dean Grennell and was a well-loved British member of Irish Fandom. He was involved in myriad Apas and fanzines. As co-editor of Hyphen he was nominated multiple times for the Best Fanzine Hugo in the Fifties but never won. (Died 1999.)
Born December 23, 1949 — Judy Ann Strangis, 72. She's one of the leads, Judy / Dyna Girl, on a Seventies show I never heard of, Electra Woman and Dyna Girl, which was a Sid and Marty Krofft (H.R. Pufnstuf) live action SF children's television series from 1976. She had one-offs on Twilight Zone and Bewitched and, and appeared twice on Batman courtesy of her brother who was a production manager there.  She's also done voice work in The Real Ghostbusters and Batman: The Animated Series.
Born December 23, 1958 — Joan Severance, 63. She's on the Birthday list because she was Darcy Walker, the Black Scorpion in Roger Corman's Black Scorpion. She then starred in and co-produced Black Scorpion II: Aftershock and The Last Seduction II.
Born December 23, 1971 — Corey Haim. You'll most likely remember him from the Lost Boys but he had a long career in genre film after that with roles in Watchers, Prayer of the Roller Boys, Fever Lake, Lost Boys: The Tribe (no, I've never heard of it) and Do Not Disturb. He showed in two series, PSI Factor and Merlin. (Died 2010.)
Born December 23, 1919 — Peggy Fortnum. She's an English illustrator beloved for illustrating Michael Bond's Paddington Bear series. She first illustrated him in A Bear Called Paddington. One of Fortnum's Paddington illustrations is part of a series of stamps that was issued by the Royal Mail in 2006 celebrating animals from children's literature.  (Died 2016.)
(9) THESE DON'T REPRODUCE FOR FREE. In "This 'Star Trek' enterprise is taking flight", the Boston Globe profiles a business that sells Tribbles.
…As a child growing up in Washington state, Kayleigha says, her dad showed her classic episodes of the Star Trek TV series on videotape. "I wanted a pet Tribble," she says. But she didn't just want a simple stuffed toy — she wanted it to be able to purr when it was happy or shriek when it encountered a Klingon. As an adult, "I finally decided to make one," she says. "I taught myself to do the C++ coding, and Jay learned how to solder." They built a prototype in their living room, envisioning it as a smart toy that could be put into different modes with an app. One example: "watchdog" mode, so you can put the Tribble on top of a laptop or another item and it screams if someone tries to move it….
(10) GATISS NEWS. In the Financial Times behind a paywall, Adam Scovell interviews Mark Gatiss about his adaptation of M.R. James's "The Mezzotint," starring Rory Kinnear, which will be broadcast on BBC2 at 10.30 PM on Christmas Eve,.
For Gatiss, ghost stories are an essential part of the TV schedule. "There should be one every year,' he says. 'I'm very happy if it's me (making them) but it doesn't have to be. I just want them to be on and can't bear it when they're not.

Having adapted The Tractate Middoth in 2013, starring Sacha Dhawan, and Martin's Close in 2019, starring Peter Capaldi, he believes James's stories are ideally suited to TV. 'They were written to be read so they're already semi-dramatised,' Gatiss says. 'They're pithy and don't outstay their welcome. I just want them to be on and can't bear it when they're not.'
(11) OCTOTHORPE. The Christmas episode of Octothorpe is online. "Authors Eating John".
John Coxon is sleepy, Alison Scott is talking to Chinese fans, and Liz Batty went to the Hugos. We discuss site selection at DisCon III before discussing Chengdu in 2023's victory and then move onto The Hugo Awards before plugging some books we like. Listen here!
(12) CAT FLAP FEVER. Not genre at all. Not even a little bit. In the Guardian: "Tim Dowling: I'm on my hands and knees, teaching our new cat old tricks".
It is a frosty morning and I am standing in the kitchen in bare feet, holding the door open for the cat. The cat dips its head low, studying the world across the threshold.

"Faster, pussycat," I say. The cat sniffs at the cold air swirling in from the garden, but does not move. I begin to close the door very slowly, in a bid to create a shrinking decision window. In the space of two months the kitten has grown into a tall-eared, spooky-looking thing that I sometimes find standing on my chest staring down at me in the dead of night, its nose a millimetre from mine. It doesn't fear the dog or the tortoise, but it's still pretty wary of outside….
(13) VIDEO OF THE DAY. [Item by Martin Morse Wooster.] Hailee Steinfeld learns on Comedy Central that despite her Oscar nomination for True Grit, it's hard work to be part of the MCU!
[Thanks to Cat Eldridge, Mike Kennedy, Martin Morse Wooster, JJ, Michael J. Walsh, Chuck Serface, Daniel Dern, John Coxon,SF Concatenation's Jonathan Cowie, John King Tarpinian, Andrew Porter, and Michael Toman for some of these stories. Title credit belongs to File 770 contributing editor of the day Daniel Dern.]