(1) EATING THE FANTASTIC. Scott Edelman invites listeners to feast on kabobs with E. Lily Yu in episode 157 of the Eating the Fantastic podcast.
[Because Readercon went virtual] the award-winning E. Lily Yu and I each ordered kabob from local restaurants, and nibbled our take-out remotely as I questioned her about how she spins magic out of her words.

E. Lily Yu won the Astounding Award for Best New Writer in 2012. Her short story "The Cartographer Wasps and the Anarchist Bees" was published in Clarkesworld in 2011, and was nominated for the Hugo Award for Best Short Story and the World Fantasy Award for Best Short Fiction. Her short fiction has appeared in Fantasy and Science Fiction, Uncanny, Apex, Lightspeed, and many other venues. Her work has been reprinted in twelve best-of-the-year anthologies, including The Year's Best Science Fiction, The Best Science Fiction and Fantasy of the Year, The Best Dark Fantasy and Horror, and The Best American Science Fiction and Fantasy. Her first novel, On Fragile Waves, was published in February by Erewhon Books.

We discussed why she was glad that when she first came up with the idea for her novel On Fragile Waves she had no idea how long it would take to complete, what she learned through each successive draft of the novel before she was satisfied, why it can be exhausting to see people as they are rather than as you want them to be, the effort required to make the effortful appears effortless, the reasons rejection can be a blessing (especially during the early part of your career), what she learned reading slush for Fantasy magazine, how writing interactive video games helped her write better short stories, and much more.
(2) MONEY TO BURN. GQ invites fans "Inside 'Wheel of Time,' Amazon's Huge Gamble on the Next 'Game of Thrones'", where each episode has a $10M budget.
… The town's inn, an intricately rendered two-story building, is now blackened, its left side plunged into spiky rubble: Smoke machines give the impression that it is still smoldering. There are holes in roofs, artfully destroyed beams. Every house—interior and exterior—has been charred enough so that it shows on camera. The actors who wander the Two Rivers are made up to match. Rosamund Pike, who starred in Gone Girl, is smudged with soot….

…It's November 2019, and the production—comprising hundreds of, and on some days nearly a thousand, people—is filming the end of the first episode of what everyone hopes will be a television show that runs for, well: six seasons? Eight? A show that will be as epic and sensational and ubiquitous as Game of Thrones once was. On one side of the green, a camera sits on a long dolly track; another camera operator stalks the scene, taking various close-ups. The episode's veteran television director, Uta Briesewitz, is arranging four of the show's main cast of relatively unknown young actors in a moment of reckoning: Pike's character, a woman with mysterious powers, has arrived to awaken them and set them on their way. "Your life isn't going to be what you thought," Pike intones, as various cameras circle her. Pike runs through her speech, which is heavy with exposition for both the characters and the audience, a few times. "Can I do one more?" she asks Briesewitz, while apologizing to the extras scattered about. "I think that one got a bit phony."

Finally, Briesewitz calls "cut." Pike retreats from the weather into a nearby tent. "It's not like working with David Fincher," she says to me, referring to the Gone Girl director's penchant for shooting 70 takes of a scene. The production is huge and moving at warp speed. Pike has to know things backward and forward. She has to get her lines out as dozens of crew members and background actors get soaked in the cold rain and actual living horses wander around while makeup women with transparent plastic bags dart in and out to touch up extras and guys with smoke canisters paddle mist into the edges of shots. This set they're on—not just a few hollow façades set up to create the impression of reality, but real buildings, in every direction—is giant, immersive, and won't last past this episode….
(3) SPACE FOR EVERYONE. UCSD's article "Making Space Travel Inclusive for All" reports on the initial zero-gravity flight of disabled volunteers.
In a weightless, microgravity environment like space, what do ability and disability look like? How can someone with partial sight or impaired mobility navigate in a confined space like the space station? As scientists and innovators continue to push the boundaries of spaceflight and the possibility of human life on other planets, how can we build space infrastructure that is inclusive of all humans?

The Mission: AstroAccess project aims to answer these questions, starting with a historic parabolic flight that took off from Long Beach on Oct. 17, 2021. A group of 12 disabled scientists, veterans, students, athletes and artists launched into a zero-gravity environment as a first step toward understanding what is needed to make space inclusive for all.… The 12 AstroAccess Ambassadors selected for this first microgravity flight included four blind or low-vision Ambassadors; two deaf or hard-of-hearing Ambassadors; and six Ambassadors with mobility disabilities, all carrying out a variety of tasks and challenges in the weightless environment. One of the challenges was seeing whether all crew members could perform basic safety and operational tasks, like navigating to oxygen masks. The crew also tested a procedure to see whether sound beacons can be used for blind members to orient themselves, and the effectiveness of haptic devices in communicating commands. They're also investigating how American Sign Language will be impacted by microgravity….
(4) NASA ANALYSIS. University of Arizona English professor Christopher Cokinos calls for artists to work with NASA to celebrate spaceflight. "Engineering the arts for space: developing the concept of 'mission laureates'" at The Space Review.
…In the coming months, I hope to address more aspects of a vigorous, wide, multidisciplinary arts/space effort, including a call for all-artist analogue missions. (I've even submitted, and received an enthusiastic reply, for just such a mission proposal to an analogue facility being developed at Biosphere 2.) But here I want to concentrate on one specific suggestion for increased systematic arts engagement in space activities: mission laureates.

Mission laureates

The term "laureate," of course, refers to someone who receives an honor, deriving from the ancient Greek tradition of placing a laurel wreath on the head of the honoree. The laurel tree was sacred to the god Apollo, patron deity of poets. In more recent history, countries such as Great Britain and the United States have had offices of poet laureates, a tradition that has spread to states, cities, and towns. The poets are asked to engage the public by presenting outward-facing work for non-literary audiences.

Here I want to argue for a new kind of laureate, one attached not to a region but to a mission, specifically missions to space. In brief, mission laureates would create work inspired by missions—robotic and crewed—for wider public engagement.

I am not calling for art that is propaganda—a danger with laureates in the past—but, rather, work that provides new and exciting perspectives that can link a mission to wider currents in human affairs. It's likely that artists interested in this opportunity will be pro-space but they surely will bring the nuance and complexity that we all need in confronting the paradoxes, promises, and perils of the human endeavor in space….
(5) THEY TOOK A SHINE TO IT. This product is cleaning up in the marketplace: "Apple's Most Back-Ordered New Product Is Not What You Expect" says the New York Times. "It's a $19 cloth."
…Charging $19 for a piece of cloth about the size of two stacked dollar bills is bold even by Apple's standards, a company whose legions of loyal customers are conditioned to stomach steep prices. An Apple-branded set of four wheels to "improve mobility" for the Mac Pro, the company's most expensive desktop computer, is priced at $699, for instance.

But the Polishing Cloth stands out because it is far more expensive than widely available alternatives. MagicFiber, a popular brand of microfiber cloth that uses ultrafine fibers to clean glass without scratching the surface, offers a pack of six for $9 on Amazon.

"You have to give them credit for the chutzpah to charge $19," Walter Gonzalez, president and founder of Goja, the parent company of MagicFiber, said of Apple….
(6) SJW CREDENTIAL OWNERS ALERT. New York Review of Books is marketing On Cats with a Margaret Atwood introduction.
In 2019, Notting Hill Editions published an anthology about canines, On Dogs. Now on its tail comes a companion edition for ailurophiles, On Cats, which includes an introduction by Margaret Atwood and more than two dozen essays, stories, and excerpts about the peculiar, sometimes affectionate, and often fickle character of our feline friends.
(7) FINE-GRAINED SIMULATION. A meteorologist and some climate modelers decided to find out if Frank Herbert's imagined world was plausible, and for a change were not party poopers: "The climate on the Dune world of Arrakis, simulated" in Popular Science. The accompanying graphics are stellar.
Dune, the epic series of sci-fi books by Frank Herbert, now turned into a movie of the same name, is set in the far future on the desert planet of Arrakis. Herbert outlined a richly-detailed world that, at first glance, seems so real we could imagine ourselves within it.

However, if such a world did exist, what would it actually be like?

We are scientists with specific expertise in climate modelling, so we simulated the climate of Arrakis to find out. We wanted to know if the physics and environment of such a world would stack up against a real climate model.
(9) IMAGINARY FRIENDS. Screen Rant wrote up the "8 Best Fictional Bookstores We Wish Were Real". There were a couple here that were new to me.
…Be it magical stores with books floating from shelf to shelf, comic book stores owned by supernatural beings, or picturesque but ordinary little shops, fictional bookstores like these make fans and viewers wish that they were real….
(10) MEDIA BIRTHDAY.
1993 – Twenty-eight years ago, The Nightmare Before Christmas premiered. It was directed by Henry Selick (in his feature directorial debut), and produced by Denise Di Novi and Tim Burton. The screenplay by Caroline Thompson from the poem by Tim Burton. Yes, poem. Danny Elfman wrote the songs and score, and provided the singing voice of Jack. The principal voice cast also includes Ed Ivory, Chris Sarandon, Catherine O'Hara, William Hickey, Ken Page, Paul Reubens and Glenn Shadix. Critics loved it though the NAACP condemned Oogie Boogie as a racist stereotype. The Box Office was excellent for it as it earned over a hundred million on a budget of eighteen million. And it has a stellar ninety-one percent rating among audience reviewers at Rotten Tomatoes. It was nominated for a Hugo at ConAdian, the year that Jurassic Park won.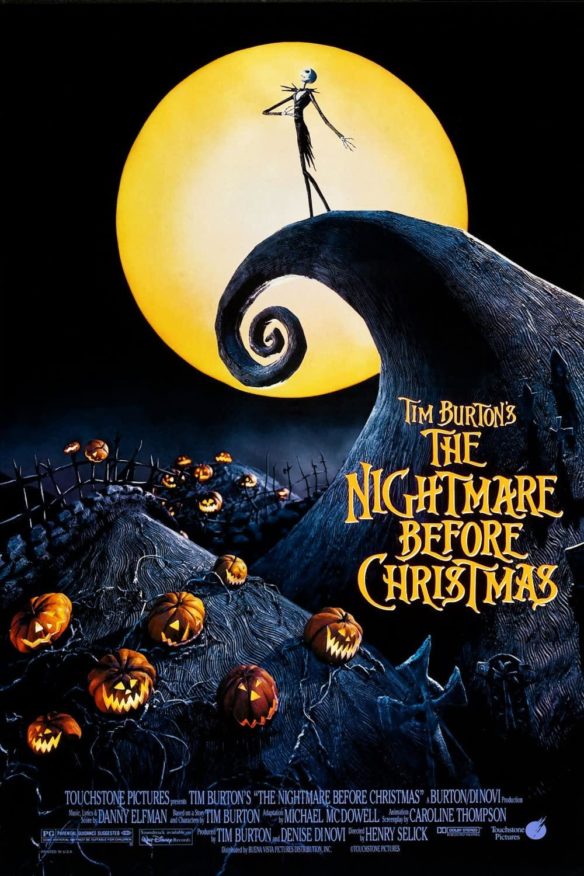 (11) TODAY'S BIRTHDAYS.
[Compiled by Cat Eldridge.]
Born October 29, 1906 — Fredric Brown. Author of Martians, Go Home  which would made into a  movie of the same name. He received compensation and credit from NBC as their Trek episode "Arena" had more than a passing similarity to his novelette which was nominated for Retro Hugo at CoNZealand. Interestingly, a whole lot of his Edgar Award-winning mysteries are being released on the usual suspects in December. (Died 1972.)
Born October 29, 1928 — Benjamin F. Chapman, Jr. He play the Gill-man in the land takes in Creature from the Black Lagoon. Ricou Browning did the water takes. His only other genre appearance was in Jungle Moon Men, a Johnny Weissmuller film. His entire acting career was only eleven years long and had but eight acting credits. (Died 2008.)
Born October 29, 1935 — Shelia Finch, 86. She is best remembered for her stories about the Guild of Xenolinguists  which aptly enough are collected in The Guild of Xenolinguists story collection. She first used it her 1986 Triad novel. The term would later be used to describe the character Uhura in the rebooted Trek film. Her Reading the Bones novel, part of the Guild of Xenolinguists series would win a Nebula. 
Born October 29, 1938 — Ralph Bakshi, 83. Started as low-level worker at Terrytoons, studio of characters such as Heckle and Jeckle and Mighty Mouse which I adore. His first major break would be on CBS as creative director of Mighty Mouse and the Mighty Heroes. Fast forwarding to Fritz the Cat which may or may not be genre but it's got a foul-mouthed talking cat when should make it genre, yes? Genre wise, I'd say Wizards which features voice work by Mark Hamill and whose final name was Wizards so it wouldn't be confused with you know what film. It was nominated for a Hugo at IguanaCon II when Star Wars won. Next up was The Lord of the Rings, a very odd affair. That was followed by Fire and Ice, a collaboration with Frank Frazetta. Then came what I considered his finest work, the Mighty Mouse: The New Adventures series!  Then there's Cool World…
Born October 29, 1947 — Richard Dreyfuss, 74. Roy Neary in Close Encounters of the Third Kind. And The Player in Rosencrantz & Guildenstern Are Dead. Not to mention the voice of Mister Centipede in the ever so James and the Giant Peach. And yes, he's Hooper in Jaws that we declared was genre sometime back. 
Born October 29, 1954 — Kathleen O'Neal Gear, 67. Archaeologist and writer. I highly recommend the three Anasazi Mysteries that she co-wrote with W. Michael Gear. She's a historian of note so she's done a lot of interesting work in that area such as Viking Warrior Women: Did 'Shieldmaidens' like Lagertha Really Exist?  And should you decide you want to keep buffalo, she's the expert on doing so. Really. Truly, she is. 
Born October 29, 1954 — Paul Di Filippo, 67. Ciphers: a post-Shannon rock-n-roll mystery was his first work. He is, I'd say, an acquired taste. I like him. I'd suggest first reading you don't know him should be The Steampunk Trilogy and go from there.  His "A Year in the Linear City" novella was nominated at Torcon 3 for Best Novella, and won the 2003 World Fantasy Award and the 2003 Theodore Sturgeon Award. Oh, and he's one of our stellar reviewers having reviewed at one time or another for Asimov's Science Fiction, The Magazine of Fantasy and Science Fiction, Science Fiction Eye, The New York Review of Science Fiction, Interzone, Nova Express and Science Fiction Weekly. 
Born October 29, 1971 — Winona Ryder, 50. Beetlejuice of course but also Edward Scissorhands and Bram Stoker's Dracula. Not to mention Alien Resurrection and Star Trek as Spock's human mother Amanda Grayson. Which brings me to Being John Malkovich which might be the coolest genre film of all time if not the strangest one. 
(12) COMICS SECTION.
Questionable Content this week has been guest-starring (or would this be a cameo) a familiar, um, figure (all week, so click some "Next"s). Note, QC already has its share of SF-y characters, namely robots and AIs, along with one character's mom living in an orbital space station.
Over in Dustin, the titular teenager and one of the younger kids — presumably (info via Wikipedia) "Hayden, a precocious seven-year-old kid and next-door neighbor," have chosen familiar and we-still-miss-'em Halloween costumes this week.
Sally Forth hints at another reason to wear Halloween costumes.
(13) WONG TAKES ON IRON FIST. Writer Alyssa Wong and artist Michael YG introduce a new Iron Fist to the Marvel Universe on February 16 when a new hero claims the power of K'un-Lun.
Award winning writer Alyssa Wong, known for her outstanding work on Doctor Aphra, will team up with artist Michael YG, an extraordinary artist making his Marvel Comics debut, in Iron Fist. The five-issue limited series will see the legendary mantle of Iron Fist passed on to a new hero in a revolutionary transformation of one of Marvel's most fascinating mystical mythologies. 

After giving up his power to save the world earlier this year in IRON FIST: HEART OF THE DRAGON, Danny Rand believes he's seen the last of the Iron Fist. But when demons begin to attack cities around the world, a new hero appears, hands blazing with the Chi of Shou-Lao the Undying! Who is this new Iron Fist? And does his power really come from the Dragon of K'un-Lun… Or from something far more sinister? Fans will have to wait until the first issue to discover his identity but they can see him now on the stunning cover for IRON FIST #1 showcasing a brand-new costume design by superstar artist Jim Cheung!

Here's what Wong had to say this upcoming series:

"It's an incredible honor to introduce a new Iron Fist to the Marvel Universe. I'm excited to delve into the comic's rich mythos and build on it. What does it mean for someone to take up the mantle of the Iron Fist right now, today? As a newcomer, how does one interact with legacy, and how does one honor it while forging a new path?"
(14) THE GAME'S AFOOT. "Marvel's Guardians of the Galaxy Rickrolls Players With Rick Astley" at Screen Rant.
A new promotional video for Marvel's Guardians of the Galaxy sees various streamers getting "rickrolled," with singer Rick Astley himself joining in on the fun. The recently-released sci-fi superhero title, developed by Eidos-Montreal, seeks to capture the spirit of the team's live-action films while also embracing the characters' comic book roots. Marvel's Guardians of the Galaxy's 80's soundtrack helps to inform the backstory of protagonist Star-Lord while also playing a role in combat.
(15) FOR THE RECORD. The old crew's sign-off strip is followed by the announcement that "Dick Tracy comic strip to have first female lead artist in 90 years".
… The latest artist, Joe Staton along with the entire Dick Tracy team has brought innovation to the Dick Tracy world, incorporating a bevy of crossovers such as The Green Hornet, The Spirit and a villain named the Jumbler, who gives Jumble puzzles as clues to the police.

Now Staton has passed his two-way wrist radio, Detective Tracy's trademark yellow trench coat and fedora over to his long-time Dick Tracy teammate, Shelley Pleger.

For the last 10 years, Pleger has inked and lettered Dick Tracy. Now she takes the helm as the first female lead artist Dick Tracy has ever had….
(16) NOT THE END, MY FRIEND. Netflix dropped this trailer for season 2 of The Witcher today.
(17) SPEAKING OF WITCHES. This Twix commercial has caused major conniptions on the right. RT USA News' overview of the commercial is followed by a roundup of social media reactions: "The Witch & the Wardrobe change: Twix blasted for 'woke' Halloween ad with boy wearing princess dress, but no holiday… or candy". "'New Nanny' is part of a collection of short films created by 18 young filmmakers from various backgrounds, produced by 20th Digital Studio."
A Halloween-themed ad from Twix has critics accusing the candy manufacturer of 'ruining' the holiday with a woke and confusing message on boys wearing dresses that has little to do with the celebration – or the product advertised.

In the 'bite-size Halloween' commercial, a young boy wearing a princess dress is defended from bullies by a witch nanny, who arrives at his house unannounced in a minivan while the child appears to be unattended. The nanny says she was hired by the child's parents and she goes on to casually threaten two children questioning why the boy is dressed up when it's not Halloween. In the last scene of the ad, a boy is making fun of the princess-dress-wearing boy at a park – the synopsis for the ad refers to him as 'non-binary' – and the witch makes him disappear. She says he will "probably" come back….
(18) DEAR DEPARTED. Cat Eldridge recommends the article's photo gallery: "Ben & Jerry's Flavor Graveyard" at Gastro Obscura.
BEN & JERRY MIGHT BE a couple of ice cream tycoons, but they've remained true to their roots. Case in point: the deliciously somber Flavor Graveyard located on the grounds of their factory in Waterbury, Vermont.

Opened in 1997, the memorial to bygone flavors was originally an online-only affair, until a handful of resin headstones were mocked up and planted on a hill behind the factory….
[Thanks to JJ, John King Tarpinian, Andrew Porter, Daniel Dern, Chris Barkley, Jennifer Hawthorne, StephenfromOttawa, Michael Toman, Cat Eldridge, Mike Kennedy, and Martin Morse Wooster for some of these stories. Title credit belongs to File 770 contributing editor of the day Jayn.]