(1) FALLING FORWARD. In the Washington Post, Annalee Newitz published an excerpt from their book Four Lost Cities: A Secret History Of The Urban Age, where they argue that civilizations don't "collapse," but slowly evolve into something else. "Civilizations don't really die. They just take new forms".
… But the historical record shows that reports of the end times always turned out to be wrong. "Barbarians" didn't extinguish Rome: It still stands today, a vital and beloved city, and the cultures of its ancient empire influence populations across Europe and the Americas. Children still study Latin in school, and Silicon Valley executives quote Stoic philosophy. Elsewhere in the world, European colonialism and the slave trade left behind cultural ruins that can't be explained away as "collapses." They are open wounds, still smarting in the present. Over time, civilizations eventually morph into something else entirely, but they infuse future societies with their lingering traumas — as well as their hopeful ideals.

In truth, our apocalyptic stories are far too simplistic to capture what actually happens when a society melts down. As I argue in my book "Four Lost Cities: A Secret History of the Urban Age," a civilization is not a single, monolithic entity, nor does it disintegrate during a momentary crisis. Instead, as we're witnessing in the United States today, it changes without ever breaking completely from the past. It is far from obvious that a society ever really dies….
(2) DON'T TAKE THIS ART FOR GRANTED. The third installment of Doug Ellis' look at the Science Fiction Book Club's Things to Come is now live at Black Gate: "The Art of Things to Come, Part 3: 1961-1963".
As I related in the first two installments of this series (Part One: 1953-1957, and Part Two: 1958-1960), like tens of thousands of science fiction fans before and after me, I was at one time a member of the Science Fiction Book Club (or SFBC for short). I joined just as I entered my teen years, in the fall of 1976, shortly after I'd discovered their ads in the SF digests.

The bulletin of the SFBC, Things to Come – which announced the featured selections available and alternates – sometimes just reproduced the dust jacket art for the books in question. During the first couple of decades of Things to Come, however, those occasions were rare. In most cases during that period, the art was created solely for the bulletin, and was not used in the book or anywhere else.

Since nearly all of the art for the first 20 years of Things to Come is exclusive to that bulletin, it hasn't been seen by many SF fans. In this series, I'll reproduce some of that art, chosen by virtue of the art, the story that it illustrates or the author of the story. The first installment featured art from 1957 and earlier, while the second installment covered 1958-1960. In this third installment I'll look at the years 1961-1963, presented chronologically…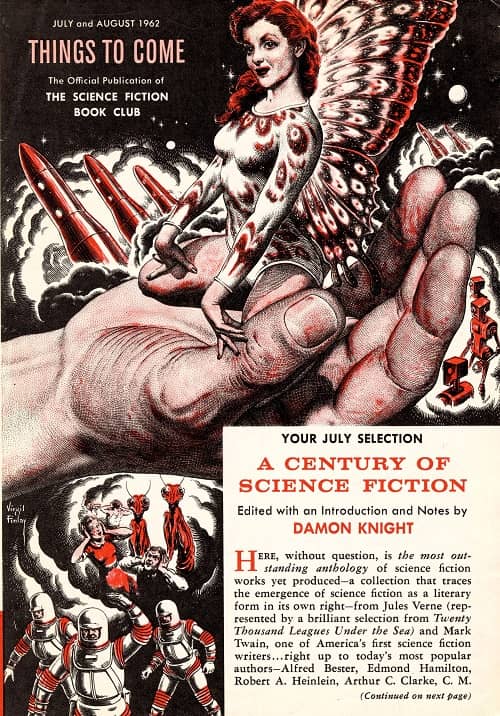 (3) TOO TOUGH TO ADAPT? Vanity Fair's Joanna Robinson tries to understand "The Failure of American Gods and the Trouble With Neil Gaiman".
… Some of the earliest Gaiman adaptations—like 2007's Stardust, starring Claire Danes, and 2009's charmingly stop-motion animated Coraline, from Laika studios—were warmly received. They may have been modest hits, but they've only grown in audience's estimation over time. Perhaps most importantly, they're well liked by Gaiman fans. Stardust, the story of a young, adventurous man and the grumpy fallen star who loves him, is such a loose adaptation of Gaiman's book that it borders on a reimagining. The intent from screenwriter Jane Goldman and director Matthew Vaughn was clearly to try to fashion a Princess Bride–esque classic for a new generation. They fell somewhat short, but the result is still quite fun. It's worth noting that while Gaiman describes visiting with Goldman and Vaughn as they worked on the script and giving his input on adaptive changes, he did not, ultimately have a screenplay credit, so it is unclear whether he had final say.

Gaiman similarly did not have a screenplay credit when it came to Coraline. Based off one of Gaiman's shortest and most overtly kid-friendly books, the story of a girl trapped in a creepy alternate reality proved a calling card for Laika and earned an Oscar nomination.

After that, though—and following the mainstream geek-TV success he enjoyed writing episodes of Doctor Who in 2011 and 2013—Gaiman started getting more involved in adapting his own stories for film and television. The author had actually tried much earlier in his career to make it in Hollywood; he chronicled the frustrating experience he and Pratchett had trying to sell Good Omens in a piece of short fiction called "The Goldfish Pool and Other Stories." Speaking with me about season one of American Gods—which was messy from the start, losing its first showrunner, Bryan Fuller, after its first year
(4) ZOOM FORERUNNER. [Item by Martin Morse Wooster.] Isaac Asimov explains in his autobiography In Joy Still Felt that in April 1962, the University of Omaha asked Asimov to give "a lecture by phone" to students.
The phone company would set up a loudspeaker arrangement; I was to keep my phone open at a particular time; I was to be there waiting, they would call; I would be able to give my lecture, hear audience response, and so on.

It was an intriguing notion and it occurred to me that I might make my influence felt anywhere in the nation without having to travel a step, or, for that matter, without having to do more than sit in my easy chair in my underwear.

On April 7, therefore, I did it–and found that I hated it. There was simply no use in giving a lecture that wasn't live. I had to see the audience, sense it surrounding me, get the response in full. Talking a lecture into a phone, I decided, was like typing while wearing boxing gloves, or making love while wearing a tuxedo.

I rejected all further such invitations when I possibly could.
(5) STILL THINKING ABOUT IT. WIRED's "Geeks Guide to the Galaxy" talks to authors who agree that "'The Dispossessed' Is Still One of Sci-Fi's Smartest Books".
Ursula K. Le Guin's 1974 novel The Dispossessed depicts a society with no laws or government, an experiment in "nonviolent anarchism." Science fiction author Matthew Kressel was impressed by the book's thoughtful exploration of politics and economics.

"After reading The Dispossessed, I was just blown away," Kressel says in Episode 460 of the Geek's Guide to the Galaxy podcast. "It was just such an intellectual book. It's so philosophical, and it was so different from a lot of the science fiction I had read before that. It made me want to read more of Le Guin's work."

Science fiction author Anthony Ha counts The Dispossessed as one of his all-time favorite books. "I would be hard pressed to think of another novel that made as strong an impression on me," he says. "I was insufferable about it. I put quotes in my email signatures, and I identified as an anarchist for several years after that."…
(6) DRAWN THAT WAY. HBO Max dropped a trailer for Space Jam: A New Legacy.
(7) MEDIA BIRTHDAY.
April 4, 1968 –On this day in 1968, 2001: A Space Odyssey enjoyed its premiere in Los Angeles, California. It was one of a number of premieres for the film that week in New York City, Washington D.C., Sydney, Tokyo and Johannesburg. It would win the Hugo for Best Dramatic Presentation at St. Louiscon. Other nominated works were Yellow Submarine, Charly, Rosemary's Baby and the "Fallout" episode of the Prisoner series. 
(8) TODAY'S BIRTHDAYS.
[Compiled by Cat Eldridge and John Hertz.]
Born April 4, 1902 – Stanley Weinbaum. Had he only written "A Martian Odyssey", it would have been enough for us: possibly first (1934) to present a character who thinks like a human being, or better than a human being, but is not a human being – as John Campbell later called for. Three novels, two dozen shorter stories, a dozen poems for us; did not live three dozen years. Cordwainer Smith Rediscovery Award. (Died 1935) [JH]
Born April 4, 1943 – Ted Atwood, F.N., age 78. Co-chaired Boskone 35 (with wife Bonnie). Fan Guest of Honor (with BA), Albacon 2001. Treasurer, Noreascon 4 the 62nd Worldcon. Art Show, Albacon 2014.5 (w/BA) and elsewhere. Audio recording of SF events. Fellow of NESFA (New England SF Ass'n; service award). [JH]
Born April 4, 1943 – Paulette Jiles, age 78. Two novels for us; a dozen other books, poems, travel among the Cree and Ojibwe, memoir. Governor General's Award for English Poetry (PJ then living in Canada), Lowther and Lampert Awards, Rogers Writers' Trust Fiction Prize. Sings alto. "I came upon the master, Jack Vance. Next to Bradbury, of course." [JH]
Born April 4, 1945 – Katherine Neville, age 76. Three novels, one shorter story for us. Various best-seller lists e.g. NY Times, USA Today, Publishers Weekly, Wall Street Journal. Nautilus Silver Award. Turkish Cultural Ministry Medallion of Merit. Has been a fashion model, photographer, portraitist, Bank of America vice-president. Was given a porcelain rat angel when pet rat Rosie died, looks like the work of California artist Yanna but I haven't asked. [JH]
Born April 4, 1948 – Dan Simmons, 73. He's the author of the Hyperion Cantos and the Ilium/Olympos cycles. I'm reasonably sure that I've read some of the Hyperion Cantos of The Fall of Hyperion won a Hugo Award but I'll be damned if I remember it clearly now. If you like horror, Song of Kali which won a World Fantasy Award is highly recommended. (CE)
Born April 4, 1952 – Cherie Lunghi, 69. Her fame arises from her role as Guinevere in Excalibur. (I saw Excalibur in a 1920s-built theater on a warm summer night with hardly anyone there.) She was also Baroness Frankenstien (Victor's Mother) in Kenneth Branagh's Mary Shelley's Frankenstein. She was also in The Lady's Not for Burning as Jennet Jourdemayne. (CE)
Born April 4, 1952 – Tim White. Two hundred fifty covers, ninety interiors for us; record covers, magazine illustrations, jewelry. Five artbooks e.g. TW. Here is The Other Side of the Sky. Here is Between Planets. Here is Wizard. Here is Nine Princes in Amber. Here is the Sep 94 Interzone. (Died 2020)
Born April 4, 1959 – Phil Morris, 62. His first acting role was on the "Miri" episode of Trek as simply Boy. He was the Sam the Kid on several episodes of Mr. Merlin before returning to Trek fold as Trainee Foster in Star Trek III: The Search for Spock. Next interesting role is voicing Vandal Savage on a three part Justice League Unlimited story called "The Savage Time", a role he reprised for Justice League: Doom. No, I've not forgotten that he was on Mission: Impossible as Grant Collier. He also played the Martian Manhunter (J'onn J'onzz) on Smallvillie. Currently He's Silas Stone on Doom Patrol and no, I didn't spot that was him in that role. (CE)
Born April 4, 1959 – Ahmed Khan, age 62. Two collections; here is Another Mosque Among the Stars (cover by L. Kiruganti). Thirty short stories. Interviewed Tanya Huff in Strange Horizons. Four anthologies. Links to some of his work, fiction and non, in and out of our field, here. [JH]
Born April 4, 1965 – Robert Downey Jr., 56, Iron Man in the Marvel Universe film franchise. Also a rather brilliant Holmes in Sherlock Holmes and Sherlock Holmes: A Game of Shadows. Also voicing James Barris in an animated adaption of Philip K. Dick's A Scanner Darkly. Yes, he's plays the title role in Dolittle which despite having scathing critical reviews has a rather superb seventy-six rating among audience reviewers at Rotten Tomatoes. (CE)
Born April 4, 1967 – Xenia Seeberg, 54. She is perhaps best known for her role as Xev Bellringer in Lexx, a show's that's fantastic provided you can see in its uncensored form. I've also see she played Muireann In Annihilation Earth, Noel in So, You've Downloaded a Demon, uncredited role in Lord of The Undead, and Sela In the "Assessment" episode of Total Recall 2070. (CE)
Born April 4, 1968 – Gemma Files, 53. She's a Canadian horror writer, journalist, and film critic. Her Hexslinger series now at three novels and a handful of stories is quite fun. It's worth noting that she's a prolific short story writer and four of them have been adapted as scripts for The Hunger horror series. She won a Sunburst Award for Excellence in Canadian Literature of the Fantastic for Experimental Film. (CE)
(9) COMICS SECTION.
Off the Mark has a holiday-themed joke that's a perfect match for my copyediting skills.
(10) TALK OF THE TOWN. Fanac.org has added an audio recording of the 1969 GoH speech given by artist Jack Gaughan at Boskone – two years after he won both the Best Pro and Best Fan Artist Hugos.
The talk is entertaining, and it is so very clear that Jack is among his friends in his chosen place. From the YouTube writeup: "…is both entertaining and thoughtful, interspersed with sharply witty comments.

He quotes from Leonardo Da Vinci, and teases his friends, some in the room, including Isaac Asimov, Ed Emsh and Donald Wollheim. He starts with a recounting of the problems faced by female artists like his wife, Phoebe. He tells anecdotes about his experiences as an illustrator, teases Lester del Rey, and compares the lives of artists today to the lives of artists 500 years ago. Jack is frank about his own feelings on science fiction and science fiction illustration. It's chatty, low key, entertaining and comfortable and a marvelous window into an important figure in the field, lost far too soon…Thanks to the New England Science Fiction Society (NESFA) and Rick Kovalcik for providing the recording. Thanks to Andrew Porter for providing photos and to Dr. Gandalf for digitization.
(11) WHAT GOES UP MUST…WHAT? WIRED tags along to ask questions while "Physicists Learn to Superfreeze Antimatter (Hint: Pew Pew!)"
…Just as you can't exactly take their temperature, you can't point a radar gun at antihydrogen atoms, either. Antihydrogen generally flits around at about 100 meters per second, says Fujiwara, and the ultracool atoms move at just about 10 meters per second. "If you're fast enough, you could almost catch the atom as it passed by," he says. (It would annihilate one of your atoms, but you're tough.)

At this point, it's reasonable to ask whether this is all worth the trouble. Who needs very slow, very cold antimatter? The answer is, physicists. "Unless something is really screwy, this technique is going to be important, and maybe crucial," says Clifford Surko, a physicist at UC San Diego who isn't on the Alpha team. "The way I look at it as an experimentalist is, now you've got a whole 'nother bag of tricks, another handle on the antihydrogen atom. That's really important. It opens up new possibilities."

Those possibilities involve figuring out whether antimatter really does echo the physics of matter. Take gravity: The equivalence principle in the theory of general relativity says that gravitational interaction should be independent of whether your matter is anti or not. But nobody knows for sure. "We want to know what happens if you have some antihydrogen and you drop it," Hangst says.

Wouldn't you? Sure. But this experiment is hard to do, because gravity is actually a wuss. Hot, gassy things don't fall so much as just bounce around. Antimatter would hit the walls of the machine and annihilate. "Gravity is so bloody weak you may not see anything at all," Hangst says.

Slow that antihydrogen down to near absolute zero, though, and it starts to act more like a liquid than a gas. Down it blorps, instead of spraying all over. "The first thing you want to know is, does antihydrogen go down? Because there's a lunatic fringe out there that thinks it goes up—theorists who say there is repulsive gravity between matter and antimatter," Hangst says. "That would be pretty cool."…
(12) VIDEO OF THE DAY. A young couple discover a strange phenomenon in their backyard that duplicates organic life in Burnt Grass, a short film about cloning.
[Thanks to Cat Eldridge, JJ, John Hertz, Andrew Porter, N., Michael Toman, Mike Kennedy, Martin Morse Wooster, and John King Tarpinian for some of these stories. Title credit goes to File 770 contributing editor of the day Andreaw (not Werdna).]