A Kickstarter appeal launches today to help fund editor James Aquilone's Classic Monsters Unleashed anthology from Crystal Lake Publishing.
Readers will see monsters and villains reimagined and subverted by a diverse roster of authors. Seanan McGuire has a story about a female mad scientist. Dracula is reimagined with an Indigenous twist by Owl Goingback. And Classic Monsters Unleashed also has a Dracula story by Dacre Stoker, the great-grandnephew of Bram Stoker.
Stories will include icons such as Frankenstein's Monster, Dracula, the Headless Horseman, Dr. Moreau, the Invisible Man, and many others.
Classic Monsters Unleashed has new stories by Jonathan Maberry, Ramsey Campbell, Maurice Broaddus, Linda Addison and even four of the 2020 Stoker finalists: Mercedes Yardley, Tim Waggoner, Monique Snyman, and Alessandro Manzetti.
Classic Monsters Unleashed is edited by James Aquilone, managing editor of Weird Tales Magazine.
The cover (attached) and some interior illustrations are by Colton Worley (Dynamite Entertainment), with text design by Shawn T. King.
There are other interior illustrations by the legendary Frank Frazetta and Sam Shearon (Clive Barker's Hellraiser and Books of Blood).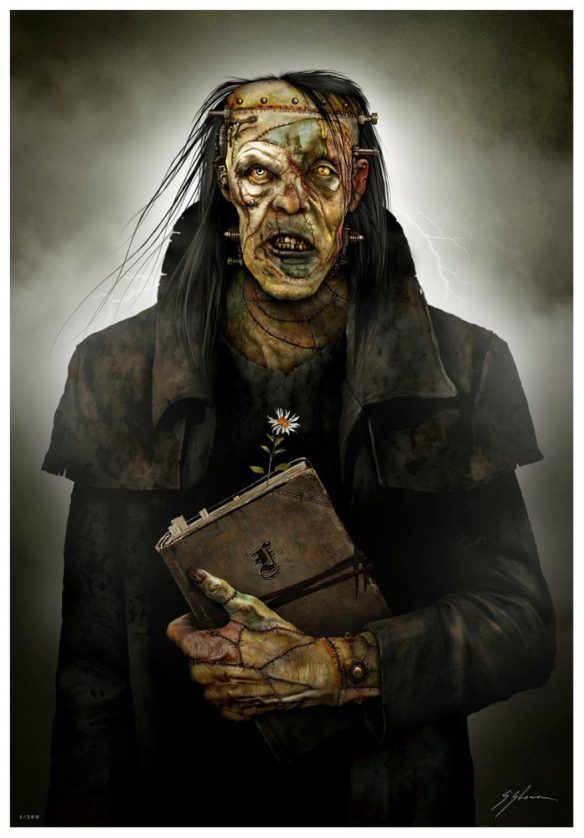 The book itself will be published in October 2021 no matter what. However, the publisher is using the Kickstarter as a source of pre-orders and raise funds above and beyond that by offering perks to backers.

Backers will have the chance to get a licensed, limited-edition, high-quality Frank Frazetta art print featuring a new poem by author Alessandro Manzetti. There will also be a level where backers can get an illustration of themselves as the monster of their choice. Exclusive art postcards by Sam Shearon are another possible perk some backers can grab — one of those is shown here.
The Kickstarter begins today and lasts until April 7. 
[Based on a press release.]