(1) NOW A FOURTH BODY. Andrew Liptak reveals The Redemption of Time at The Verge: "How a fan fiction for Cixin Liu's Three-Body Problem became an official novel"
Since the publication of The Three-Body Problem, the first installment of Cixin Liu's epic science fiction trilogy about making contact with an alien civilization, the series has gone on to earn the Chinese author enormous acclaim and legions of fans worldwide — including President Barack Obama. Next year, Tor Books will publish a new novel set in the same world, titled The Redemption of Time, but it won't be by Liu. Instead, the book is written by Baoshu, an ardent fan of the series who originally published it online as a novel-length fan fiction story — one that became so popular that the trilogy's publisher decided to release it as an official novel.
On Liptak's personal blog he admits coming late to the trilogy, and shares what he got out of it: "From the beginning to the end: Liu Cixin's Three-Body Trilogy".
The most impressive thing that I found with the trilogy as a whole was the scale that Liu was writing at. Reviews and blurbs for the series teased that it spanned the entire future: from the 1970s all the way to the heat death of the universe, and he manages to do that, in a really interesting way.
(2) WEEKEND AUDIO PLAY. SF Concatenation's Jonathan Cowie touts "Something for the weekend, a 45-minute radio play from BBC Radio 4, free to listen to for next 4 weeks."
Following an unspecified disaster the internet and power system has collapsed and been down for several years. Two people – grandfather and granddaughter seek to escape Britain for France. Global warming is the least of their problems.

This radio play reverses current immigration and Brexit concerns.
(3) JWC'S LONG VERSION OF WHO GOES THERE. John Betancourt has started a Kickstarter to fund publication of "Frozen Hell: The Book That Inspired The Thing". He says, "It turned up in Campbell's papers in a university archive. (Thanks for the discovery goes to Alec Nevala-Lee, who was researching Campbell at the time for his book, Astounding, which comes out in November.)"
In 1938, acclaimed science fiction author John W. Campbell published the novella Who Goes There?, about a team of scientists in Antarctica who discover and are terrorized by a monstrous, shape-shifting alien entity. The story would later be adapted into John Carpenter's iconic movie The Thing (following an earlier film adaptation in 1951). The published novella was actually an abridged version of Campbell's original story, called Frozen Hell, which had to be shortened for publication. The Frozen Hell manuscript remained unknown and unpublished for decades, and it was only recently rediscovered. Frozen Hell expands the Thing story dramatically, giving vital backstory and context to an already incredible tale. We are pleased and honored to offer Frozen Hell to you now, as Campbell intended it. You will be among the first people to ever read this completed version of the story.
Robert Silverberg will write the introduction.
How well is Betancourt's Kickstarter doing? Well, with 42 days remaining, it has raised $11,592 of its $1,000 goal. So, rather well!
(4) VERDICT ON HALLOWEEN. NPR's Monica Castillo reports on "'Halloween': This Time, Laurie Strode Is Locked And Loaded".
Trauma is not neat and pretty to deal with; it is not easily diagnosed, it does not vanish on its own, and its lingering effects can touch those around us. In the latest sequel to the long and winding Halloween series, trauma plays an important role in the narrative arc of famed final girl Laurie Strode (Jamie Lee Curtis). You might remember her from the original 1978 John Carpenter film, which saw her screaming, running, discovering her friends brutally murdered, then fending off a serial killer to protect the kids she was babysitting.
The BBC summarizes: "Halloween: Jamie Lee Curtis reboot gets mixed reviews" —
The 2018 version marks the 11th instalment in the horror series, which began in 1978.

The reviews, which have been published ahead of the film's release on Friday, range between two and four stars.
(5) NOW HAUNTING THE MENU. Did you know Burger King has unleashed the Nightmare King burger? It has a green bun! They say that scientists have shown you get 3-1/2 more times the nightmares eating the Nightmare King than you do with the other fear-inducing items on the Burger King menu!
(6) VENOM. NPR's Stephen Thompson, Glen Weldon, and Lars Gotrich discuss good and bad points in "Venom: Oh It's Gooey, But Is It Good?" — all audio. good and bad points (mostly good) of differences from MCU epics.
In Venom, Tom Hardy plays Eddie Brock, an investigative journalist who's trying to rebound from a major setback in his career. But Eddie's plans are halted when he's overtaken by a violent — and gooey — alien symbiote.
(7) BLOODY HELL. Ethan Alter, in the Yahoo! Entertainment story "MVPs of Horror: How Stanley Kubrick made the elevators bleed in 'The Shining'", has an interview with Kubrick's personal assistant, Leon Vitali, who says the bloody elevator scene was a real short with a real elevator and could only be done on the first take because the set up was so complex.
From those ghostly twin girls to that chilling dog man, Stanley Kubrick's 1980 horror masterpiece, The Shining, is awash in terrifying imagery that seeps off the screen and into moviegoers' nightmares to this day. But there's one scene that scared the legendary filmmaker himself so much, he couldn't be on the Overlook Hotel set the day it was filmed. That's the iconic "elevator of blood" sequence, a static shot of an elevator door slowly opening as a veritable sea of the sticky red stuff comes pouring out, covering the walls, furniture, and even the camera lens.
(8) A SENSATION IN AMERICA. At Print, "A Celebration of Spain's "Golden Generation" Comic Book Artists", with a gallery of images:
Roach begins his history with Madrid's and Barcelona's turn of the 20th century humor magazines and goes on to chronicle its development and expansion to England, the States, and worldwide. It concludes with Spain's contemporary gifted innovators like David Aja, Javier Olivares, and Guillem March. But his primary focus is on the 1970s and '80s, an era he terms the "Golden Generation."

This was when Spanish artists first caused a sensation in America, as Warren magazines began to publish Esteban Maroto, Luis Bermejo, Fernando Ferna?ndez, Jose Ortiz, and many others in its Creepy/Eerie/Vampirella horror comics line.
(9) TIL THE PIPS SQUEAK. Greedy bookstore landlord news from Publishers Lunch:
At a press conference at [NYC] City Hall on Wednesday promoting the Small Business Jobs Survival Act, bookseller Sarah McNally said that the landlord for her bookstore on Soho's Prince Street — which will close and relocate at the end of June 2019 — wanted to raise her rent from $350,000 a year to $850,000 a year, reported by Politico's Rosa Goldensohn on Twitter. The legislation would establish requirements for lease renewal terms. McNally noted, "It would've helped to have the non-binding arbitration and mediation."

The city of San Francisco, in partnership with the nonprofit Working Solutions and the Small Business Development Center, gave 11 independent bookstores at total of $103,000 in grants. The Bookstore SF Program, dubbed "a pet project of the late Mayor Ed Lee," aims to revitalize indies as community center, and also provides municipal services "including technical assistance on marketing, human resource consulting, and help negotiating long-term leases."
(10) A MERCURY MISSION GETS OFF THE DIME. BBC provides lots of good geeky detail about the mission in "Mission to Mercury: BepiColombo spacecraft ready for launch".
Europe and Japan are set to launch their joint mission to Mercury, the planet closest to the Sun.

The partners have each contributed a probe to be despatched on an Ariane rocket from French Guiana.

The duo, together known as BepiColombo, are bolted to one another for the seven-year cruise to their destination, and will separate once they arrive.

It's hoped their parallel observations can finally resolve some of the many puzzles about the hot, oddball planet.
(11) COWAN OBIT. James Cowan (1942-2018) passed away on October 6 reports Jack Dann. Cowan was the author of A Troubadour's Testament, Letters From a Wild State, and the novel A Mapmaker's Dream, which won the Australian Literature Society's Gold Medal.
(12) TODAY IN HISTORY
October 19, 1953 — Ray Bradbury's Fahrenheit 451 was first published. Trivial Trivia: The true first is the paperback because the hardback was not shipped for another week.
October 19, 1979 — Meteor premiered, starring Natalie Wood, Sean Connery, and Karl Malden.
(13) TODAY'S BIRTHDAYS.
[Compiled by Cat Eldridge and JJ.]
Born October 19, 1903 – Tor Johnson (Karl Oscar Tore Johansson), Professional Wrestler and Actor from Sweden. especially known for his appearance in Plan 9 From Outer Space, although he had a number of other genre roles in films such as The Monkees' Head, Mighty Joe Young, Ghost Catchers, The Unearthly, and Bride of the Monster, and a guest part in an episode of Rocky Jones, Space Ranger.
Born October 19, 1940 – Sir Michael Gambon, 78, Actor of Stage and Screen from Ireland who is best known to genre fans as Professor Albus Dumbledore from the Hugo-nominated Harry Potter films (a role he picked up after the passing of Richard Harris, who played the character in the first two films), but also had roles in Toys (for which he received a Saturn nomination), Mary Reilly, Sleepy Hollow, and the Hugo finalist Sky Captain and the World of Tomorrow. He has had guest roles in episodes of The Jim Henson Hour, Doctor Who, and Tales of the Unexpected, and played an acerbic storyteller or possibly tomb robber in Jim Henson's The Storyteller. He has also done voice roles in animated features including Fantastic Mr. Fox, Paddington, and The Wind in the Willows, in which he voiced very nicely The Badger.
Born October 19, 1943 – Peter Weston, Writer, Editor, Conrunner, and Fan from England who founded the Birmingham Science Fiction Group (the longest-lived fan group in the U.K.), and chaired several conventions, including the 1979 Worldcon. His fanzines Zenith and Speculation received 8 Hugo nominations, and his memoir With Stars in My Eyes: My Adventures in British Fandom was a Finalist for the Hugo Award for Best Related Book. He was the TAFF delegate in 1974, was Guest of Honor at several conventions, was given a Lifetime Achievement Award by the long-running fanzine convention Corflu, and received the Doc Weir Award (the UK Natcon's Life Achievement Award).
Born October 19, 1943 – L.E. Modesitt, Jr., 75, Writer of more than 70 novels and 10 different series, the best known of which is his fantasy series The Saga of Recluce. He has been Guest of Honor at numerous conventions, including a World Fantasy Convention.
Born October 19, 1945 – John Lithgow, 73, Actor of Stage and Screen and Producer with a multitude of genre appearances including lead roles in Twilight Zone: The Movie, Buckaroo Banzai, 2010, Harry and the Hendersons, and the TV series Third Rock from the Sun.
Born October 19, 1946 – Philip Pullman, 72, Writer and Scholar from England who is best known for the His Dark Materials series, the novels of which have received the Carnegie Medal and nominations for World Fantasy, Lodestar, Whitbred, and Prix Imaginaire Awards. He has been Guest of Honor at several conventions, including the Finnish Natcon.
Born October 19, 1948 – Jerry Kaufman, 70, Writer, Editor, Conrunner, and Fan who, while in Australia as the DUFF delegate, created a Seattle bid for the Australian Natcon which actually won the bid (temporarily, for a year, before it was overturned and officially awarded to Adelaide). He was editor of, and contributor to, numerous apazines and fanzines, two of which received Hugo nominations. With Donald Keller, he founded and ran Serconia Press, which published criticism and memoirs of the SF field. He served on the Board of Directors of the Clarion West Writers Workshop and served as Jurist for the James Tiptree, Jr., Memorial Award. He has been Fan Guest of Honor at several conventions, including a Westercon.
Born October 19, 1949 – Jim Starlin, 69, Comics Writer, Artist, and Illustrator. If you've seen Guardians of the Galaxy, you've seen the Marvel characters Thanos and Drax the Destroyer which he created. He also worked for DC and other companies over the years. He and Bernie Wrightson produced Heroes for Hope, a 1985 one-shot designed to raise money for African famine relief and recovery, which included contributions from genre writers such as Stephen King, George R. R. Martin, Harlan Ellison, and Edward Bryant. He's also written a number of genre novels in collaboration with his wife Daina Graziunas. He has been nominated for a number of comics industry awards, winning an Inkpot Award and receiving a British Fantasy Award nomination for Best Comic. Last year he was inducted into the Eisner Award Hall of Fame.
Born October 19, 1951 – Peter Cannon, 67. To say he's a Lovecraftian scholar is an understatement of the first order. Both of his master theses, A Case for Howard Phillips Lovecraft and Lovecraft's New England, are considered exemplary fifty years on. His "You Have Been in Providence, I Perceive" looks at the strong influence of Sherlock Holmes upon Lovecraft. Cannon also wrote superb fiction; he did "Pulptime" in which Lovecraft, Frank Belknap Long and Holmes team up to solve a Lovecraftian mystery. He has written several short stories in the Cthulhu Mythos genre with an element of parody in them. Before you complain about what I left out, this is but a mere taste of his writings. Feel free to add commentary on what you like best about his work.
Born October 19, 1964 – J. Kathleen Cheney, 54, Writer who has appeared on the SFF scene in the last 10 years and has produced numerous novels and shorter works in six different series (the novel Dreaming Death is a particular favorite of JJ's). Her novella Iron Shoes received a Nebula nomination, and the novel The Golden City was a finalist for Locus Best First Novel.
Born October 19, 1969 – Roger Cross, 49, Actor from Jamaica who moved to Canada. He played a lead role in the series Continuum and has had parts in genre films The Chronicles of Riddick, War for the Planet of the Apes, the remake of The Day the Earth Stood Still, X2, Doomsday Rock, Voyage of Terror, The Void, and the adaptations of Dean Koontz' Hideaway and Sole Survivor.
(14) COMICS SECTION.
(15) MORE PUBLISHING HUMOR. From Linsey Miller —
someone who doesn't know how publishing works: How do you get sorted to your publishing house?

me: An emails appears in your inbox one day declaring Penguindor, Hatchettpuff, Randomclaw, or Slytherbooks.

— Linsey | ?? | Miller (@LinseyMiller) October 18, 2018
(16) FRANKIE AT 200. Starting tomorrow in South Pasadena, "Frankenstein Meets Little Women | A Monster Mash".
In conjunction with the Fall South Pasadena Arts Crawl, the South Pasadena Public Library presents an exhibition featuring the artwork of 11 accomplished artists and illustrators. The artwork—much of it created specifically for this exhibition—is inspired by two beloved literary classics that are celebrating anniversaries in 2018: Mary Shelley's Frankenstein marks its 200th anniversary and Louisa May Alcott's Little Women its 150th.

The opening reception is Saturday, October 20, 7:00-9:00 p.m. in the Library Community Room at 1115 El Centro Street, South Pasadena, California, 91030. Throughout the following week the Library will host related programs, including a Louisa May Alcott living history performance, an artists' panel discussion, a screening of Bride of Frankenstein (1935), an illustrated talk titled "Frankenstein Dissected" and a closing reception. For more information, visit the Library's website: www.southpasadenaca.gov/library.

Frankenstein Meets Little Women: A Monster Mash is curated by performer and educator Valerie Weich. Weich founded Literary Lives, an educational performing arts outreach program for students and has performed throughout Southern California as Louisa May Alcott. Since 2012 Weich has been researching the lives of Mary and Percy Shelley and Lord Byron at The Huntington Library as an Independent Scholar in order to develop a new one-woman presentation about Mary Shelley, author of Frankenstein.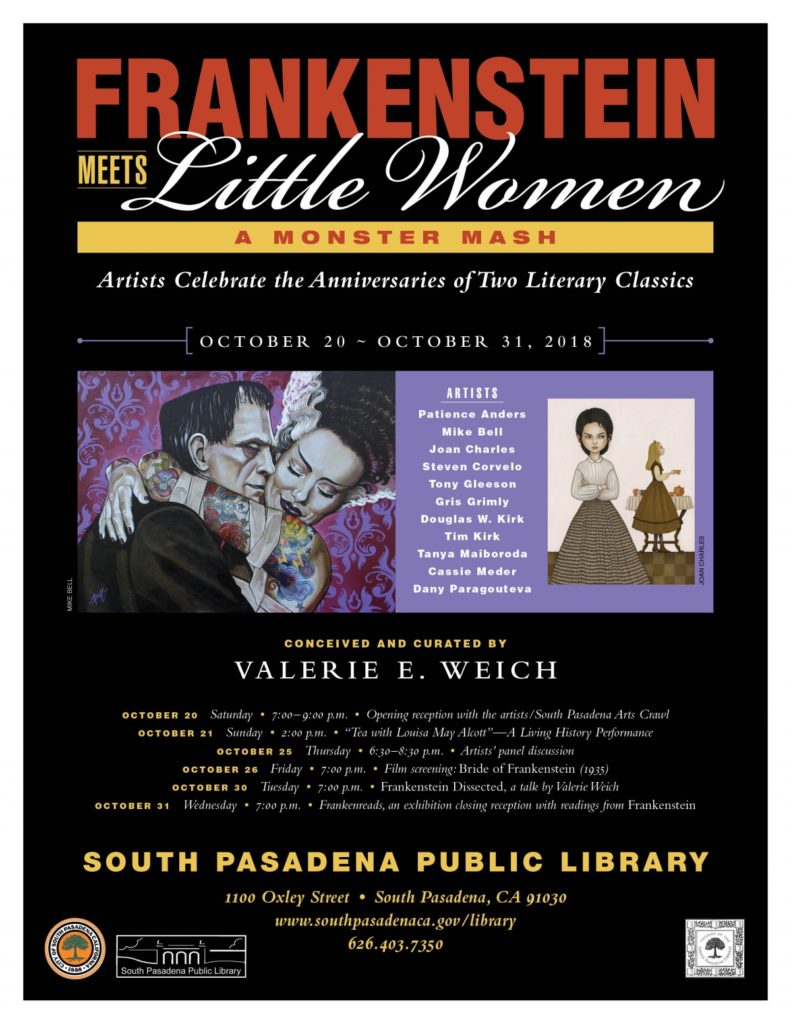 (17) FACES OF SCIENCE. Roald Dahl collaborator "Sir Quentin Blake brings science pioneers to life" – a local exhibit out of reach of most Filers, but article has several of the illos. These new works will be on display at London's Science Museum from October 19.
Illustrator Sir Quentin Blake has brought his own unique style to pictures of some of the world's most celebrated scientists.

Sir Quentin, known for humorous work in children's books, has made a set of five works depicting 20 women and men.

Pilot Amy Johnson is there, as is spinning machine creator Sir Richard Arkwright.

The pictures were the idea of the Science Museum and will hang outside its Wonderlab: The Equinor Gallery.
(18) FANHISTORY. I missed reporting these Fanac.org features when they first came out –
Pacificon II (1964) Worldcon) – Hugos & Leigh Brackett, Edmond Hamilton Guest of Honor Speeches
Pacificon II, the 22nd World Science Fiction Convention, was held in Oakland, CA in 1964. In this [36 minute] audio with images, Toastmaster Anthony Boucher awards the Hugos (in under 7 minutes!), and Guests of Honor Leigh Brackett and Edmond Hamilton give their speeches. It's great fun; Tony Boucher is witty and thoughtful, Leigh Brackett is open and sincere, and Ed Hamilton is surprisingly funny, with anecdotes and personal reminiscences. Learn the secret of the Boys Club of Science Fiction. Hear the tale of throwing a body out of a spaceship near Saturn. Get a real understanding of what it feels like to sell your first story.

Leigh Brackett wrote both SF and Mystery (and was cowriter of the screenplay for "The Big Sleep"). Edmond Hamilton appeared in print before the first SF magazine was published and was still publishing at the time of this speech. Of him, Tony Boucher says, "No one has ever destroyed so many suns so well." This material was provided by The Southern California Institute for Fan Interests (SCIFI), and Jerome Scott, Director of Projects for SCIFI in LA.
MidAmeriCon (1976) Worldcon – Masquerade winners
MidAmeriCon, the 34th World Science Fiction Convention, was held in Kansas City in 1976. There were some very impressive costumes in the 1976 Worldcon Masquerade. This brief (7 minute 45 second) video brings you the award presentation for the winners (including "dishonorable mention") and a look at the costumes and costumers. You'll see Sally Rand, Bruce Pelz and Filthy Pierre among others. Don't miss the Martian costume!
(19) THAT'S SOME (N)ICE MUSIC. The bergs are alive… with the sound of music? "Scientists Learn To Hear The 'Songs' Of Ice Shelves"
The "whistling" of the Ross Ice Shelf, Antarctica's largest, is beautifully eerie. It's also potentially a divining rod for changes to shelves' composition that can be monitored in real time.

To arrive at their new recording, twelve scientists working on the ice shelf burrowed 34 tools for measuring seismic activity into it, expecting to monitor its internal vibrations. They noticed, however, that surface wind glazing over the "firn" — the top layer of snow of the shelf — was feeding the sensors below.

What was at first considered to be "inconvenient ambient noise," as the glaciologist Douglas R. MacAyeal put it in a summation of the new findings, ended up yielding valuable insights about the health of the shelf itself. The shelf's song changes as its surface does; strong storms can rearrange the snow dunes atop it, causing that ice to vibrate at different frequencies — how fast the seismic waves travel through the snow changes as air temperatures at the surface fluctuate, in turn giving scientists data on the shelf's structural integrity. Meaning whether or not it will break up, and thus raise sea levels.
(20) PUNCH BROTHERS, PUNCH WITH CARE. Daredevil has become famous for its epic one-shot fight scenes. In episode 4, Daredevil fakes his way into prison to get information about The Kingpin, then has to fight his way out.
[Thanks to John King Tarpinian, Cat Eldridge, JJ, Martin Morse Wooster, Mike Kennedy, Chip Hitchcock, Carl Slaughter, and Andrew Porter for some of these stories. Title credit belongs to File 770 contributing editor of the day Xtifr.]