(1) NEBULA ACTIVITY. SFWA is now selling tickets to the 2020 Nebula Conference taking place May 28-31, 2020 in Woodland Hills, CA (part of Los Angeles)
SFWA members and other individuals who are interested in the field of science fiction and fantasy are welcome to attend SFWA's Nebula Conference. Attendees may participate in workshops, programming and special events throughout the weekend.

You do not need to be a member of SFWA to attend. We encourage anyone with a connection to the field to join us.
And SFWA members can now cast nominating ballots for the Nebulas.
(2) HORN TOOTING. A.C. Wise is collecting links to eligibility posts, and already has a great many here – "What Have You Done, What Have You Loved? 2019".
It's that time of year again! Editors, publishers, and authors' minds turn toward Year's Best list, and awards. Which also means it's time for said authors, editors, and publishers to get out there and self-promote. It can feel icky or uncomfortable, but it's a valuable service to those who nominate for awards, and those who just want to catch up reading what they might have missed during the year. So step forward, take a deep breath, and shout about what you wrote this year. While you're at it, shout about the things you loved too! No one can read everything that comes out in a given year, but together we can help each other find excellent things to read, and perhaps even nominate.
(3) WORDS & MUSIC. The lyric video of Taylor Swift singing "Beautiful Ghosts" from the motion picture Cats is online.
(4) UPON REFLECTION. Some who commented about a new YA Twitter donnybrook linked in yesterday's Scroll (item #16) have adopted a new perspective, including N.K. Jemisin whose thread starts here.
(5) RAPID CONTRACTION. The B&N Sci-Fi & Fantasy Blog reportedly has severed ties with all its freelancers:
(6) FORD RIGHTS. Will Shetterly's comment on Slate's article "The Disappearance of John M. Ford" (linked here yesterday with news that Ford's books are coming back into print) shed additional light:
I was one of Mike Ford's friends and editors, and I want to go on record with this: Martha Fry was extremely helpful when we wanted to keep his Liavek stories in print. The breakdown in communication between his original family, his fannish family, and his agent has many reasons, but there are no villains in that story. There are only gossips who love drama, as there are in any community. If anyone claims his first family tried to make his work unavailable, I will point to the Liavek anthologies as evidence that's not true.
(7) KSR STUDY. The University of Illinois Press has released Kim Stanley Robinson by Robert Markley, the Trowbridge Professor of English at the University of Illinois at Urbana-Champaign.
Award-winning epics like the Mars trilogy and groundbreaking alternative histories like The Days of Rice and Salt have brought Kim Stanley Robinson to the forefront of contemporary science fiction. Mixing subject matter from a dizzying number of fields with his own complex ecological and philosophical concerns, Robinson explores how humanity might pursue utopian social action as a strategy for its own survival.

Robert Markley examines the works of an author engaged with the fundamental question of how we—as individuals, as a civilization, and as a species—might go forward. By building stories on huge time scales, Robinson lays out the scientific and human processes that fuel humanity's struggle toward a more just and environmentally stable world or system of worlds. His works invite readers to contemplate how to achieve, and live in, these numerous possible futures. They also challenge us to see that SF's literary, cultural, and philosophical significance have made it the preeminent literary genre for examining where we stand today in human and planetary history.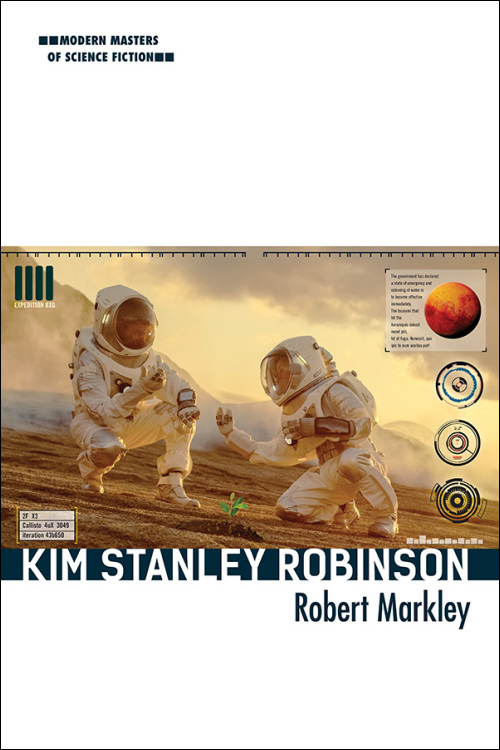 (8) DISNEY+. "Disney+ Warns Users About 'Outdated Cultural Depictions' in Titles" — The Hollywood Reporter works to discern how the policy is applied.
At the bottom of the description for Disney's 1940 classic animation Fantasia on the studio's newly minted Disney+ service, there is a line that is garnering attention from viewers: "This program is presented as originally created. It may contain outdated cultural depictions."

The disclaimer can be found in the streaming platform's synopsis of many of Disney's classic animated titles, including 1941's Dumbo, 1967's The Jungle Book, 1953's Peter Pan and 1955's Lady and the Tramp, as well as other offerings like 1960's Swiss Family Robinson and 1955's Davy Crockett.

Disney+ features the studio's massive library that dates back over eight decades, and the verbiage serves as a caution against some racist and culturally insensitive depictions and references in Disney's older offerings.

While Lady and the Tramp features Siamese cats depicted as East Asian stereotypes and Peter Pan includes a song titled "What Makes the Red Man Red?," it is unclear what the criterion is for Disney titles to receive the "outdated cultural depictions" disclaimer. Aladdin, which has been critiqued for its racist depictions of Middle Eastern and Arab culture, does not feature the disclaimer in its synopsis.

Disney has not returned The Hollywood Reporter's request for comment.

One feature entirely absent from the streaming platform is the 1946 live-action animation hybrid Song of the South. The movie, which inspired the Disneyland ride Splash Mountain, has been widely criticized for its portrayal of African-Americans and apparent glorification of plantation life. It has been the studio's policy to keep the film from theatrical and home entertainment rerelease.
The new streaming service is also making news for another decision: "'Simpsons' Episode Featuring Michael Jackson Kept Off Disney+".
Disney did not respond to multiple requests for comment as to why the episode is missing and who made the call.

It is assumed "Stark Raving Dad" is off Disney+ because Michael Jackson (not officially credited) was the guest star. Jackson voiced Leon Kompowsky, a man Homer meets while in a mental institution who sounds like Jackson. The episode was a favorite among fans for several years.

In March of this year, "Stark Raving Dad" was pulled from broadcast circulation following the release of the HBO documentary film Leaving Neverland, in which the late pop star was accused by multiple men of molestation when they were boys.
(9) TODAY IN HISTORY.
November 16, 1977 — Close Encounters of the Third Kind premiered. Directed by Steven Spielberg and starring Richard Dreyfuss, Teri Garr, Melinda Dillon and François Truffaut, the film is both a financial and critical success. It currently has a hundred percent rating at Rotten Tomatoes.
(10) TODAY'S BIRTHDAYS.
[Compiled by Cat Eldridge.]
Born November 16, 1907 — Burgess Meredith. Brief though his visit to genre be, he had two significant roles. The first was in Twilight Zone: The Movie as Narrator although initially he was uncredited. One of his other genre role was a delightful take as The Penguin in original Batman series. He also shows up in Tales of Tomorrow, an anthology sf series that was performed and broadcast live on ABC from 1951 to 1953, and on The Invaders, The Twilight Zone, Faerie Tale Theatre: Thumbelina (with Carrie Fisher!) and The Wild Wild West. Did I mention he voiced Puff the Magic Dragon in a series of the same name? Well he did. Ok, so his visit to genre wasn't so brief after all…  (Died 1997.)
Born November 16, 1952 — Shigeru Miyamoto, 67. Video game designer and producer at Nintendo. He is the creator of some of the best-selling game franchises of the company, such as Mario, Donkey Kong and The Legend of Zelda.
Born November 16, 1952 — Robin McKinley, 67. Beauty: A Retelling of the Story of Beauty and the Beast was her first book. It was considered a superb work and was named an American Library Association Notable Children's Book and an ALA Best Book for Young Adults. Rose Daughter is another version of that folktale, whereas Spindle's End is the story of Sleeping Beauty, and Deerskin and two of the stories that you can find in The Door in the Hedge are based on other folktales. She does a superb telling of the Robin Hood legend in The Outlaws of Sherwood. Among her novels that are not based on folktales are Sunshine, Chalice and Dragonhaven. Her 1984 The Hero and the Crown won the Newbery Medal as that year's best new American children's book. She was married to Peter Dickinson from 1991 to his death in 2015, they lived together in Hampshire,UK. They co-wrote two splendid collections, Water: Tales of Elemental Spirits and Fire: Tales of Elemental Spirits. I'd be very remiss not to note her Awards, to wit a Newbery Honor for The Blue Sword, then a Newbery Medal for The Hero and the Crown, a World Fantasy Award for Anthology/Collection for Imaginary Lands, as editor, a Phoenix Award Honor Book for Beauty and a Mythopoeic Fantasy Award for Adult Literature for Sunshine. Impressive indeed! 
Born November 16, 1958 — Marg Helgenberger, 61. She was Hera in Wonder Woman, and also appeared in Conan: Red Nail, Species and Species II, not to mention Tales from the Crypt. Oh, and two Stephen King series as well, The Tommyknockers and Under the Dome.
Born November 16, 1967 — Lisa Bonet, 52. First genre work was isEpiphany Proudfoot in Angel Heart, a decidedly strange horror film. More germane was that she was Heather Lelache in the 2002 A&E adaptation of Le Guin's Lathe of Heaven. She later played Maya Daniels in the Life on Mars series as well. 
Born November 16, 1967 — Eva Pope, 52. Genre is a slippery thing to define. She was a one-off in Adventure Inc. (might be genre) as well the Splinter film (horror with SF pretensions), Life on Mars (SF maybe) and Spooks: Code 9 (alternate UK history). Is she genre? 
Born November 16, 1972 — Missi Pyle, 47. Laliari in Galaxy Quest which is one of my fave SF films of all time. Also has been in Percy Jackson: Sea of Monsters, A Haunted House 2, Jumanji: Welcome to the Jungle, Star Trek: The Next Generation,  Roswell, The Tick, Pushing Daisies and Z Nation.
Born November 16, 1977 — Gigi Edgley, 42. Though her genre experiences are varied, I think she'll be best remembered for her role as a Nebari who was a member of the crew on Moya on the Farscape series. Other genre appearances include Beastmaster, The Lost World, Quantum Apocalypse and she has a role in the web series Star Trek Continues in the "Come Not Between the Dragons" episode.
Born November 16, 1977 — Maggie Gyllenhaal, 42. She's had some impressive genre appearances in such works as Donnie Darko, The Dark Knight, voice work in the superb Monster House and the equally superb Nanny McPhee and the Big Bang.
(11) ELLISON REMEMBERED. Fanac.org has uploaded an audio recording of the Worldcon 76 (2018) "In Memoriam: Harlan Ellison" panel.
Worldcon 76 was held in San Jose, CA in 2018. This Memoriam panel (audio, with pictures) features memories and anecdotes from Tom Whitmore, Robert Silverberg (who was a friend of Harlan's for 65 years), Chris Barkley, David Gerrold, Christine Valada and Nat Segaloff (Harlan's biographer). Each of the panelists had a close relationship with Harlan, and these loving but clear-eyed reminiscences are a comfort to those that miss him, and hopefully to those readers who never had a chance to meet him. Harlan was an enormous presence in science fiction. His stories, his scripts, his kindnesses and his sometimes unbelievable missteps will be long remembered. Recording provided by Karen G. Anderson and Richard Lynch.
(12) ABOUT LEWIS. Publishers Weekly is right to hedge its bet in the title — "10 Things You (Probably) Didn't Know About C.S. Lewis " because I knew three of these, and a few of you probably know them all!
9. Lewis's first book was a collection of poetry he wrote as a teenager. Before he planned to be a philosopher, the teenage Lewis hoped to become a great poet. He wrote poetry with the hope of publishing his work and gaining fame. He returned to England after being injured in France during World War I and published his collection as Spirits in Bondage under the pen name of Clive Hamilton.
(13) A MEMORY REVERED. "Wales' Tecwyn Roberts hailed as 'hero of the space age'" – BBC has the story.
Tributes are being paid to "one of the great unsung heroes of the space age".

Tecwyn Roberts, from Anglesey, helped set up mission control rooms and enabled astronaut Neil Armstrong to communicate with Earth from the Moon.

Experts have hailed Roberts' expertise as events are held to mark the 50 years since Nasa's second lunar landing.

A flag will be placed on his grave during the anniversary of Apollo 12 which flew from 14-24 November 1969.

"Without Tec[wyn], Nasa and mission control as it exists today would probably not have happened," said Nick Howes, a fellow of the Royal Astronomical Society.

"Tecwyn Roberts could rightly be labelled as one of the great unsung heroes of the space age."

Mr Howes was speaking in an interview published by Nasa's Goddard Space Flight Center in Greenbelt, Maryland, which has also hailed Roberts as a "pioneer".

He was chief of the network engineering division by the time of the first landing on the Moon and helped to ensure there was communication with astronauts.

…Gary Morse, a former Nasa space shuttle network director, said Roberts "essentially invented" the flight director position.

"He didn't say much but when he did it was very important," he said.
(14) MORE TOR BUCKS. Here's a number most writers would be happy to sign for – "James Rollins lands huge 7-figure deal for epic fantasy series". Entertainment Weekly is there when the cash register rings.
The No. 1 New York Times best-selling author best known for his blockbuster thrillers has signed a major seven-figure deal with Tor Books for Moon Fall, a fantasy series that's been eight years in the making.

Moon Fall opens a riven world trapped between fire and ice, merging his fascination with the natural world, his love of adventure, and his knowledge of the wonders found at the evolutionary fringes of scientific exploration. It centers on a young girl who foretells a new apocalypse approaching, one that will end all life for all time. Her reward is a charge of grave heresy, punishable by death. As she flees, she gathers an unlikely alliance of outcasts to join her cause to save their world. The journey will take them into lands both burning bright and eternally frozen, to face creatures unimaginable and enemies beyond reason. All the while, hostile forces will hunt them. Armies will wage war around them.
(15) R-RATED B.O. Joker is still bringing people through the turnstiles: "The Joker Hits $1 Billion at Box Office — Making It the First R-Rated Movie to Reach the Milestone".
The movie, starring Joaquin Phoenix in the titular role, has surpassed $1 billion in gross sales at box offices world wide, Entertainment Weekly reports. The milestone makes the blockbuster the first R-rated movie to hit the $1 billion mark, according to the outlet.

It also means that the movie, which tells the tale of the rise of Batman's arch-nemesis, has now officially beat out Deadpool as the highest-grossing R-rated movie of all time. The Ryan Reynolds-stared film made $783 million.
(16) WELL-KNOWN BRAND. Martin Morse Wooster assures us, "I normally wouldn't write about Tanya Edwards's Yahoo! Lifetstyle story '10 Gifts That Will Impress The Ultimate Star Wars fan' because it is an Ebay infomercial. BUT the Darth Vader Helmet 2-Slice Toaster is definitely worth a photo!"
(17) PREPARE FOR TAKEOFF. Starlux Airlines is an actual company that begins operations in Taiwan in 2020, with all new Airbus planes. They just launched their safety video:
[Thanks to Cat Eldridge, Andrew Porter, Martin Morse Wooster, JJ, Chip Hitchcock, John King Tarpinian, mlex, and Mike Kennedy for some of these stories. Title credit goes to File 770 contributing editor of the day Kip W.]