(1) PRECISION. In "Save the Allegory!" on Slate, Laura Miller calls on writers to actually define "allegory" correctly.  She quotes from C. S. Lewis' The Allegory of Love at length and makes lots of superhero references.
What people usually mean when they call something an allegory today is that the fictional work in question can function as a metaphor for some real-world situation or event. This is a common arts journalist's device: finding a political parallel to whatever you happen to be reviewing is a handy way to make it appear worth writing about in the first place. Calling that parallel an allegory serves to make the comparison more forceful. Fusion says that Batman v Superman is a "none-too-subtle allegory for the fight between Republican presidential hopefuls Donald Trump and Ted Cruz." (It is not.) The Hollywood Reporter calls Zootopia an "accidental anti-Trump allegory"—this despite the fact that there is no literary form less accidental than allegory. The meaning of the word has drifted so far that even works that aren't especially metaphorical get labeled as allegory: A film about artistic repression in Iran is a "clunky allegory" for … artistic repression in Iran.

Allegory or metaphor: The distinction might seem obscure and academic to many readers. Shouldn't allegory be grateful to get any attention at all? Isn't it just an archaic literary mode that nobody uses anymore? Yes and no. About the only people creating true allegories today are political cartoonists. But a culture never entirely discards its roots, and allegory, which first appeared in the waning years of the Roman Empire, is one of the foundations of Western literature. Maybe if we understood it better, we'd realize how much we owe to it.
(2) NEXT AT SFWA. While detailing her writing and travel plans for the summer, Cat Rambo also previews SFWA's upcoming activities in "Catching My Breath and What's Coming Up". In her second year as the organization's president, she will be putting some needed infrastructure in place.
In SFWA areas, I'm focusing on a new committee that I'll be working with, the Membership Retention Committee, whose job will be to look at the new member experience for SFWA members as well as how to keep the organization useful for members. (If you're interested in volunteering with that, feel free to drop me a line.) Other efforts include a) working with SFWA fundraising, b) a small musical endeavor that I just prodded someone about and which involves Tom Lehrer (yes, that Tom Lehrer), and c) helping out where I can with some of M.C.A. Hogarth's amazing efforts, such as this mysterious thing here lurking under a tarp that I am not at liberty to discuss. *mouths the words "SFWA University" then is dragged away by the SFWA honey badgers while shouting something about a guidebook*

Three other important SFWA things:

I'll be watching the results of our decision to admit game writers with keen interest. I can tell you that the initial set is criteria is being voted on right now and I expect to see it announced soon.
An effort is in the works that I think will prove a lovely tribute to longtime SFWA volunteer Bud Webster and which will, in the longtime SFWA tradition, provide a benefit for professional writers at every level of their careers.
And we'll (finally) be announcing some of the partnerships we've been making — you saw reps from Amazon, Audible, BookBub, Draft2Digital, Kickstarter, Kobo and Patreon at the Nebulas and those relationships are going to extend beyond the weekend and give our members special resources and relationships at all of those companies — and others, including one that I am super-stoked to have facilitated.
(3) DON'T HOLD YOUR BREATH. Neil deGrasse Tyson gives his view about how long you could survive on each planet in our solar system. It's a 2015 video.
(4) TODAY'S BIRTHDAY BOY
Born May 22, 1859 — Scottish writer Arthur Conan Doyle, creator of Sherlock Holmes.
(5) POSERS FOR TINGLE. Neigh, a thousand times neigh!
@ChuckTingle I #BelieveInChuckTingle and that #LoveIsReal pic.twitter.com/VuFNKBUmM3

— Alex Livermore (@Hoisengineer) May 20, 2016
(6) EVERMORE. The Baltimore Sun quotes lots of people involved with the convention in "Balticon grew to 50 as sci-fi, fantasy grew more mainstream". Several are Filers.
Even 50 Balticons later, Ray Ridenour remembers his introduction to the annual gathering of the Baltimore region's science-fiction and fantasy aficionados.

Ridenour, then a student at the University of Maryland, College Park, recalls taking the elevator to the top floor of the city's since-demolished Emerson Hotel. This was the first Balticon put together by the then-4-year-old Baltimore Science Fiction Society, and he had little idea what to expect.

"As soon as I stepped out of the elevator, I heard something very noisy and stepped back in," he recalls. "Two guys roared by in a wheelchair; one of them was singing loudly, the other was pushing loudly. They careened down the hotel aisle and then zoomed in another direction and disappeared."

Ridenour asked someone walking by if they had any idea what was going on. "'Oh, yeah,'" came the reply. "'That was the president of the club.'"

Ridenour, now 68, a graphic artist and designer living in Hampden and a veteran of every Balticon since, knew he was in the right place. "So I said, 'Well, these guys look like they know how to party.'"

…Baltimore natives Miller, 65, and Lee, 63, authors of a series of books set in the Liaden universe, were guests of honor at Balticon 37 in 2003. Veterans of Balticons dating to the mid-'70s — they met at Balticon 10 in 1976, when Lee won a short-story contest Miller had helped start — they have been married since 1980.

Balticon's strength, Miller says, lies in its deep fan base. At a time when many fan gatherings have become massive affairs staged by professional organizations whose business is organizing conventions, with an emphasis on movie- and TV-star guests, Balticon is still organized and run by the Baltimore Science Fiction Society and skewed toward the written word.

"Balticon hasn't lost touch with the fact that it's a bunch of fans putting this together, for their own interests and the interests of their friends," Miller says.
(7) DUNGEON N-COUNTER. Jo Lindsay Walton tweeted this sample of what goes on in the Sputnik Award's Dungeons of Democracy.
Have you voted in the Sputnik Award yet? https://t.co/hJFMaMFCPq #sputnikaward pic.twitter.com/8cP5n0u3k6

— Jo Lindsay Walton (@jolwalton) May 22, 2016
(8) ARE GO. Michael Flett describes the 2015 revival in "Thunderbirds 1965" at GeekChocolate.
…Adhering strictly to the ethic of the late sixties, wires are visible, the motion and expressions of the puppets are limited but still capable of expressing great character, and while Tracy Island is extended by the use of archive footage of tropical islands there can no justifiable objection to this use of stock footage nor in the famous launch sequences or any repeated shots of flybys, as this was all part and parcel of the original productions.

What is undeniable is the loving recreations of puppets, props, sets and machines, from Lady Penelope's wonderfully shiny pink Rolls Royce FAB1 to the Thunderbirds vehicles themselves, the characters themselves graced by the creations of costume designer Liz Comstock-Smith who has crafted an exquisite new wardrobe for Lady Penelope, much to the chagrin of her chauffeur Aloysius Parker who in addition to his other duties must act as porter.

"When one is visiting, one tries to look one's best," his employer drily responds as she arrives at Tracy Island in opening episode Introducing Thunderbirds, less of an audio adventure now granted a visual dimension than, as the name would suggest, a showcase of International Rescue's secret base and the amazing vehicles used to perform their daring missions.

Adapted from the soundtrack of F.A.B., The Abominable Snowman offers more in the way of spectacle with big explosions from the opening moments as a fire rages at Meddings Uranium, named of course in honour of the late special effects designer Derek Meddings who worked on many Anderson shows and later progressed to several James Bond films….
(9) STOP FIGHTING THE LAST WAR. Jim Henley, in "Hugo McHugoface Has Sailed", offers his own frame for the Hugo reform discussions.
…Various options – including some kind of jury component and restricting voting rights (e.g. to only attending members) – have raised the objection that "They change the fundamental character of the award." That class of objections fails to recognize the core truth: the character of the Hugo Awards has already changed. Again, the character of the Hugo Awards has already changed.

The Hugo Awards have become an internet poll in the age of Boaty McBoatface, freeping and chan culture. Nobody set out to make them this, and ex ante it was reasonable to imagine that the supporting membership fee (currently $50) was enough of a gating function to keep LULZers and trolls from targeting the process for abuse. But experience shows that there are enough motivated bad actors willing to spend that much to tie up the bulk of the ballot with whatever works their whims inspire them to place there, motivated by any combination of venial and mortal sins.

There is no question of preserving the character of the Hugo Awards. That ship has sailed, and it is not named for David Attenborough. The question is how can the award process be restructured so that future nominees and award winners will be of a character consistent with the Hugo tradition for the '70 years prior to the mid-'10s.

I suppose the other question is how long it will take Hugo fandom and WSFS members to admit this.
(10) VERBAL AUTOPSY. Toby Litt tells Guardian readers "What makes bad writing bad".
…Bad writers continue to write badly because they have many reasons – in their view very good reasons – for writing in the way they do. Writers are bad because they cleave to the causes of writing badly.

Bad writing is almost always a love poem addressed by the self to the self. The person who will admire it first and last and most is the writer herself.

When Updike began writing Rabbit, Run it was either going to be a great technical feat or a humiliating misjudgment

While bad writers may read a great many diverse works of fiction, they are unable or unwilling to perceive the things these works do which their own writing fails to do. So the most dangerous kind of writers for bad writers to read are what I call excuse writers – writers of the sort who seem to grant permission to others to borrow or imitate their failings.

I'll give you some examples: Jack Kerouac, John Updike, David Foster Wallace, Virginia Woolf, Margaret Atwood, Maya Angelou. Bad writers bulwark themselves against a confrontation with their own badness by reference to other writers with whom they feel they share certain defence-worthy characteristics….
(11) DOWN UNDER FAN FUND. Julian Warner, Justin Ackroyd and Lucy Huntzinger officially announced that the winner of the 2016 race is Australian fan Clare McDonald-Sims. She was the only candidate. The administrators say voting numbers to follow. McDonald-Sims will attend MidAmeriCon II.
(12) IT'S STILL NEWS TO SOMEONE. Fanac.org now has James V. Taurasi's classic fan newzine Fantasy Times online, published from 1941-1955.
Also, congratulations to Jack Weaver, Fanac.org's Webmaster of 20 years, and the site's software developer, who received a special award at FanHistoricon in Virginia last month.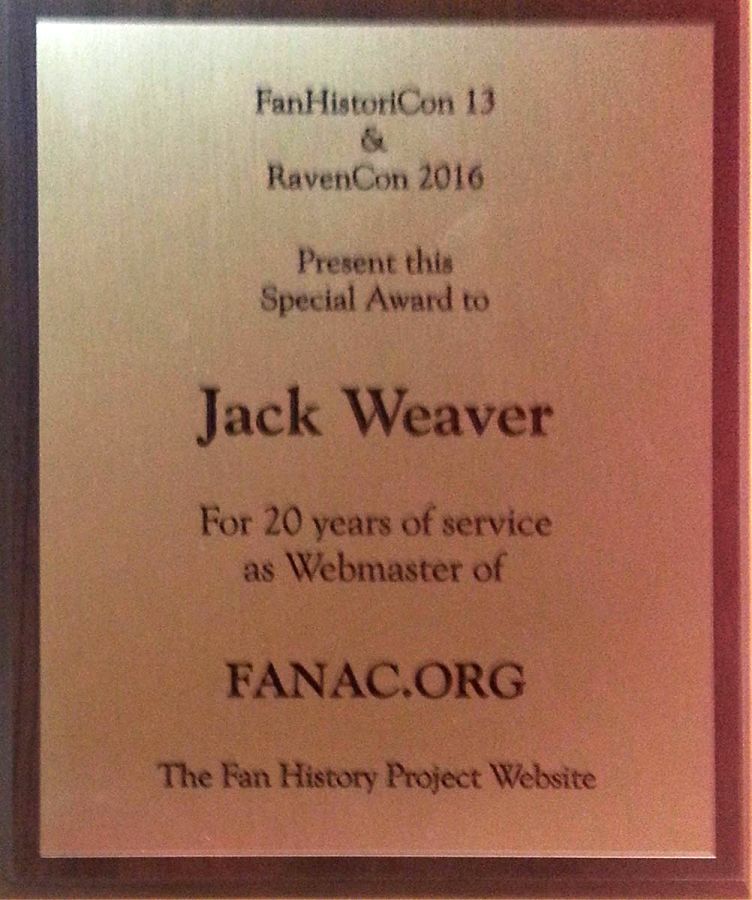 (13) TANK FOR THE MEMORIES. NPR covered yesterday's transfer from the harbor to the museum – "A 66,000 Pound Space Shuttle Fuel Tank Is Parading Through The Streets Of LA".
A massive space shuttle fuel tank is winding its way through the streets of Los Angeles Saturday, on a 16-mile trek heading to the California Science Center.

It's set to be displayed with the space shuttle Endeavor. The tank, which was never used in a mission, is the "last flight-qualified space shuttle external tank in existence," according to the science center…..

As The Associated Press reports, the giant tank started moving at midnight from Marina del Rey, where it "arrived by barge Wednesday." It's crawling along at about 5 mph, the wire service reports, and is expected to take 13 to 18 hours to reach the science center….

The tank was donated by NASA, and Science Center President Jeff Rudolph tells Danielle that he's thrilled to acquire the tank.

"As soon as we got Endeavor, we said we got to see if there's any way we can get that one remaining external tank," he says. Danielle adds that the center is hoping to eventually add booster rockets to the display.

According to the center, that means it will be the "be the only place in the world that people will be able to see a complete shuttle stack — orbiter, external tank, and solid rocket booster — with all real flight hardware in launch configuration."
[Thanks to John King Tarpinian, Martin Morse Wooster, Will R., Brian Z., and Jim Henley for some of these stories. Title credit goes to File 770 contributing editor of the day Jack Lint.]