(1) NEW NINTH DOCTOR STORIES COMING FROM BIG FINISH. Christopher Eccleston has finally come around to playing the Doctor again announces BBC Studios.
Big Finish Productions, in association with BBC Studios announces the long-awaited return of Christopher Eccleston as the Ninth Doctor.

First seen on screen in 2005, Christopher Eccleston's Ninth Doctor introduced a whole new generation of fans to Doctor Who.

Now he's back, with a brand-new series of twelve fantastic full-cast audio adventures in space and time, due to be released across four box sets, starting with volume one in May 2021.

Christopher Eccleston said: "After 15 years it will be exciting to revisit the Ninth Doctor's world, bringing back to life a character I love playing."
Big Finish's own press release hints at how Eccleston was won over (even after turning down Steven Moffat's attempt to get him for the 50th anniversary of Doctor Who).
Big Finish's Chairman, Jason Haigh-Ellery said: "I first talked to Christopher about returning to the role of the Doctor at the Gallifrey One convention in February this year. Christopher said he was enjoying meeting the fans and was pleased that his Doctor was remembered so fondly. He indicated he would be open to discussing a project with Big Finish.

"And then the pandemic happened and time moved both quickly and very slowly. Over recent months, ideas have been exchanged and discussions had. I am so pleased that Christopher has decided to return to the role with us – and I'm excited to welcome him to the Big Finish family as we discover the new adventures of the Ninth Doctor."
(2) SCARY GOOD. On the Horror Writers Association blog: "HWA Poetry Showcase Featured Poets" features a Q&A with Sarah Read, K.P. Kulski, and Sarah Tantlinger.
(3) WHERE TO FIND THEM. James W. Harris has been working on analysis and comparison of lists of the "great works" of SFF for several years. This week, while everyone else is busy damning the canon, he posted about the optimal solution for acquiring all the greatest sff stories in as few anthologies as possible. "The SF Anthology Problem – Solved" at Classics of Science Fiction.
Two years ago when we completed version 1 of The Classics of Science Fiction Short Story list I proposed a math challenge. Version 1 came up with 275 stories. I asked if there was any mathematically way to decide what were the fewest anthologies that contained all 275 stories using ISFDB.org as a reference database. Version 1 was generated using .csv files. Since then we updated the process to a database for version 2 of the list, which produced 101 stories — we believe that was a more practical reading list.

A science fiction fan could read the entire list over the summer by reading one story a day, or in a year by reading one story every three days, but where would they get the 101 science fiction short stories?…
(4) INSIDE THE LID. Alasdair Stuart's"The Full Lid for 7th August 2020"processes his experiences with the virtual CoNZealand.
…To all the CoNZealand volunteers: I see you. I see your hard work. Thank you.

The issues being raised by our community this week are with the structure you inherited and were bound by. None of that is the fault of volunteers, acting with minimal resources, time, communication and support.

My intention here is to report my own experiences and do so honestly. There are things that have to be done to make this experience better for everyone. My hope is my experiences can help with that.
It includes a segment evaluating the successes and criticisms of CoNZealand Fringe.
(5) A THING OF BEAUTY. The Astounding Award.
(6) RESTART TREK. All those Star Trek movies you've read about being developed in the past couple of years? You might not be hearing about some of them any more. Mike Fleming Jr., in the Deadline story "Emma Watts' Top Priority At Paramount: Figure Out 'Star Trek' Reboot" says that Paramount CEO Watts has shelved all existing scripts for the fourth Star Trek movie, including one with Noah Hawley as writer/director, one with Mark L. Smith as writer and Quentin Tarantino as director, and one with S.J. Clarkson as director that would have had Chris Hemsworth play Chris Pine's father. But since Star Trek is a "monster franchise" for Paramount so Star Trek 4 will get made.
…What we're hearing is that both the [Noah] Hawley pic — which calls for a new cast and might be about a deadly virus which might feel awkward given current circumstance — and the [Mark L.] Smith version — [Quentin] Tarantino dropped out as director, but the project is still viable based on an episode of the classic Star Trek series that takes place largely earthbound in a 30s gangster setting — might serve the franchise best as Logan-like spinoffs when the core franchise has been revitalized. But that the other one might have the cleanest path toward a relaunch, with an emphasis on boosting overseas gross numbers which have never been the franchise's strong suit. These decisions will take place over the next few weeks.
(7) A GEM IN WAITING. ScreenRant's Crag Elvy pooh-pooh's the idea of a Silmarillion adaptation, but doesn't go so far as to whinny a big horse laugh at it: "Lord of the Rings: Why A Silmarillion Movie Wouldn't Work".
… But just because The Silmarillion could be turned into a feature-length film, that doesn't necessary mean it should be. The book offers a fascinating insight into Middle-earth's long history, adding context to the events of The Lord of the Rings and widening the lore in fascinating and organic ways. Arguably, there are events in The Silmarillion that eclipse anything in Tolkien's more famous books in terms of importance. However, The Silmarillion is not a conventional novel in the same style as The Hobbit or The Lord of the Rings. There is no central protagonist, while the narrative spans many eras of time and vast expanses of geography. Moreover, The Silmarillion reads more like a religious text or a history textbook (albeit an infinitely more interesting one) than a story with a clear beginning, middle and end. Telling the same sort of heroic tale movie fans are used to would be a tough ask from The Silmarillion's source material, as would constructing one complete start-to-finish narrative suitable for mainstream cinema.
(8) BEYOND THE PANDEMIC. ConTamination2020, "An online convention using Science Fiction & Science to explore pandemics and the long-term future of humanity," will be held September 12-13, 2020, between 1p.m.-9p.m. GMT+1. The con is being organized by a small group of volunteers interested in using speculative fiction to explore the future of humanity after COVID-19, led by Vivienne Raper, Kat Kourbeti, and Catrin Osborne. Follow them on Twitter here.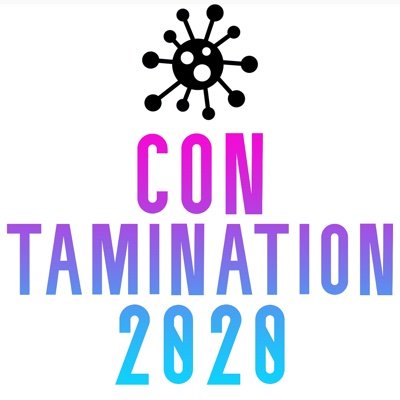 To avoid stepping on any toes, we've narrowed the focus of ConTamination to be a science-meets-speculative-fiction convention. Our aim is to tackle the big questions that many of us are asking about the future, and our place as science fiction and fantasy fans within it.
They're looking for volunteers – if you're interested, click on the "ConTamination 2020 Volunteer Interest Form".
In a time of social distancing and home isolation, how about we all get together to talk books, pandemics, and the social impact this current evolving crisis will have worldwide, in both science and literature?

We still have open slots for panels so if you are interested in speaking and have a topic in mind that relates to any of the theme strands of the convention (science, fiction, or social change – where it relates to pandemics and the way we are dealing with the current pandemic), however remotely, do reach out and let us know your thoughts.
(9) MEDIA BIRTHDAY.
August 9, 1996 — John Carpenter's Escape from L.A. as it was stylized on screen premiered. The sequel to Escape from New York, it was co-written, co-scored, and directed by John Carpenter, co-written and produced by Debra Hill and Kurt Russell, with Russell again starring as Snake Plissken. It also co-stars Steve Buscemi, Stacy Keach, Bruce Campbell, and Pam Grier. Reception was definitely mixed. With most critics thinking the script was uneven, the film bombed at the box office, and audience reviewers at Rotten Tomatoes currently give it a 39% rating. Carpenter has said that, "Escape from L.A. is better than the first movie. Ten times better." (CE)
(10) TODAY'S BIRTHDAYS.
[Compiled by Cat Eldridge and John Hertz.]
Born August 9, 1899 – P.L. Travers. Four novels, two shorter stories and a cookbook about Mary Poppins; other novels, poetry, nonfiction. Also had a career as an actress; parents disapproved, thus "Pamela Travers". First two MP books unsurpassed, perhaps unequaled. Translated into Italian, Japanese, Polish, Romanian, Russian. Never happy with the Disney version though it made her rich; "It's glamourous and a good film on its own level, but I don't think it's very like my books." (Died 1996) [JH]
Born August 9, 1908 – Joan Kiddell-Monroe. Author and illustrator, famous for children's books. Oxford Myths & Legends (i.e. Oxf. Univ. Press). Muriel Levy's six Adventures of Wonk. Four of her own In His Little Black Waistcoat about a panda. Aesop's Fables. Arabian Nights. Here is "The Exploits of Hanuman". Here is Queen Amata singing of Turnus and Lavinia from The Aeneid. Here is a cover for The Magic Bed-Knob. (Died 1972) [JH]
Born August 9, 1914 — Tove Jansson. Swedish-speaking Finnish artist wrote the Moomin books for children, starting in 1945 with Småtrollen och den stora översvämninge (The Moomins and the Great Flood). Over the next decades, there would a total of nineteen books. Currently Moominvalley, the new animated series is playing, on Netflix. And Terry Pratchett in "My family and other Moomins: Rhianna Pratchett on her father's love for Tove Jansson" credits her for him becoming a fiction writer. (Died 2001.) (CE)
Born August 9, 1920 – Jack Speer. Pioneer of fanhistory with Up to Now (1939) and what we now know as Fancyclopedia I (1944). Introduced mailing comments, i.e. on others' contributions in mailings, or distributions, of amateur publishing associations, thus ancestor of blog postings. His SF Song Sheet at Chicon I (2nd Worldcon) was the ancestor of filk music; the costume party he and Milt Rothman suggested was the ancestor of the spectacular on-stage contest we call the Masquerade. Fancestral Voices collects his fanwriting. When in my fanzine Vanamonde I misspelled the famous typo poctsarcd he promptly wrote back "Nothing is sacrd." (Died 2008) [JH]
Born August 9, 1941 – Jamila Gavin, F.R.S.L., 79. Her Indian father and English mother met in Iran; she calls herself half and half. The Wheel of Surya, two sequels, follow two generations of Indian Sikhs; The Magic Orange Tree, Three Indian Goddesses and Three Indian Princesses are short stories from Indian legends; she is also a patroness of the Shakespeare Schools Festival. Two novels, a score of shorter stories, for us; twoscore more books (e.g. Coram Boy about the 18th Century foundling hospital established by Thomas Coram; Whitbread Prize). Fellow of the Royal Society of Literature. [JH]
Born August 9, 1944 — Sam Elliott, 76. Weirdly the source for this Birthday thought he'd only been in one genre role, General Thaddeus E. "Thunderbolt" Ross in the 2003 Hulk film, but he's got many other roles as well. His first was Duke in Westworld followed by being Luke Peck in Time Bandits, Flik Whistler in The Thing and Lock in The Adventures of Buckaroo Banzai Across the 8th Dimension. He's the Phantom Rider in Ghost Rider and Lee Scoresby in The Golden Compass. His latest genre is as the lead in The Man Who Killed Hitler and Then the Bigfoot. (CE)
Born August 9, 1947 — John Varley, 73. One of those authors that I've been meaning to read more of. I read both The Ophiuchi Hotline and Titan, the first novels respectively in his Eight Worlds and the Gaea Trilogy series, but didn't go further. (See books, too many to read.) If you've read beyond the first novels, how are they as series? Worth pursuing now? (CE)
Born August 9, 1949 — Jonathan Kellerman, 71. Author of two novels so far in the Jacob Lev series (co-authored with Jesse Kellerman), The Golem of Hollywood and The Golem of Paris. I've read the first — it was quite excellent with superb characters and an original premise. Not for the squeamish mind you. (CE)
Born August 9, 1953 – Jim Theis. To him is attributed The Eye of Argon, said to be from 1970 when the author was 17 (maybe 16 when he wrote it). For two decades he has been subject to De mortuis nil nisi bonum (Latin, "Of the dead, say nothing but good", various reasons e.g. they cannot defend themselves), to which the reply may be that we are speaking not of him but of his Eye, or that it's so bad it's — anyway, see here. (Died 2002) [JH]
Born August 9, 1956 — Adam Nimoy, 64. Son of the Leonard Nimoy and the actress Sandra Zober. His wife is Terry Farrell. He's directed episodes of Babylon 5, Next Generation, The Outer Limits (he directed his father in the "I, Robot" episode, and Sliders. He's responsible for For the Love of Spock, the documentary about his father. (CE)
Born August 9, 1970 – Thomas Lennon, 50. Actor, screenwriter, producer-director, guitarist. Played Eddie the Shipboard Computer in the 2005 film of The Hitchhiker's Guide to the Galaxy, Mr. Mxyzptlk in Supergirl on CW television this year. Two novels for us; the first, Ronan Boyle and the Bridge of Riddles, was a NY Times Best Seller. [JH]
(11) COMICS SECTION.
(12) THE UPSIDE OF THE PANDEMIC. Sir Julius Vogel Best Novel winner Sascha Stronach thinks, "One of the few saving graces of this year's worldcon is that we didn't end up having to host all these very important writers in TSB Arena, the worst events venue in New Zealand." Thread starts here.
(13) FIRST THINGS FIRST. NPR's Jessica P. Wick says "'The First Sister' Is Stylish, Substantial — And Very Cool — Space Opera".
Linden A. Lewis's debut novel The First Sister (book one in a trilogy of the same name) is a lot of fun, as stylish as it is substantial. Would you like your space opera with the social commentary and swaggery cool of Alexandre Dumas, with a dash of Cowboy Bebop and some awesome queer characters? Are you interested in political maneuverings and space economics, fantastically rich worldbuilding and sneaky spy stories? Read on. First Sister might be just the book you've been waiting for.
(14) IT'S IN THE CARDS. In The Washington Post Magazine, Gavin Edwards went to the 2019 Magic: The Gathering Mythic Championship in Richmond to profile players able to compete at a level where they can win serious money. He note that nearly all of the top Magic: The Gathering players are men, but Jessica Estephan, the first woman to win a Magic Grand Prix tournament, says that rather than two or three women at a big tournament, "I need more than two hands" to count the women competing, "and that just blows my mind and I love it." "Strange Magic".
The best Magic players have their games broadcast on Twitch with up to 30,000 people watching at once and up to 750,000 sampling the tournament at some point.

…After Lee gathered his cards and departed, Nettles told me quietly, "He's a high-profile player, a Hall of Fame guy. I'm a tier below." (Magic does have an official Hall of Fame, honoring 48 of its greatest competitors.) Nettles had played enough matches against the world's best Magic players to assess his abilities vs. theirs: "I make a mistake in three percent of the games, they might make a mistake in one percent, and that's the difference in a tournament." One minute you're a hero; the next minute, you're a goat. Or in this case, an elk.
In 2019, Wizards provided 32 top players with sponsorship contracts worth $75,000 and, almost as important, gave them automatic invitations to major tournaments. Nettles wasn't in that tier, but he had played well enough at Magic tournaments to get a sponsorship from a company that makes protective card sleeves, allowing him to play the game for a living.
(15) AARGHONOMICS. "The pandemic has put video game equipment in unusually high demand. The gaming chair is ascendant," declares the New York Times: "This Is Not a Desk Chair". (It is also not the chair John Scalzi recently bought. I checked.)
In a rented home on a sunny street in Los Angeles, a team of professional gamers sat hunched over in swivel chairs while a pair of ergonomic specialists observed their posture, asked questions and took notes.

The gamers reported pain in their necks, their lower backs, their hips, wrists and shoulders. Carpal tunnel was a common complaint. Most of them were not yet 20.

Over several days in May 2018, specialists who had come from Herman Miller, the modern furniture company, and Logitech, the computer accessory and software manufacturer, watched professional teams practice in their training facilities (often large homes they shared with teammates) and play in a tournament.

They noticed how the gamers gripped their toes on the bases of their chairs to support their bodies, how they would incline forward when they played and how, in their downtime, they would exhibit what Herman Miller personnel dubbed "the teenage slouch."

"We're over 50, we don't know anything about gaming," said John Aldrich, the vice president of advanced engineering at Herman Miller, which is best known for its Eames lounge chair and mid-century modern furniture. "Watching multimillionaire 19-year-olds playing games was not what I expected to do with my career."

Perhaps not, but Mr. Aldrich has devoted much of his professional life to ergonomic design, an area of relevance to anyone who sits for extended periods of time, as gamers do. And many players gravitate toward models that resemble chunkier, aggressively colorful office chairs….
(16) DON"T FORGET TO CONSERVE YOUR ENERGY. Fanac.org has posted a recording of a talk given at Boskone 5 (1968): "Larry Niven: The Theory and Practice of Teleportation." We didn't have YouTube in Ye Olde Days, so this material was still all new to me when Niven reprised it at a convention I attended a few years later.
In this audio recording (illustrated with dozens of images), Larry Niven gives a delightful talk on the effects of teleportation on a society. Five years before his "Flash Crowd" was published, this recording is a grand exposition of what goes on in this author's mind as he works out the impact of new technology. "The limitations you assume for your teleportation are going to define your society." Isaac Asimov (and a number of other audience members) challenge Larry with questions and suggestions. There's even a chalkboard talk (which you can follow from the audio). The program provides a very entertaining and complete logical framework for thinking about the problems and advantages of different implementations of mechanical teleportation, with the eager participation of the engineers in the audience.
[Thanks to Michael Toman, John King Tarpinian, Olav Rokne, John Hertz, JJ, Mike Kennedy, Chip Hitchcock, Martin Morse Wooster, Cat Eldridge, and Andrew Porter for some of these stories. Title credit goes to File 770 contributing editor of the day Olav Rokne.]