(1) SPACE OPERA. Stars Between, the 20-minute opera on the Voyager missions that E. Lily Yu wrote the libretto for, with Steven Tran composing, recently became available on Seattle Opera's website along with other operas from the Jane Lang Davis Creation Lab. Yu won the Astounding Award for Best New Writer in 2012. "At Seattle Opera, young artists push a 400-year-old art form forward" at Crosscut.
…Created over the course of 21 weeks — via Zoom and during socially distanced, masked rehearsal sessions — this year's eight Creation Lab operas will be streamed on the Seattle Opera website, in two separate bills, starting Sept. 9 and Sept. 10.

The inaugural cohort's 20-minute creations use traditional opera vocals to deal with raw issues in fresh ways or take innovative approaches to storylines and orchestration. The dramatic opera Blaze depicts the personal losses caused by terrifying wildfires. If only I could give you the sun, a nonbinary/transgender retelling of the Icarus myth, centers generosity and joy instead of hubris and calamity. The existential opera Stars Between tells the story of the Voyager space mission with the help of '80s synths and a vocoder (along with some Ariana Grande inspiration). And in Flush, the soprano portrays a girl running into a public bathroom — and the mezzo-soprano plays the toilet who sings back to her.
Yu and Tran's work is the first one performed here: "2020/21 Creation Lab Performances Part 2".
(2) CARRIBEAN SFF PODCAST. Jarrel De Matas invites fans to listen to The Caribbean Science Fiction Network, "A celebration of all things fantasy, folklore, and science fiction."
Want to learn more about Caribbean fantasy, folklore, speculative, and science fiction? Interested in established and emerging Caribbean voices about all things sf? Then tune in to The Caribbean Science Fiction Network. In this podcast I showcase emerging and established Caribbean voices who use sf genres to explore future states of Caribbean identity. Through these genres, the writers redefine Caribbean futurity and what it means to be Caribbean.
The most recent episode features a discussion with Karen Lord: ?"Imagining a Caribbean future of health".
How can literature illuminate matters of public health and Caribbean futures? Listen to Barbadian writer, Karen Lord, discuss her latest short story "The Plague Doctors" which is eerily prophetic in its portrayal of an island bearing the brunt of a contagious disease. Through a blending of the hard sciences and the social sciences, Lord urges us to read not just for entertainment but for social change.
The podcast is available on Apple Podcasts, Spotify, Anchor.fm, iHeartRadio, Podchaser, and Breaker.
(3) AFROFUTURISM. In a post for Axios, "Afrofuturists imagine space in 2051", Russell Contreras provides an extensive roundup about the subgenre.
…Details: Afrofuturism describes an alternative place for Black people in space or a fantasy setting, or in relation to technology that allows one to escape slavery and discrimination.

Once an underground movement, Afrofuturism today enjoys a popular fan base with the blockbuster movie "Black Panther" and a new exhibit at the Oakland Museum of California….
The Oakland exhibit is discussed in full detail in the San Francisco Chronicle: "'Mothership: Voyage Into Afrofuturism' collapses space and time to envision a Black future".
…"Mothership: Voyage Into Afrofuturism," which will be on view through Feb. 27, showcases work across mediums, dating from the early days of the Black American experience to the present.

The Afrofuturism movement "is about collapsing time and space, so what happened in 1919 is just as relevant as what happened in 2019," Harden explained. "You can understand that Black folks' mere presence of life and living is in part resisting this impossibility that's facing them, which is life, in a world that is fully anti-Black."

"Mothership: Voyage Into Afrofuturism" is the museum's first new exhibition since the start of the pandemic. It was scheduled to open in October, but public health orders forced the museum to suspend in-person operations from March 2020 to June.

Rhonda Pagnozzi, a curator at the East Bay institution since 2017, served as lead curator, working with Oakland-born Harden, a doctoral candidate in the African American studies department at UC Berkeley. The museum had been at work on the project before the protests over the police killing of George Floyd erupted last summer and worked with more than 50 Black artists and historians in creating the exhibit.

"As a non-Black curator, it was critical on this project to center the voices of Black creatives," said Pagnozzi, who is white.

To mount the exhibition, new walls were erected to create more intimate spaces, and the museum's 7,600-square-foot Great Hall was painted with darker tones, primarily black and grays. The effect makes each installation more striking, as the exhibits contrast with the simple and muted nature of the space.

The exhibit engulfs a visitor immediately with a hypnotizing sound installation, "Mothership Calling," by Pittsburgh composer Nicole Mitchell, and a mural, "Radio Imagination," by San Francisco artist Sydney Cain, both created in 2020. The mural aims to capture the idea of a collapse of time and space, featuring visuals of ancestors of the African diaspora while being abstract enough that it feels like something part of a distant future….
(4) SAY THEIR NAMES. Lise Andreasen asks, "Did you know I have a Soundcloud? Currently the correct (?) pronunciation of more than 50 names. Did I get someone wrong? Did I miss someone people often get wrong?" Listen here – "Say It Right. If you want to give any feedback, contact Lise here. (And now I know the right way to pronouce Lise Andreasen!)
(5) HEAR BISHOP. On October 7, ReadSC's "On My Mind" series will present Brock Adams and Michael Bishop. Register for the free online event at Eventbrite. Begins at 7:00 p.m. Eastern.
Brock Adams's first novel, Ember, won the South Carolina First Novel Prize in 2016 and was published the following year by Hub City Press. His short fiction has appeared in Best American Mystery Stories, The Sewanee Review, Bacopa Literary Review, and several other journals….

Michael Lawson Bishop is an award-winning American writer. Over four decades & thirty books, he has created a body of work that stands among the most admired in modern sf & fantasy literature….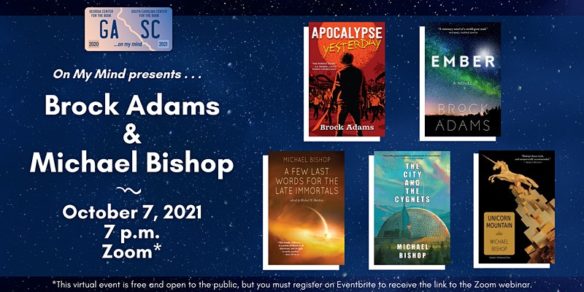 (6) NIGHTMARE ALLEY. "Guillermo Del Toro's Nightmare Alley Finally Gets Its First Trailer" and Yahoo! News gives it an introduction:
Guillermo del Toro's upcoming film Nightmare Alley is highly anticipated for a few reasons. The most obvious one is, well, it's a del Toro film. But the cast comes in a close second for this dark '40s noir tale. Bradley Cooper, Cate Blanchett, Toni Collette, Willem Dafoe, Richard Jenkins, Rooney Mara, Ron Perlman, and David Strathairn complete the film's ensemble cast. It feels like 84 years since we first found out about this adaptation of William Lindsay Gresham's 1946 book of the same name. Believe it or not, the initial announcement hit way back in December 2017. And now, nearly four years later, we finally got the trailer. And it was indeed worth the long (and pandemic affected) wait….
(7) SAVING BOOKS. Andrew Porter says his comment about salvaging water damaged books, left on the New York Times article "He Was Swept Down a Sewer Pipe: 'I Just Let the Water Take Me'", is getting a lot of upvotes. (Click for larger image.)
(8) MEDIA BIRTHDAY.
1965 – Fifty-six years ago on this evening , Get Smart! first aired on NBC. Created by Buck Henry and Mel Brooks, this would be the first scripted television series for either of them. It had a small core cast consisting of Don Adams, Barbara Feldon and Edward Platt. It would run for five seasons, the last being being on CBS, consisting on one hundred and thirty-eight episodes. A movie, The Nude Bomb (retitled The Return of Maxwell Smart when it ran on TV as obviously those audiences are sensitive), followed, and then later on Get Smart, Again!, another film aired. A mid-Nineties revival series, Get Smart, with Don Adams and Barbara Feldon lasted but seven episodes. Edward Platt who played The Chief in the original series had died, so he wasn't part of it. Adams would later do many a commercial using his Maxwell Smart persona. You can see his ad for Savemart New York City here.
(9) TODAY'S BIRTHDAYS.
[Compiled by Cat Eldridge.]
Born September 18, 1884 — Gertrude Barrows Bennett. She's been called a pioneering author of genre fiction. She wrote a number of fantasies between in the late 1910s and early 1920s, and has been called "the woman who invented dark fantasy". Her short story, "The Curious Experience of Thomas Dunbar" which was published under G.M. Barrows in Argosy is considered first time that an American female writer published an SF story using her real name. I'm pleased to say that the usual suspects are heavily stocked with her works. (Died 1948.)
Born September 18, 1917 — June Foray. Voice performer with such roles as Cindy Lou Who, Natasha Fatale and Rocky the Flying Squirrel. She also provided the voice of Lucifer the Cat from Disney's Cinderella. She also did a lot of witches such as Looney Tunes' Witch Hazel which you can hear thisaway. She was instrumental in the creation of the Academy Award for Best Animated Feature twenty years ago. OGH has a detailed remembrance here. (Died 2017.)
Born September 18, 1939 — Frankie Avalon, 82. He first graced the SFF realm with an appearance on Voyage to the Bottom of the Sea followed by being in the Panic In Year Zero film and then in the Bondian spoof Dr. Goldfoot and the Bikini Machine. His last two genre one-offs were on Fantasy Island and Sabrina, the Teenage Witch. Well, and there was the teenage horror bloodfest The Haunted House of Horror.
Born September 18, 1944 — Veronica Carlson, 77. She's best remembered for her roles in Hammer horror films. Among them are Dracula Has Risen from the Grave, Frankenstein Must Be Destroyed and The Horror of Frankenstein. She also shows up in Casino Royale as an uncredited blonde. She also appeared in the Randall and Hopkirk (Deceased) episode "The Ghost Who Saved the Bank at Monte Carlo".
Born September 18, 1946 — Struan Rodger, 75. He voiced the Face of Boe in the Tenth Doctor stories "New Earth" and "Gridlock". He returned to the series as Clayton in the Twelfth Doctor story, "The Woman Who Loved" and voiced Kasaavin in Thirteenth Doctor story, "Skyfall". He was also Bishop in Stardust, and voiced the Three-Eyed Raven in The Game of Thrones' "The Lion and The Rose" and "The Children".
Born September 18, 1946 — Nicholas Clay. Here for playing Lancelot on Excalibur. He did two earlier horror films, The Damned and Terror of Frankenstein, and he was The Prince in Sleeping Beauty. For television work, he's done The Adventures of Sherlock Holmes, The Hound of the Baskervilles, Zorro, The New Adventures of Robin Hood, Virtual Murder, Highlander and Merlin. (Died 2000.)
Born September 18, 1948 — Lynn Abbey, 73. She's best known for co-creating and co-editing with Robert Lynn Asprin (whom she was married to for 13 years) the quite superb Thieves' World series of shared-setting anthologies. (Now complete in twelve volumes.) Her Sanctuary novel set in the Thieves' World universe is quite excellent. I've not kept up with her latter work, so y'all will not to tell me how it is. Most of the Thieves' World Series is available from the usual digital suspects.
Born September 18, 1984 — Caitlin Kittredge, 37. Known for for her Nocturne City series of adult novels which I'd not heard of before this, and for The Iron Codex, a series of YA novels, but I think her best work is by far the Black London series. She's penned a Witchblade series at Image Comics, and the excellent Coffin Hill series for Vertigo.
(10) GOOD HOUSECREEPING. In the Washington Post, Alexandra Petri knows you have to clean up your house, and provides tips from Poe, Shirley Jackson, Smaug, and Thanos! "Goblincore? Cottagecore? Here are some more -cores, as long as we're doing this."
Thanoscore: Have eliminated half of items in house at random; was attempting Kondocore, but something went very wrong.
(11) WORTH A SECOND GLANCE? [Item by Mike Kennedy.] This list includes quite a few genre films, some of which are arguably the exact opposite of "brilliant." "26 Overlooked Movies to Watch This Fall" in The Atlantic.
Aeon Flux (2005, directed by Karyn Kusama)

Undoubtedly one of the oddest blockbusters ever produced by a major studio, Kusama's adaptation of the cult '90s MTV series was critically derided and somewhat disowned by its director, who said it had been reedited for commercial appeal. If that's the case, her cut must have been unimaginably bizarre, because the final version is a visually giddy, borderline-incomprehensible sci-fi actioner loaded with intriguing ideas of how our utopian future could go awry. Charlize Theron stars as the raven-haired, ultra-athletic warrior fighting to take down her future government; she eventually uncovers a conspiracy that helps explain both the cloistered world she lives in and the hazy dreams she has of another life in the distant past. Kusama has made better movies, such as Girlfight and The Invitation, but even her biggest flop is overflowing with more cool ideas than most summer tentpole releases.
(12) OUT FOR A PENNY, OUT FOR A POUND. "Britain Signals Intent to Revert to the Imperial System" reports the New York Times.
The British government said it was taking steps to return to its traditional system of imperial weights and measures, allowing shops and market stalls to sell fruits and vegetables labeled in pounds and ounces alone, rather than in the metric system's grams and kilograms, a move it hailed as an example of the country's new post-Brexit freedoms.

…Since at least medieval times, the English have used their own set measurements, including inches, feet, stones, miles and acres, many of which are still used in the United States. But for decades, the British government had been pushing people to use the metric system, used in most of the world and developed using decimalized metric standards during the French Revolution.

Supporters of the metric system say its use is necessary for companies to compete globally, since so many countries use it. Those passionate about the metric system also point to the fact that Britain began its switch to the metric system in 1965, eight years before it joined the European Union. Others said there were more pressing issues to focus on, like cuts to public services.
(13) SLOW-PONY EXPRESS. Interesting to realize that crossing the U.S. by plane in thirty days would have been a speed to aspire to in 1911. See a gallery of close-up photos of the aircraft that tried to do it in "Wright EX Vin Fiz" at the National Air and Space Museum website.
110 years ago this month, Calbraith Perry Rodgers began the first crossing of the United States by airplane. Rodgers departed New York on September 17, 1911, in his Wright EX biplane Vin Fiz with the hopes of crossing the U.S. in thirty days or less to claim a $50,000 prize from publishing magnate William Randolph Hearst. His endeavor was supported financially by the Armour Company, makers of the grape-flavored soft drink called Vin Fiz. While the flight took him 49 days and he did not earn the prize money, he did go down in history as the first person to cross the U.S. by airplane when he arrived in Pasadena, California, on November 5.
(14) A WHIFF OF HALLOWEEN. I'm including the link to Burke & Hare's Halloween Scented Candles because they had the foresight to label their product page "Something Wicked This Way Comes." And as you know, we're all Bradbury all the time here. (Don't get excited when you see every candle is marked "sold out" — a note at the top of the page says they'll restock on September 22.)
(15) OUT FOR A SPIN. A step forward for space tourism: "SpaceX capsule returns four civilians from orbit, capping off first tourism mission," reports CNN. (See video of the landing at SpaceX – Launches.)
Four people returned to Earth from a three-day extraterrestrial excursion aboard a SpaceX Crew Dragon capsule on Saturday evening, marking the end of the first-ever flight to Earth's orbit flown entirely by tourists or otherwise non-astronauts.

"Thanks so much SpaceX, it was a heck of a ride for us," billionaire and mission commander Jared Isaacman could be heard saying over the company's livestream.

The tourists were shown watching movies and occasionally heard responding to SpaceX's mission control inside their fully autonomous spacecraft before it began the nail-biting process of re-entering the Earth's atmosphere. After traveling at more than 17,000 miles per hour, the spacecraft used Earth's own thick blanket of air to slow itself down, with the outside of the craft reaching temperatures up to 3,500º Fahrenheit in the process.

The Crew Dragon capsule, which is designed not to allow temperatures to go past 85º in the cabin, used its heat shield to protect the crew against the intense heat and buildup of plasma as it plunged back toward the ocean. During a Netflix documentary about the Inspiration4 mission, Musk described a capsule going through reentry as "like a blazing meteor coming in."
This is not a video of the landing.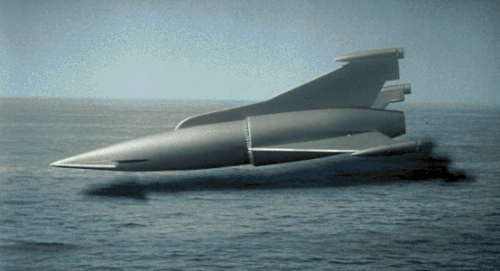 (16) VIDEO OF THE DAY. In "Untitled Earth Sim 64" by Jonathan Wilhelmsson, a woman is faced with existential crisis after learning that the universe is an untitled simulation. This is the latest short sff film distributed by DUST.
[Thanks to Andrew Porter, Martin Morse Wooster, JJ, E. Lily Yu, Paul Di Filippo, Estee, Michael Toman, John King Tarpinian, Cat Eldridge, and Mike Kennedy for some of these stories. Title credit belongs to contributing editor of the day Jim Janney.]