(1) IN THE YEAR 2025. Kathy Bond, Seattle 2025 Worldcon Bid Co-Chair, has announced there will be a Seattle 2025 Bid Volunteer Meeting on Sunday, March 6, at 10:00 a.m. Pacific. A link to the Facebook event can be found here.
We'd like to invite the community to come find out more about the state of our bid and where we are looking for help. We are actively looking for volunteers from around the world so anyone should feel free to attend this on-line meeting. 
Their website link is — Seattle in 2025: A Worldcon Bid
(2) FUGITIVE DOCTOR GETS COMIC BOOK. "Fugitive Doctor Series Announced" reports Comicbook.com. FCBD 2022 Doctor Who #1 releases on Free Comic Book Day, May 7, and Doctor Who Origin #1 will follow on May 18.
The Fugitive Doctor will finally get the spotlight in a new Doctor Who series. Jo Martin's mysterious incarnation of the Time Lord makes her comic book debut on Free Comic Book Day in Titan Comics' FCBD 2022 Doctor Who #1. The familiar Doctor Who Comic creative team of writer Jody Houser and artist Roberta Ingranata tell a tale that offers a glimpse at the Fugitive Doctor's earlier years. Titan Comics has since confirmed that FCBD Doctor Who #1 will lead into the next Doctor Who Comic miniseries arc. The story is titled Doctor Who: Origins, telling a new adventure set during the Doctor's time working for the Division.

The Fugitive Doctor made her surprise debut in the Doctor Who episode "Fugitive of the Judoon." The sudden appearance of a previously unmentioned regeneration upset everything fans thought they knew about the Doctor. The Fugitive Doctor's debut set up the even bigger reveal in "The Timeless Children," rewriting the Doctor's origin story massively.
(3) LIBRARY LOVERS MONTH. Jason Aukerman tells subscribers to The Bradbury Beat:
…Public libraries helped Bradbury develop into one of the best known writers of our time, and he never forgot that his success was rooted in the book stacks—the contents of which were widely available to the public. Bradbury's passion and support for public libraries never wavered. He frequently spoke at public library events, and he never charged those libraries for his services. For Bradbury, the debt he owed to the public library could never be repaid, but he spent his entire professional career trying….
(4) TALENT SCOUT. "Zoom PBS show: How the '70s show from WGBH used kids' input to make something beautiful" at Slate.
…ZOOM, which ran from 1972 to 1978, was a Boston show (produced by local affiliate WGBH), but it was distributed to around 200 PBS stations around the country, and won an Emmy award in 1973. Historian Leslie Paris wrote an online exhibit on ZOOM's history for the American Archive of Public Broadcasting that went up earlier this year. In February and March of 1975, Paris said in an interview, if you go by Nielsen ratings, "more kids were watching ZOOM than watching Sesame Street" in major cities. "That makes sense," she said, "because the age range of potential ZOOM viewers was larger than that of Sesame Street, so kids watched over a greater number of years." In the archives of the show, Paris found mail from kids so young they had dictated letters to their parents, and also from teenagers who confessed they sensed that the show was now too young for them, but they just couldn't stop watching….

At least one kid who sent in a story to ZOOM went on to be a writer. "The Color-Eyed Dragon," a short story about a dragon who could change the color

of his eyes, and hides inside a traffic light to teach people a lesson about the value of his strange talent, was read out loud on the show in Season 2, Episode 3. The tale was sent in by young Jonathan Lethem, of New York City, who would later become . Jonathan Lethem….
(5) MEDIA BIRTHDAY.
1988 — [Item by Cat Eldridge] Thirty-four years ago on this evening, Ray Bradbury Theatre's "Gotcha" first aired on HBO.
In the episode, a lonely man dressed as Oliver Hardy at a masquerade party meets a lonely woman dressed as Stan Laurel, it seems nothing short of a match made in heaven. But a game of Gotcha! may just test their new found romance a little too much. It was based off his short which was published in Terry Carr's The Year's Finest Fantasy, Volume 2 but the romance shown here wasn't in that story.
The cast was Saul Rubinek and Kate Lynch, and it was directed by Brad Turner who has done a lot of genre series work including seventeen episodes of The Outer Limits.
Reception for it is excellent. As Heroic Times, a review site, puts it: "The vast majority of episodes are just not very good. So much of what defines a great Ray Bradbury story, is the words, is the sublime, haunting use of language, and in this case a picture is decidedly not greater than the words. GOTCHA! is one of those exceptions, a good Ray Bradbury Theater episode. Some innovative and even stylish direction, complemented with an intriguing script and earnest performances really make this a quite engrossing and compelling watch."
(6) TODAY'S BIRTHDAYS.
[Compiled by Cat Eldridge.]
Born February 20, 1906 — Theodore Roscoe. A mere tasting of his pulp stories, The Wonderful Lips of Thibong Linh, which are sort of based on a member of the French Foreign Legion, was published by Donald M. Grant. The complete stories, The Complete Adventures of Thibaut Corday and the Foreign Legion, are available digitally in four volumes on Kindle. The Wonderful Lips of Thibong Linh only contain four of these stories. (Died 1992.)
Born February 20, 1912 — Pierre Boulle. Best known for just two works, The Bridge over the River Kwai and Planet of the Apes. The latter was was La planète des singes in French, translated in 1964 as Monkey Planet by Xan Fielding, and later re-issued under the name we know. Obviously, the origin work for the film as well. (Died 1994.)
Born February 20, 1925 — Robert Altman. I'm going to argue that his very first film in 1947, The Secret Life of Walter Mitty, based off the James Thurber short story of the same name, is genre given its premise. Some twenty-five years later Images was a full-blown horror film. And of course, Popeye is pure comic literature at its very best. (Died 2006.)
Born February 20, 1943 — Diana Paxson, 79. Did you know she's a founder of the Society for Creative Anachronism? Well, she is. Genre-wise, she's best known for her Westria novels, and the later books in the Avalon series, which at first, she co-wrote with Marion Zimmer Bradley then, after Bradley's death, took over sole authorship. All of her novels are heavily colored with paganism — sometimes it works for me, sometimes it doesn't. I like her Wodan's Children series more than the Avalon material. 
Born February 20, 1954 — Anthony Head, 68. Perhaps best known as Librarian and Watcher Rupert Giles in Buffy the Vampire Slayer, he also made an impressive Uther Pendragon in Merlin. He also shows up in Repo! The Genetic Opera as Nathan Wallace aka the Repo Man, in Ghost Rider: Spirit of Vengeance as Benedict, and in the awesomely great Batman: Gotham by Gaslight voicing Alfred Pennyworth.
Born February 20, 1964 — Rodney Rowland, 58. His best-remembered roles to date are 1st Lieutenant Cooper Hawkes in Space: Above and Beyond and P. Wiley in The 6th Day. He's also Corey Mahoney in Soulkeeper, a Sci Fi Pictures film. He's got one-offs in X-Files, Welcome to Paradox, Dark Angel, Seven Days, Angel, Charmed and Twin Peaks.
(7) TODAY IN SPACE.
February 20, 1962 — Astronaut John Glenn became the first American to orbit the earth. He made 3 trips around the earth in his Mercury-Atlas spacecraft, Friendship 7, in just under 5 hours.
He has an essay, "The Fireflies," in Arthur C. Clarke's The Coming of The Space: Famous Accounts of Man's Probing of the Universe, first published in 1967. The story behind those fireflies is detailed here. Also, "Astronaut John Glenn Was First Person to Eat in Space".
(8) COMICS SECTION.
Shoe has a gag in a bookstore.
Non Sequitur has a brilliant joke about public domain.
(9) PERSONAL BOOKS. There are shoutouts to Spiderman, Star Trek, Star Wars and "Samira Ahmed's new run of Ms Marvel comics" in this week's 'books of my life' in the Guardian: "Nikesh Shukla: 'Reading Spider-Man made me feel less alone'".
The books that changed me as a teenager
On my weekly trips to Calamity Comics in Harrow town centre I would sit at the back of the shop, reading Spider-Man comics. Peter Parker is me. I am Peter Parker. Which means I could be Spider-Man. Those comic books made me feel less alone.
(10) THE CLICKS OF YESTERDAY. What is John talking about? It'll come back to you if you concentrate. Keep clicking your heels together til it does.
(11) LITTLE KNOWN FACTS. MSN.com calls this Reddit thread of mind-blowing science facts "the craziest thing you'll read all week." Or maybe it won't be – you read the Scroll, after all! Here's an example.
(12) OCTOTHORPE. Octothorpe 51 is up, which encourages us to "Make TAFF a Four-Way Tie". (Enjoy Alison's art below.)
John Coxon is a spoilsport, Alison Scott is promoting and Liz Batty might come to Eastercon. We listen to Become the Teapot and The Incomparable before discussing the now-available Game Hugo proposal (championed by Ira Alexandre). Listen here!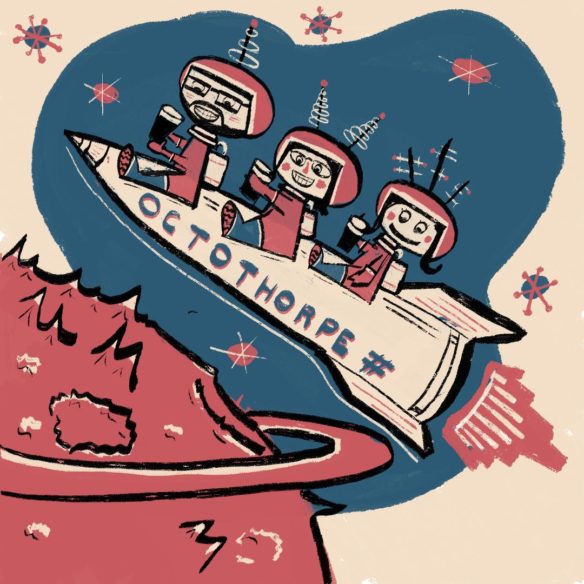 (13) CAN OVERBOARD. Smithsonian Magazine chronicles how "After 25 Years at Sea, Shipwrecked Lego Pieces Are Still Washing Ashore on Beaches in England".
…The Lego pieces aboard the Tokio Express were among 62 shipping containers that tumbled off the vessel. The ship was en route to New York after it loaded its cargo in Rotterdam, the Netherlands, when an unpredictable 28-foot wave smashed into a cargo ship 20 miles off the mainland, reports Jackie Butler for Cornwall Live. Other items swept to sea included 10,000 disposable lighters, superglue, and other hazardous chemicals. 

Ever since, collectors have gone out to look for "rare" pieces like octopuses and green dragons. Tracey Williams—a Cornwall local, beachcomber, and environmental campaigner—has documented the Lego spill for years on "Lego Lost at Sea" social media pages via Facebook, Instagram, and Twitter. More recently, she published Adrift: The Curious Tale of Lego Lost at Sea, a book detailing the Lego incident.

Though the wayward novelties may inspire wonder, the tiny bricks highlight plastic pollution's impact on oceans. Out of the 4,756,940 Lego pieces on board, about 3,178,807 were light enough to float and are what is commonly found across 40 beaches in Cornwall, eported Mario Cacciottolo for the BBC in 2014. For example, small plastic flowers and mini diver's flippers are regularly seen along the shores….
[Thanks to Martin Morse Wooster, JJ, John King Tarpinian, Chris Barkley, Andrew (not Werdna), Steven French, Andrew Porter, Michael Toman, Cat Eldridge, and Mike Kennedy for some of these stories. Title credit belongs to File 770 contributing editor of the day Danny Sichel.]