(1) PKD, RIP. Philip K. Dick died 40 years ago today and the media has taken note of the anniversary.
BBC Culture's Adam Scovill discusses "Philip K Dick: the writer who witnessed the future".
I am in passport control. I can see my face on a screen. The technology recognises me and lets me through. I scan codes showing my vaccination status and recent Covid test results. The machines assess the data regarding my health and microbiology. Through into the waiting room, people are staring into little screens. A strangely large number have the camera flipped, and are capturing their faces at different angles, as if they've forgotten what they look like. I open my laptop and join in. I give my details to a company to enter the digital realm. Adverts tailored to my personality pop up. They know me better than I know myself.

This is 2022. And 2022 is a Philip K Dick novel….
Paul Krasnik's intriguing comic strip overviews the author and his career: "The Death of Philip K. Dick Brought to Life".
(2) THE NEW NUMBER TWO. Brandon Sanderson's "Surprise! Four Secret Novels" needed less than 48 hours to become the second Most Funded Kickstarter in history. Right now he's in between a smartwatch and a portable cooler, having raised $17,512,529 at this writing with 28 days to go.
David Doering adds, "I'd love to say that Brandon hinted at all this at LTUE [Life, The Universe, and Everything] two weeks ago, but he was mute about it. The really big news to me is that he is now the #2 Record Holder on Kickstarter as an AUTHOR! Not a gizmo or gadget idea.guy — a WRITER sets the record. That is KEWL."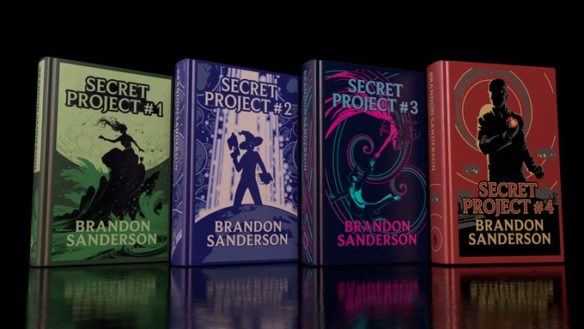 (3) HOUSE DIVIDED. Many are commenting on the Ukraine invasion today and looking at the open letter from Russian sff authors supporting Putin's actions that is signed by 2023 Worldcon GoH Sergei Lukianenko.
R. B. Lemberg tweeted the translation of another pro-invasion apologetic signed by a mass of Russian writers. Thread starts here. Lemberg also hits the nail on the head so far as the Worldcon is concerned.
(4) RELATED WORK. Cora Buhlert has posted another Non-Fiction Spotlight. This one is more a collection of personal essays: "Non-Fiction Spotlight: Robert E. Howard Changed My Life, edited by Jason M. Waltz".
…What prompted you to edit this book?

I believe much of modern entertainment can be traced to REH, directly or via his influence. From music to gaming to professional wrestling, all the myriad forms of storytelling through any media owes its current existence to Robert E. Howard to some extent. I've often thought about exploring that connection, tracing that lineage. Frankly, I also always considered it too much work. Until I heard Bill Cavalier's Guest of Honor speech "How Robert E. Howard Saved My Life" at Howard Days 2018 in Cross Plains, Texas. While much of that audience already knew that story–it truly touched me. Before the evening was over I considered it a revelation and immediately voiced efforts to gather similar stories I knew had to exist, though slightly tweaking the emphasis to be on changed rather than saved personal lives. …
(5) BASKING IN ALL THE RAYS. Gareth L. Powell recounts science fiction's history with a specific genre of massive structures: "Thinking Big: Dyson Spheres and Ringworlds".
… But even a Dyson Sphere wasn't impressive enough for Ray Bradbury, and he decided to expand on the concept by postulating a nested series of spheres he called a 'Matrioshka brain.' In this model, the innermost sphere would collect the sun's entire energy output and use it for computing. The waste heat produced by this computing would then be collected and used by the next sphere, which in turn would generate its own waste heat for the next sphere to collect, and so on….
(6) IT'S A TWISTER AUNTIE EM. Morgan Hazelwood posts her notes about another DisCon III program, "When Plot Twists Go Bad (A DisConIII Panel)", at A Writer in Progress. (There's also a YouTube video.)
The panelists for the titular panel were: Jen Gunnels as moderator, CL Polk, Narina Brelin, JS Dewes, and Lezli Robyn.

The description was as follows: When a story denies the audience the narrative they expect, reactions can range from "What a clever twist!" to "That's awful," to even "I feel used." What causes some unexpected plot developments to disappoint rather than delight—and how do you craft a satisfying surprise?
(7) EMPIRE BUILDING. [Item by John A Arkansawyer.] I've yet to hear a musician say anything printable about this: "Epic Games begins to show it's 'more than games,' acquires Bandcamp" at Ars Technica.
Today the game maker moved to acquire Bandcamp, an online music-streaming service that revolves around DRM-free purchases of MP3s, FLACs, and other audio files. The news emerged via press releases from both Bandcamp and Epic on Wednesday. As of press time, neither side of the deal has clarified its financial terms….

…While this might sound like Epic wants to acquire Bandcamp's backend, web storefront, and iOS/Android apps—which are a user-friendly breath of fresh air compared to the continued clunkiness of Epic Games Store—this wording suggests that Bandcamp could be rolled into the Unreal asset sales ecosystem. Want to license and use music in the Unreal Engine project of your dreams? Perhaps future creators would search for tunes inside of Unreal Engine using Bandcamp's existing tags ("math rock," "SoundCloud rap," "sex jazz") and pay a license accordingly, the same way they currently find textures, assets, or other licensed content.
(8) SIR PAT. "Sir Patrick Stewart discusses season two of 'Star Trek: Picard'" at CBS News. The linked article includes a several minute video interview of Stewart. In addition to the headline subject, he also briefly discusses a memoir he's writing.
The Guardian headlines its interview with the startling quote "Patrick Stewart: 'I'd go straight home and drink until I passed out'". However, that's about his experience performing a challenging role on stage. The conversation about Trek is mellow by comparison.
…Did he watch old episodes or rely on his memories? "The latter. As the seven seasons of TNG went by, the distinction between Jean-Luc Picard and Patrick Stewart became thinner and thinner, until it was impossible for me to know where he left off and I began. So much of what I believed and felt went into that show. So coming back to the part, I felt that the impact of time on Jean-Luc would just be there in where I am now. And that's how it has felt."

Was the deal that if anyone played the older Picard, it would be Stewart – or was there a risk of switching on to find, say, his friend Ian McKellen in the part? "Oh, I would have watched that," Stewart laughs. "What a clever idea. No. They were absolutely clear: if I passed on it, there would be no show. And I believed them and thought that was generous."…
(9) MEDIA BIRTHDAY.
1997 — [Item by Cat Eldridge]
Once upon a time in a school in outer space,
There was a class of misfit kids from all around the place.
They snuck aboard a mystery ship,
Which soon slipped through a spacial rip,
And now they're stuck on a long strange trip.
— The Theme Song
Twenty-five years ago on Nickelodeon's Saturday night block of shows known as SNICK, a Canadian created series called Space Cases aired for two seasons. I've never seen it but it sounds like a lot of not so serious fun.
It was created by author Peter David and actor Bill Mumy, and it starred Walter Emanuel Jones, Jewel Staite, Rebecca Herbst, Kristian Ayre, Rahi Azizi, Paige Christina, Anik Matern, Cary Lawrence and Paul Boretski.
Yes, it had a fifteen-year-old Jewel Staite as one of its cast. She's the ship's engineer here. Huh. Was she cast on Firefly because of her role here? Well, this was a children's show with the concept being similar to the current Star Trek: Prodigy. It told the story of a group of Star Academy students from different planets who sneaked aboard a mysterious space ship called The Christa. A ship they bonded literally with and ended across the galaxy in.
It was shot on the cheap in Quebec. Really on the cheap, so props from Are You Afraid of the Dark? and other Nickelodeon programs were used in the series. Game consoles and compact discs were used as props.
A number of well-known genre performers showed up here including Mark Hamill, Katey Sagal, George Takei and Michelle Trachtenberg.
It lasted for two seasons comprising of twenty-seven episodes, each bring fairly short at twenty-two minutes.
A quarter of century later, the official website is still up. See if you spot Staite in the cast photo.
(10) TODAY'S BIRTHDAYS.
[Compiled by Cat Eldridge.]
Born March 2, 1933 — Leo Dillion. With his wife Diane, they were illustrators of children's books and many a paperback book and magazine cover. Over fifty years, they were the creators of over a hundred genre covers. They won the Hugo for Best Professional Artist at Noreascon (1971) after being nominated twice before at Heicon '70 and St. Louiscon. The Art of Leo & Diane Dillon written by Leo Dillon, Diane Dillon and Byron Preiss would be nominated for a Best Related Non-Fiction Hugo at Chicon IV. They would win a World Fantasy Award for Lifetime Achievement. Some of my favorites? The first cover for Pavane. The Ace cover of The Left Hand of Darkness. And one for a deluxe edition of The Last Unicorn. (Died 2012.)

Born March 2, 1937 — Barbara Luna, 85. She played Lt. Marlena Moreau in the Star Trek's "Mirror, Mirror", the cross-universe story, a favorite of mine. She showed up in The Outer Limits, The Wild Wild West, Mission: Impossible, The Man from U.N.C.L.E., Six Million Dollar Man, Buck Rogers in the 25th Century, Mission: Impossible (Australian version) and finally in several episodes of the fanfic video Star Trek: New Voyages series. (The latter is now called Star Trek: Phase II after Paramount sued them.)
Born March 2, 1939 — jan howard finder. No, I'm not going to be able to do him justice here. He was a SF writer, filker, cosplayer and, of course, fan. He was a guest of honor at ConFrancisco. He was nicknamed The Wombat as a sign of affection and ConFrancisco was only one of at least eight Cons that he was fan guest of honor at. finder has even been tuckerized when Anne McCaffrey named a character for him. (Died 2013.)
Born March 2, 1943 — Peter Straub, 79. Horror writer who won the World Fantasy Award for Koko and the August Derleth Award for Floating Dragon. He's co-authored several novels with Stephen King, The Talisman which itself won a World Fantasy Award, and Black House. Both The Throat and In the Night Room won Bram Stoker Awards as did 5 Stories, a short collection by him. Ok, you know not that I'm that impressed by awards, but this is really impressive!
Born March 2, 1960 — Peter F. Hamilton, 62. I read and quite enjoyed his Night's Dawn trilogy when it first came out and I'm fairly sure that I've read Pandora's Star and Judas Unchained as they sound really familiar. (Too much genre fiction read over the years to remember everything…) His only English language award is a BSFA for his "The Suspect Genome". What else have y'all read by him?
Born March 2, 1966 — Ann Leckie, 56. Ancillary Justice won the Hugo Award at Loncon 3 and the Nebula Award, the Kitschies Award Golden Tentacle, Locus Award for Best First Novel, the Arthur C. Clarke Award, and the BSFA Award. Wow! The Ancillary Sword and Ancillary Mercy also won Awards and were no less impressive experiences. The Raven Tower is quite excellent too.
Born March 2, 1968 — Daniel Craig, 54. Obviously Bond in the now being concluded series of films which I like a lot, but also in Lara Croft: Tomb Raider as Alex West, Lord Asriel In the film adaptation of Philip Pullman's The Golden Compass, in SF horror film The Invasion as Ben Driscoll, in the very weird and very very well done Cowboys & Aliens as Jake Lonergan, voicing Ivan Ivanovitch Sakharine / Red Rackham in the superb Adventures of Tintin and an uncredited appearance as Stormtrooper FN-1824 In Star Wars: The Force Awakens.
Born March 2, 1992 — Maisie Richardson-Sellers, 30. A most believable Vixen on Legends of Tomorrow for the first three seasons in my opinion as I've always liked that DC character. (Season four onward, she's been Clotho.) Prior to that role, she was recurring role as Rebekah Mikaelson / Eva Sinclair on The Originals, and she had a cameo as Korr Sella in Star Wars: The Force Awakens.
(11) COMICS SECTION.
Bizarro shares a snapshot from the home life of a superhero.
(12) DOTRICE DIALOG. [Item by Martin Morse Wooster.] I listened to this podcast which Leonard and Jessie Maltin did with Karen Dotrice. She comes from an acting family (you may remember her father, Roy, from Beauty and the Beast) but she starred in three Disney films in the mid-1960s and has only acted sporadically since then. Maltin knows his Disney lore and this podcast is a Walt Disney geekfest, Dotrice remembers how kind Walt Disney was to her at 8, perhaps remembering that when he was 8 he was delivering newspapers. He also remembers that Disney on the Mary Poppins set treated her as an adult, which she still respects nearly 60 years later. Maltin also puts in a good word for Dotrice's third Disney film, The Gnome-Mobile, which is from a novel by Upton Sinclair. If you're interested in Walt Disney, this is a podcast for you! "Maltin on Movies: Karen Dotrice".
To untold millions of people she will always be bright-eyed Jane Banks in the original Mary Poppins (1964). The real-life Karen Dotrice is the mother of three who grew up in a show-business family. Her father Roy was a member of the Royal Shakespeare Company and her godfather was Charles Laughton! Luckily for us, Karen cherishes the memory of making Poppins and has especially fond recollections of Walt Disney, who lavished personal attention on her and her family while they were in Los Angeles. Jessie and Leonard were tickled pink to engage in conversation with a woman they've known and admired for years. (Karen even attended Jessie's bat mitzvah!)
(13) CHEER UP, HE SAID, IT COULD GET WORSE. I'm sure you remember the punchline that follows. At Teen Vogue, "Dystopian Novel Authors Talk About the Current State of the World".
…According to Merriam-Webster, postapocalyptic is defined as "existing or occurring after a catastrophically destructive disaster or apocalypse." And according to Oxford, a dystopia is "an imagined state or society in which there is great suffering or injustice, typically one that is totalitarian or postapocalyptic." What is the litany of our current global disasters if not… all that? From the perspective of these dystopian authors, have we arrived in a version of the postapocalyptic dystopia as they imagined it?

"Hell, no, we have not hit the 'post' part," writer Catherine Hernandez tells Teen Vogue in an email interview. "I am quite certain that we will experience wave after wave of environmental disasters, pandemics, and conflict over resources until we understand that predatory capitalism will kill us all."…
(14) NOVA. Gareth L. Powell reaches back to review a Delany classic: "Nova-Level Literary Fireworks".
… Katin is particularly prone to verbalising the symbolism he sees around him. He wants to be a novelist but has yet to find a subject he deems worthy of his intellect and talent. Instead, he spends all his time pontificating about the nature of novels, recording endless notes to himself — notes we suspect he will never get around to making use of.

Katin provides us with a rather pompous view of the narrative as great art whereas, when Tyÿ reads the Tarot for Lorq, she interprets his quest (and the role of each crewmember) using the archetypal symbols on her cards, thereby highlighting the mythical context of the story for us. But, of all the characters, it is Mouse who seems closest to the vision of a traditional storyteller. Unencumbered by a need to interpret anything as other than what it is, he simply plays the old songs and tells the old stories, using his instrument to create all the fireworks and effects of mood and wonder that Katin could achieve in written form, if only he could stop theorising and actually commit words to paper….
(15) READ PLANET. Jeff Foust reviews a gigantic book about Martian exploration — "Review: Discovering Mars" – at The Space Review.
… William Sheehan, a history of astronomy, and planetary scientist Jim Bell start at the beginning: "Perhaps the earliest reference to Mars in human culture is as part of the Aboriginal Australians' Dreamtime, a vision from time beyond memory" but which dates back perhaps more than 40,000 years, they write. From that prehistory they work through early observations of Mars to track its orbit, which over time provided the evidence to support a Sun-centered, rather than Earth-centered, model of the solar system.

The invention of the telescope in the early 1600s turned Mars from a wandering red star to a world of its own. Astronomers struggled to interpret those blurry images, but often defaulted to imprinting our knowledge of Earth onto Mars, be it interpretating areas as seas or regions of vegetation—not to mention the now-infamous "canals" seen by some in the late 19th and early 20th centuries.

Similarly, the era of spaceflight revolutionized our understand of Mars, killing off once and for all any thought of the planet being Earthlike. …
(16) DOUCET Q&A. "Fearless Sincerity: PW Talks with Julie Doucet" at Publishers Weekly.
… In her new graphic memoir Time Zone J, Julie Doucet's cartoon avatar comments, "I had vowed never to draw myself again." The real-life Doucet, renowned as a pioneer of autobiographical comics since her earliest days as a 1990s zine maker, echoes the sentiment. "I just can't believe I did that!" she says. "I had a story I wanted to tell, and I really did try to put it on paper in so many different ways, but it didn't work out. The only way was to tell it in a comic book."

…Asked if there are personal stories she finds difficult to tell, Doucet laughs and says, "Yes, and they're not told." She has a reputation with being brutally honest about her own life, but over the years she's grown more protective of friends who feel uncomfortable about being included in her work. "For them, [the experiences] were not necessarily good memories," she says. "So now I'm extremely careful about not putting anyone in my books who doesn't want to be in them."
(17) ACTING UP. Karen Joy Fowler is coming out next week with Booth, a novel about John Wilkes Booth and his family. It's historical fiction, not sff or alternate history, but we thought you might like to know! Here's Publishers Weekly's review: "Fiction Book Review: Booth by Karen Joy Fowler. Putnam, $28 (480p)".
(18) ANOTHER ALEXANDRIA. A look at the 2005 fire that destroyed most of the Aardman animations archive. "The Fire That Destroyed Wallace & Gromit's History".
(19) VIDEO OF THE DAY. [Item by Martin Morse Wooster.] In "Batman (1989) Pitch Meeting" on Screen Rant, Ryan George says that when Michael Keaton was picked to be Batman in the 1989 film, he was only known for Mr. Mom, which could lead to "unnecessary arguments about Batman casting for decades to come. Also the producer notes that Bruce Wayne gets Vicki Vale so drunk that she passes out and then gropes around in her bra for a roll of film, "and he's supposed to be the hero?"
[Thanks to Andrew Porter, Michael Toman, Cat Eldridge, Chris Barkley, David Doering, Jeffrey Smith, Rich Lynch, Will R., John A Arkansawyer, Mike Kennedy, Martin Morse Wooster, JJ, and John King Tarpinian for some of these stories. Title credit belongs to File 770 contributing editor of the day Paul Weimer.]