(1) ITALCON: FATE UNKNOWN. The winners of Italy's Premio Italia are known – what's unknown Is when they can be revealed. There were 438 voters, compared to last year, when 500 was reached.
The award ceremony was due to take place at Italcon in San Marino on 13 June. The health situation naturally makes it implausible that Italcon could actually take place on that date. At the moment, a date of convenience is indicated on the website of the Prize, September 1st (for technical reasons, a date must necessarily be indicated); however, decisions on the progress of Italcon are awaited. Decisions that evidently depend only in part on the organization of Italcon, but primarily on the decisions of the government of San Marino and on the progress of the epidemic. Probably no decision will be made before September.
(2) SOUL SURVIVOR. Filmmaker Fabrice Mathieu has released another ingenious fantasy short film, Memorium.
After the death, what happens? Where do we go? "Memorium" invites you to a journey of a man into the afterlife.
Inspired from the world created by the french artist Marc Giai-Miniet.
(3) THE EMPEROR'S NEW POP CULTURE. Io9's James Whitbrook is on target with "Star Trek Ages Terribly When It Tries to Be Contemporary".
…One of the weirder things always danced around on Star Trek is how its myriad bridge crews, despite being from the 23rd and 24th centuries, are fascinated with a popular culture that is not their own, but more reflective of our own recent past as peoples of the 20th and 21st century. Sisko loves baseball, a sport that, hilariously, apparently just stops being played professionally in 2042 according to Deep Space Nine. Picard loves the pulpy noir fiction of Dixon Hill, an original character for Trek but specifically rooted in the detective fiction boom of the 1940s. Janeway, when she's not palling around with Leonardo DaVinci, is writing 19th-century Irish village self-insert fic or participating in a dull as hell Austen-esque choose your own adventure type stories.
(4) BIG TALK. They've optioned works by Tade Thompson and S.A. Chakraborty: "Edgar Wright, Nira Park, Joe Cornish, Rachael Prior launch production company Complete Fiction" – Screen Daily has the story.
Former Big Talk Productions duo Edgar Wright and Nira Park have teamed up with writer-director Joe Cornish and producer Rachael Prior to launch a London and Los Angeles-based film and TV outfit called Complete Fiction.

The company's debut development slate includes three new series for Netflix. Cornish is directing Lockwood & Co, a supernatural detective series based on Jonathan Stroud's novel series of the same name, while the company has also optioned Tade Thompson's literary sci-fi horror trilogy The Murders Of Molly Southbourne and S.A. Chakraborty's historical fantasy series inspired by Islamic folklore The City Of Brass (The Daevabad Trilogy).

Complete Fiction is presently in post on Wright's Last Night In Soho, produced with Working Title Films for Focus Features and Film4, as well as Wright's untitled feature documentary about the band Sparks which it produced with MRC.
(5) GRAPHIC ARTS. In "Entering The Sci-Fi Noir World of Lemire, Kindt, and Rubin's Cosmic Detective" on CrimeReads, Alex Segura interviews writers Jeff Lemire and Matt Kindt and artist David Rubin on their new sf/mystery graphic novel: "Graphic Content: Entering The Sci-Fi Noir World Of Lemire, Kindt, And Rubin's Cosmic Detective'.
…."We wanted to just do something as wild as we could imagine," Kindt said. "Getting David to do the art really just made it a slam dunk proposition, because he can just draw absolutely anything. He's the Catalonian Moebius. And he's going to hate that I said that, but he's got a visual intelligence and creativity that really only shows up once every generation or so. He's it. It's not just design and art for art's sake, because he's a writer too. Everything has meaning. Every color and costume and gadget. It all feeds into the story. So I think David was truly one of our greatest inspirations for this book."
(6) OFF THE BEATEN PATH. The 2020 World Fantasy Con blog tells about the experience of "Discovering Steampunk at the Museum of Idaho".
…In the process of becoming the first museum to host the exhibit, which was created by Bruce Rosenbaum and is part of Imagine Exhibitions' traveling exhibits, the Museum of Idaho tackled one of the dilemmas of steampunk: how to make the unfamiliar concept accessible to general audiences. Months before the exhibit opened in May 2018, the Museum of Idaho displayed steampunk statues, advertised on billboards, and created events in tandem with the exhibit, such as a steampunk street party and a steampunk ball. They started with steampunk's dynamic visual presentation and then lured the general public into asking what it was they were looking at.
(7) PITCH MEETING. Jessica Camerato, in "Doolittle Finds Balance, Focus In Love of Books" on MLB.com, notes that Washington Nationals closer Sean Doolittle isn't just an avid cosplayer, but reads quite a lot. His signed first edition of Octavia Butler's Parable Of The Sower is on his top shelf right next to a baseball signed by Nationals players after his 2019 World Series win. Doolittle is also a fan of Juliette Wade. In January, the American Booksellers Association named him the Indie Bookstore Day Ambassador because Doolittle patronizes independent bookstores whenever he's on the road.
"I will totally judge a book by its cover," Doolittle said. "If I think it looks cool, I'll buy it. I have one waiting for me at home that I bought just because the cover was so sick. It was a fantasy book — it's called 'Mazes of Power' by Juliette Wade. It came out right before Spring Training."
(8) NONVERBAL MEMORY. James P. Blaylock's 2019 piece "My Life in Books: A Meditation on the Writer's Library" for Poets & Writers sounds like my original plan – to own and keep the books I read, and if I needed to refresh my memory, the volume would be on my shelves.
…Not long ago I was reading a collection of essays by Hilaire Belloc titled One Thing and Another, and, as is sometimes the case when I read other people's essays, I got the idea of writing this one. The "idea," such as it was, had nothing to do with the subject matter of any of the forty essays contained in Belloc's book; what struck me was that the pages smelled as if they had been soaked in gasoline. I remembered abruptly that it had smelled that way when I'd bought it, and although it has sat on the shelf in my study for twenty years, waiting to be read, the odor hasn't diminished. It could be fatal to light a match anywhere near it.

This olfactory discovery sent me off in a nostalgic search for my copy of Philip K. Dick's Dr. Bloodmoney, which Phil gave to me in 1975….
(9) IN OTHER WORDS. Writing these books fulfilled a dream: "The Big Idea: Jennifer Brody" at Whatever.
…Upon graduating, I knew that I was moving to LA one-way without much money or even a job lined up. It was like that back then. You packed up your car and hit the road. You had to have blind faith. You chased after your dream. You lived on ramen. You had a roommate. You got paid $500 bucks a week. You ran errands and answered phones and started at the bottom. My first job was at Michael Bay's new company Platinum Dunes. The first film we made was a remake of The Texas Chainsaw Massacre. We were the first to do the remake thing. Everyone thought we were crazy. My parents wondered if my tuition money had gone to waste.

The film was a hit, earning over $80 million at the domestic box office. Within a year of moving West, I landed my dream job working for the executive producer of The Lord of the Rings. Did I mention that I'm a giant nerd? I'd read Tolkien's classics cover to cover numerous times. A run of book-to-film properties followed on our slate, including The Golden Compass, Love in the Time of Cholera, and Inkheart. Working in Hollywood was a dream come true, albeit a complicated one with its share of workplace toxicity (which has now become quite public).

Despite loving my job, I had an itch that started to grow stronger. It needed scratching. After working on so many wonderful authors' books and helping bring their worlds to life on the big screen, I found myself wanting to write my own big sci-fi trilogy….
(10) GLENN OBIT. Annie Glenn has died at the age of 100. CNN pays tribute: "Annie Glenn, speech disorder advocate and wife of John Glenn, dies of coronavirus complications at 100".
…Though she's perhaps best known for her proximation to her husband, Annie Glenn was an American hero in her own right, veteran reporter Bob Greene wrote in a 2012 CNN Opinion piece.

"Glenn has had a hero of his own," Green wrote, "Someone who he has seen display endless courage of a different kind: Annie Glenn."
And she was at the center of this legendary moment in The Right Stuff.
Although USA Today's obituary says things happened a bit differently —
As John's prowess as a pilot culminated in his historic orbital flight on Feb. 20, 1962, the spotlight shone ever more intensely on the Glenn family, which by then included a son, David, and a daughter, Lyn. After becoming the first American to orbit the Earth, John and his wife were cheered in a ticker-tape parade in New York City. Celebrity pursued them relentlessly and each brush with the media and famous people painfully revealed Annie's stuttering.

With reporters in tow after the flight, then-Vice President Lyndon B. Johnson was intent on visiting the Glenns at their home in Arlington, Virginia, but John angered Johnson by refusing to receive him, proffering the excuse that Annie was in bed with a migraine to spare her from the attention. Even so, the Glenns became good friends with Johnson and his wife, Lady Bird.
(11) TODAY IN HISTORY.
May 19, 1956 — Science Fiction Theatre's "The Flicker" first aired. Each episode was supposedly based on scientific fact though the host weaseled his way out of that in his narration. This story has a sociology graduate student committing murder after watching a badly flickering movie. Subliminal images I presume. It starred Victor Jory, Michael Fox and Judith Ames. You can watch it here.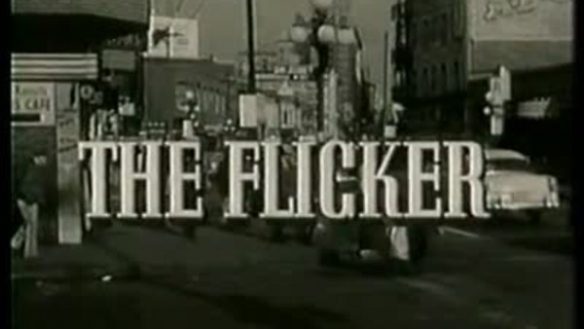 (12) TODAY'S BIRTHDAYS.
[Compiled by Cat Eldridge and John Hertz.]
Born May 19, 1901 – George Pendray. Early rocketeer; co-founded the American Interplanetary Society (its successor Am. Inst. Aeronautics & Astronautics gives the Pendray Award); invented the time capsule, for the 1939 World's Fair; coined the word "laundromat"; helped establish Guggenheim Jet Propulsion Center at Cal. Tech., Guggenheim Labs at Princeton U., U.S. Nat'l Aeronautics & Space Adm'n. Wrote SF as science editor of Literary Digest, e.g. "A Rescue from Jupiter". Co-edited The Papers of Robert H. Goddard. (Died 1987) [JH]
Born May 19, 1920 – Walter Popp. Prolific pulp illustrator for e.g. Amazing, Fantastic, Startling, Thrilling; see here. Also Gothic-romance fantasy, see here, some becoming limited-edition prints for fine-art galleries, see here. Outside our field, true-crime and men's-adventure magazines, paperbacks including Popular Library; toy and sporting-goods manufacturers; greeting cards. (Died 2002) [JH]
Born May 19, 1921 – Pauline Clarke. Children's fantasy The Twelve and the Genii won the Carnegie Medal and the Deutscher Jugendliteraturpreis. The Pekinese Princess has talking animals and trees. Thirty novels for various readers; Warscape, for adults, "lurches into the future", says a remarkable 4,300-word Wikipedia entry. (Died 2013) [JH]
Born May 19, 1936 – Emanuel Schongut. Fifty covers and interiors for us, see here, here, here. Also children's books, pictures based on shells, Masterpiece Theater. Here are pages from a fashion magazine, a cover for a Maxim Gorky novel, a New York Times illustration, a poster for Beauty and the Beast, a pig, some disco shoes, a 2016 New Year card. [JH]
Born May 19, 1937 — Pat Roach. He was cast in the first three Indy Jones films as a decided Bad Person though he never had a name. His first genre appearance was in A Clockwork Orange as a Milkbar bouncer. His first name role was Hephaestus in Clash of Titans. He was of an unusually stocky nature, so he got cast as a Man Ape in Conan the Destroyer, and as Bretagne the Barbarian in Red Sonja. And, of course, he had such a role as Zulcki in Kull the Desttoyer. Oh, and he played an very large and mostly naked Executioner in the George MacDonald Fraser scripted The Return of The Musketeers. (Died 2004.) (CE)
Born May 19, 1944 — Peter Mayhew. Chewbacca from the beginning to The Force Awakens before his retirement from the role. The same year he first did Chewy, he had an uncredited role as the Minotaur in Sinbad and the Eye of the Tiger. He also shows in the Dark Towers series as The Tall Knight. (Died 2019.) (CE)
Born May 19, 1946 — Andre the Giant. Fezzik in The Princess Bride, one of my all-time favorite films. Also, an uncredited role as Dagoth In Conan the Destroyer. He's actually did a number of genre roles such as The Greatest American Hero with his American acting debut playing a Bigfoot in a two-part episode aired in 1976 on The Six Million Dollar Man titled "The Secret of Bigfoot". (Died 1993) (CE)
Born May 19, 1946 – Ken Kelly. 240 covers; interiors; The Art of Ken Kelly, Ken Kelly Fantasy Art Trading Cards (2 sets), Escape (collection); album covers for KISS, Manowar, Ace Frehley. See here (Amazing), here (The Stars My Destination), here (The Lincoln Hunters), here (Ace Frehley). [JH]
Born May 19, 1948 – Paul Williams. Created Crawdaddy! Literary executor of Philip K. Dick, co-founder of PKD Society, biography of PKD Only Apparently Real; worked with David Hartwell on Age of Wonders – also The Int'l Bill of Human Rights; edited vols. 1-12, Complete Works of Theodore Sturgeon; also The 20th Century's Greatest Hits (including Winnie-the-Pooh; The Little Prince; God Bless You, Mr. Rosewater), four on Bob Dylan, twenty more. (Died 2013) [JH]
Born May 19, 1948 — Grace Jones, 72. First genre appearance was as Stryx in Rumstryx, an Italian TV series. Her next was Zulu in Conan the Destroyer followed by being May Day in A View to Kill and Katrina in Vamp. She was Masako Yokohama in Cyber Bandits which also starred Adam Ant. Her last several genre role to date was Christoph/Christine in Wolf Girl, and Death aka The Devil in Gutterdammerung, a film that also featured Henry Rollins, Slash and Iggy Pop! (CE)
Born May 19, 1955 – Elise Primavera. Author and illustrator of children's books, some fantasy: The Secret Order of the Gumm Street Girls, Fred & Anthony Meet the Heinie Goblins from the Black Lagoon (as Esile Arevamirp), Marigold Star. Here's a book cover. [JH]
Born May 19, 1966 — Jodi Picoult, 54. Her Wonder Women work is exemplary (collected in Wonder Women, Volume 3 and Wonder Woman: Love and Murder). She also has a most excellent two-volume YA series called the Between the Lines Universe which she wrote with Samantha van Leer. ISFDB lists her Second Glance novel as genre but I'd say it's genre adjacent at best. (CE)
Born May 19, 1996 — Sarah Grey, 24. Before DC Universe cast the present Stargirl in Brec Bassinger for that series, Legends of Tomorrow cast their Stargirl as this actress for a run of three episodes. The episodes ("Out of Time", "Justice Society of America" and "Camelot 3000") are superb. I've not seen her as Alyssa Drake in The Order but I've heard Good Things about that series. (CE)
(13) COMICS SECTION.
Bizarro jokes about a bed that shares a name with a law.
(14) MOVING PICTURES. Not Pulp Covers hosts four GIFs made from clip of The Best from 20,000 Fathoms. They really pop out of the page, despite being black-and-white. The film's stop-motion animation special effects are by Ray Harryhausen. Its screenplay is based on Ray Bradbury's short story The Fog Horn, specifically the scene where a lighthouse is destroyed by the title character. (I'm not going to put a sample here because people tell me GIFs in the Scroll drive them crazy.)
(15) THAT'S PUTTING IT MILDLY. In John Scalzi's post "A Reminder, Re: Famous People I Know" he reasonably says he'd rather keep his friends. (So he won't be starting a news blog.)
So, it turns out I know, and am friends (or at least I have been friendly) with, people who are notable or famous to some degree or another. Yes, I am as amazed about that as anyone else. Sometimes, those notable/famous people:

* Are disliked by a large group of people, for whatever reason(s);

* Have a life event, often not a happy one, that gains attention in the public sphere;

* Will have a public conflict with some other person who is also generally notable;

* Says or does something that causes the Internet to fall on their head;

* Some combination of two or more of the above;

* Otherwise attracts attention to themselves in some manner or another that elicits general comment.
(16) TYPE CASTING. The project to transcribe the Hevelin fanzine collection made Atlas Obscura's article about a helpful way to pass the time: "Even More Ways to Help Librarians and Archivists From Home".
Escape the Earth with science-fiction fanzines

What better time to zip into a happily unfamiliar realm? The DIY History project at the University of Iowa Library, which invites people to help transcribe digitized objects from the library's special collections and other holdings, could use your help with its massive trove of science-fiction zines. Some date back to the 1930s; all were collected by the late James L. "Rusty" Hevelin. More than 10,780 pages of the Hevelin Fanzines collection have been transcribed so far, but there are still around 500 left to go. If you need a mental break from this planet and its familiar troubles, pop into this project and spend a little time somewhere else.
The project was first announced in 2014.
(17) CELEBRITY BURIAL. Atlas Obscura also introduces readers to "Nicolas Cage's Pyramid Tomb" in a New Orleans cemetery. (He won't be in residence for some time to come, though.)
…The empty grave is a stark, nine-foot-tall stone pyramid that stands in obvious contrast to the blockier, above-ground burial sites that have been crumbling away in the cemetery for over two centuries. There is no name on the pyramid yet, but it is emblazoned with the Latin maxim, "Omnia Ab Uno," which translates to "Everything From One."

The actor himself has chosen to remain silent about his reasoning for the flamboyant tomb. Some speculate it's an homage to the "National Treasure" movie franchise, though given that many cemeteries host pyramid grave markers, it may have simply been a stylistic choice.
(18) THE VISIBLE BOOSTER. Popular Mechanics sets the frame for a video showing "Here's What the Guts of Four Famous Rockets Look Like During Launch". You see side-by-side the Saturn V, Space Shuttle, Falcon Heavy and the Space Launch System (SLS) rockets launching from Kennedy Space Center Launch Complex 39.
A new video reveals what the launches of four famous spacecraft would look like if the rockets were transparent. Seeing how the sausage is made, so to speak, is mesmerizing.

Youtuber Hazegrayart posted the video, which also includes audio from the four launches, to YouTube earlier this week. Hazegrayart has a number of other animated videos on their page. (This 52-year time lapse of Launch Complex 39 at NASA's Kennedy Space Center in Florida from the artist's page is super cool, too.)
[Thanks to Ita, John King Tarpinian, Andrew Porter, Chip Hitchcock, JJ, Mike Kennedy, Martin Morse Wooster, Michael Toman, and Cat Eldridge for some of these stories. Title credit goes to File 770 contributing editor of the day Jayn.]