By Steve Vertlieb: Celebrating the life, legacy, and fiery brilliance of composer Jerry Goldsmith, born February 10, 1929. Had he lived, he would have turned 94 years of age this year. His miraculous scores and recordings continue to brighten the cinematic universe with their astonishing, profoundly original themes and orchestrations, far eclipsing the less intricate scoring of most modern films and film composers in today's minimalist culture. Less seems more in our current celluloid climate and musical universe.
Jerry Goldsmith was one of the last of a sadly dying breed of film composers who endowed their symphonic motion picture explorations with a deeply rich tapestry of sublime joy and thematic wonder. Along with his contemporaries, Elmer Bernstein, and John Williams, Goldsmith's remarkable lyricism remains a profoundly significant influence upon the world of scoring music for the motion picture screen.
I was fortunate enough to have had a degree of personal interaction with this legendary composer briefly in 1980 when he telephoned me in response to an inquiry I'd made, first through his representation and then, later, with Jerry himself. Here's a personal letter from the revered composer in response to an article I'd written about him for Cinemacabre Magazine forty-three years ago.
I'd telephoned Jerry at his home, and had left a message with his housekeeper, requesting some photos of him with which to illustrate a soon to be published article that I'd planned to write about his music and career. I never actually expected to receive a response, and was understandably stunned when he reached out to me the following morning. He telephoned me at home some twelve hours later, and was most gracious and cordial in our conversation, offering to ship out a package of stills once he'd received them back from his photographer.
I pinch myself to this day, recalling that I'd actually received an intimate telephone call from Jerry himself. When my telephone rang the next morning, I heard a richly refined voice at the other end of the line asking if he might speak with me. I nearly had a seizure when the caller identified himself as Jerry Goldsmith, and that he was returning my telephone call from the night before. It was a very different time, I guess, when one could actually participate in such intimate individual interaction with a composer on such a powerfully personal level.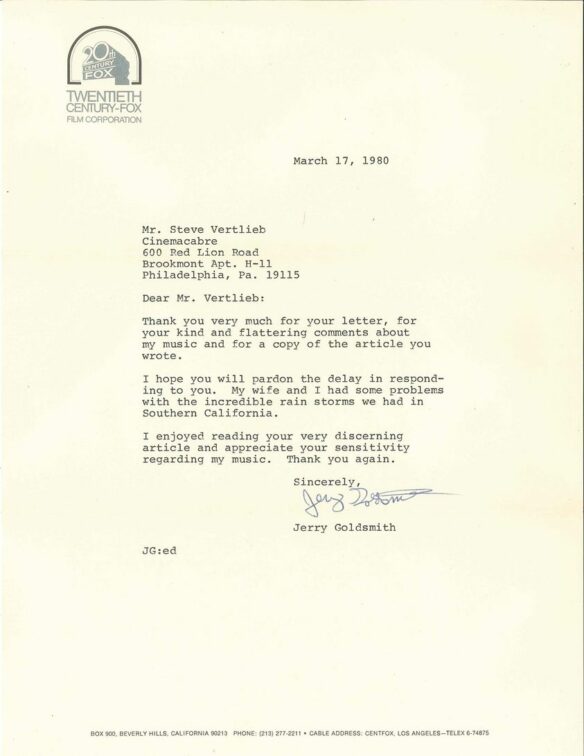 He was very kind and most gracious during our telephone conversation and subsequent correspondence. Our brief association so many years ago remains a cherished memory, and certainly a highlight of my own life and experience. His letter, presented here once more, remains one of my most treasured possessions.
Jerry left us on July 21, 2004, at age 75. Remembering the incomparable Jerry Goldsmith on this melancholy anniversary of both his birth, and tender passing.