(1) HAPPY BIRTHDAY SYFY. [Item by Mike Kennedy.] Today, September 24, 2022, marks the 30th anniversary of the Sci-Fi Channel (now SYFY). Can you guess what the first movie they ran was? "What was first show on Sci-Fi Channel, now SYFY?"
…The lead-up to the debut of the channel was marked with intriguing, somewhat ominous promos warning of "an invasion" that was "coming for you." As the date drew closer, a countdown clock ticked down the seconds until the Sci-Fi Channel made its debut on a reported 10 million of the United State's then-56 million cable-owning households. (In New York City, Star Trek's Leonard Nimoy was the Master of Ceremonies at the launch party, which was held in the Hayden Planetarium.) The first official broadcast of the Sci-Fi Channel was a sad one, dedicating it to Roddenberry and Asimov, both of whom had died before the Sci-Fi Channel launched.

The dedication was followed by a nifty little faux news report from the year 2142….
(2) SOUND DECISION? Deadline reports James Earl Jones may be done as the voice of Darth Vader. "James Earl Jones Signs Over Rights To Voice Of Darth Vader, Signalling Retirement From Legendary Role".
James Earl Jones – one of the most distinctive voices in the history of film – appears to have made steps to step back from voicing the Star Wars character, Darth Vader, after nearly 40 years in the role.

Vanity Fair reports that the actor, aged 91, has signed over the rights to his voice to filmmakers using new AI, technology, Matthew Wood of Lucasfilm told the magazine that the actor "wished to keep Vader alive"

"He had mentioned he was looking into winding down this particular character," Wood told Vanity Fair. "So how do we move forward?"…
(3) THE HUGO HAS LANDED. It took awhile for Cora Buhlert's Best Fan Writer Hugo to arrive. So naturally – as fan writers do — she got a good blog post out of it! "2022: A Hugo Odyssey". However, the ending is not that happy – it arrived with the base broken.
…By Tuesday, there was still no change and no answer to my e-mail either, so I called FedEx Germany customer service and explained my problem.

"Did you order this?" the lady at the other end of the line asked me.

I said, "No, I did not order it, I won it."

"Are you aware this might be a scam?" the lady asked.

I explained to her that no, it's not a scam, that the Hugo is a legitimate award and that I won it, that she can google it, if she doesn't believe me and that I'd really like my trophy now….
(4) TWO STEPS FORWARD, ONE STEP BACK. The new Chengdu Worldcon website, which launched without any reference to who its Guests of Honor are, or even having any, has now progressed to (1) a placeholder graphic and (2) a link to Guests of Honor that only goes to the About page. I think we're all looking forward to reading what they have to say about Sergey Lukianenko.
(5) TOMB OF DOOM. Galactic Journey's Jessica Holmes is tuned in as the 1967 season of Doctor Who begins. "[September 24th, 1967] A Really Cool Story (Doctor Who: Tomb Of The Cybermen)".
Doctor Who is back for another season, and let me tell you: we're off to a promising start. The Cybermen are back, we've got a new companion, and Patrick Troughton continues to impress in his role. Let's take a look at Doctor Who in The Tomb Of The Cybermen….
(6) ERIC IDLE IS BACK. Eric Idle told TIME about his experience surviving pancreatic cancer.
About three years ago I was incredibly lucky: I was diagnosed with pancreatic cancer. Lucky? One of the most lethal forms of cancer, how on earth was that lucky? Well, because it was found incredibly early. No, not before lunchtime, but before it had gone anywhere…
The 79-year-old then proved to himself he still has what it takes by participating in costume on The Masked Singer. "The full Monty: Eric Idle talks 'Masked Singer,' secret cancer battle, the Rutles, George Harrison, his lost David Bowie/Kate Bush movie, and making Queen Elizabeth II laugh" at Yahoo!
The Hedgehog is among the many absurdist roles that Monty Python's Eric Idle, who was unmasked this week on The Masked Singer Season 8's premiere, was perhaps born to play. "The Hedgehog was perfect for me, because I'm prickly, and when I'm attacked, I curl up into a ball," he jokes to Yahoo Entertainment the day after his big reveal. On the show, Idle actually pointed out that going on The Masked Singer was one of the more normal things he'd ever done in his career, and he tells Yahoo, "Yes, being silly and dressing up in silly animal costumes is not strange to me. When they asked me, and it was out of the blue, I thought, 'Well, this is in my wheelhouse.'"

But there was a serious reason why the 79-year-old British comedy legend accepted Fox's invitation: to make a comeback and test himself after his secret, against-all-odds pancreatic cancer battle, and to spread awareness for his new Bright Side Fund partnership with Stand Up to Cancer. Idle revealed the news about his 2019 diagnosis shortly after his Masked Singer episode aired.

Below, Idle discusses his cancer recovery; how he convinced Paul McCartney to let him cover "Love Me Do" on The Masked Singer despite the Beatle's previous grudge over Idle's Fab Four parody band the Rutles…
(7) SNAPE SNIPES. "Alan Rickman's secret showbiz diaries: the late actor on Harry Potter, politics and what he really thought of his co-stars": the Guardian has excerpts.
2001

4 November
HARRY POTTER PREMIERE.
6.30pm The film should only be seen on a big screen. It acquires a scale and depth that matches the hideous score by John Williams. Party afterwards at the Savoy is much more fun….

2004

23 May
NEW YORK.
4pm Harry Potter 3. World Premiere.

Arriving at Radio City was like being a Beatle. Thousands of fans screamed as we got out of cars. Mostly for Daniel Radcliffe but a rush for everyone. Not to mention walking out on to the stage to 6,000.

Alfonso has done an extraordinary job. It is a very grown-up movie, so full of daring that it made me smile and smile. Every frame of it is the work of an artist and storyteller. Stunning effects that are somehow part of the life of the film, not show-off stunts. Later back to the hotel w. Ariel Dorfman, who takes egomania to utterly charming heights. He just loves being him…

2007

20 July
[PUBLICATION DAY OF THE LAST HARRY POTTER.]
11.15pm Tunbridge Wells and Waterstones. I had guessed at 20 or 30 people waiting for midnight. Probably 300-400. And a queue moving slowly. One hour in the queue and it was time for action. Went to friendly security man. "Have you read the books?" No. "Have you seen the films?" One of them. "I'm in them." Oh yes! There will be mayhem if I go into the queue. "I'll get the manager."

(Manager arrives.) "Oh! Hello!"
(8) A SLAP IN THE FACE OF OUTER SPACE. Zapf.punkt #15, edited by Filer Mlex, reviews the French science fiction novel, Metro to Hell (1962), by Validimir Volkoff, which features half-human zombies called Necrozones.
Then there's a brief tour of the British paperback houses: Consul, Corgi, and Compact, in a review of Steve Holland's Mushroom Jungle: A history of postwar paperback publishing (1993)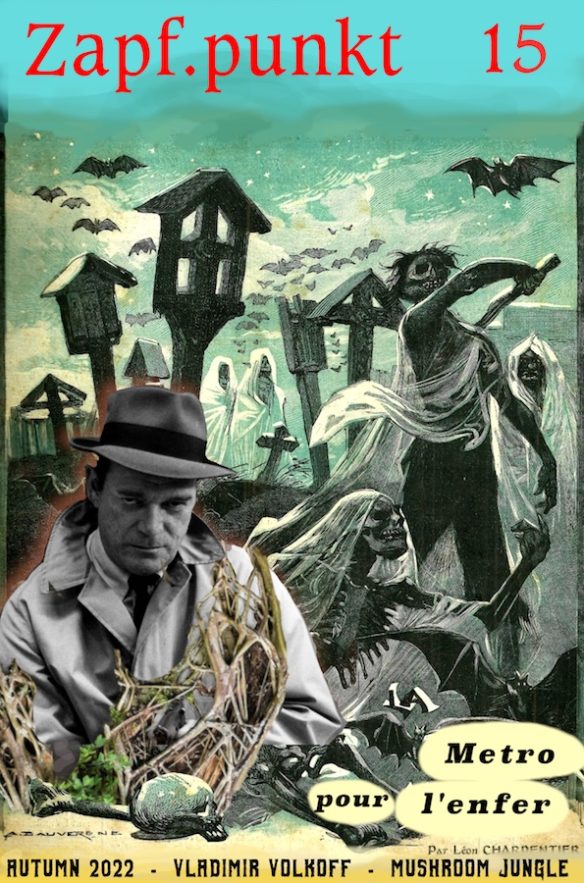 (9) LOUISE FLETCHER (1934-2022). Actress Louise Fletcher died September 23. She won an Oscar as Nurse Ratched, but she also played Bajoran religious leader Kai Winn Adami for 14 episodes of Deep Space Nine, and had appearances Invaders from Mars and the Ray Bradbury Theater.
… "I knew from the movies," she would say, "that I wouldn't have to stay in Birmingham and be like everyone else."
(10) MEDIA BIRTHDAY.
1995 – [By Cat Eldridge.] So what's the best televised SF series ever done? Max Headroom? Farscape? Babylon 5? The original Trek? May I put in a vote for a series that lasted just one season twenty-seven years ago? That would be of course Space: Above And Beyond. A series with strong overtones of Robert Heinlein in it.
It was created and written by Glen Morgan and James Wong who would collectively write many of the X-Files scripts.
It originally had been planned as a five season story, but only ran for one season, due largely to low ratings. The cast, I submit, of Lanei Chapman, Kristen Cloke, Joel de la Fuente, James Morrison (sexiest actor alive I say), Rodney Rowland and Morgan Weisser was absolutely stunning in their roles as members of the United States Marine Corps 58th Squadron of the Space Aviator Cavalry fighting the methane breathing Chigs.
Trivia: though humanoid, they were named after a species of fleas.
Just in case there's a soul here who's not seen it yet though I find that extremely unlikely, I'll not do spoilers at all. It's perhaps the best depiction of a military campaign in space that we are likely to see. Think of it as the complete and absolute antithesis of Starship Troopers. No breasts in the showers here. No almost Nazi references. No hotshot pilots.
It ran a mere twenty-three episodes, and depending on your viewpoint, wrapped its storyline, or didn't. The writers certainly thought they did. I've actually heard it argued both ways by its fans.
The producers have said it is not Starship Troopers that was their main influence but rather was The Forever War. (Good choice I say. A stellar book that very much deserved the Hugo it won at MidAmeriCon.)
Interesting note: if the sound effects later sound familiar to you, it was because they were reused on Futurama.
It's not apparently streaming anywhere.
(11) TODAY'S BIRTHDAYS.
[Compiled by Cat Eldridge.]
Born September 24, 1922 — Bert Ira Gordon, 100. He not only wrote but directed such films as Serpent Island, King Dinosaur, The Amazing Colossal Man, Earth vs. the Spider, Village of the Giants and Empire of the Ants. Forrest J Ackerman nicknamed him "Mr. B.I.G." a reference to both his initials and his films' tendency to feature super-sized creatures.
Born September 24, 1934 — John Brunner. My favorite works by him? The Shockwave Rider, Stand on Zanzibar which won a Hugo at St. Louiscon and The Sheep Look Up. I'm also fond of The Squares of The City which was nominated for a Hugo at Tricon. That was easy. What's your favorite works by him? (Died 1995.)
Born September 24, 1936 — Jim Henson. As much as I love The Muppet Show, and I've watched every show at least twice, I think The Storyteller is his best work. That's not to overlook Labyrinth, The Witches and The Dark Crystal and the first two Muppets films which are also excellent. Warning note: the three newest takes done on The Muppets suck beyond belief. Disney should be ashamed. (Died 1990.)
Born September 24, 1945 — David Drake, 77. Writer with his best-known solo work being the Hammer's Slammers series of military science fiction. He has also written the Royal Cinnabar Navy series which are space operas inspired by the Aubrey–Maturin novels. He has also drafted story ideas that were then finished off by co-authors such as Karl Edward Wagner, S.M. Stirling, and Eric Flint. He's very, very well stocked at the usual suspects. 
Born September 24, 1945 — Ian Stewart, 77. Mathematician and writer. He makes the Birthday Honors for the four volumes in The Science of Discworld series he wrote with Jack Cohen and Terry Pratchett. It was nominated for a Hugo at Chicon 2000. Each of the books alternates between the usually absurd Discworld story and serious scientific exposition. (All four volumes are available from the usual suspects.) He would write a number of genre novels, none of which I'm familiar with. Anybody here read his works? 
Born September 24, 1951 — David Banks, 71. During the Eighties, he was the Cyberleader on Doctor Who in all the stories featuring the Cybermen — Earthshock (Fifth Doctor story), The Five Doctors, Attack of the Cybermen (Sixth Doctor story), and Silver Nemesis (Seventh Doctor story). In 1989, he played the part of Karl the Mercenary in the Doctor Who: The Ultimate Adventure stage play. There were two performances where he appeared as The Doctor as he replaced Jon Pertwee who had fallen ill.
Born September 24, 1950 — Harriet Walter, 72. I knew I recognized her — she shows up in Star Wars: The Force Awakens as Kalonia, in A Dorothy L. Sayers Mystery as Harriet Vane for the entire run, and the Thirteenth Doctor story, "Revolution of the Daleks" as the Prime Minister. And that's not mentioning the many appearances on mysteries that she's made! 
Born September 24, 1965 — Richard K. Morgan, 57. The Takeshi Kovacs novels are an awesome series which are why I haven't watched the Netflix series. His fantasy series, A Land Fit For Heroes, is on my TBR, well my To Be Listened To pile now. And yes I read Thin Air, the sequel first and it's quite excellent. 
(12) COMICS SECTION.
(13) BRIDGERTON LITIGATION SETTLED. "Netflix Settles Copyright Suit Over 'Unofficial Bridgerton Musical'" – Variety has the story.
Netflix has settled a copyright lawsuit that it had filed against the creators of "The Unofficial Bridgerton Musical."

The streaming service dismissed the suit on Friday against Emily Bear and Abigail Barlow, the creators of the musical. Though the court filing did not say so, a source confirmed that the suit was in fact settled. The pair had earlier canceled a performance of the musical at Royal Albert Hall in London, which was to take place this week.

Netflix sued in July, alleging that Barlow and Bear had infringed on its copyrights by putting on a for-profit stage show at the Kennedy Center in Washington, D.C. The service argued that their conduct "stretches 'fan fiction' well past its breaking point."…
(14) ONCE A KNIGHT. Deadline reports "'Star Wars' Composer John Williams 'Knighted By Queen' In Final Honors".
Star Wars composer John Williams is reported to have been made one of Her Majesty Queen Elizabeth's very last knights, with the honor one of the final awards approved by the late monarch before her death a fortnight ago.

British press reports that the veteran composer's name is on the final list of honorary awards for foreign nationals.
Ex-Disney chief executive Robert Iger has also reportedly been awarded an honorary KBE for services to UK-US relations…
(15) REWILDING IN FLORIDA. Jeff VanderMeer is interviewed in Audubon. "Best-Selling Author Jeff VanderMeer Finds That Nature Is Stranger Than Fiction".
…VanderMeer hoped that, one day, native plants and the insects they supported could sustain birds visiting his backyard. In the meantime, he laid out an avian buffet. This included at least three types of seed feeders (hopper, tube, thistle sock), along with suet cakes in squirrel-proof cages and abundant globs of bark butter. The spread attracted dozens of species. There were Pine Siskins and Rose-breasted Grosbeaks and Yellow-rumped Warblers, which he called "adorblers." He learned to recognize their calls. VanderMeer noticed that the Blue Jays uttered a certain warning cry if a cat ambled into the ravine. Whenever he heard it, he ran outside to shoo the cat away. He liked to think they were fighting this predator together. "It's the least I can do for the community," VanderMeer deadpanned.

… Even without help from his imagination, ShadowVale could be bracingly strange. One morning a raccoon rang his doorbell at 5 a.m. (The glowing buzzer was unusually low to the ground and paw prints revealed the culprit.) Another time the mailman pleaded with him not to eradicate a patch of invasive grass, calling it "Larry" and arguing "he's been here 10 years longer than you." (In the spirit of compromise, VanderMeer gave Larry a haircut instead.) On the east side of the house, he sometimes heard a shriek when he plunged his shovel into the dirt. (The former site of a dog run, it was mined with squeaky toys.)

Apart from such oddities, VanderMeer also had neighbors to contend with. Some doused their lawns with pesticides that could leach into the ravine. Others had solar lamps that ran from dusk till dawn, emitting a constant, low-level light pollution that might disorient nocturnal creatures. He worried about the neighbors' attitudes toward local wildlife; one insisted, somewhat defensively, that an armadillo had "bared its fangs" at his dog. (Around that time, VanderMeer adds, one of two armadillos frequenting the ravine appeared to go missing.)….
(16) NORDIC LARP. [Item by Martin Morse Wooster/] In WIRED, Jason Anthony discusses "Nordic LARP," the Scandinavian variant of LARPs which focuses on recreating realistic events rather than engaging in fantasy adventure. Anthony spent $300 to take part in a weekend "gay conversion camp" where psychologists are supposed to make gay people straight. One of the "staff psychologists" in the game is revealed to be Swedish sf writer Karin Tidbeck.
Anthony says that while a weekend of "gay conversion" was not meant to be depressing, there's a variant of Nordic LARP called "misery LARP" where people spend a weekend in a "concentration camp" or "slave plantation." "Nordic Larp: My 4 Days in Fake Gay-Conversion Therapy".
… I'm sharing a silly groove with Walker. The slicked-back bob is gone. The polyester suit is packed away, and now it's pants and a shirt with a genderqueer pride pin. After a while the two of us duck over to the dining hall, where the group congregates around a few cases of Tuborg beer.

Walker's transformation is dramatic. They are now Karin Tidbeck, an icon of Swedish science fiction who counts the late Ursula K. Le Guin as a fan. Their novel Amatka described a world constantly created and destroyed through language, and I can't help but think how much that describes Nordic Larp. Tidbeck looks drained but happy, a beer in their hand….
(17) VERY WEIRD VIDEO OF THE DAY. [Item by Martin Morse Wooster.] I have NO idea what this one by John Butler is about. But there's a Bradbury reference in it! "The Avant Garde".
[Thanks to Cat Eldridge, Mike Kennedy, Martin Morse Wooster, JJ, Mlex, John King Tarpinian, Andrew Porter, Chris Barkley, and Michael Toman for some of these stories. Title credit belongs to File 770 contributing editor of the day Daniel Dern.]