(1) PRESSING ON. Apex Book Company is seeking $6,200 to publish a print compilation anthology of all the original genre short fiction that appeared in their digital publication, Apex Magazine, during the 2021 calendar year. Their Kickstarter project, "Apex Magazine 2021 Compilation Anthology by Apex Publications", at this writing has raised $2,376. The appeal runs through April 22.
Apex Magazine had an exceptional 2021. Seven of the zine's stories made the Locus Magazine Suggested Reading List. The zine placed a story on the Nebula finalist list and won a Stabby Award. In October 2021, we published an issue dedicated to Indigenous authors. In December 2021, we dedicated an issue to international authors.

The anthology will include 48 stories from a diverse group of new and established writers and will feature the Apex Magazine Readers' Choice Award-winning artwork "Entropic Garden" by Marcela Bolívar on the cover.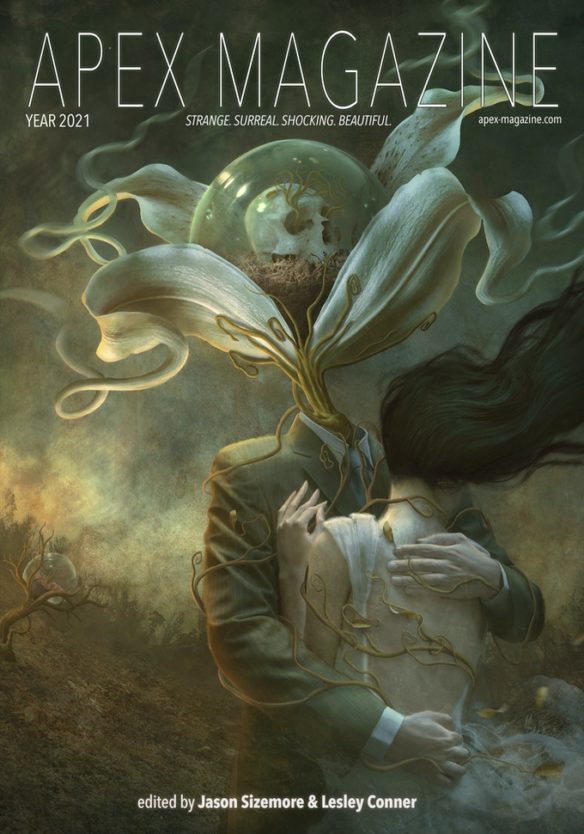 (2) SFWA STORYBUNDLE. The Science Fiction and Fantasy Writers of America (SFWA) has released its newest StoryBundle, Magic Awakens, for a limited time only, from April 6 to April 28. This StoryBundle offers a large selection of ebooks from independent and small press fantasy writers, and can be purchased at https://storybundle.com/fantasy.
If a smooth sea never made a skilled mariner, then a tranquil world never forged a powerful hero: Meet fourteen budding sorceresses, wizards, and magic wielders of all ages and types as they face horrible threats that force them to confront their nascent abilities and to strengthen their powers and themselves. Then join each character on their own thrilling adventure once the Magic Awakens!

SFWA StoryBundles are curated collections of ebooks offered at a steeply discounted price. Readers who purchase Magic Awakens will gain a rich collection of fantasy fiction and can opt to donate part of their purchase price to support SFWA's ongoing work to promote and support speculative fiction genres and writers.

Readers may choose what price they want to pay for the initial four books, starting at $5. Spending $20 unlocks ten more books that they can receive with their purchase. Once April 28 passes, this particular collection will never be available again! Further details about how StoryBundle operates are available at https://storybundle.com/faq.
(3) CSI SPARKLE SALON. The second episode of the Science Fiction Sparkle Salon has been released by the Center for Science and the Imagination. It features sff authors Malka Older, Annalee Newitz, Arkady Martine, Amal El-Mohtar, and Karen Lord, and scientist Katie Mack, discussing a wide range of topics
(4) IN OUR OWN WORDS. [Item by SF Concatenation's Jonathan Cowie.] This week's episode of Word of Mouth on BBC Radio 4 discusses the lexicography of SF and SF fandom.  Being interviewed is not Jeff Prucher, of the stonkingly brilliant Brave New Words: The Oxford Dictionary of Science Fiction, but Jesse Sheidlower of the Historical Dictionary of Science Fiction. You can access the programme on BBC Sounds – "Word of Mouth – The Language of Sci-Fi".
(5) PRESENTING THE BILL. "Canada Introduces Bill Requiring Online Giants to Share Revenues With Publishers" reports the New York Times.
Prime Minister Justin Trudeau's government introduced legislation on Tuesday that would require companies like the parents of Google and Facebook to pay Canadian media outlets for allowing links to news content on their platforms.

Canadian publishers, many of which are struggling financially, have long pushed the government for such a measure, arguing that the advertising revenue that previously was the foundation of their businesses has overwhelmingly migrated to global online giants.

That pressure increased after Australia passed a similar measure in 2021 and Europe revised its copyright laws to compensate publishers.

"The news sector in Canada is in crisis," Pablo Rodriguez, the minister of Canadian heritage, said at a news conference. "This contributes to the heightened public mistrust and the rise of harmful disinformation in our society."

Mr. Rodriguez said that 450 media outlets in Canada closed between 2008 and last year….
(6) ASHCANS TO AUCTION. Heritage Auction's Intelligent Collector give the background as "Historic DC Comics Prototypes Soar to Auction". (Images at the link.)
Thirty-seven years ago, Gary Colabuono saw his first ashcan. "And I did not know what they were," he says now, decades after he began collecting, preserving and promoting these cheaply made, stapled-together black-and-white mock-ups made to secure a comic book title's trademark and meant to be tossed into the trash.

In time, Colabuono became the expert on these lost rarities from the earliest days of the comic-book industry. Now, four of his ashcans – including one of two surviving Superman Comics ashcans from 1939 – head to market for the first time during Heritage Auctions' history-making April 7-10 Comics & Comic Art Signature® Auction….
(7) THE MASTER'S VOICE. Alan Moore gives an introduction to a BBC writing course which seems the British equivalent of a Masterclass course. "Introducing – Alan Moore – Storytelling – BBC Maestro".
Step into the world of Alan Moore's incredible imagination and learn from the mastermind behind comics like From Hell, The League of Extraordinary Gentlemen and Swamp Thing, and novels including the modern literary classic Jerusalem. Learn about Alan Moore's writing process and how he combines character, story, language and world-building to create the tales that have won him fans the world over. Ideal for aspiring fiction writers, this online course includes downloadable course notes to guide you on your own creative journey.
(8) AT BREAK OF DON. Eleanor Morton does hilarious impressions of the two Inklings in "JRR Tolkien tells CS Lewis about his new character".
(9) NEHEMIAH PERSOFF (1919-2022). A prolific actor with over 200 screen and TV credits, Nehemiah Persoff died April 5 at the age of 102.
His first genre role was playing Ali Baba in an episode of Shirley Temple's Storybook (1958). He worked constantly, with many appearances in other sff TV series: The Twilight Zone ("Judgment Night"; 1959), Voyage to the Bottom of the Sea, The Time Tunnel, The Man from U.N.C.L.E., Off to See the Wizard (voice), The Wild Wild West, Mission: Impossible, Land of the Giants, The Magical World of Disney, The Six Million Dollar Man, The Invisible Man, Wonder Woman, Logan's Run, The Bionic Woman, Supertrain, Battlestar Galactica, Fantasy Island, Star Trek: The Next Generation, and he voiced Papa Mousekewitz in 1986's An American Tail and two video sequels.
Steve Vertlieb wrote about his visit with Persoff in 2019 for File 770.
(10) MEDIA BIRTHDAY.
1922 — [Item by Cat Eldridge.]
To John Vine Milne

My dear Father,
Like all really nice people, you have a weakness for detective
stories, and feel that there are not enough of them. So, after
all that you have done for me, the least that I can do for you
is to write you one. Here it is: with more gratitude and
affection than I can well put down here.
— A. A. Milne in his preface to The Red House Mystery
A century ago today, A.A. Milne's The Red House Mystery was published by Methuen in the United Kingdom. This is his only mystery and it's a most splendid Manor House mystery, one of the best ever written if I must so myself which I will. Milne tells the story of the mysterious death of Robert Ablett inside the house of his brother, Mark Ablett, while there was a party taking place. It's a whodunit that's wonderfully told.
That was written prior to Winnie the Pooh and was an immediate success with the reading public and critics alike. Alexander Woollcott of the New Yorker at the time called it "one of the three best mystery stories of all time" though he himself would later be judged harshly by Raymond Chandler who also disliked British mysteries in general. (Ahhh feuds among critics. Lovely things they are.) It has stood nicely the test of time and is still considered a splendid mystery.
It is now in the public domain so you can find it at the usual suspects for free though there are also copies being sold by publishers as well. Audible has four versions of the novel including a full cast production. I really should listen to that version.
If you interested in acquiring a first British edition, dig deep into your bank account as that will set you back, assuming that edition is on the market, at least thirteen thousand dollars currently.
(11) TODAY'S BIRTHDAYS.
[Compiled by Cat Eldridge.]
Born April 6, 1926 — Gil Kane. Artist who created the modern look and feel of Green Lantern and the Atom for DC, and co-created Iron Fist with Roy Thomas for Marvel. I'm going to single him out for his work on the House of Mystery and the House of Secrets in the Sixties and Seventies which you can find on the revamped and stripped-down DC Universe app. (Died 2000.)
Born April 6, 1935 — Douglas Hill. Canadian author, editor and reviewer. For a year, he was assistant editor of Michael Moorcock's New Worlds magazine. I'm going to admit that I know more of him as a decidedly and to be admired Leftist reviewer than I do as writer, indeed he held the same post of Literary Editor at the socialist weekly Tribune as Orwell earlier did. Who here is familiar with fiction? He was quite prolific indeed. (Died 2007.)
Born April 6, 1937 — Billy Dee Williams, 85. He is best known for his role as Lando Calrissian in the Star Wars franchise, first appearing in The Empire Strikes Back. Other genre appearances include being Harvey Dent in Batman and voicing Two Face In The Lego Batman Movie. He also co-wrote with Rob MacGregor two SF novels, PSI/Net and Just/In Time which are available from the usual suspects.
Born April 6, 1938 — Roy Thinnes, 84. Best remembered for his role of David Vincent in The Invaders. He was also in The Horror at 37,000 Feet, The Norliss Tapes, Satan's School for Girls, Battlestar Galactica, Dark Shadows (recurring role as Roger Colins) and Poltergeist: The Legacy.
Born April 6, 1942 — Anita Pallenberg. It's not a long genre resume but she was in Barbarella as, I kid you not, Black Queen, Great Tyrant of Sogo, the chief villainess. Over forty years later, she had a minor role as Diana in a Grade B film 4:44 Last Day on Earth. Now I'm going to expand this Birthday by crediting her as the muse of the Rolling Stones which is surely genre adjacent, isn't it? She was the lover of Brian Jones, and later, from 1967 to 1980, the partner of Keith Richards, with whom she had three children. Of course she appeared in that documentary about the Rolling Stones, Sympathy for the Devil. (Died 2017.)
Born April 6, 1944 — Judith McConnell, 78. Here for being in Star Trek's "Wolf in the Fold" as Yeoman Tankris. Need I say what happened to her? Well you'd be wrong as she survived. (I looked it up to be sure as the body count was high.) She also during this time appeared on Get Smart in "The King Lives" as Princess Marta, and she'd much later be in Sliders for several episodes.
Born April 6, 1977 — Karin Tidbeck, 45. Their first work in English, Jagannath, a short story collection, made the shortlist for the Otherwise Award and was nominated for the World Fantasy Award. The short story "Augusta Prima", originally written in Swedish, was translated by the author into English and won a Science Fiction & Fantasy Translation Award in the Short Form category.
(12) COMICS SECTION.
Bizarro really should be more impressed with The Mildly Surprising Spider-Man.
(13) SHINY. Could these be "The 15 Greatest Covers In All Of Comics"? Buzzfeed thinks so.
Mainly featuring heroes and villains in colorful costumes, comic book covers have succeeded in catching readers' attention, but these covers are truly the best of the best. These are the 15 Greatest Covers in All of Comics.
(14) SKILL TREE. The latest episode of CSI Skill Tree series on video games, storytelling, worldbuiding, and futures thinking is now live, with SF author Ken Liu and video game designer Liz Fiacco discussing the 2020 game Cloud Gardens, a 2020 game about using plants to overgrow and transform abandoned post-industrial landscapes. This episode is presented in collaboration with Orion Magazine, a quarterly publication working at the convergence of ecology, art, and social justice. All nine Skill Tree episodes are available to view at this playlist.
(15) MOUNTAINTOP EXPERIENCES. NPR advocates for George O'Connor's version of the Greek gods: "A graphic novel series for kids that doesn't leave out gender fluidity".
…Dionysos: The New God is the last of O'Connor's Olympians, a series of graphic novels he's been writing and illustrating for the last 12 years. Each book retells the ancient Greek myths through the lens of one of the gods or goddesses, from Athena, goddess of wisdom, to Hephaistos, god of the forge.

O'Connor's illustrations are bursting with action, humor and lots of details. He researched the ancient myths in order to get as close as possible to the original stories. That means his gods and goddesses are fierce, but also voluptuous, mischievous and even snarky. To him, the Olympians are a family of distinct individuals. "There's certain personality traits that come to the fore," he said….
(16) WILSON HONORED AT BOOKFEST. Author and musician Shane Wilson won two book awards at The BookFest this past weekend for his novel, The Smoke in His Eyes. The book placed second in Contemporary Fiction and third in Coming-of-Age Literary Fiction.
The Bookfest Awards honors authors who create outstanding works of fiction and nonfiction. Books are judged in categories based on genre, theme, and aesthetics. Books published in the past five years are eligible. Entries will be vetted by an initial team, then the final places will be determined by an elite team of experts in the literary and entertainment world.
Here's what The Smoke in His Eyes is about:
When TJ—a musical prodigy—witnesses a traumatic event as a child, his senses are overrun with intense hallucinations. Over the years, his visions increase in frequency and intensity, but he hides them from those he is closest to, including his best friend and musical partner, Lila, who challenges TJ to reject formulaic creation in order to create something beautiful and unique. But when Lila signs a record deal, TJ feels left behind and alone with his art and his visions.

That's when TJ meets an artist named Muna. In his eyes and visions, Muna is made of smoke, and as this magical woman helps him learn how to manage his visions and how to translate what he sees and hears into music and lyrics, she begins to disappear. His journey into Muna's past is a journey to discover where inspiration originates and what happens to an artist when that inspiration is gone.
Available at Amazon.com.
(17) FOR TEN YEARS WE'VE BEEN ON OUR OWN. Paul Weimer praises a sequel in "Microreview [book]: Azura Ghost by Essa Hansen" at Nerds of a Feather.
….Now, ten years later, Caiden and the Azura are legends, a one man, one ship, and one young Nophek crew doing good across the multiverse, staying ahead of the forces of Unity led by Abriss Centre, and dreading what will happen if her equally dangerous brother escapes his imprisonment. It's getting harder for Caiden to escape Abriss' traps, especially when Abriss has a trump card up her sleeve, one guaranteed to slow down Caiden enough to capture him and his remarkable ship…his long lost sister.

Welcome to Azura Ghost, the second Graven book from Essa Hansen….
(18) NAVIGATING THE BLOAT. Meanwhile, Arturo Serrano says the sequel he read suffers from a common series-book problem: "Review: Until the Last of Me by Sylvain Neuvel" at Nerds of a Feather.
In the first novel of this series, A History of What Comes Next (which I reviewed for this blog last year), we learned that the progress of science on this planet has always been secretly guided by the Kibsu, a humanlike species of superstrong, supersmart aliens whose genetic line split at some point in antiquity, with the female line dedicated to developing mathematics and teaching it to humans, and the male line sworn to hunting down their female counterparts as punishment for some supposed treason no one remembers anymore. For centuries, these aliens have been spreading both knowledge and death as each lineage pursues their mission while hiding in plain sight among us. The title of the series is Take them to the stars, but in that first novel the full meaning is revealed as Take them to the stars before we come and kill them all.

The newly released continuation, Until the Last of Me, displays the hallmark signs of Middle Book Syndrome: the plot gets a bit repetitive in the early chapters, feels a bit directionless toward the middle, and is suddenly hijacked at the end by the need to put all the pieces in position for the upcoming final confrontation….
(19) FOCUS ON WOMEN CHARACTERS. Minnesota author J. Lynn Else told an Authority Magazine interviewer this week:
Gowing up in the 80s and 90s, while a big fan of sci fi and fantasy, there weren't a lot of female characters to identify with. The females typically lacked depth, didn't have a lot of agency, or simply were there as a romantic interest. As I started developing my fantasy trilogy, I wanted to create a cast of female characters who were all different. They made jokes, made mistakes, got angry, got frustrated, weren't always the 'bookish smart' one. I wrote because I wanted greater depth of characters for young girls reading these genres so that they could picture themselves in these worlds without having to be ultrasmart or beautiful or aggressively assertive…
Now through Inklings Publishing, she's authored Descendants of Avalon (2018), Lost Daughters of Avalon (2019), and Prophecy of Avalon (2021). Her short story "The Girl from the Haunted Woods," won second place in the "Journey into the Fantastical" Anthology contest.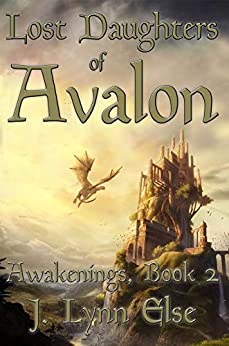 Here's the précis about Lost Daughters of Avalon (Awakenings Book 2):
After not hearing anything from their knights in Avalon for weeks, the horrible Questing Beast breaks through into the world and attacks Genie, Beth, Mei, and Whit. Their magic stirs to stop the monster, but Beth's attempts fail. Help from Avalon arrives just in time to remove the curse and reveal a woman inside the beast who claims to be Genie's biological mother.The four friends learn their knights had gone missing, along with one of Avalon's queens, Viviane. An ancient evil runs amok in Avalon and the people blame the four friends, claiming they released Merlin to destroy their world. To clear their name and rescue their knights, the four friends must once again risk the dangers of Avalon. Genie, Beth, Mei, and Whit must pull together and learn to combine their powers of air, water, earth, and fire to rebalance the world they might have thrown into chaos. If they fail, the worlds of Avalon and Earth could destabilize and end life as they know it.
Available at Amazon.com and Amazon.ca.
(20) VIDEO OF THE DAY. [Item by Martin Morse Wooster.] In "Honest Game Trailers: Stranger of Paradise: Final Fantasy Origin," Fandom Games says that in this Final Fantasy spinoff you play Jack, "a character so edgy that he makes Jared Leto's Joker seem like a birthday clown." Jack's the sort of character who responds to a demon saying, "I am" and interrupts him to say, "I don't care who you are," and starts punching the creature out. In fact, this game is so edgy that "it's like a Monster energy drink come to life."
[Thanks to Michael Toman, Cat Eldridge, Mike Kennedy, SF Concatenation's Jonathan Cowie, Joey Eschrich, Jason Sizemore, Martin Morse Wooster, JJ, John King Tarpinian, and Andrew Porter for some of these stories. Title credit belongs to File 770 contributing editor of the day Tom Becker.]