(1) STARTING A STORY. This compelling thread starts here.
(2) BUTLER BIO ON THE WAY. Yesterday's Oprah Daily acknowledged the author's birthday with an excerpt from a new biography: "Biographical Constellation of Octavia Estelle Butler: Excerpt".
…But the Nebula and Hugo Award-winning author who explored themes of gender fluidity, climate change, authoritarianism, and the rise of Big Pharma is perhaps more widely read now than ever, and that phenomenon is destined to grow with the publication Star Child: A Biographical Constellation of Octavia Estelle Butler by Ibi Zoboi, due out in January of 2022.

Zoboi, who was a National Book Award finalist for her young adult novel American Street, is not just a Butler devotee, but was mentored by the writer. Now, she has written an ode to her told in poems and prose. Here, Oprah Daily shares an exclusive sneak peak of the forthcoming volume, just in time to say: Happy Birthday Octavia Butler.
(3) THE PLAY'S THE THING. (Except she's talking about a different play than Hamlet.) Connie Willis shared "Some Midsummer Night's Dreams for Midsummer Night" on Facebook.
…The first night of our film festival, we watched GET OVER IT, the teen movie with Ben Foster, Kristen Dunst, and Martin Short. Berke, played by Ben Foster, has been dumped by Allison for another guy, so he tries out for the school musical DeFores-Oates (Martin Short) is directing, to try to get her back. He's helped by Kelly (Kirsten Dunst) who really likes him, but he doesn't even see her because he's completely obsessed with getting Hermia back. Sound familiar?

The movie doesn't do the whole play–there's no Pyramus and Thisbe and Bottom's just a walk-on, but there are fairies (including the rapper Sisqo), and a stoned stage crew who double as Puck, and the movie's surprisingly faithful to the play, except for the ending, when Berke takes things into his own hands. GET OVER IT captures even better than Shakespeare the agony you go through when you're in love with someone who doesn't even know you exist.

The second night we watched the 1999 A MIDSUMMER'S NIGHT DREAM (or as I call it, the Ally McBeal version,) starring Calista Flockhart and Christian Bale, with Kevin Kline as Bottom and Stanley Tucci as Puck. It's a good movie overall and lots of stuff I loved–the lovers flee to the woods on bicycles, Puck is very funny and as much of an annoyance to his boss Oberon, Michelle Pfeiffer makes a sexy and funny Titania, and Max Wright is beyond wonderful as the reluctant actor dragged into the play at the last minute to be the Man in the Moon, with a cigarette dangling from his lip and a dog getting into the act.

But there are three moments of true genius in the play…
(4) GOODBYE TO AMAZON. Amanda S. Greene continues her step-by-step explanation of everything involved in shifting her books away from the Amazon platform in "Moving Forward or Onward or Whatever" at Mad Genius Club. There are a lot of issues that require thoughtful decisions.
…I knew when I started it more would be involved than just uploading my books to the various storefronts or 3rd party aggregator. I hadn't anticipated having to retrain myself to think in ways I haven't since going exclusively with Amazon.

Without going into too much detail, I had to look at how to get my books into the various storefronts, which storefronts I wanted to go with, etc. Initially, I decided to upload direct to BN, Kobo and Apple. I'd use Draft2Digital for the rest. I've changed my mind. The time saved alone by using D2D for everything is worth the few pennies per sale I pay to D2D to handle things for me. All I have to do is upload a generic ePub of the book, fill in the blanks and they do the rest.

There is an added benefit of allowing them to handle it. Draft2Digital has a "sister" site called Books2Read. I've mentioned the site before but I am really starting to appreciate how powerful of a tool it can be for a writer. For example, here's the landing page for Witchfire Burning. It shows the cover, gives the description and below lists other books (showing covers) I've written. It's a much more attractive landing page than the product page at Amazon. If you click on the "get it now" button, it will take you to a new page where you can choose which storefront you want to visit (and I need to update it to pull in the Amazon link).

The great thing about something like this is you can use it as your landing page for the book on your website….
(5) WE INTERRUPT THIS KERFUFFLE. Michael Swanwick offered "A Few Quiet Words of Thanks for the People Putting on Discon III" at Flogging Babel.
Yesterday, I reserved my hotel room for Discon III. And that put me in mind of the first and only time I was on a con committee.

This was in the 1970s, before I made my first sale. I'd only been to a few science fiction conventions but I knew the guy in charge of putting on a con whose name I conveniently forget and, doubtless for reasons of fannish politics, he filled the committee with his friends, despite the fact we none of us had any experience at the tasks we were assigned.

Long story, short. I did a terrible job. And I've never volunteered to serve again. Because even if everything goes perfectly, your reward for putting on a convention is not getting to experience it.

So I'd like to express my gratitude to the Discon III staff, both present and past. That includes everybody who quit for reasons of principle and everybody who decided to tough it out, also for reasons of principle.

This has been a star-crossed year for the Worldcon. I won't bother to list all the problems: Acts of God, acts of Man, acts of Fans. We all know them. It must have been maddening to be at the white-hot center of them all.

Which makes this a good time to say: Thank you.
(6) FINE DISTINCTION. And one of John Scalzi's comments:
(7) VISIT FROM THE DOCTOR. Jo Martin will be a guest at Gallifrey One: Thirty Second to Midnight, to be held in LA in February 2022.
It's with great pleasure that we can now announce that JO MARTIN will be joining us next February as a confirmed guest, for her very first Doctor Who convention appearance in North America!

Jo Martin became an immediately beloved part of Doctor Who mythology when she appeared as Ruth Clayton in series 12's "Fugitive of the Judoon" opposite Jodie Whittaker… a woman who was, in fact, a previously unknown earlier incarnation of the Doctor herself! As the landmark first Doctor of color to be shown in the long-running series, she also appeared in the season finale "The Timeless Children."…
(8) ONLINE PROMETHEUS AWARDS TO INCLUDE LFS-REASON PANEL. The Libertarian Futurist Society couch plans for their online award ceremony in these terms:
In 2021, LFS members will have a rare opportunity to watch and enjoy the annual Prometheus Awards ceremony and an interesting related panel discussion for free online – without having to register for a Worldcon.

Reason magazine will be the media sponsor of the hour-plus panel discussion, which will immediately follow the online half-hour Prometheus Awards ceremony for Best Novel and Best Classic Fiction (Hall of Fame). Reason editor Katherine Mangu-Ward and Reason's book editor Jesse Walker will join LFS leaders, including board president William H. Stoddard, on the hour-plus panel discussion along with, we hope, the 2021 Prometheus Award-winning novelist (tba).
(9) VETERAN COMICS READER. James Bacon was interviewed by Football Comics Podcast Champ/We are United, as hosts Rab and Gull take a little break from all the footie and have a look at War Comics, covering classic titles like Battle, Commando, Victor, Warlord, and many more. "Champ/We Are United Episode 13: War Comics".
(10) COSPLAY DATING. Yahoo! says "Singles Dress Up as Creatures for Blind Dates" is the premise of Sexy Beasts.
Given the popularity of The Masked Singer, we can ascertain that viewers enjoy watching people dressed up in strange costumes. And given the general state of reality television over the past two decades, we can also conclude that people enjoy watching people go on bizarre dates. Netflix has endeavored to combine these two irrefutable tenets in one convenient package. Thus, we have Sexy Beasts, in which elaborate-prosthetic-laden singles meet for a night of "nonjudgmental" romance. At least that's how they're touting it. Take a look at the trailer, which features dolphins, demons, canids, scarecrows, insects, bovines, and a handful of uncategorizables….
(11) MEDIA BIRTHDAY.
June 23, 1976 — On this date in 1976, Logan's Run premiered. It was directed by Michael Anderson and produced by Saud David. The screenplay by David Zelag Goodman is based on the 1967 Logan's Run novel by William F. Nolan and George Clayton Johnson. It starred Michael York, Jenny Agutter, Richard Jordan, Roscoe Lee Browne, Farrah Fawcett, and Peter Ustinov. Though critical reception was at best mixed, it was a box success and is considered to have MGM from financial ruin. It was nominated at SunCon, a year in which no film was awarded a Hugo. Audience reviewers at Rotten Tomatoes currently give it an excellent sixty-seven percent rating.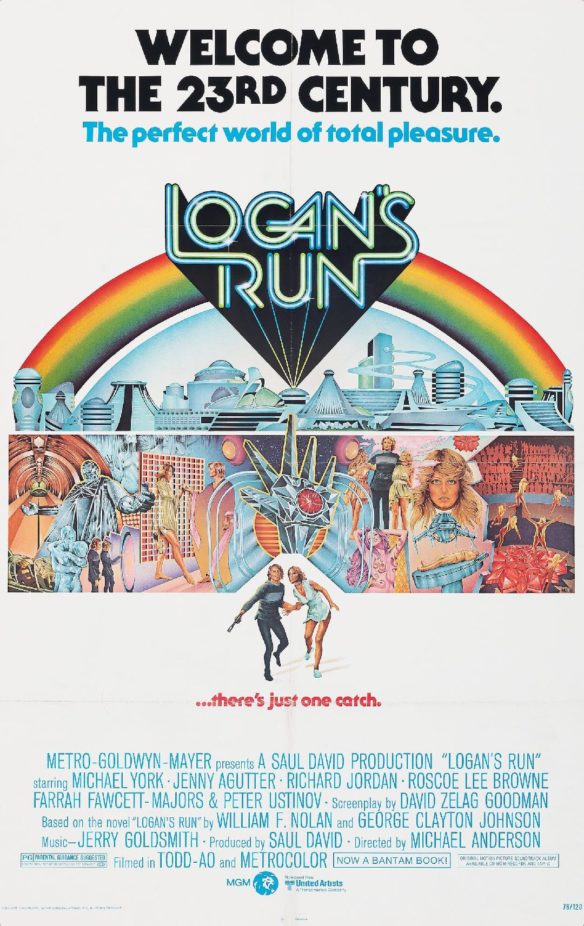 (12) TODAY'S BIRTHDAYS.
[Compiled by Cat Eldridge.]
Born June 23, 1945 — Eileen Gunn, 76. Her story "Coming to Terms" based on her friendship with Avram Davidson won the Nebula Award for Best Short Story. Her stories are in Stable Strategies and Others, Steampunk Quartet and Questionable Practices. With L. Timmel Duchamp, she penned The WisCon Chronicles, Vol. 2: Provocative Essays on Feminism, Race, Revolution, and the Future. She's well stocked at the usual digital suspects.
Born June 23, 1951 — Greg Bear, 70. Blood Music which won both a Nebula Award and a Hugo Award is an amazing read. I'm also very fond of the Songs of Earth and Power duology, The Infinity Concerto and The Serpent Mage, and found his Queen of Angels a fascinating mystery. He's deeply stocked at the usual suspects.
Born June 23, 1953 — Russell Mulcahy, 68. You'll likely remember him as directing Highlander, but he was responsible also for Highlander II: The Quickening, but disowned it after the completion-bond company really messed with production. He would later released this film in Highlander II: The Renegade Version. He also directed episodes of The Hunger, On The Beach, Perversions of Science and Tales from The Crypt.
Born June 23, 1957 — Frances McDormand, 64. She's God. Well at least The Voice of God in Good Omens. Which in on Amazon y'all. Her first genre role was in the "Need to Know" episode of Twilight Zone followed shortly thereafter by being Julie Hastings in Sam Raimi's excellent Dark Man. She's The Handler in Æon Flux and that's pretty much everything genre worth noting.
Born June 23, 1963 — Cixin Liu, 58. He's a winner of a Hugo Award for The Three-Body Problem and a Locus Award for Death's End. He also a nine-time recipient of the Galaxy Award, the Chinese State sponsored SFF Awards. Anyone got a clue what's going on with the alleged Amazon production of The Three-Body Problem as a film? Is it still on?
Born June 23, 1964 — Joss Whedon, 57. I think I first encounter him with the Buffy tv series. And I hold that Angel was far better told. Firefly was a lovely series that ended far too soon. And don't get me started on the Avengers: Age of Ultron…
Born June 23, 1972 — Selma Blair, 49. Liz Sherman in Hellboy, and Hellboy II: The Golden Army. She voiced the character also in the animated Hellboy: Sword of Storms and Hellboy: Blood and Iron as well. She's Stevie Wayne in The Fog, a slasher film a few years later and was Cyane on the "Lifeblood" episode of Xena: Warrior Princess. Later on, she'd be Jessica Harris in the "Infestation" episode of Lost in Space.
Born June 23, 2000 — Caitlin Blackwood, 21. She was the young Amelia Pond in these Doctor Who episodes; "The Eleventh Hour", "The Big Bang", "Let's Kill Hitler", and "The God Complex", and had a cameo in "The Angels Take Manhattan". She's the cousin of Karen Gillan who plays the adult Pond. No idea how she was cast in the role but it was brilliantly inspired casting!
(13) COMICS SECTION.
Tom Gauld's cartoon for New Scientist.
(14) WELCOME TO THE NEW WORLD. CrimeReads excerpts a new history of comic books by Paul S. Hirsch: "The Early, Wild, Exploited, and Sometimes Radical Days of the Comic Book Industry in America".
The American comic book is inseparable from foreign policy, the great twentieth-century battles between capitalism and totalitarianism, and the political goals of the world's preeminent military and cultural power. The history of the American comic book is a story of visual culture, commerce, race, and policy. These four fields are analogous to the four colors used to print comic books: cyan, magenta, yellow, and black. They lie atop one another, smearing, blending, and bleeding to create a complete image. To separate them is to disassemble a coherent whole and to shatter a picture that in its entirety shows us how culture and diplomacy were entangled during the mid-twentieth century.
THE EARLY YEARS, 1935–1945

The period from 1935 to 1945 was defined by images of darkness and light. The comic industry itself—populated by otherwise unemployable immigrants, racial minorities, and political radicals—emerged from the shadows of the New York publishing world….
(15) BOOK RESURRECTION. "'Most of Australia's literary heritage is out of print': the fight to rescue a nation's lost books" in The Guardian.
…This is the unfortunate fate of most books, even literary prize-winners. In fact, of the 62 books that won Australia's Miles Franklin Award between 1957 and 2019, 23 are currently not available as ebooks, 40 are not available as audiobooks, and 10 are not available anywhere, in any format whatsoever. They're officially out of print. This is something that Untapped: The Australian Literary Heritage Project is trying to rectify.

"Untapped is a collaboration between authors, libraries and researchers, and it came about because most of Australia's literary heritage is out of print. You can't find it anywhere," says project lead, Associate Professor Rebecca Giblin from Melbourne Law School at the University of Melbourne. "Think about it. If so many Miles Franklin winners are out of print, you can imagine how bad availability must be for memoir, and histories, and other local stories."

Untapped's mission is to digitise 200 of Australia's most important lost books, preserving them for future generations and making them available through a national network of libraries. They include books such as Anita Heiss's I'm Not Racist, But … (2007) and Frank Hardy's The Unlucky Australians (1968). "One exciting thing is that all these books will now be part of the National E-deposit scheme," Giblin says, referring to the legal requirement for all publishers to provide copies of published works to libraries – a framework only recently extended to electronic publishing. "This means they'll be preserved forever. These books will now be around as long as we have libraries."
(16) WEIR Q&A. Suspense Radio, a thriller podcast, interviews Andy Weir: "LaunchpadOne: Interview with Andy Weir".
Andy Weir built a two-decade career as a software engineer until the success of his first published novel, The Martian, allowed him to live out his dream of writing full-time. He is a lifelong space nerd and a devoted hobbyist of such subjects as relativistic physics, orbital mechanics, and the history of manned spaceflight. He also mixes a mean cocktail. He lives in California.
(17) ROY HOWARD GOH SPEECH. [Item by Cora Buhlert.] The Cromcast has a recording of Roy Thomas' guest of honor speech at the 2021 Robert E. Howard Days in Cross Plains. Lots of interesting stuff about working at Marvel in the 1960s and 1970s, not just Conan related, though there is a lot of that, too. "Howard Days 2021 – When Conan Went Public!"
(18) BUILDING UP THEIR INVENTORY. James Davis Nicoll knows where the cargo in their holds came from — "Risky Business: Five Books About Interplanetary Trade" at Tor.com.
Humans have, starting in prehistoric times (with obsidian, red ochre, etc.), established vast trade networks that cross mountains, deserts, and oceans. Presumably, this will be true in the future as well, even as humanity expands out into SPAAACE. While there are reasons why larger concerns will tend to dominate, the little guys will often provide more engaging narratives. Thus, these five heartwarming tales of working traders enthusiastically engaging in commerce among the stars…

The Trouble Twisters by Poul Anderson (1966)

Hyperdrive gave humans the stars…also vast fortunes to Polesotechnic League merchant princes like Nicolas van Rijn. Great men cannot be everywhere, however, which is why this collection of short pieces focuses not on van Rijn but his employee, David Falkayn (don't worry! David eventually gets into management by marrying the boss's beautiful daughter). Whether upending religious prohibitions, obtaining state secrets, or intervening in bitter ethnic strife, Falkayn and his co-workers always find the solution that delivers profit.

Long after the events in this book, Falkayn would become disenchanted with the League's conscience-blind focus on immediate profits. This would have regrettable implications for Falkayn's relationship with van Rijn, but without actually saving the League or humanity from the consequences of the League's short-sighted policies. But at least they generated lots of profit for the shareholders before the League-armed space barbarians descended from the skies….
(19) SPIDER-MAN BEYOND. A Marvel press release tells me – "Stay tuned tomorrow for information on this exciting new Amazing Spider-Man era from Kelly Thompson, Saladin Ahmed, Cody Ziglar, Patrick Gleason, and Zeb Wells!"
(20) MARVEL MARKETING. Did that previous item come from this guy? This video from Screen Rant, which dropped today, features Ryan George as master marketer Normantula McMan, who says, "I get butts in seats. I influence butts in ways you can't imagine." And McMan knows butts, because his grandpa came up with the idea that four out of five doctors recommended a particular smoke!
(21) ASTRONAUTS TO EXPERIENCE TIDE EFEFCT. Yep, here's the science entry in today's Scroll courtesy of the AP: "Dirty laundry in space? NASA, Tide tackle cleaning challenge". It turns out there's a simple reason why the International Space Station smells like an old gym sock.
How do astronauts do laundry in space? They don't.

They wear their underwear, gym clothes and everything else until they can't take the filth and stink anymore, then junk them.

NASA wants to change that — if not at the International Space Station, then the moon and Mars — and stop throwing away tons of dirty clothes every year, stuffing them in the trash to burn up in the atmosphere aboard discarded cargo ships. So it's teamed up with Procter & Gamble Co. to figure out how best to clean astronauts' clothes in space so they can be reused for months or even years, just like on Earth.

The Cincinnati company announced Tuesday that it will send a pair of Tide detergent and stain removal experiments to the space station later this year and next, all part of the galactic battle against soiled and sweaty clothes….
(22) RETURN TO SENDER. Yahoo! draws our attention to a remarkable working model: "Fan-Made Captain America Shield Actually Bounces Back".
…We have to give big props to the YouTuber here. Unlike other "make your own Cap shield" videos, he didn't go the drone route. Which is kind of cheating. The MCU shield bounces after all, it doesn't fly. According to their own description, the shield they made was created with carbon fiber with a fiberglass ring, to provide bounce while keeping maximum strength. The shield also magnetically connects to the user's wrist, and can be thrown overhand just like Cap. We think the final results are pretty darn impressive….
[Thanks to Cat Eldridge, Mike Kennedy, Andrew Porter, Hampus Eckerman, Cora Buhlert, James Davis Nicoll, Olav Rokne, Martin Morse Wooster, JJ, Michael Toman, and John King Tarpinian for some of these stories. Title credit belongs to contributing editor of the day Daniel Dern.]