(1) A DRIVING FORCE IN LITERATURE. Liza Burns' artwork for the new Oregon license plate is composed of 127 symbols of cultural importance to the state. The book icon represents Ursula K. Le Guin. An interactive key is here.
From a distance, the "Celebrate Oregon!" Cultural Trust license plate is a vibrant tapestry of Oregon geography. Look closer, and symbols – 127 in all – tell the story of the history, heritage and cultural practices that make our state unique. The marriage of the two in this piece of art speaks to the inextricable link between the physical and cultural diversity of Oregon.
(2) IS IT A RECORD? Early reports of perhaps 3,000 Worldcon site selection ballots being cast pre-con made some fans curious if the Chengdu/Winnipeg race will set a record. In the table of historic Worldcon statistics "Hugo Voting: Let's Look at the Record Yet Again" there is one column tracking the number of site selection votes, which Jo Van Ekeren says is fully updated.
(3) RUNNING HARD. The Chengdu in 2023 Worldcon bid's Facebook page reported on a marathon livestream campaign in progress to drum up support as the voting deadline approaches.
After five days of a marathon campaign of online live streaming to promote DisCon III and call for support of Chengdu'23 Bid, we have seen a new wave of support, and some real LAST MINUTE vote from many of our fans, overcoming all sorts of obstacles, including technical, procedural, language, and payment difficulties. Now we can say that in some way we have already won, not necessarily in the Worldcon bid, but in promoting something we all love and enjoy. We have made many new friends. And we have a better understanding of the world.

Here are the posters for the past five days, and screen captures of tonight's live streaming event hosted by SFW magazine.
(4) SEATTLE IN 2025. The Seattle 2025 Worldcon bid team has published their first newsletter that we've sent out. The full newsletter is here. The bid website is here.
Bid Launches Into New Orbit

After almost two years of coasting through online convention bid tables and Zoom parties, the Seattle in 2025 Worldcon bid is accelerating to cruising velocity with the updating of our website, an appearance at DisCon III, creation of support tiers, release of new information, and plenty of metaphors to herald our progress towards hosting the first Worldcon in Seattle in 64 years. The original 1961 Seacon took place before the Seattle World's Fair and the opening of the Monorail and Space Needle. We believe 64 years is too long an absence from the Emerald City. Does Worldcon still need us? Will you feed us your site selection votes? Science fiction fans—if we build it, will you come?
The bid is co-chaired by Kathy Bond and SunnyJim Morgan.
(5) UNDERTHING PRESS WILL PUBLISH DIGGER OMNIBUS. Grim Oak Press is partnering with bestselling author of The Kingkiller Chronicle Patrick Rothfuss to create the new imprint, Underthing Press.
…The first project Grim Oak Press and Underthing Press will produce is Digger: The Complete Collection by Ursula Vernon. The deal includes new softcover and hardcover editions of the Hugo Award-winning graphic novel as well as signed and limited copies. Rothfuss has written a new foreword for the book and will sign the limited and lettered editions along with Vernon.

"It all started when I gave away my copy of the Digger Omnibus to a friend, then discovered I couldn't buy another one. It breaks my heart when I learn that a book I love has gone out of print. I've always daydreamed about starting my own imprint, and I couldn't think of a better place to start than by making a brilliant, Hugo Award-winning comic available to the public again.

"We're in talks with several folks to bring their books back into print, or in other cases, to make a beautiful specialty edition of a book I particularly love. And I'll have my own projects too, of course. I'm finally ready to publish a project I've been working on for years with friend and Illustrator Nate Taylor. It's an illustrated version of The Boy that Loved the Moon."
The crowdfunding campaign for Digger: The Complete Collection will launch February 2, 2022.
(6) R.E.S.P.E.C.T. This SFWA Blog post titled with the author's name, "Oghenechovwe Donald Ekpeki", urges people to spell and say African names correctly.
…One is forced to reconsider the clichéd question: What is in a name? Does the value of a name lie in its familiarity or the simplicity of its pronunciation? So that, alas, Nnamdi and other African names fail to elicit value from the Westerners who mock them for this reason? Does a name, for its being unfamiliar or difficult to pronounce, remove from the skills and abilities of the bearer? And if the mockers believe that names represent the value of a person, do they then think that denying a person their name, or misspelling, mispronouncing, or mangling their names devalues them even further? Is the purpose of this deliberate distortion of identity to devalue the bearer of the name?

Names possess value and power to their bearers. Like misgendering a person, failing to honor what someone chooses to be called disrespects that person's definition of their own self….
(7) PODCAST PEOPLE. Podside Picnic episode 147 features Karlo Yeager Rodriguez, Chris and Kurt as they discuss the holiday horror-comedy, Krampus (2015). Make your lists (and check them twice) to see who deserves to be beaten with birch branches and who should get carried off by Saint Nick's shadow… "Krampus, Krampus Time Is Here".
(8) THAT'S HER, TOO. Everything Everywhere All At Once embroils Michelle Yeoh's character in a multiverse crisis that only she can solve!
(9) MEMORY LANE.
1984 — [Item by Cat Eldridge.] Thirty-seven years ago, Starman premiered. It was directed by John Carpenter. The original screenplay was written by Bruce A. Evans and Raynold Gideon, with Dean Riesner making uncredited re-writes. This Starman is not related to the Forties created DC character who is definitely human.
It starred Jeff Bridges in the lead role which got him an Academy Award nomination. Other principal cast were Karen Allen, Charles Martin Smith and Richard Jaeckel.
It inspired a short-lived television series of the same name several years later that takes place fifteen years after the film's story and features the return of the alien as a clone of deceased photojournalist Paul Forrester to meet and guide his now-teenage son Scott Hayden Jr. It lasted lasted for twenty-two episodes.
Critical reception for the film was, with the exception of a few of pre-reform Grinches, overwhelmingly positive. Roger Ebert said it was "one of 1984's more touching love stories". One of those Grinches said that Carpenter turned it into an "irritatingly soft-headed love story. What a waste of a promising idea." However, the box office did not respond as enthusiastically as it made just twenty-nine million against costs of twenty-four million in production costs. Now audience reviewers at Rotten Tomatoes currently give it a decent but not great sixty-nine percent rating.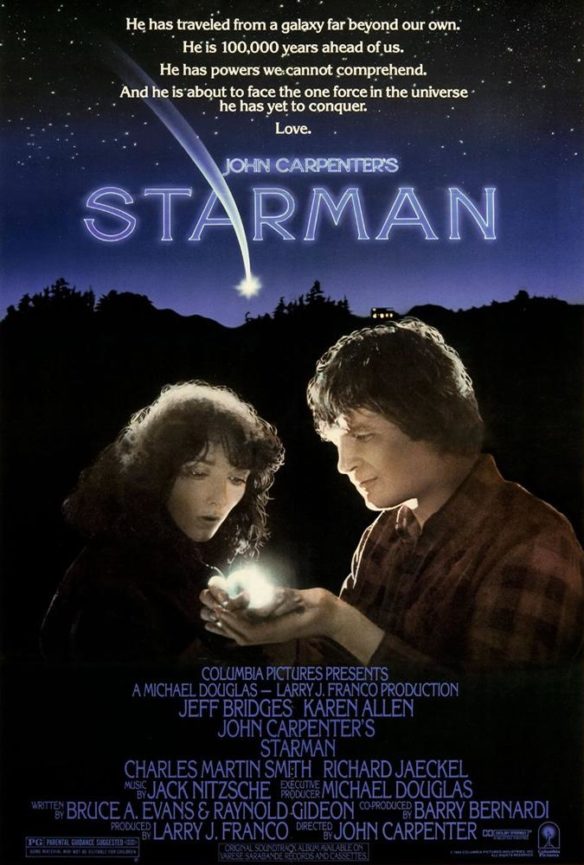 (10) TODAY'S BIRTHDAYS.
[Compiled by Cat Eldridge.]
Born December 14, 1916 — Shirley Jackson. She first gained public attention for her short story "The Lottery, or, The Adventures of James Harris" but it was her The Haunting of Hill House novel which has been made her legendary as a horror novelist as it's truly a chilling ghost story which recently was made into a series. I see that's she wrote quite a bit of genre short fiction — who anyone here read it? And there's an interesting tale of Hill House, the press that took its name from her novel that came to a bad ending. (Died 1965.)
Born December 14, 1920 — Rosemary Sutcliff. English novelist whose best known for children's books, particularly her historical fiction which involved retellings of myths and legends, Arthurian and otherwise. Digging into my memory, I remember reading The Chronicles of Robin Hood which was her first published novel and rather good; The Eagle of the Ninth is set in Roman Britain and was an equally fine read. (Died 1992.)
Born December 14, 1949 — David Cherry, 72. Illustrator working mostly in the genre. Amazingly, he has been nominated eleven times for Hugo Awards though no wins to date, and eighteen times for Chesley Awards with an astonishing eight wins! He is a past president of the Association of Science Fiction and Fantasy Artists. Oh, and he's is the brother of the science fiction writer C. J. Cherryh ("Cherry" is the original spelling of the last name of the family) so you won't be surprised that he's painted cover art for some of her books as well as for Robert Asprin, Andre Norton, Diane Duane, Lynn Abbey and Piers Anthony to name but a few of his works.
Born December 14, 1954 — James Horan, 67. One of those actors that had roles across the Trek verse, having appeared on Next Generation, Voyager, Deep Space Nine and Enterprise. He also voiced a character on Roughnecks: Starship Troopers Chronicles, andshowed up on Highlander, Charmed and Lost.
Born December 14, 1959 — Debbie Lee Carrington. Actress who was an ardent advocate for performers with disabilities. She was the performer inside the Howard the Duck costume, a Martian rebel named Thumbelina in Total Recall, an Ewok in Return of the Jedi (and in the TV movies that followed), a Drone in Invaders from Mars, Little Bigfoot in Harry and the Hendersons, an Emperor Penguin in Batman Returns and a Chucky double in Curse of Chucky.
Born December 14, 1960 — Don Franklin, 61. He's best known for his roles in seaQuest DSV as Commander Jonathan Ford, Seven Days as Captain Craig Donovan, and as one of The Young Riders as Noah Dixon). No, the last isn't remotely genre but it was a great role.
Born December 14, 1964 — Rebecca Gibney, 57. She was in Stephen King's Salem's Lot,, and also in King's Nightmares and Dreamscapes mini-series. She also had one-offs in Time Trax, Farscape and The Lost World, all of which were produced either in Australia or New Zealand, convenient as she's New Zealand born and resident.
Born December 14, 1966 — Sarah Zettel, 55. Her first novel, Reclamation, was nominated for the Philip K. Dick Award in 1996, and tied for the Locus Award for the Best First Novel. Writing under the alias C. L. Anderson, her novel Bitter Angels won the 2010 Philip K. Dick award for best paperback original novel. If you've not read her, I'd recommend her Playing God novel which was nominated for an Otherwise Award as a great place to start reading her.
(11) THE PLAY'S THE THING. Today also is the anniversary of the 1966 broadcast of a well-known Star Trek episode, which Galactic Journey commemorates in this post — "[December 14, 1966] (Star Trek: The Conscience of the King)".
… …Do you remember Kevin Riley? He caught the alien virus in The Naked Time, locked everyone out of Engineering, and sang Irish songs over the intercom. He's recently been promoted, but Kirk busts him back down to Engineering alone—presumably, to keep him safe, but nobody tells him that. Kirk doesn't tell Spock why he's demoting the Ensign, either.

Spock does put the pieces together and demands to know why Kirk is risking his life. (That's rich, coming from the man who hijacked the Enterprise to haul it to the one planet with a death penalty for visiting.) Kirk tells Spock to leave his personal life alone. Spock very politely does not point out that 400+ crew members unknowingly traveling with a potential murderer is a bit outside the scope of Kirk's "personal life."…
(12) HOWDY, STRANGER! How fascinating to see for sale (at $6,500!) a copy of The Outsider And Others, the first collection of Lovecraft's writings, published in 1939. Only 1,268 copies were printed, and among 1940s fans, The Outsider was a byword as the most valuable item in the sf collection of anyone who happened to own it. The title is mentioned several times in Rob Hansen's compilation of Forties LASFS history, Bixelstrasse.
(13) TALKING HEADS. John Scalzi weighed in one of this year's non-genre additions to the National Film Registry.
(14) MIGHT BE NEWS TO YOU. In this TelevisionAcademy.com interview, the late Leonard Nimoy discusses the Star Trek pilot.
(15) VIDEO OF THE DAY. [Item by Martin Morse Wooster.] In "Harry Potter and the Sorcerer's Stone Pitch Meeting" on Screen Rant, Ryan George says that the first Harry Potter movie reveals that the wand store where Hogwarts students get wands operates onthe model of "let kids smash things until they buy" and that at the climax, "a mother's love is super plot armor." But why do wizards celebrate Christmas?
[Thanks to Andrew Porter, Michael Toman, Cat Eldridge, N., Kathy Bond, Mike Kennedy, Martin Morse Wooster, JJ, and John King Tarpinian for some of these stories. Title credit belongs to File 770 contributing editor of the day Andrew (not Werdna).]